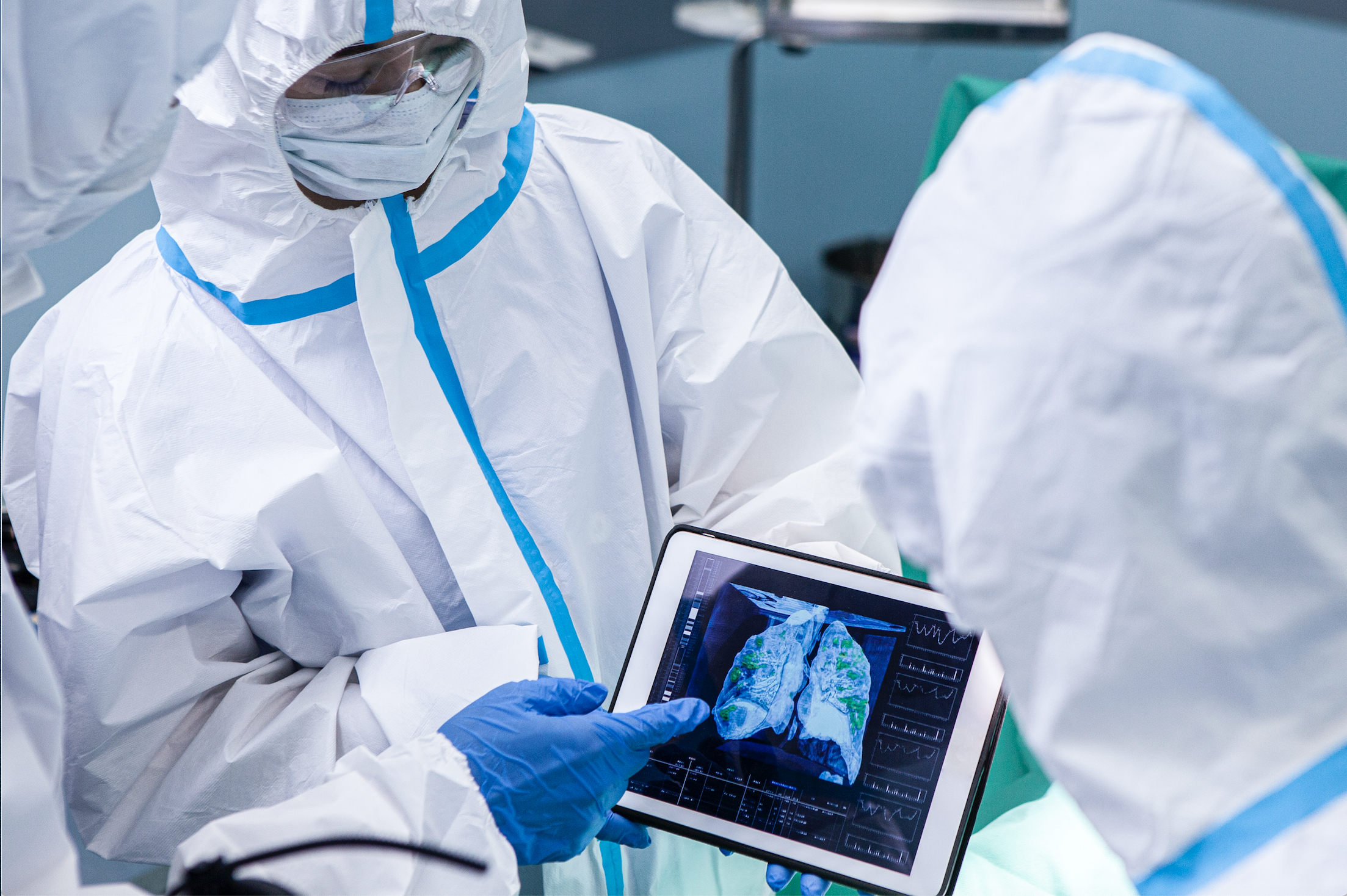 Clinicians reviewing a COVID-19 patient's lung CT that reveals the severity of COVID-caused pneumonia. The impact of COVID on radiology was a major, over arching trend at  the 2020 Radiological Society of North America (RSNA) meeting. Getty Images
The key trends observed at 2020 Radiological Society of North America (RSNA) meeting all focused around COVID-19 (SARS-CoV-2) and the impact it has had on radiology. The underlying question throughout the conference was how can the industry take the information from this past year and learn from it?
Alan Pitt, M.D., a neuroradiologist at Barrow Neurological Institute in Phoenix, Ariz., sees the pandemic as a catalyst for change, and a way to reset how radiologists view healthcare. "We are an enabler of value of public health — taking care of as many people as possible and giving the highest value possible," he stressed in a Philips Editor's Roundtable during the conference. "It's time to refocus: How many lives can we save? 2021 should be interesting. We need to keep up this level of urgency."
There were many important takeaways from RSNA20. Here, ITN's editors highlight their Top 7.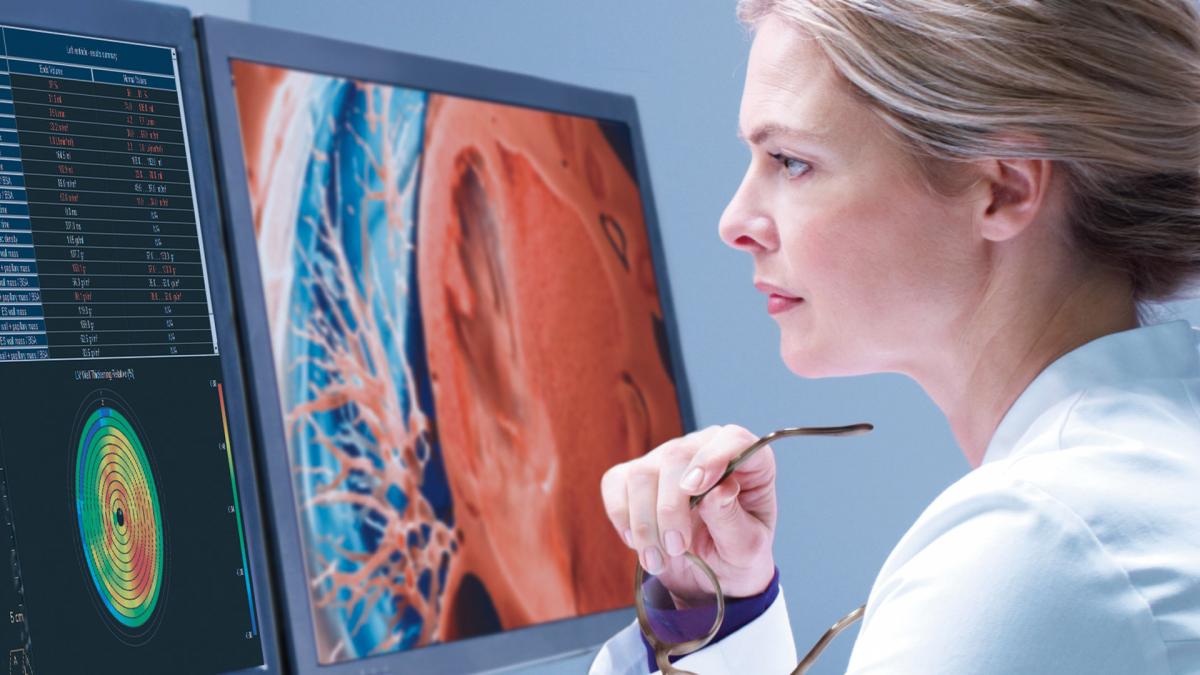 By taking a systems view of imaging, Philips is connecting workflows (patient, acquisition, interpretation, collaboration) across the imaging enterprise to help improve outcomes for patients and enhance the efficiency and work experience of radiologists, technologists and administrators.
1. The industry needs to address radiology challenges.
This past year opened the eyes of radiologists and vendors to wide disparities in healthcare and many areas where innovation is needed. Some sobering statistics were shared during the Philips roundtable regarding the challenges that radiology currently faces:
Radiology exams with advanced modalities have increased by 43 percent.

Health data is expected to reach more than 2,000 exabytes in 2020.

Imaging staff think 23 percent of their work is inefficient and would be better if automated.

Unnecessary, sub-optimal and repeat imaging cost as much as $12B+ annually.

There is a growing global shortage of radiologists and other clinicians, which will widen further as growing populations continue to age.
Siemens Healthineers said there will be an estimated shortage of 15 million healthcare workers globally by 2030. As of now, Siemens estimates about half of the world population cannot obtain adequate medical care. These shortfalls will become the primary driver for artificial intelligence adoption in the coming years. 
"I am convinced there is no way around not using automation and AI technology to keep up with demand," said Andre Hartung, president of Siemens diagnostic imaging.
Vendors across the board believe artificial intelligence (AI) will play a key role in helping make up for the shortage of radiologists by augmenting and improving their efficiency. For example, some radiologists using AI say that since the vast majority of screening mammography exams are normal, AI might be used to help sort out the ones that are not. This AI triage could allow radiologists to concentrate efforts on exams where there appears to be an issue or presence of cancer. AI could be critical in a time when 45 percent of radiologists report symptoms of burnout, according the Philips.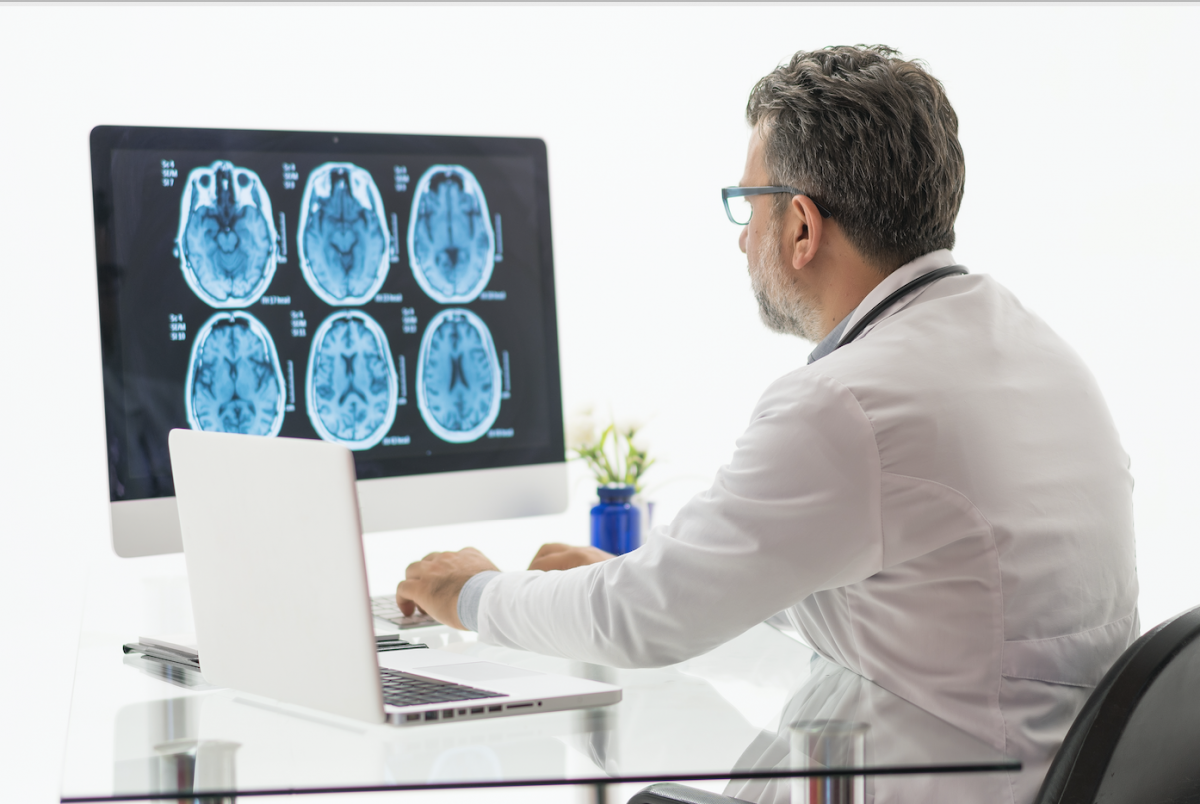 Telemedicine and teleradiology adoption exploded in 2020 due to COVID-19 and likely will permanently alter how healthcare operates.
2. Telehealth, which overlaps with radiology and teleradiology.
Radiologists are seeing COVID every day, and it is a lot like Groundhog Day. Pitt says clinicians need to use it as a tool to replan and repurpose. Consistently look at resource allocation. Pitt hopes to see 2020 as a reset on how we view healthcare. "We are an enabler of the value of public health — physicians take care of as many people as possible, and give the highest value possible," he stated. "We need to refocus — how many lives can we save? 2021 should be interesting. We need to keep up this level of urgency."
Telemedicine and teleradiology adoption exploded in 2020 due to COVID-19 and it is likely here to stay. It likely will permanently alter how healthcare operates, provided the Centers for Medicare and Medicaid Service (CMS) grants telemedicine visits permanent reimbursable status.
There was already a large movement before COVID toward enterprise imaging systems that allowed remote access from anywhere, and the ability to share reports and images across the enterprise for peer review and to referring physicians. The pandemic has increased demand for, or use of the remote aspects of, enterprise imaging systems.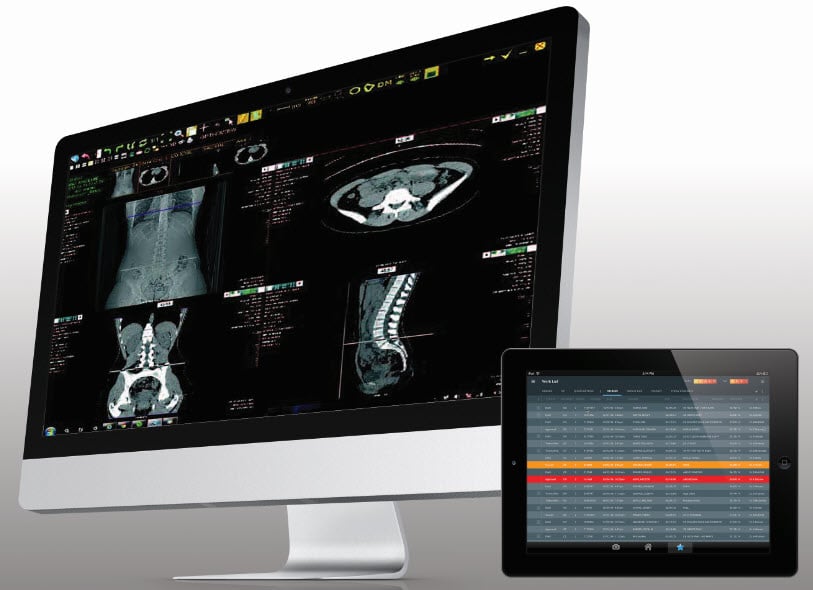 Konica Minolta's tight integration provides many partnership opportunities, the first being a piece of technology that 1Qbit has spent nearly three years developing called XrAI. XrAI is a decision support tool that uses machine learning to identify lung abnormalities. XrAI's algorithm works within the Konica Minolta Exa platform.
3. There is a renewed value in partnerships.
In 2020, many companies partnered with AI technology vendors to help increase productivity and accuracy. Examples include Canon partnering with Zebra, Glassbeam and Barracuda, and Konica Minolta with 1Qbit.
Artificial intelligence is a major area of partnering. Large vendors originally hoped to build out a complete menu of AI solutions, but when the reality set in that this was a daunting task that would take decades to complete, there was a rapid switch to partnering with start-up companies that already figured out algorithms, validation and had gained FDA clearance. All of the major vendors are now offering some third-party AI software in its option lineup. Some have even developed an AI marketplace, a sort of AI app store, where they can select which AI they want to try or integrate into their workflow.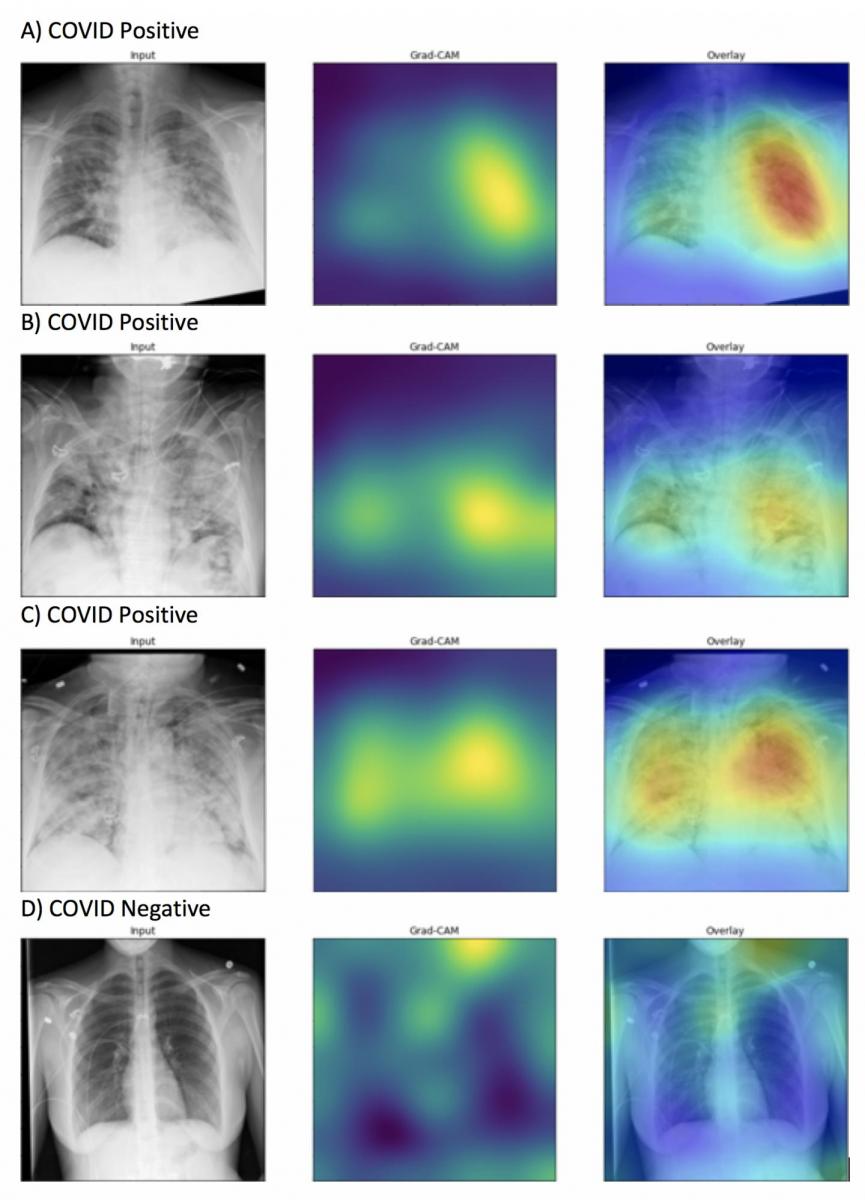 Generated heatmaps appropriately highlighted abnormalities in the lung fields in those images accurately labeled as COVID-19 positive (A-C) in contrast to images which were accurately labeled as negative for COVID-19 (D). Intensity of colors on the heatmap correspond to features of the image that are important for prediction of COVID-19 positivity. Image courtesy of Northwestern University
4. A change in attitude and acceptance of AI in radiology.
Artificial intelligence allows for more consistent standardization of images. AI systems can help with workflow and boost productivity. At RSNA20, AI was seen integrating into all modalities.
As artificial intelligence is increasingly integrated into real-life workflows, attitudes about AI have changed. At previous RSNA meetings, vendors spent a lot of time explaining how their AI works and how it was validated. Today, this conversation has largely changed to just accepting that an FDA-cleared AI application is legitimate and the radiologists are now asking how it can be smoothly integrated into workflow and what it will do help save them time.
AI is no longer a science project or a 101-level discussion on how the technology can sort pictures of cats and dogs. It has become a real, serious product discussion as these AI applications are integrated into imaging systems and PACS software. Numerous vendors were showing FDA-cleared or 510(k)-pending AI products that can offer a preliminary diagnosis, either to red-flag critical findings and send the exam to the top of a reading list, or serve as a second set of eyes to offer a diagnosis or catch incidental findings.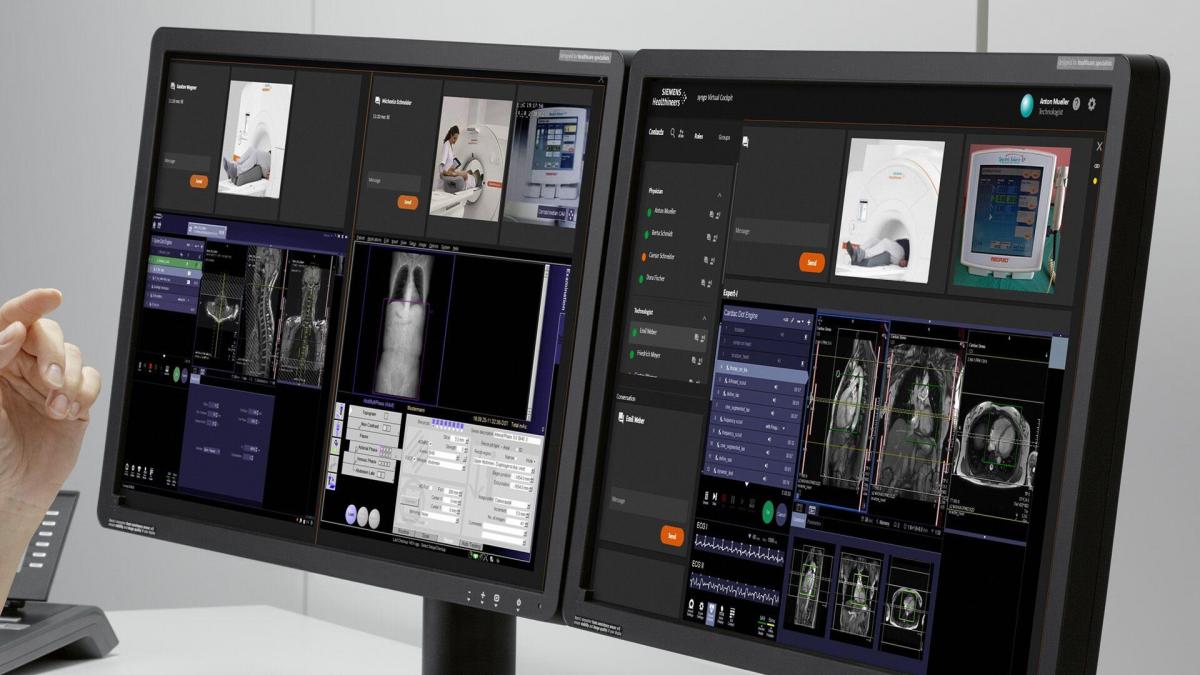 With the Siemens Virtual Cockpit system, RT's can now operate CT and MRI systems without needing to be present in the system's control room.
5. Remote access to imaging scanners driven by COVID.
Several vendors had already developed technology that enabled company technicians to remote into one of their installed imaging systems and help radiology technologists (RT) troubleshoot problems, or to do remote training. Now, in the era of COVID, hospitals are asking if there is any way this technology can be used to allow their RTs can work remotely, operate scanners, or to help other staff members troubleshoot problems, set protocols or take over the scanner operation remotely. This is now being done across some healthcare systems, allowing their own staff members to remotely access scanners, see video of patients on the exam table, regardless if it is the imaging room next door, or at a remote hospital hundreds of miles away.
Siemens modified its Virtual Cockpit system to do just this. RT's can now operate computed tomography (CT) and magnetic resonance imaging (MRI) systems without needing to be present in the system's control room. 
Philips Healthcare began the commercial launch of its Radiology Operations Command Center at RSNA 2020, which allows staff to remote into the control rooms of any CT or MRI scanner in their enterprise. It is vendor neutral, so it can interface with multiple vendors' systems. It allows an RT anywhere in the enterprise to enter any of the heaklthcare systems' MRI or CT control rooms in a few seconds and access cameras to see around the room. They also can remotely take over scanner operations.
Philips said a key use case is if there is a senior technologist who often helps less experienced RTs. Instead of going to a room, or even a separate facility, they can remote in and help the RT through any issues or take control of the system to show them how to do something. The system also records everything for possible later use in training. Another use case is when staff call in sick, especially during the current pandemic where they might be out for up to two weeks. RadNet is now using this system and is currently connected to 24 scanners in the New York City area.
"We have not been able to bring these systems up fast enough," added Vijay Parthasarathy, venture leader for Philips precision diagnosis ventures.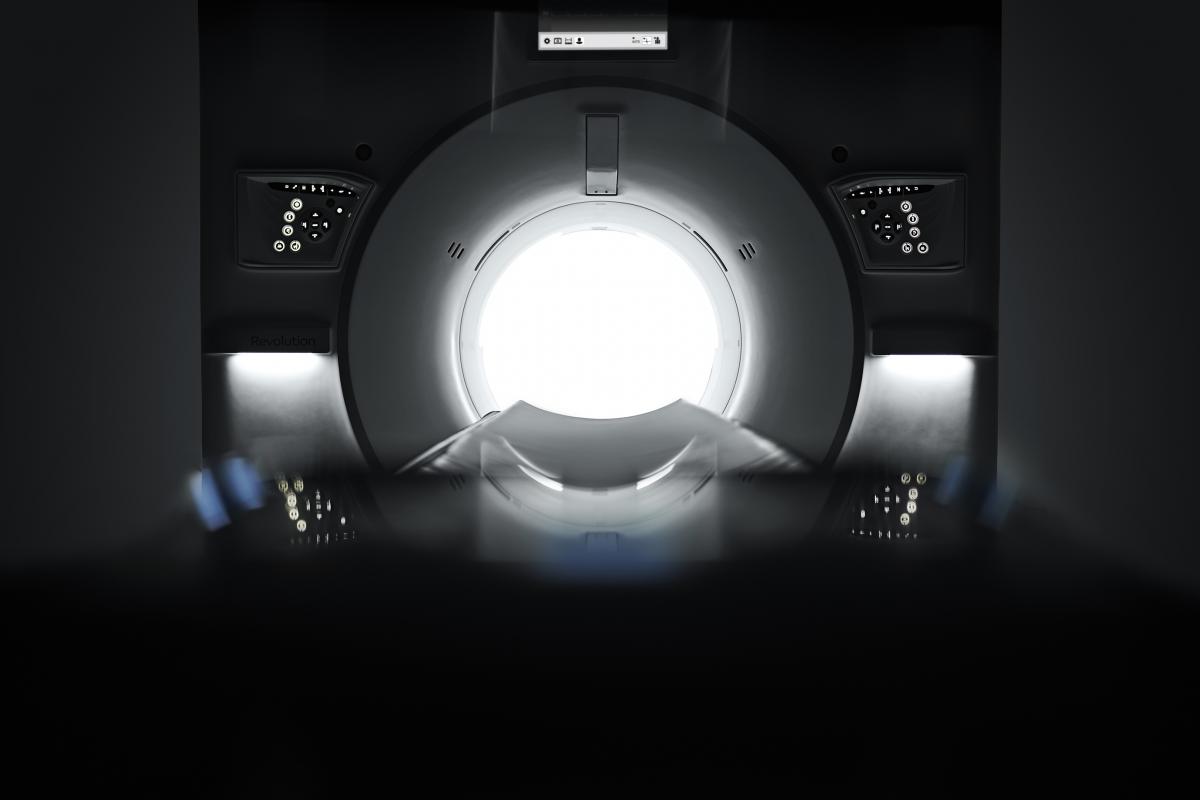 GE purchased the Swedish company Prismatic Sensors AB in November 2020, which is developing photon-counting deep silicon detectors that GE will use on its prototype photon counting CT system.
6. Photon counting detectors will be the next major CT innovation.
Several vendors are working on photon counting detectors (PCD) for their next generation CT scanners. The technology has the potential to allow for lower radiation dose while maintaining image quality, or increase the image quality by keeping dose equivalence compared to currently used CT detectors. PCDs also allow the "binning" of photons of different energies, so all CT images created can be post-processed into high or low energy images, or spectral imaging. Some vendors say this detector technology will increase data mining capabilities from multiple-energy detection and contribute to the improved utility and efficacy of AI applications.
While this technology has been researched academically for several years, it appears several vendors are close to commercializing these detectors. At RSNA20, GE Healthcare said photo counting CT detector technology is the way of the future. It purchased the Swedish company Prismatic Sensors AB in November 2020 just prior to RSNA, which is developing photon-counting deep silicon detectors that GE will use on its prototype photon counting CT system. GE hopes to begin operation of this prototype system in the first quarter of 2021. 
Samsung is working with a large U.S. university to develop its PCD technology and discussed the new detector at RSNA 2020.
Find out more on this trend in the VIDEO: Photon Counting Detectors Will be the Next Major Advance in CT — interview with Todd Villines, M.D.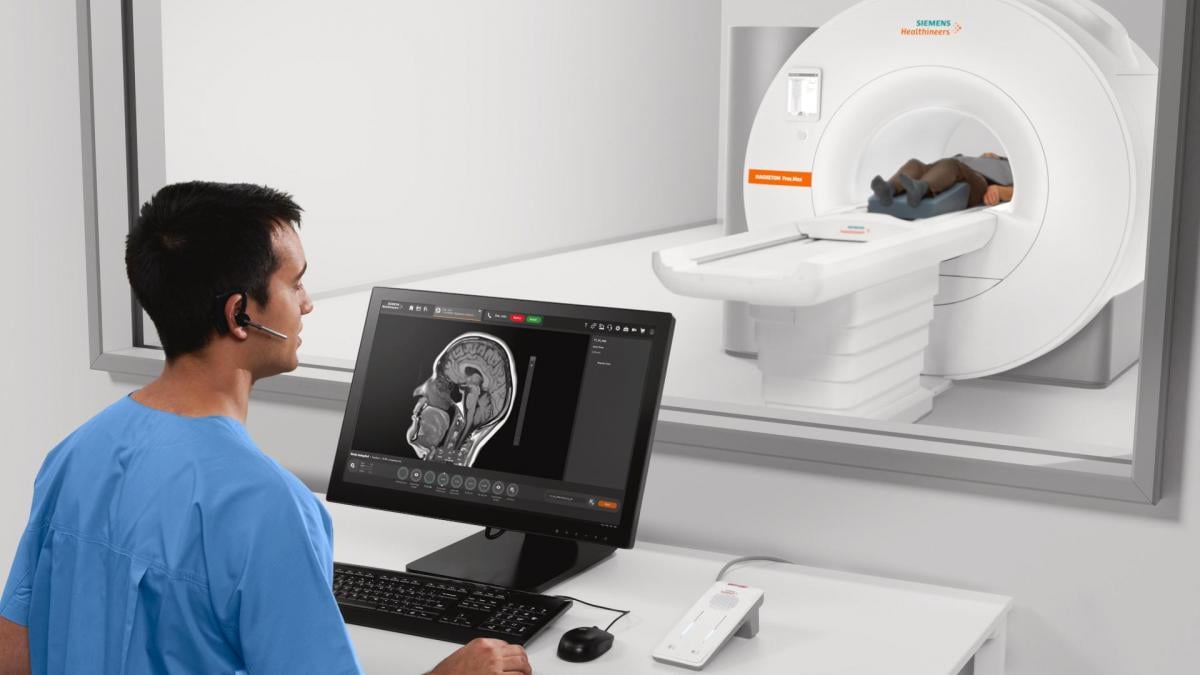 At RSNA20, Siemens introduced the Free Max MRI, the smallest footprint MRI system to date.
7. MRI may see increased use as it becomes easier to use.
In the past few years at RSNA, MRI vendors have introduced several new technologies to greatly reduce scan times, as well as simplification of MRI scanner operation and protocol setup, greatly reduce or eliminate the need for helium coolant refills and quench pipes, and automation of MRI post-processing. AI is now being introduced for improved image reconstruction to reduce artifact reduction and improve image clarity, and for post-processing automation and quantification. Vendors are banking on these features leading to wider use as these new MRI scanners allow more patients to be scanned per day and their operation and maintenance is greatly simplified.
Leading this trend at RSNA 2020, Siemens introduced its Magnetom Free Max MRI. It is the smallest footprint MRI system to date, and uses only 0.7 liters of helium and does not require a quench pipe, so it can be installed like a CT scanner, rather than previous generations of MRI. It also offers a large 80 cm bore, and is one of the first MRI systems to enable lung imaging.
The vendor is designing this new system to make MRI more affordable, and easier to operate and install, which will open up possibilities for using MRI at urgent care centers or orthopedic offices. Siemens hopes the price point and ease of use may allow centers to buy one of these systems rather than a new or additional CT scanner.
GE, Philips and Canon also introduced AI enhanced MRI image reconstruction technologies. 
Related COVID Radiology Content:
Lung Ultrasounds Could Help Determine COVID-19 Outcome
Johns Hopkins Medicine Expert Weighs Devastating Impact of COVID-19 on Healthcare Workers
CT in a Box Helps Rapidly Boost Imaging Capability at COVID Surge Hospitals
Philips Patient Management Solution keeps patients safe and personalizes care during COVID-19 at leading U.S. medical centers
CT Imaging of the 2019 Novel Coronavirus (2019-nCoV) Pneumonia
Infervision in the Frontlines Against the Coronavirus
CT Imaging Features of 2019 Novel Coronavirus (2019-nCoV)
The Cardiac Implications of Coronavirus
VIDEO: COVID-19 Pneumonia Chest CT Scan Scroll Through
CT Imaging of the 2019 Novel Coronavirus (2019-nCoV) Pneumonia
Chest CT Can Distinguish Negative From Positive Lab Results for COVID-19
VIDEO: CT Sees Increased Use During COVID-19
Radiologists Urge Use of Medical Imaging and AI-Powered Solutions to Manage COVID-19
Stroke Scans Could Reveal COVID-19 Infection
Handheld Ultrasound Used to Monitor COVID-19 Patients With Cardiac Complications
Study Looks at CT Findings of COVID-19 Through Recovery
Using Lung X-rays to Diagnose COVID-19
How COVID-19 Affects the Brain in Neuroimaging
VIDEO: Lingering Myocardial Involvement After COVID-19 Infection — Interview with Aaron Baggish, M.D.
COVID-19 Can Impact Hearts in Young Children
VIDEO: What Are The Long-term Cardiac Impacts of COVID-19 Infection — Interview with Todd Hurst, M.D.
---
If you enjoy this content, please share it with a colleague