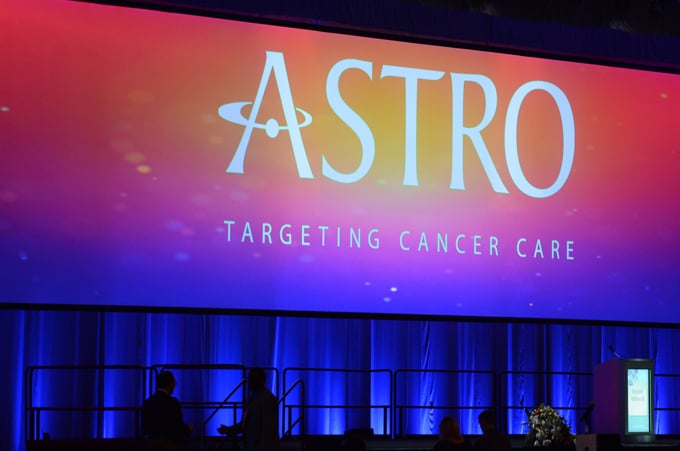 October 30, 2018 — The American Society for Radiotherapy and Oncology (ASTRO) 2018 annual meeting included 10 top-rated clinical studies. The ASTRO 2018 annual meeting, held Oct. 21-23 in San Antonio, Texas drews more than 11,000 attendees.
The highlighted studies below are linked to full articles. 
Advances in Breast and Lung Cancers
Sunday, Oct. 21
Advances in Genitourinary Cancers
Monday, Oct. 22
Advances in Oral and Oligometastatic Cancers
Tuesday, Oct. 23
Other ASTRO News and Videos:
Trends in Proton Therapy at ASTRO 2018 — Faster Therapy Delivery, Single-room Installs
SBRT Considered Safe Treatment Option for Patients With Multiple Metastases
VIDEO: Radiation Oncology Reimbursement Update From ASTRO — Interview with Anne Hubbard, MBA, ASTRO director of health policy
Hippocampal Sparing Prevents Whole-Brain Radiotherapy Cognitive Side Effects
VIDEO: Biologically Guided Radiation Therapy Using Real-time PET Imaging — Interview with Kristin Higgens, M.D., Emory 
Smart Machines To Empower Oncology Docs and Patients, Say ASTRO Experts
VIDEO: Beaumont's Experience With Proton Therapy After One Year — Interview with Peyman Kabolizadeh, M.D., Beaumont Proton Therapy Center
Biology Guided Radiotherapy May Improve Physician Confidence in Treatment of Multiple Tumors
VIDEO: The Use of Nanoparticles in Radiation Therapy — Interview with James Welsh, M.D., MD Anderson Cancer Center
Market for MRI-based RT Could Soon Widen
VIDEO: FDA-cleared Bra Helps Improve Breast Positioning During Radiation Therapy — Interview with Elizabeth Chabner-Thompson, M.D., MPH
Prostate Brachytherapy Shows Low Incidence of Short-Term Complications
VIDEO: Use of Liquid Biopsies to Assess Radiotherapy Response — Interview with Aadel Chaudhuri, M.D.
360 View of the Dedicated Radiotherapy Magnetom Sola 1.5T MRI System
VIDEO: Personalizing Radiotherapy Using Genomic Markers of Radiosensitivity — Interview with Javier Torres-Roca, M.D.
VIDEO: Improving Breast Cancer Surgery With Electronic Brachytherapy IORT —  Interview with A. M. Niser Syed, M.D.
360 View of a GE Healthcare Discovery RF Gen 2 Dedicated Radiation Therapy CT System
 
---
If you enjoy this content, please share it with a colleague