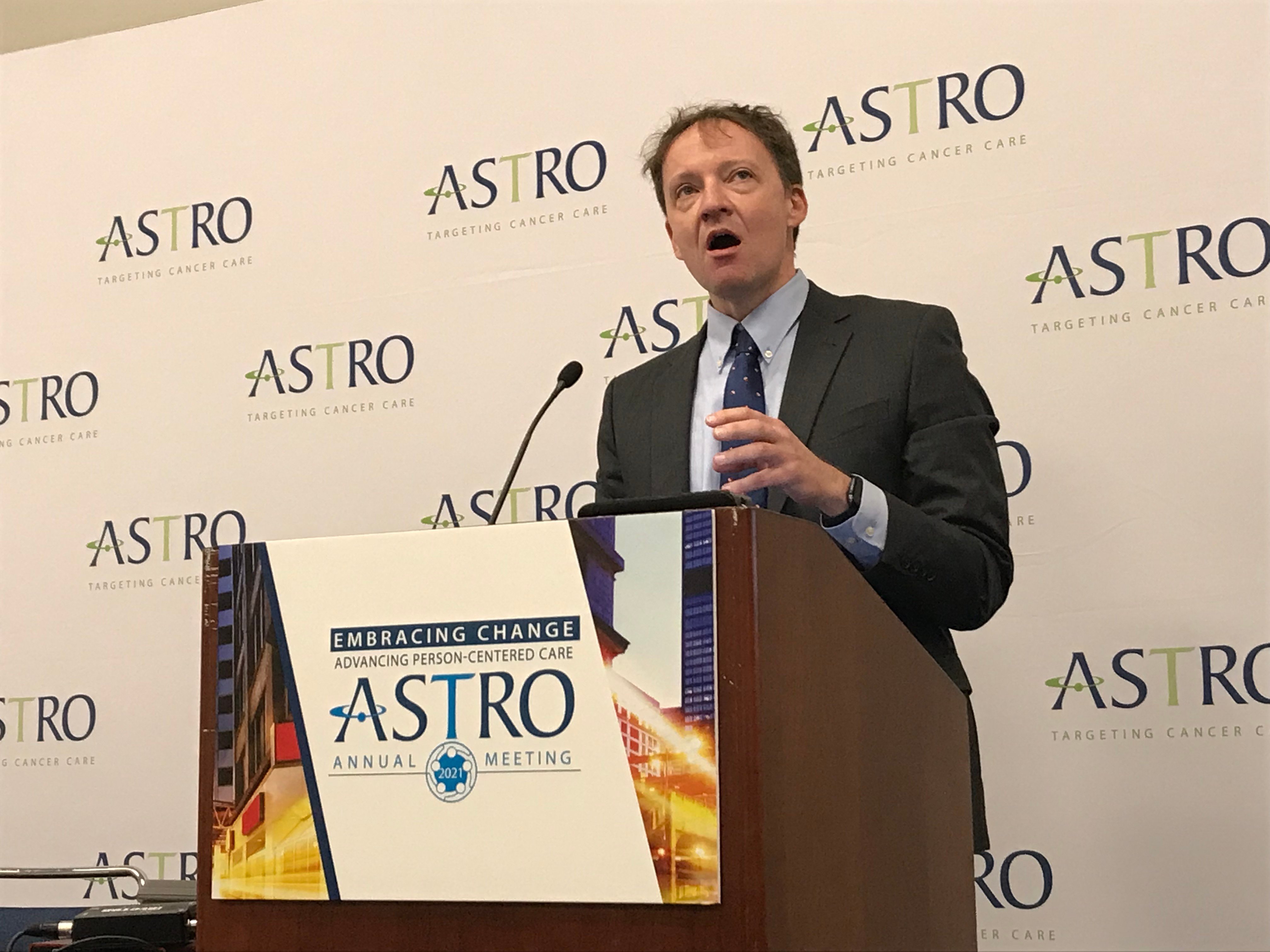 Steven Chmura, M.D., Ph.D., University of Chicago, speaks at an ASTRO 2021 press conference on the results of a phase 1 clinical trial testing the effects of stereotactic body radiotherapy for treating multiple metastases. His study determined that treatments used for single tumors can also be safely used for treating patients with multiple metastases. Read more on this study.
November 8, 2021 — The following links to all the highlighted sessions presented at the American Society for Radiation Oncology (ASTRO) 2021 annual meeting. 
ASTRO's 63rd Annual Meeting was held October 24-27 at McCormick Place in Chicago. The meeting marks the society's return to an in-person format after holding its 2020 conference virtually. The 2021 ASTRO meeting featured more than 1,500 research presentations on advances in cancer care.
• Primary endpoint analysis of a randomized phase III Trial of hypofractionated versus conventional post-prostatectomy radiotherapy: NRG Oncology GU003. Presented by Mark K. Buyyounouski, M.D., Stanford University. 
• Validation of a 22-gene genomic classifier in the NRG Oncology/RTOG 9202, 9413 and 9902 phase III randomized trials: A biopsy-based individual patient meta-analysis in high-risk prostate cancer. Presented by Paul L. Nguyen, M.D., Dana-Farber/Brigham and Women's Cancer Center.
• Consolidative use of radiotherapy to block (CURB) oligoprogression: Interim analysis of the first randomized study of stereotactic body radiotherapy in patients with oligoprogressive metastatic cancers of the lung and breast. Presented by C. Jillian Tsai, M.D., Ph.D., Memorial Sloan Kettering Cancer Center.
• Overall survival from a prospective multi-institutional trial to resolve Black-white disparities in the treatment of early-stage breast and lung cancer. Presented by Matthew Manning, M.D., FASTRO, Cone Health.
• Time-driven activity-based costing as a method for estimating the practice-level and national cost burden of treatment-related prior authorization for academic radiation oncology practices. Presented by Brian S. Bingham, M.D., Vanderbilt University Medical Center. 
• Bridge-to-transplant external-beam radiation therapy in patients with hepatocellular carcinoma: A utilization analysis of the United Network for Organ Sharing (UNOS) database. Presented by Nima Nabavizadeh, M.D., Oregon Health and Science University.
• Impact of Pediatric Radiation Oncology with Movie Induced Sedation Effect (PROMISE) on patient movement and general anesthesia use in pediatric radiation therapy. Presented by Jeffrey T. Chapman, University of Texas Southwestern Medical. 
• 3-D virtual reality volumetric imaging review in cancer patients' understanding and education of their disease and treatment. Presented by Douglas E. Holt, M.D., Eastern Idaho Regional Medical Center.
• Development and impact of a virtual PSA monitoring clinic for follow-up of prostate cancer patients. Presented by Richard Boyajian, MSN, RN, NP, Dana-Farber/Brigham and Women's Cancer Center.
• Site-specific education using digital media to improve patients' understanding of the radiotherapy trajectory: An interventional study. Presented by Hussain Almerdhemah, B.App.Sc-RT, King Faisal Specialist Hospital and Research Centre.
• Study Finds Stereotactic Body Radiotherapy Safe for Treating Patients with Multiple Metastases. Presented by Steven Chmura, M.D., Ph.D., University of Chicago.
• Addition of monoclonal antibody to target oropharyngeal cancer in HPV-positive patients with KRAS gene variant to overcome treatment barriers. Presented by Robert Chin, M.D., Ph.D., a radiation oncologist with UCLA Jonsson Comprehensive Cancer Center.
Optimizing Pre-operative Radiation Therapy in High-risk Sarcoma — 5-day preoperative treatment instead of 5-week course. Presented by Ricky R. Savjani, M.D., UCLA Jonsson Comprehensive Cancer Center.
• International Meta-analysis Quantifies Impact of Three Prostate Cancer Therapy Intensification Strategies — MARCAP Consortium shows strong evidence for androgen deprivation therapy. Presented by Amar Kishan, M.D., UCLA Jonsson Comprehensive Cancer Center.
• New Outcomes Data Demonstrating Prolonged Survival for Inoperable Pancreatic Cancer Patients in  MRIdian SMART MRI-Guided Radiotherapy study. Presented by Michael Chuong, M.D., medical director of radiation oncology at the Miami Cancer Institute.
• Significant Correlation of AI-driven HART CVE Blood Test Scores With Development of Adverse Heart Events Following Cancer Radiation Treatment. Presented by Annemarie Shepherd, M.D., Assistant Member in Radiation Oncology Cancer Center
Other ASTRO News:
Photo Gallery of Technologies at ASTRO 2021
VIDEO: 4 Radiation Oncology Technologies to Watch  — Interview with Anthony Zietman, M.D.
VIDEO: MRI-Linac and PSMA PET Imaging Technologies Aids Radiotherapy —Interview with Walter Curran, Jr. M.D.
Varian and the Cincinnati Children's/UC Health Proton Therapy Center Complete Enrollment of FAST-01
VIDEO: Examples of Synthetic CT Datasets Made From MRI for Radiotherapy Treatment Planning
VIDEO: Advances in Radiopharmaceutical Therapy — Interview with Ana Kiess, M.D.
VIDEO Example of the Varian Noona Bidirection Oncology Patient Interface Software
VIDEO: Sedating Children With Movies Rather Than Drugs for Radiation Therapy — Interview with Jeffrey T. Chapman
VIDEO: Examples of Cherenkov Radiation Imaging During Radiation Therapy
VIDEO: Examples of a Flexible Custom Bolus for EBRT
VIDEO: Elekta Harmony Radiotherapy System Walk-around
VIDEO: Example of an Ion Beam Radiotherapy Treatment System
VIDEO: Example of a Multileaf Collimator (MLC) on a Radiotherapy System
VIDEO: Reflexion Radiation Therapy System Walk-around at ASTRO 2021
---
If you enjoy this content, please share it with a colleague