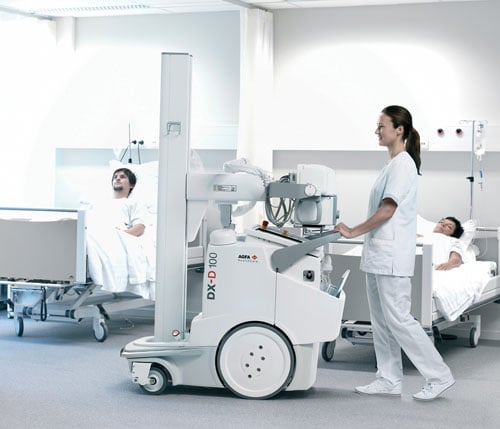 Agfa introduced a telescoping column to its DX-D 100 mobile DR system in 2015, with secondary controls on the arm allowing full operation by just one person.
As the healthcare industry continues to rapidly evolve, hospitals and healthcare providers find themselves having to be more adaptable. Changes in technology and payment are altering how treatment is delivered, with a greater emphasis on moving patients in and out of the hospital more quickly while still delivering a high quality of care. For radiology, this means increasing patient throughput and providing imaging study results faster. These conditions have contributed to the rise of mobile digital radiography (DR) X-ray systems, which are helping streamline operations throughout the hospital.
Advantages of Mobile DR
Greater workflow efficiency is the primary advantage afforded by DR. Images are displayed immediately after capture — unlike analog and computed radiography (CR) systems, where the film/plate must be developed — and can be transmitted directly to the picture archiving and communication system (PACS) or other data storage silo. 
DR systems also address the growing concern over the amount of radiation dose being delivered to patients and staff. Traditionally, because the images have to be developed manually for analog and CR systems, the dose had to be higher in order to achieve adequate image quality. Thanks to the digital post-processing software inherent to DR systems that can enhance the image after acquisition, technologists are able to lower the radiation dose and still maintain a high image quality. 
These workflow and dose efficiencies can be gained from both fixed and mobile DR systems. As one might suspect, mobile systems allow users to bring these advantages out of radiology and into the rest of the hospital as needed. This provides one solution for imaging non-ambulatory patients who cannot make the trip down to the X-ray room and cannot be transported easily. 
These patients, however, are often the most critically ill or injured, and as such are found in the operating room, emergency department or intensive care units. These are high-traffic areas with a proliferation of equipment and personnel creating a confined environment that can impair mobility. In these scenarios, a mobile DR system affords greater maneuverability so techs can image one patient after another relatively easily, even going directly to the bedside.  
As another economic benefit, fixed and mobile DR systems can, in more cases than not, share detector panels. "We're seeing some of the smaller hospitals are taking the panels from their departments and using them in their portables," said Rachael Bennett, RT(R)(T), clinical analyst with MD Buyline. "If you don't have a high-volume center or you're just doing tons of exams in your department all day long, you can actually use that same detector for both mobile and fixed systems." 
Making the Switch From CR to DR
While both mobile and fixed DR scanners demonstrate significant workflow and dose efficiencies, and both types have seen widespread adoption, many hospitals still have yet to switch to digital systems. As with many purchasing decisions, the main barrier to adoption is cost, according to Bennett. 
While cost may be the greatest deterrent to DR adoption, beginning in 2017 it may also be the greatest incentive thanks to the Consolidated Appropriations Act of 2015. Signed into law by President Obama that December, the act imposes Medicare reimbursement cuts of 20 percent for outpatient X-rays performed on analog machines beginning Jan. 1, 2017. The following year will introduce a 7 percent reduction for CR scans, and the penalty increases to 10 percent in 2023. 
So hospitals still using CR will have to adjust their inventory, but buying a brand-new DR system can be a costly proposition. For that reason, a large percentage of organizations are looking to DR retrofits to bring their existing scanners up to date. 
Loma Linda University Health, Loma Linda, Calif., took the retrofit path for much of their CR technology, utilizing Agfa Healthcare's Fast Forward DR Upgrade Program. Roland Rhynus, CRA, executive director of radiology for Loma Linda Health, estimated that about 35 percent of his mobile DR systems are new units, and the rest were retrofits. The initial upgrade saw five wireless DX-D 100 mobile systems installed, and today Rhynus estimates Loma Linda Health has 20-30 mobile DR units that are deployed throughout the hospital, with heavy use in pediatrics, orthopedics and the neonatal ICU . 
Rhynus told ITN his techs are happy about the switch as well. "No. 1, they're not having to slug around thousands of cassettes," he said. "They have also said 'I have increased satisfaction with my job because I now perceive that I am more important to the process.' " 
Newest Digital Radiography Releases 
The mobile DR market is fairly robust, with all of the major DR players offering some kind of mobile solution. Despite the large mix of competitors, GE and Carestream alone account for half of the total market volume, according to Bennett and fellow
MD Buyline clinical analyst Lisa Williams. Carestream was the first to introduce a collapsible column to mobile DR, which provides operators with an unobstructed view as they move the system from place to place. 
Telescopic columns have made their way onto several vendors' systems, most recently Agfa's DX-D 100. Introduced at AHRA 2015, the column sports secondary controls for the system, so there is no need to return to the main console. This allows the system to be operated by just one person who can stay with the patient at all times. The column is not motorized, so raising and lowering it will not drain the battery. 
Samsung introduced its newest mobile DR system, the GM60A, complete with telescopic column, at the 2015 Radiological Society of North America (RSNA) annual meeting in Chicago. Image processing is guided by Samsung's S-Vue technology, which employs adaptive filtering for enhanced image contrast and sharpness. Both thick and thin parts of the image are clearly displayed, including overlapping areas and contours, thanks to Samsung's wireless, lightweight S-Detector panels. The GM60A received U.S. Food and Drug Administration (FDA) approval in December 2014, and it is CE Marked for sale in Europe. 
Mobile DR Keeps Evolving
As mobile DR continues to mature, Bennett and Williams told ITN that they expect vendors to keep pushing the limits of both battery life and durability. 
"Detector battery life is one of the biggest points of contention with the technology," Bennett said. "Having a tech who can go out on the floor and do 50 X-rays is great, but if the detector can only get through 10 and then you have to go back to the department and find a charger or another detector, that hinders your workflow." 
Williams estimated that the average battery life of a detector is about six hours, "but that's depending on how many X-rays you're doing," she said. "If you're doing image after image after image, that's not going to last you six hours." 
Durability will continue to be a moving goal as well, as vendors continually work to protect their detector panels against drops and liquids. In an interview with itnTV at RSNA 2015, MD Buyline clinical analyst Lori Webb, BAAS, RT, explained that as the industry has switched from CR to DR, there was an expectation that drops would be the most common accidents, but surprisingly that has not been the case: "It's amazing that most of the surprise insurance claims and service claims have actually been related to liquid damage versus drops," she said. 
Digital X-ray Systems Comparison Chart
ITN has created a comparison chart for specifications for digital radiography systems, both fixed and mobile. It can be accessed at www.itnonline.com/content/digital-radiography-systems. This will require a login, but it is free and only takes a minute to register. The chart includes all manufacturers of mobile C-arms that sell systems in the United States.
Related Articles on the Transition to Digitital Radiography
Digital Radiography Facing Major Change in 2017
Transitioning to Digital Radiography
CR to DR: The Time-Saving Solution for a Critical Access Hospital in New Hampshire
An Effective Approach to X-ray Equipment Upgrade
 
---
If you enjoy this content, please share it with a colleague