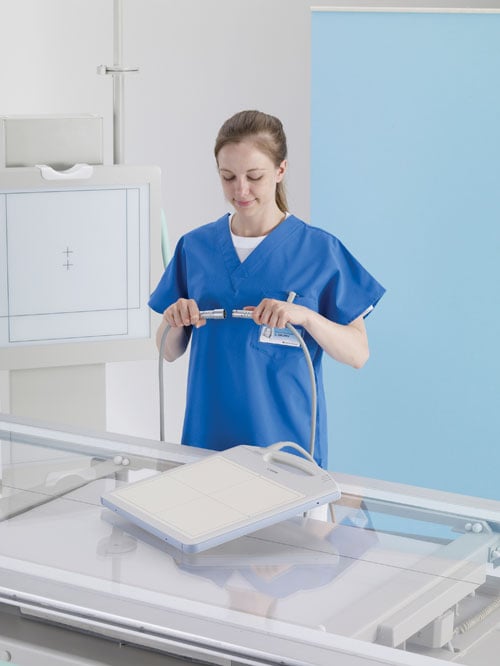 Customers can introduce DR equipment slowly into their current mix, which helps keep large, upfront costs down. Image courtesy of Canon
With the New Year nearly upon us, the diagnostic imaging industry will finally begin to realize the effects of Section 502 of the Consolidated Appropriations Act of 2016. For more than a year, the industry has been humming with talk of anticipated reduction of Medicare payments, expected to impact diagnostic imaging facilities still using analog and computed radiography (CR) technologies. As we are well aware, Section 502 of the Consolidated Appropriations Act of 2016 provides that Medicare reimbursements will be reduced by 20 percent per year for providers submitting claims for analog X-ray studies beginning this year. From 2018 through 2022, payments for imaging tests performed on CR equipment will be reduced by 7 percent, with a 10 percent reduction beginning in 2023.
Although the legislation will encourage the diagnostic imaging industry to experience the benefits that digital radiography (DR) offers, many healthcare facilities that have yet to transition to DR may feel burdened by the prospect of fully upgrading their facility. However, these organizations can take comfort in knowing that they can have control in how they upgrade and that the benefits of DR can be gained without needing to make large up-front investments to transition their entire facility. One of the keys is choosing the right diagnostic imaging technology partner. 
Partner vs. Provider
It is my belief that outstanding providers don't view themselves as providers — they see themselves as partners. The key difference, as I see it, is that all providers need sales, but partners understand that there is no one-size-fits-all solution for healthcare facilities transitioning to DR. If cookie-cutter solutions existed, facilities wouldn't need a partner, they would simply need a provider to drop off the solution. In addition to merely offering DR solutions for sale, a diagnostic imaging technology partner will visit a healthcare facility for an evaluation, including learning about the types of equipment the facility has,  the facility's budget, and the facility's goal and time frame for transitioning to DR before recommending available DR solutions for the facility to choose from.  
Transitioning at Their Own Pace
Customer-minded diagnostic imaging technology partners recognize that healthcare facilities with a limited budget need to upgrade to DR equipment at their own pace. While the cost to implement DR technology has decreased within recent years, upgrading all equipment up front can still call for a large up front investment. 
A more cost-effective and flexible approach allows customers to introduce DR equipment one step at a time, helping facilities avoid the need to make a large up front investment. One possible solution a diagnostic imaging technology partner may offer is the implementation of upgrade kits, which can assist facilities in realizing the benefits of DR, while utilizing their existing equipment. Upgrade kits (including either tethered or wireless DR detectors) may transform existing CR systems into DR solutions for a diverse range of applications, including routine exams and trauma. Some technology companies also offer digital detectors that work with existing X-ray generators or mobile generators. 
Helping Healthcare Facilities to Transition to DR
Regardless of size or budget, diagnostic imaging technology partners can offer healthcare facilities options that may help enhance workflow, but the CR to DR transition involves more than equipment and hardware. It is my belief that the right partner needs to offer education to the stakeholders during the decision-making process, as well as post-sale training for staff to help increase their comfort level with DR and enable staff to see the productivity and ease-of-use benefits that DR provides. Change is never easy, but the right diagnostic imaging technology partner can help assist in the transition to DR.
Digital X-ray Systems Comparison Chart
ITN has created a comparison chart for specifications for digital radiography systems, both fixed and mobile. It can be accessed at www.itnonline.com/content/digital-radiography-systems. This will require a login, but it is free and only takes a minute to register. The chart includes all manufacturers of mobile C-arms that sell systems in the United States.
Related Articles on the Transition to Digitital Radiography
Digital Radiography Facing Major Change in 2017
Mobile Digital Radiography Driving Efficiency
CR to DR: The Time-Saving Solution for a Critical Access Hospital in New Hampshire
An Effective Approach to X-ray Equipment Upgrade
VIDEO: Technology Report: DR Systems
Brian Strangways is vice president of Virtual Imaging, Inc., a Canon company.