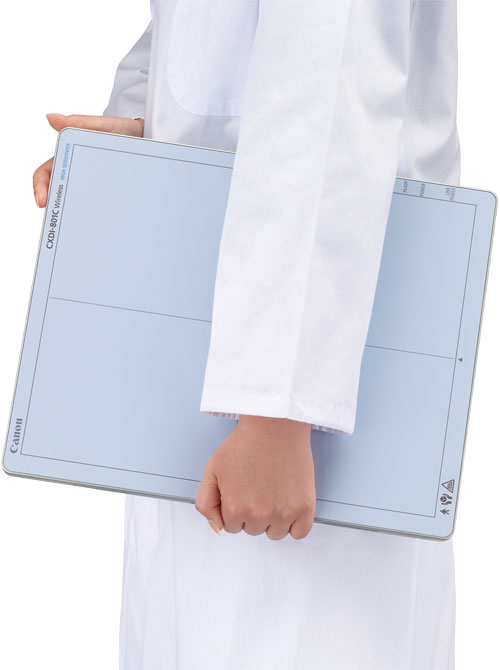 Canon's CXDI-801C wireless detector for digital radiography is sized to fit into most wall stands, Buckeys, mobiles and incubators.
The remaining users of film and computed radiography (CR) may get some carrot, if they transition to digital radiography (DR). It may come in the form of improved productivity, reduced X-ray dose to patients and better image quality. But the legislation that may spur the transition is all stick.
Medicare will begin paying less next year for film-based radiography that uses film — 20 percent less. The year after, Medicare will begin paying less for CR — 7 percent for CR exams from 2018 through 2022; 10 percent thereafter.
About half the radiographers in the U.S. are already chomping on the DR carrot. According to IMV, a market research and online publishing firm in Des Plaines, Ill., slightly more than half the installed base of diagnostic X-ray equipment in the U.S. — an estimated 17,000 fixed general radiography units — has switched to DR. The vast majority of new fixed radiography systems — as high as 94 percent — are currently shipping with digital detectors, according to Lorna Young, IMV senior director of market research. (Young did not provide a sales estimate for DR portables.)
Among the factors considered in the transition to DR, she said, include increased patient satisfaction and reduced radiation dose. But "improving workflow is huge," Young stated, noting that the move to DR, once begun, typically continues. "It is so important to folks, having (radiography units) all work as one system, as opposed to a hodgepodge of systems," she explained.
Among the installed base that uses CR but is moving toward DR, about half is seeking to retrofit existing X-ray units and the other half is considering buying new units, according to Young.
Retrofits protect investments already made in equipment, while their increased productivity may reduce the number of fixed rooms needed in a big facility, for example, from four to three, say equipment vendors. Digital detectors are the cornerstone of retrofits, as well as new products. Detectors may be used in portable X-ray units and fixed radiography rooms, as well as multipurpose X-ray rooms that offer fluoroscopy and radiography.
Watch the video "Technology Report: DR Systems."  
Watch the technology report sidebar video highlighting an example of what new DR systems can offer.
A Federal Push
Most susceptible to the coming federal reimbursement cuts will be outpatient facilities that serve many Medicare patients. (Federal cuts will not be applied to inpatient exams.) Those not yet in the DR fold are primarily small facilities and, as such, they serve relatively few Medicare patients. These are typically small community hospital outpatient departments, freestanding imaging centers and physician practices. IMV data indicate that about 69 percent of hospitals with 400 or more beds have transitioned their fixed X-ray systems to DR versus about 34 percent of hospitals with fewer than 100 beds.
Michael A. Silver, Ph.D., a longtime analyst of the U.S. healthcare market, said the federal push to encourage this transition to DR was predictable. "It's part of a long view toward performing safe and appropriate imaging and decreasing the numbers of providers who have been performing opportunistic and 'less continuum of care integrated' imaging services," said Silver, currently vice president of Erdman, a Madison, Wis.-based consulting firm that specializes in the planning, design and construction of healthcare facilities. 
Meeting the Need for Speed
Compared with digital radiography, CR is slower by up to eight minutes per exam, according to Agfa. Konica Minolta, which puts the savings at three minutes per exam, estimates increased productivity from converting to DR at between 40 and 60 percent. Radiation dose to the patient from DR versus CR may be 30 to 50 percent lower, according to Fujifilm Medical Systems USA.
The decision to switch from CR was a "no-brainer" for Greater Hudson Valley Health System, said its radiology administrator Gene Bernieri. Greater Hudson Valley Health, which is based in Middletown, N.Y., made the move partly to improve productivity, Bernieri said, benefiting patients as well as the health system. "If you can go in and make that lumbar spine X-ray or that skull X-ray or that hand X-ray quicker and more effective, you have more time to spend with the patient," he said.
The federal legislation might nudge those in the remaining bastions of X-ray film and CR to move to DR. Although reduced Medicare payment is the focus of this legislation, federal cutbacks could extend to Medicaid and VA payments. And third-party payers could then follow suit.
To be considered are DR options that can bring DR very quickly to installed sites. Retrofits are built around existing equipment, which may share detectors between table and wall stand in a dedicated X-ray room, as well as with mobile units.
They are among the least expensive ways for a customer to transition to DR, said George Curley, Agfa's senior sales marketing manager for digital imaging in the U.S. "It extends the life of existing imaging equipment," he said. "That is true for both rooms and portables — and there's a lot of that going on."
Cobre Valley Regional Medical Center, a 25-bed hospital in Globe, Ariz., uses two digital detectors: one dedicated to an X-ray room, the other shared between a portable unit and a multipurpose room offering fluoroscopy, as well as radiography. The staff has "slowly started to figure out the bugs" that have kept the detector from pairing — and unpairing — as technologists would like, when the detector is shared. More challenging has been orchestrating the sharing itself.
"If we are using the plate on the portable machine and there is a trauma called, you have to make a decision — quickly finish the outpatient or stop the exam and re-tether it to the portable machine and run," said David Allen, Cobre Valley's imaging director.
Coming up with a strategy for the optimal use of digital detectors is critically important when transitioning to DR, according to Brian Strangways, vice president at Canon's Virtual Imaging subsidiary. "We analyze individual needs and then come up with a customized solution," Strangways said.
Sharing Equipment
Using Bluetooth, the most advanced detectors are designed to connect automatically to equipment that controls the X-ray tube and generator. Installation is accomplished with a wireless access point through which images can be sent for display or storage; image processing software; and a display screen. An easily visible indicator light may be integrated as well to tell the technologist the detector is connected.
Auto detect features are staples in new products, for example, tablet-based solutions, which several vendors showed at the AHRA meeting in August. These tablets can be used to control detectors and other X-ray components at multiple locations in a facility. But, using auto detect, some detectors can work directly with portables — and without tablets. Images are captured and sequentially stored as digital files in memory built into the detector. The process is similar to the acquisition of images on film and CR in that the images are not available for display until the mobile unit has returned to the radiology department, as in the case of a CR reading station or film processor.
"You write down on paper the image numbers and the associated patient names," said Rob Fabrizio, director of strategic marketing for DR at Fujifilm Medical Systems USA, noting that Fuji — like other companies — offers detectors that can store radiographs in their memory. Images are then downloaded.
This process is very cost-effective, he said, especially for low-volume sites. "It is perfect for them because they don't need to invest in a DR portable or a complete portable upgrade," he said.
Efficient use of DR resources requires careful planning, said Timothy C. Ingram, director of clinical diagnostics for Stephens Memorial Hospital. Ingram and other administrators at the 25-bed facility in Norway, Maine, are laying the groundwork for the hospital's coming transition from CR to DR.
"One of the things that we need to look at from a financial standpoint is what is the best way and most efficient way to do this," Ingram said. "Is it going with a whole brand-new room that is straight to DR; or is there sort of an intermediate step?" The staff is looking at whether DR panels might work with the hospital's CR equipment, he stated. 
Using CR workstations and their software can save on the cost of hardware and software, as well as reduce the need for staff training. Recently installed Agfa CR equipment, for example, can be repurposed in the transition to DR, according to Curley. Some form of Agfa's Musica (multi-scale image contrast amplification) has been used for more than 20 years to process digital X-ray images, both CR and DR. 
Deciding Which Way To Go
When making plans to transition to DR, providers should consider retrofits if their equipment still has significant life remaining. But new DR equipment should be considered if the installed equipment is nearing the end of its lifetime. This is especially so if DR might spur more radiographic exams. Increasing procedure volumes and the efficient use of DR equipment can put new stresses on equipment. As they make more exposures and have less time to cool between exams, generators and tubes will not last as long as they did before.
"Upgrading an older X-ray system will increase the cost of tube and generator repairs like crazy," said Guillermo Sander, senior strategic marketing manager for DR at Konica Minolta.
Some vendors have developed programs to assist prospective customers in their transition to DR. Carestream Health's "Jump to DR," for example, seeks to establish Carestream Health as a "trusted advisor," according to Cheryl McCarron, the company's regional business manager for X-ray. The company emphasizes interoperability of its products both in the present and future. "We don't want radiology directors painting themselves into corners, asking 'Where do I go from here,'" McCarron said.
Agfa, through its Fast Forward to DR program, emphasizes "taking our customers to DR at a pace that is comfortable for them," said Agfa exec Curley.
Similarly, Canon seeks to be a good partner to its customers. And that can be tricky.
"You have to be sure that customers get what they need, not just what they want," said Strangways. "We work with our customers to look beyond just a particular piece of equipment. They really need guidance."
Agfa has developed return on investment (ROI) tools that can be used by facilities of various sizes to decide whether the timing is right to make the move to DR. The output of these tools can help radiology administrators justify equipment purchases to the C-suite.
"There may be some customers out there who are not capital challenged, but I haven't run into one yet," Curley said.
When the transition to DR involves new, turnkey systems, providers should look at trading in their old equipment. "If you are a loyal customer, we will give you a 'loyalty' discount on your older equipment," said Sander. "And that is just the beginning."
Konica Minolta has come up with a financing instrument that allows existing customers to make a small down payment upfront for DR equipment — a payment equivalent to about 1 percent of the acquisition cost. Follow-on payments would be in line with what the facility would shell out for the maintenance of CR-based equipment.
Agfa can make payments for its equipment part of the facility's operational budget. Carestream offers to rent customers a retrofit kit or portable X-ray system until they can secure the capital funding for an outright purchase.
Market Approaches
Vendors may approach large and small customers very differently. Canon, for example, approaches integrated delivery networks (IDNs) and group purchasing organizations with its own sales force. Single-site facilities typically are addressed as part of a team comprised of local dealers, which have relationships with those facilities.
Efficiency is gained, not by selectively installing pieces of equipment into an IDN, but rather by putting DR technology throughout the network, said Tsuneo Imai, VP and general manager of the Canon Healthcare Solutions Division. "That is why we try to make our technologies affordable — to go into many outlets and installations throughout IDNs," Imai said. "That is why IDNs are very key to us."
Although CR is not likely to soon disappear, the need for these devices will shrink. In some instances, CR equipment will continue to be used as backups or by departments that otherwise do not have access to DR. They may even continue for specialty applications, as in the case of spine or long-leg imaging.
Scoliosis patients, for example, may be imaged in a single exposure using several CR plates whose images are digitally stitched together. This need may diminish in the wake of single, long plates, such as Fujifilm's newly released D-EVO GL, which measures 17 by 49 inches and allows single, low-dose exposures of a patient's leg or spine.
Whether such a DR plate is financially viable depends on the individual customer. Other purchasing questions that depend on the buyer relate to the facility's goals, available space, and the age and condition of existing equipment.
The most important consideration, say vendors and practitioners alike, are the needs of patients. 
Digital X-ray Systems Comparison Chart
ITN has created a comparison chart for specifications for digital radiography systems, both fixed and mobile. It can be accessed at www.itnonline.com/content/digital-radiography-systems. This will require a login, but it is free and only takes a minute to register. The chart includes all manufacturers of mobile C-arms that sell systems in the United States.
Related Articles on the Transition to Digitital Radiography
Digital Radiography Facing Major Change in 2017
Transitioning to Digital Radiography
Mobile Digital Radiography Driving Efficiency
CR to DR: The Time-Saving Solution for a Critical Access Hospital in New Hampshire
An Effective Approach to X-ray Equipment Upgrade
VIDEO: Technology Report: DR Systems
Greg Freiherr has reported on developments in radiology since 1983. He runs the consulting service, The Freiherr Group. Read more of his views on his blog at www.itnonline.com.