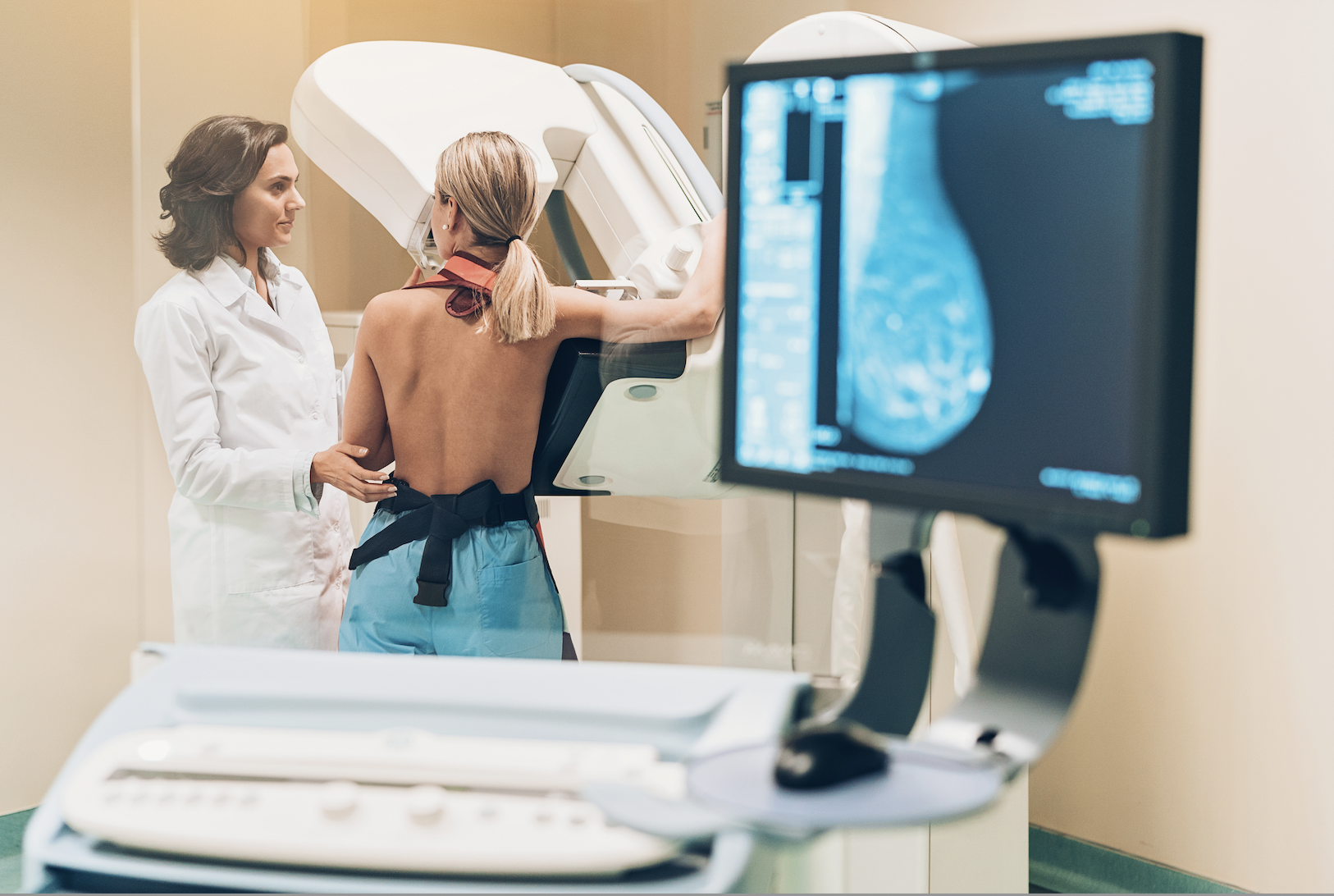 At some point, every breast imager has one of those unsettling moments where they discover an advanced tumor and wonder, "Is she going to beat this … or is it too late?"
Perhaps it's because the patient wasn't compliant with annual screening and hasn't had a mammogram in many years. Or maybe she's a woman with dense breast tissue and traditional mammography technology failed to pick up that abnormality at a much earlier stage. Whatever the case, a breast imager's mission is to save that woman's life.
Early detection is always the first goal for every patient. With today's mammography enhancements — from patient comfort products to sophisticated technology and advanced imaging procedures — imaging facilities and providers alike could arm themselves better than ever before to win the war on breast cancer.
Statistics Tell a Scary Story
Aside from skin cancer, breast cancer is the most common cancer in women in the United States, representing about 30% (or 1 in 3) of all new female cancers each year.
The latest estimates from the American Cancer Society remain sobering: in 2023, approximately 297,790 new cases of invasive breast cancer will be diagnosed in women in the United States; another 55,720 new cases of ductal carcinoma in situ (DCIS) will be diagnosed; and about 43,700 women will die from breast cancer.
To make matters worse, breast cancer screening rates dropped dramatically during the height of COVID-19. During the long lockdown period, many facilities and hospitals were only able to offer necessary medical procedures. When facilities re-opened, both providers and women were playing "catch up" on mammography screenings. Additionally, some women just got into the habit of skipping self-care and medical appointments altogether.
One recent study published in Cancer, The American Cancer Society's journal, explored cancer screening deficits during the pandemic. It examined hundreds of cancer programs nationally between April and June 2021 and found a 55% drop in breast cancer screenings.
However, what is surprising is that screening mammography volumes still have not returned to pre-COVID 19 levels. As an August 2022 study noted, "There was some rebound during COVID-19 recovery as a percentage of pre-COVID-19 volumes: 85.3% of pre-COVID-19 for screening mammography, 97.8% for diagnostic mammography."
Statistics tell an important and somewhat frightening story — but providers have the power to help ensure happy endings. With early detection as a top priority, providers need every possible tool to boost compliance and get women back in the habit of annual screenings.
Mammography Enhancements: Technology and Comfort
Compliance with annual screenings has long been a challenge for providers. In 2019, 67.5% of women aged 40 and over had a mammogram within the past two years. While that figure is better than many countries, experts say it's not high enough.
Many women avoid mammograms due to fear of physical pain or anxiety about hearing bad news. However, today's providers can offer mammography enhancements that are designed to not only spot more cancers, but are also designed to provide more comfortable, less painful exams, while alleviating anxiety. For example, utilizing 3-D and contrast-enhanced digital mammography (CEDM), in addition to patient comfort features, can benefit both women and providers. These tools increase the likelihood of catching cancers earlier and motivate women to return for annual screenings.
Today's imaging facilities should consider the benefits to their patients — and their practice — when adopting these mammography enhancements.
3-D Mammography. Three-dimensional mammography, also known as digital breast tomosynthesis (DBT), offers advantages over 2-D mammography alone in detecting more breast cancers. Essentially, 3-D mammography assists in the early detection and diagnosis of breast cancer at the time when it is most treatable.
Women with dense breast tissue, for example, can benefit from having their exams done with DBT. This is because DBT acquires several images of the breast at different angles, which reduces the superimposition of breast tissues and other structures, making any abnormalities easier for the radiologist to see. DBT exams are often 10 seconds or less, which is not much longer than what a woman would experience with a 2-D mammogram.
One interesting case in point concerns Women's Imaging and Intervention in Portland, Ore. The practice has been using DBT since 2019 and radiologists and techs alike say it delivers better images, streamlines workflow, and provides a more comfortable exam for its patients — all of which make the practice operate more efficiently.
Particularly noteworthy is the fact that exceptional images from the DBT unit are also helping to catch more cancers in patients, including that of the leading diagnostic radiologist and facility owner, Amy Thurmond, MD. In 2019, Thurmond had her annual screening mammogram and said, "I found a 7 mm breast cancer that was visible only on the 3-D images."
Comfort Features. Now let's talk about comfort features. The key to beating breast cancer is finding the disease early so treatment can start earlier. But mammograms don't work if women won't get them. That's why today's vendors are increasingly equipping their mammography units with features that make the exam more comfortable. For example, some units offer features that provide noticeably less pain while easing anxiety for the patient. Certain manufacturers have found ways to reduce pressure and mitigate pain during the mammography exam, without impacting image quality.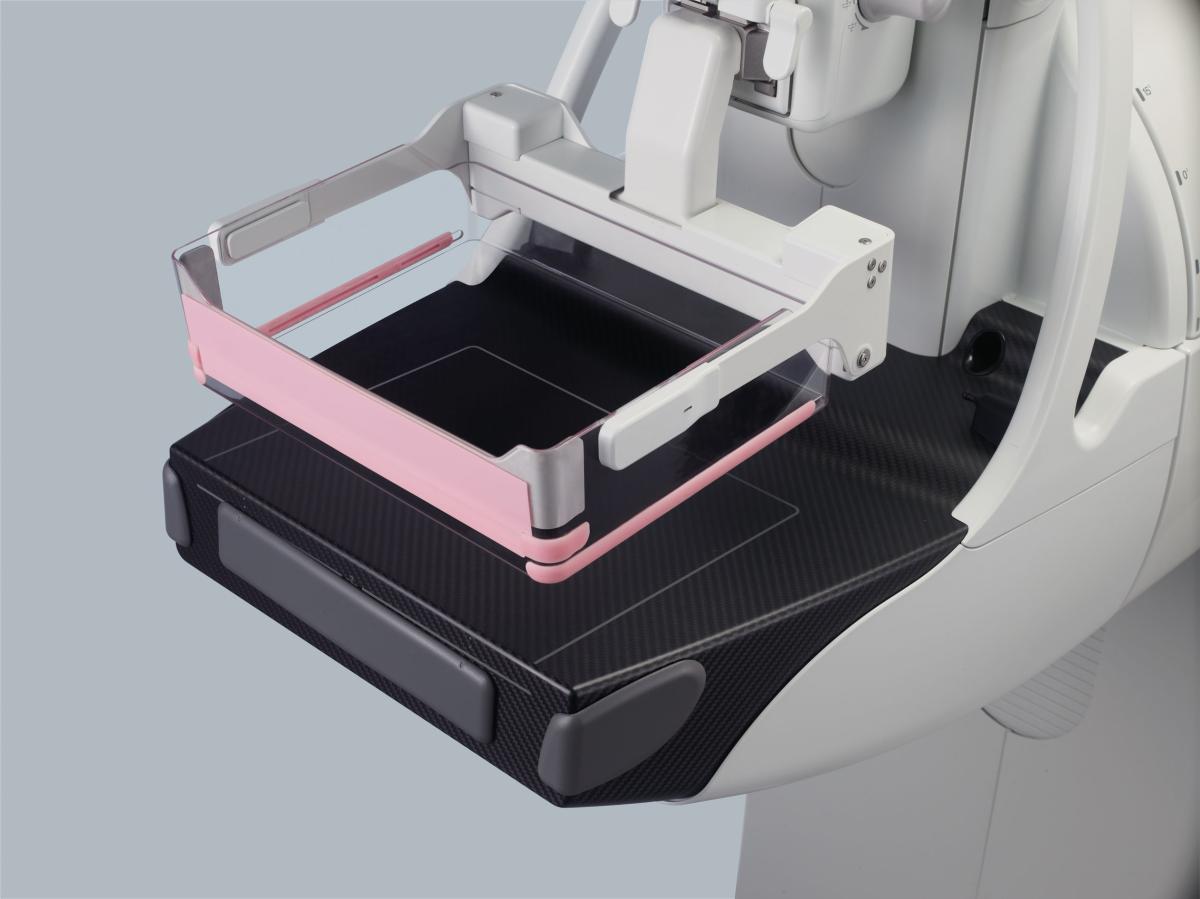 Some units offer features that provide noticeably less pain while easing anxiety for the patient.
Image courtesy of Fujifilm
Real-world facilities like Women's Imaging and Intervention have a continual three-month waiting list which they attribute in part to more comfortable exams. Techs at the facility say fear of pain is the biggest push back they used to get from women on the fence about undergoing a mammogram. However, with state-of-the-art 3-D equipment that delivers exceptional images and incorporates gentle compression, their patients are more compliant, and they are helping to build the facility's bottom line by referring friends and relatives.
Other patient comfort features that can help soothe uneasy patients include soft gantry lighting as well as graphic "wraps" that turn what could be a cold machine into a pretty piece of equipment. Doing so can help transform a stark exam room into a spa-like setting.
CEDM. Contrast enhanced digital mammography (CEDM) mammography enhancement offers several clinical benefits. For example, use of CEDM for supplemental screening may benefit women with an intermediate to high lifetime risk of breast cancer, including women with dense breast tissue. Initial studies suggest that, for dense breast tissue, CEDM performs better than 2-D mammography for detecting malignancy and avoiding false-negative results.
Also, CEDM may serve as an alternative modality for patients who are unable to undergo breast magnetic resonance imaging (MRI) due to contraindication or inaccessibility. Common contraindications to MRI include metallic implants, claustrophobia, inability to lie prone or still, and weight limitations.
CEDM offers patient comfort features, too. Women are accustomed to the mammography unit, and the CEDM procedure takes place on the same equipment, alleviating anxiety associated with unfamiliar modalities.
Finally, CEDM is a speedy exam. Image acquisition time is just 7-10 minutes versus 30-60 minutes for breast MRI. Patients are likely to tolerate CEDM better, and it leads to increased throughput and less radiologist interpretation time. That means a more efficient and productive practice, which can have a positive impact on the bottom line.
The Power to Boost Survivor Rates
Breast cancer death rates have been decreasing steadily since 1989, for an overall decline of 43% through 2020. The decrease in death rates is believed to be the result of finding breast cancer earlier through screening and increased awareness, as well as better treatments. However, the decline has slowed slightly in recent years.
After the dramatic dip in breast cancer screenings due to COVID-19 and the fact that screening mammogram volumes have not returned to pre-COVID levels, it is critical more than ever for providers to use every mammography enhancement to their advantage. It's good for patients and it's good for their business.
Women whose breast cancer is detected at an early stage have on average a 90% survival rate in the first five years. Mammography enhancements can help providers catch more cancers early, which means more lives will be saved. Right now, there are over 3.8 million breast cancer survivors in the United States — a hopeful fact. And with today's technology, providers have the power to grow that number significantly. 
Christine Murray is a Sr. Product Manager, Women's Health for Fujifilm Healthcare Americas Corp. She is a registered technologist with 30 years of experience. During her career, she has worked in multi-modality imaging centers, managed a MR and CT department at Greenwich Hospital, and was the Lead Technologist at Brigham and Womens Mammography Department.
Related Breast Density Content:
VIDEO: FDA Update on the US National Density Reporting Standard - A Discussion on the Final Rule
Creating Patient Equity: A Breast Density Legislative Update
FDA Needs to Ensure that Information on Dense Breast Notifications are Clear and Understandable to all Members of the Public
AI Provides Accurate Breast Density Classification
VIDEO: The Impact of Breast Density Technology and Legislation
VIDEO: Personalized Breast Screening and Breast Density
VIDEO: Breast Cancer Awareness - Highlights of the NCoBC 2016 Conference
Fake News: Having Dense Breast Tissue is No Big Deal
The Manic World of Social Media and Breast Cancer: Gratitude and Grief
Related Breast Imaging Content:
Single vs. Multiple Architectural Distortion on Digital Breast Tomosynthesis
Today's Mammography Advancements 
Digital Breast Tomosynthesis Spot Compression Clarifies Ambiguous Findings 
AI DBT Impact on Mammography Post-breast Therapy 
ImageCare Centers Unveils PINK Better Mammo Service Featuring Profound AI 
Radiologist Fatigue, Experience Affect Breast Imaging Call Backs 
Fewer Breast Cancer Cases Between Screening Rounds with 3-D Mammography
Study Finds Racial Disparities in Access to New Mammography Technology
American College of Radiology (ACR) Launches Contrast-Enhanced Mammography Imaging Screening Trial (CMIST) in Collaboration With GE Healthcare and the Breast Cancer Research Foundation
---
If you enjoy this content, please share it with a colleague