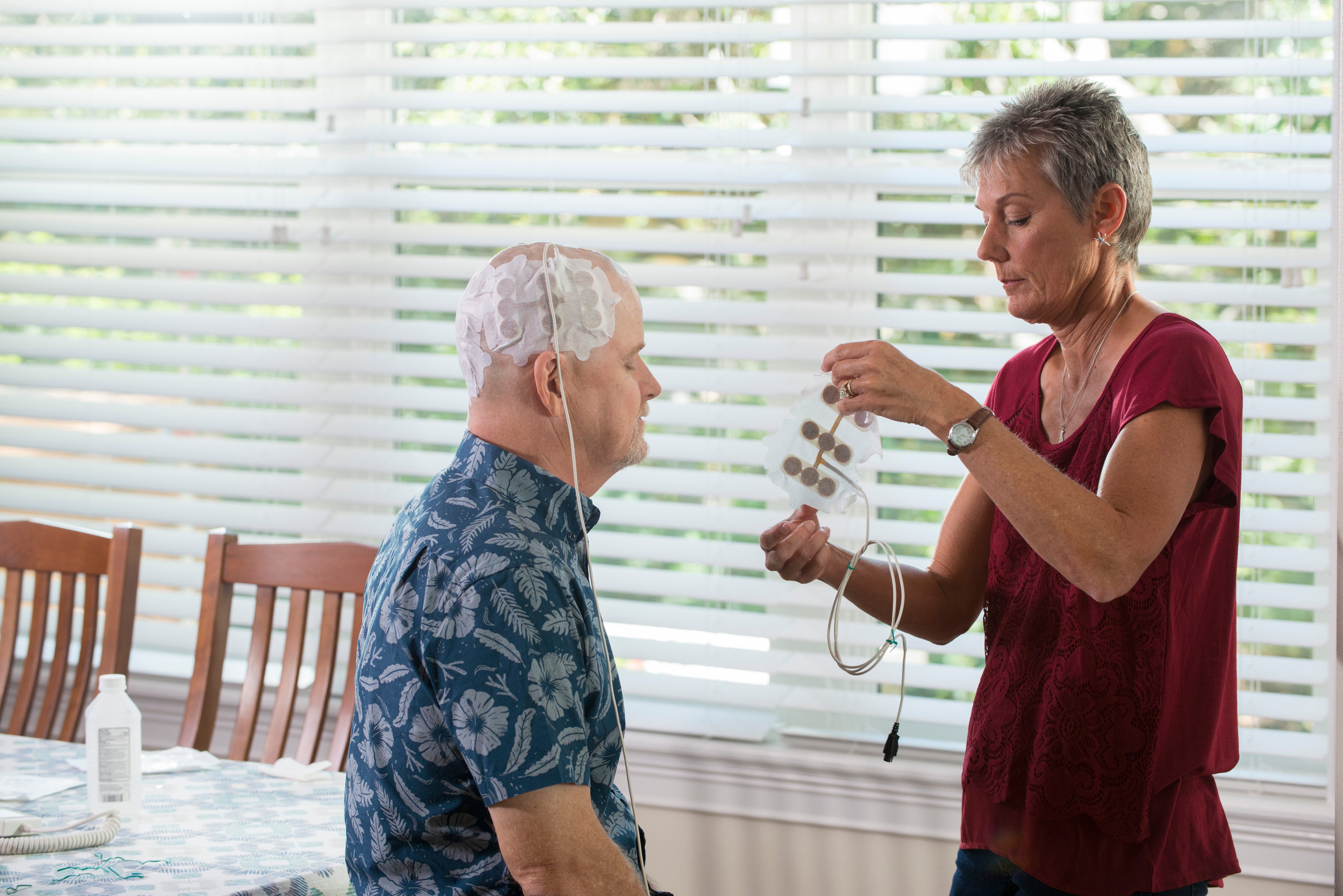 The patient's wife changes the Optune array. Clinical trials indicate that the electrical fields emitted by Optune have the potential to lengthen the lives of patients with glioblastoma.
Approximately 11,000 professionals attended the four-day meeting of the American Society for Radiation Oncology (ASTRO). Oncologists, medical physicists, radiation therapists, biologists and members of industry representatives from around the world attended lectures and exhibits focused on translating discovery into cures. The 2018 Presidential Symposium addressed four subthemes — the interface of radiation oncology with immunology; how artificial intelligence and radiation oncology can come together to improve outcomes; the role played by viruses (considering that one in six human cancers is caused by a virus); and biopsies that serve as serum tests for circulating tumor cells.
In sync with value-based medicine, ASTRO exhibitors emphasized "patient-first" technologies. On the exhibit floor, Accuray sought to exemplify personalized and adaptive radiation therapy in its products, demonstrating how its platforms adapt to patient movement and changes. Other vendors showed products and works-in-progress technologies, many with similar traits, aimed at patient centricity and boosting effectiveness, the hallmarks of value-based medicine.
Watch the related ASTRO 2018 VIDEO "Technology Report: Patient-centered Care in Radiation Therapy."
Major Presentations
Scheduled keynote speeches called for Norman E. "Ned" Sharpless, M.D., director of the National Cancer Institute, to share his vision for how the institute could advance cancer research and cures; and futurologist Mark Stevenson to address how social, economic and healthcare problems might be solved. Social issues impacted oncology, namely the achievement of gender equity. This was addressed during a session that provided data about trends in gender representation; barriers to diversification in training; interventions to mitigate bias, harassment and other deterrents to professional productivity; and leadership lessons and imperatives.
An international session examined emerging developments in head and neck cancer therapy. Included were discussions of how to accomplish follow-up irradiation of patients and multimodal imaging in treatment planning.
Among key scheduled scientific topics were:
•    Advances in breast and lung cancers, genitourinary cancer, and oligometastatic cancers;
•    The role of radiation hypofractionation in the treatment of breast cancer following early detection (featuring Murray Brunt, M.D., of London's Institute of Cancer Research) with conclusions based on a review of 10 years' clinical data;
•    Long-term outcomes of stereotactic body radiation therapy of the genitourinary cancer prostate adenocarcinoma in patients at low and intermediate risk (with Amar U. Kishan, M.D., from the University of California, Los Angeles). Data obtained during a multi-institutional consortium study were presented; and
•    A randomized clinical trial showed the potential of stereotactic ablative radiotherapy against advances in oligometastatic cancers (with David Palma, M.D., of the London Health Sciences Centre).
Brian D. Kavanaugh, M.D., chairman of ASTRO's board of directors, noted that "significant cancer treatment breakthroughs are happening right before our eyes," an observation that played out on the exhibit floor. Kavanaugh pointed especially to the expansion in radiation oncology's understanding of patient centric, high-quality care.
Technologies on Display
Varian showcased elements of an evolving oncology care ecosystem, one aimed at enabling intelligent treatment delivery, bringing information to the point of care and making data actionable. Ones from recent acquisitions characterized the direction of the company — the cloud-based patient interface for monitoring and managing patient-reported outcomes (Noona Healthcare); the IDENTIFY patient positioning and motion management system (humediQ), clinical decision support solution (Evinance Innovation) and radiotherapy QA technologies (Mobius Medical Systems).
The company showcased its new Bravos afterloader system, which cleared FDA review Oct. 3, only a few weeks before ASTRO began. The company presented the remote controlled applicator as exemplifying efficiency and ease of use. The afterloader is one in a portfolio of products that include the company's BrachyVision, VariSeed and Vitesse treatment planning systems; VariPath biopsy module, and Acuros BV dose calculator.
Prior to and during the meeting, Varian was promoting its Halcyon treatment platform, released in spring 2018, as the means to streamline workflow, expedite installation and reduce costs. The system is substantially different from conventional linear accelerators, whose rotating gantry can be noisy. In contrast, all of Halcyon's moving parts are behind the bore, according to the company.
The system integrates imaging and treatment, utilizing image guidance and intensity modulation to enhance the protection of healthy tissues. Early adopters reported treating about 40 patients on the Halcyon system over a 10-hour span. That number could rise to as many as 60, Varian said.
Accuray described its product Radixact as a means for image-guided intensity modulated radiation therapy (IMRT). Radixact shapes radiation to the tumor so as to spare surrounding healthy tissue. Its design is augmented by features that enhance workflow, and highly conformal treatments enabled by an ultrafast, multileaf collimator (MLC). Other Accuray products exemplifying personalized and adaptive radiation therapy included CyberKnife (for stereotactic radiosurgery and stereotactic body radiation therapy) and TomoTherapy featuring image-guided IMRT through integrated 3-D image guidance and conformal treatments enabled by a binary MLC.
The Power of MRI
ViewRay showcased its MRI-guided radiation therapy system, MRIdian. Thanks to a "patented split-magnet MR design," MRIdian provides an unobstructed path for the radiation to the cancer. It seamlessly integrates MRI into the oncology workflow, according to the company, affording on-table targeting that responds to movement that may occur from respiration, for example. MRIdian also adapts to tissue changes induced in the patient by the radiation therapy.
The device cleared the FDA in early 2017. Its underlying concept arose in 2004 when company founder, James F. Dempsey, was a member of the radiation oncology faculty at the University of Florida. At ASTRO, ViewRay highlighted what it described as the four key elements that differentiate its MRIdian LINAC from other radiotherapy systems:
•    The use of MR to visualize tumors and surrounding organs in high-definition and high-contrast imaging;
•    On-table treatment adaptation to accommodate changes in anatomy that regularly may occur from one treatment to the next;
•    Real-time soft tissue image guidance and beam control during the delivery of radiation; and
•    The ability of the therapy system to fit into vaults designed for standard linear accelerator vaults.
Visitors to the ViewRay booth saw these features in a simulated patient treatment that demonstrated the company's MRI-guided real-time on-table adaptive radiotherapy (ROAR). The booth also hosted presentations from seven MRIdian users. Topics included commissioning and re-contouring, novel applications and the company's proprietary ROAR.
Elekta played a similar card at ASTRO, showcasing its combined MRI and linear accelerator, which the company submitted for FDA review in August 2018. Known as Unity MR Linac, the device includes a derivative of a 1.5T scanner from Philips Healthcare and a linac to administer therapy. Integrating the two allows advanced treatment planning with a single platform, according to the company.
With Unity, clinicians can see and track difficult-to-visualize soft tissue anatomies while radiation dose is delivered. The combined technologies exemplify patient centricity as it affords "optimal care based on individual tumor characteristics," according to Elekta. Developed in collaboration with Philips, the device is in clinical use at The Netherlands Cancer Institute-Antoni van Leeuwenhoek Hospital. Unity epitomizes personalized precision cancer therapy, according to the company. It received the CE mark in June 2018.
By contrast, the company drew attention to its sixth-generation Leksell Gamma Knife Icon, which cleared the FDA at the end of March 2018. The stereotactic radiosurgery system (SRS) had been cleared only weeks earlier for sale in China by that country's version of the FDA.
The Gamma Knife has been a standard bearer of SRS since the 1960s, when it was developed as an alternative to traditional brain surgery and whole brain radiation therapy for diseases such as metastatic cancer. At ASTRO 2018, the company framed the latest version of the system as delivering up to thousands of low-intensity radiation beams to one more targets in the brain.
Elekta also highlighted its SmartClinic software as integrating seamlessly with its Mosaiq radiation oncology information system. SmartClinic, which is designed to streamline and coordinate care, includes an intuitive smart board that provides process visualization and rapid access to key patient data. Automated tools alert providers to upcoming tasks. Customizable workflows help reduce errors and ensure greater consistency and standardization.
Among Elekta's latest commercial releases are Aqua, a software platform designed to coordinate and centralize quality assurance tests typically performed in a radiotherapy clinic. The company framed the software as the means to reduce the time needed to do these tests by managing and automating complex tasks.
Leveraging Electricity
Novocure updated booth visitors about plans to expand the use of its Optune technology, which uses electricity to manage patients with glioblastoma. Data from more than a dozen scientific studies regarding "Tumor Treating Fields" (TTFs) were presented at ASTRO, according to the company. Highlights included an analysis of the Radiation Therapy Oncology Group (RTOG) Recursive Partitioning Analysis (RPA) scores in Novocure's phase 3 pivotal trial in newly diagnosed glioblastoma (GBM), and the first presentation of an analysis of the correlation of dose density and survival outcomes.
Last year, the Journal of the American Medical Association published an analysis of a phase 3 pivotal trial of Optune in combination with temozolomide for the treatment of newly diagnosed glioblastoma. The analysis demonstrated that overall survival and progression free survival were each extended by 37 percent for patients who received Optune and the chemotherapy drug compared to patients who received temozolomide alone. The trial included 695 newly diagnosed GBM patients enrolled at 83 centers from July 2009 to December 2016. The clinical trials showed that the use of this technology may lengthen the lives of patients with glioblastoma, while reducing side effects from radiation and chemotherapy. Data presented at ASTRO 2018 indicate that a higher dose of TTF to the tumor bed may be associated with improved overall survival.
Novocure's TTF-generating technology is currently indicated for the treatment of adults with newly diagnosed, supratentorial glioblastoma after surgical debulking and the completion of radiation therapy together with concomitant standard of care chemotherapy. The company may be grooming Optune for use with patients beset by pancreatic or ovarian cancers, but the focus at ASTRO 2018 remained on GBM.
Proton Therapy and Beyond
Hitachi, Mevion Medical Systems and ProTom International featured proprietary proton therapy systems — Hitachi its compact proton solution and multiroom carbon ion solution; Mevion its S250i Proton Therapy System pencil beam scanning technology; and ProTom its Radiance 330 Proton Therapy System. Brainlab showed software designed for use during radiosurgery.
Vision RT presented its AlignRT for tracking a patient's position before and during radiation therapy, as well as aiding in setup and treatment accuracy. The system uses a 3-D stereo camera to track skin surface, comparing the actual position to the ideal one. Through an interface with the therapy system, AlignRT can signal a pause in the delivery of radiation if the patient moves out of the desired position. This has the potential to minimize collateral damage to healthy tissue without the use of positioning tattoos.
The nonprofit foundation Radiation Oncology Institute showed its RadOnc Toolbox app. Compatible with Apple and Android devices, the Toolbox includes evidence-based interventions for eight common radiation-related toxicities, according to the company.
Regarding treatment planning, Philips Healthcare demonstrated version 16.2 of its Pinnacle3. This version integrates with Sun Nuclear's Plan IQ, a patient-specific technology designed to help define, analyze and document treatment plan quality. (The two companies are collaborating to further integrate PlanIQ and Pinnacle3.)
The current integration improves connectivity, according to Philips. And the use of automated planning tools simplifies workflow, reducing the total time needed to create plans for IMRT and volumetric modulated arc therapy (VMAT). The objective is to distribute highly conformal radiation doses with improved target coverage and minimal collateral damage to healthy tissues.
RaySearch showcased its treatment planning system RayStation, which combines multicriteria optimization tools with full support for 4-D adaptive radiation therapy. Included in RayStation are algorithms for IMRT and VMAT optimization and dose for photon, electron, proton and carbon ion therapies.
Related ASTRO 2018 Coverage:
Key Technology Trends in Radiation Therapy at ASTRO 2018
Late-breaking Radiation Therapy Clinical Trials at ASTRO 2018
Market for MRI-based RT Could Soon Widen 
VIDEO "Editor's Choice of the Most Innovative Radiation Oncology Tech at ASTRO 2018
Smart Machines To Empower Oncology Docs and Patients, Say ASTRO Experts
Trends in Proton Therapy — Faster Therapy Delivery, Single-room Installs
Novocure Leverages Electricity Against Toughest Cancers
SBRT As Safe And Effective As Conventional RT For Some Prostate Cancer Patients
Greg Freiherr has reported on developments in radiology since 1983. He runs the consulting service, The Freiherr Group.
---
If you enjoy this content, please share it with a colleague