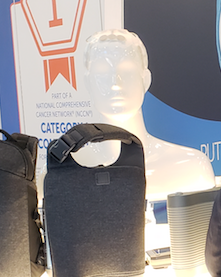 Optune's electrical fields disrupt the multiplication of cancer cells by delivering alternating electric fields over the region where the disease is located.
They are the most difficult forms of cancer to treat — glioblastoma multiforme, pancreatic and recurrent ovarian. Their tenacity is one reason Novocure has chosen to fight them.
"We select our targets considering the need and potential to make a difference for cancer patients," said Uri Weinberg, M.D., Ph.D., vice president of clinical development at Novocure. "We want to improve patients' quality of life and (length of) survival."
The company has had remarkable success, notably using its electrical fields against glioblastoma. This form of cancer is almost uniformly fatal. But, when Optune's tumor treating fields (TTFs) are applied — which involves wearing an electrode array for as many as 18 hours a day following surgical resection and radiation therapy, and during chemotherapy — patient survival has increased up to 37 percent, a fact documented in late 2017 by clinical results published in the Journal of the American Medical Association. It was the first clinical trial in more than a decade to demonstrate statistically and clinically significant extension of overall survival of patients with newly diagnosed glioblastoma multiforme (GBM) regardless of patient characteristics, according to the company.
Optune has been FDA cleared for sale since October 2015 as an adjunct to radiation and chemotherapy for newly diagnosed GBM patients whose brain tumors have been removed as thoroughly as possible.
New Possibilities
At the annual meeting of the American Society of Radiation Oncology (ASTRO) 2018, the company described ongoing studies to extend the technology to patients with pancreatic and recurrent ovarian cancers, as well as mesothelioma. The company is supporting studies of patients with cancers that don't metastasize beyond the region that can be covered by Optune's electrode array. This — the lack of metastasis outside a region — is the second criterion that defines the use of Optune, according to Weinberg, who explains that the arrays must be able to completely cover the diseased area.
In this way Novocure does what can be done while still emphasizing the needs of the patient. Profitability is a lesser priority. This is exemplified by the company's work regarding mesothelioma. 
Only about 4,000 new cases of mesothelioma occur in the U.S. annually, Weinberg explained — fewer than would typically rate doing clinical trials to support the development of a treatment. Yet the company is conducting clinical trials to assess the impact of Optune on this disease.
The work began after laboratory tests showed that mesothelioma cells are particularly sensitive to the TTFs generated by Optune. Recognizing that the standard of care — which currently is based on cytotoxic chemotherapy — has not changed since 2009, Novocure decided to make mesothelioma a focus for future clinical application.
Optune's electrical fields disrupt the multiplication of cancer cells by delivering alternating electric fields over the region where the disease is located. The current Optune product is second generation. The field generator, which the patient carries, is half the size and half the weight of the first gen system. 
Its development "was purely for the benefit of the patient — so (Optune) could be integrated into their lives," Weinberg said, noting that Optune is designed to be used at home. To succeed, it must have a minimal impact on the patient's life, he said: "We must always keep in mind the patient's need to live with and accept it."
Optune must be as inconspicuous as possible, which is why the company changed the color of the electrodes worn by GBM patients on their scalps from white to flesh tone.
GBM patients have to deal with the almost inevitable recurrence of cancer, Weinberg said. "Because microscopic metastases cannot be resected in the brain by the neurosurgeons, there is a need for a local regional therapy that continuously treats the tumor better than the maintenance chemotherapy can do," he said. 
ASTRO Presentations
Reports presented at ASTRO 2018 show how Optune might be used in the future, describing how the technology, for example, might improve the outcome of radiation therapy, according to Weinberg. The company is also supporting ongoing clinical trials targeting locally advanced cancer, including recurrent ovarian cancer that has proven resistant to platinum, one of the chief chemotherapeutic agents used against recurrent tumors of this type. A pilot study is underway against liver cancer.
"We have chosen to limit our enrollment to patient populations that could benefit the most from TTFs. Also we select patients with locally advanced disease only," he said, noting that liver and ovarian cancers tend to spread locally. Similarly, in its trials against pancreatic cancer, the company recruits only patients with disease that has not spread beyond the abdomen.  
In this way Novocure balances its philosophy of developing treatments for patients in great need with practical concerns of limiting the use of Optune to patients who are most likely to benefit.
For additional ASTRO information, see "WEB EXCLUSIVE: Market for MRI-based RT Could Soon Widen," "WEB EXCLUSIVE: Smart Machines To Empower Oncology Docs and Patients, Say ASTRO Experts" and "WEB EXCLUSIVE: SBRT As Safe And Effective As Conventional RT For Some Prostate Cancer Patients."