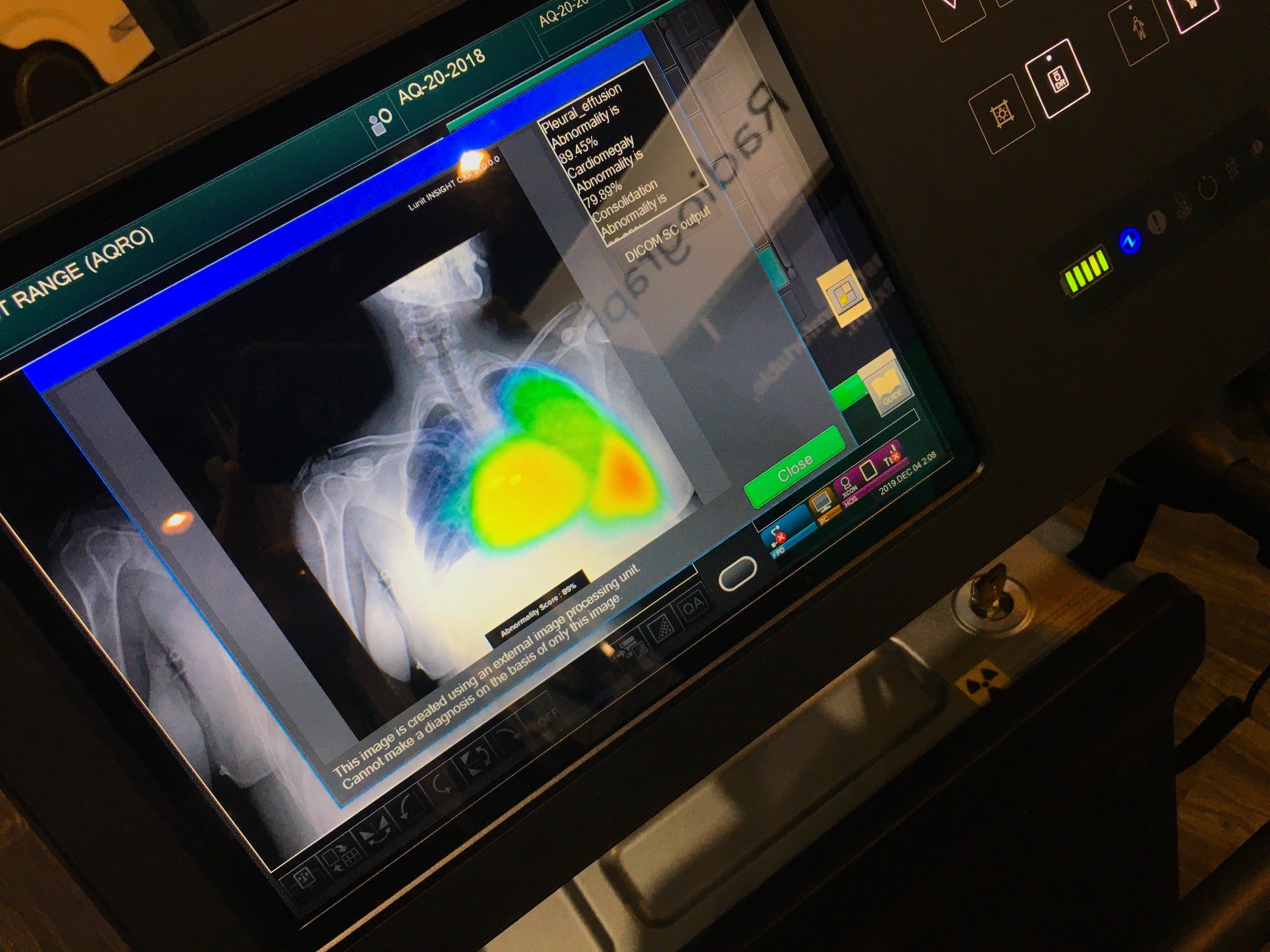 This is an artificial intelligence (AI) application from Lunit that automatically detects a collapsed lung (pneumothorax) on a Fujifilm mobile DR X-ray system. The AI automaticially scans all images as they are captured to determine if there is a critical finding and if so, immediately alerts the RT so it can be listed as a STAT read and so they cal alert the attending physician. Photo by Dave Fornell.
There were several new developments in digital radiography (DR) technology at the 2019 Radiological Society of North America (RSNA) annual meeting. These trends included integration of artificial intelligence (AI) auto detection technologies, more durable glassless detector plates, and technologies to pull more diagnostic data out of X-ray imaging. Some vendors also have redesigned their DR systems to make them more user-friendly and ergonomic. 
AI Allows Immediate Diagnosis
DR systems are starting to see the integration of AI to help flag immediate critical findings. In 2019, GE Healthcare received U.S. Food and Drug Administration (FDA) approval for its AI auto detection algorithm for pneumothorax on its mobile DR systems. This helps alert technologists to an immediate issue that should be sent for a stat read and to notify the attending physician. 
Fujifilm showed three work-in-progress AI technologies at RSNA 2019. The first automatically identifies pneumothorax, nodules or consolidations in the lung and generates a heat map overlay showing areas an attending physician or radiologist should look at immediately. This lung detection app, developed with AI vendor Lunit, will be used on the Fujifilm Aqro system. 
Another AI technology is being developed to identify any foreign objects left behind in surgery patients, such as surgical sponges. The AI highlights these findings on the image. Another AI app helps isocenter patients on fixed DR room tables for improved imaging.
Glassless DR Plates
One of the issues with current DR plate technology is they use a glass substrate to attach the digital detectors, making them fragile and costly to replace when dropped — upwards of $90,000. However, the first glassless plate was introduced at RSNA 2019 by Fujifilm.
The FDA cleared the FDR D-DEVO III detector plate in November 2019. It uses a flexible plastic film instead of glass, making it lighter weight and more durable. It weighs about four pounds and comes in a 14 x 17 and a 17 x 17 configuration. 
Moving X-ray Images
Shimadzu and Konica-Minolta co-developed a new, FDA-cleared technology called dynamic digital radiography (DDR) to create moving X-ray images. It uses continuous pulses of about 15 frames per second to capture respiratory motion, limbs moving or neck movement. The companies say it has applications for COPD, asthma and orthopedics. The technology offers a lower dose than a CT scan and DR systems usually have more availability than CT systems. 
Dual-energy DR Imaging
Another way to pull additional diagnostic data out of DR imaging is with the use of dual energy X-ray technology. Different contrasts and details can be achieved in visualizing soft tissues or bone at different X-ray energies. Images that use multiple energies enable bone removal or increased tissue contrast.
Carestream introduce its version of dual energy DR at RSNA 2019. It uses standard DR imaging and software to show separate high and low energies to create images showing different tissue contrasts.
At RSNA 2019, the start-up vendor KA Imaging also showed a DR detector plate that has three layers to detect different X-ray energies in one DR imaging exam. The first layer produces a standard DR image. The second and third layers absorb low and higher energies to produce different versions of the image to better delineate soft tissue or bone. The company said it plans to submit this product for U.S. FDA in 2020.
DR Tomosythnesis
Carestream at RSNA 2019 also showed a work-in-progress method to create tomosynthesis X-ray imaging. A fixed room DR head makes an automated sweep of 30 frames per second at different angles to create a multi-slice data set similar to a CT scan. The images can be scrolled through slice by slice, similar to a CT scan or breast tomosynthesis scan. This enables radiologists to differentiate if areas of suspected lung lesions are cancer or just areas where multiple blood vessels or dense tissue overlap on an image. 
Better Designed Systems 
Vendors continue to refine their systems to make them more ergonomic and user friendly for technologists. An example of this is Agfa's mobile DR system, which went through a redesign process over three years ago based on user feedback. Changes to Agfa's DR 100 system included making it narrower so it is easier to navigate through halls and doorways, a Bluetooth enabled wireless switch, a multi-axis movement X-ray head to make it easier to center images at any angle, a display monitor was added to the tube head to to make it easier to to work in a patient room, locking mechanisms to prevent theft of the detector plates and a larger 22-inch monitor.
---
If you enjoy this content, please share it with a colleague