This is work-in-progress artificial intelligence app on Fujifilm's mobile digital radiography system to immediately detect pneumothorax (a collapsed lung), The AI highlights the area of interest to show the location to the technologist and attending physician in a unit before the image is even uploaded to the PACS for a read by a radiologist. The technology also can flag the study for an immediate read in the PACS worklist for confirmation by a human. This technology is from a third-party and will be offered on Fujifilm's REiLI AI platform. Applications like this that have immediate impact on critical patient care saw a lot of interest at RSNA 2019. Photos by ITN Editor Dave Fornell.
Radiology artificial intelligence (AI) was again the hottest topic at the 2019
Radiological Society of North America (RSNA)
annual meeting in December. AI was a primary theme in the larger booths in the north and south expo floors, as well as on the new third expo floor dedicated AI showcase. 
The separate AI show floor did not make many AI vendors happy. Many wanted the
artificial intelligence
showcase on the same level as the other expo halls to reduce the shuttling between the floors for meetings. RSNA organizers pointed out to one startup that due to the sheer number of AI exhibitors, they had to give the showcase its own space. The RSNA app listed 176 companies, large and small, under the artificial intelligence/machine learning category. The AI showcase had 136 companies, 38 of which were first-time exhibitors. 
Here are our key takeaways on AI at RSNA19.
   • Most of the larger OEMs are also infusing AI into their solutions and few large vendors remain skeptical about the hype of AI.
   • Mature AI startups want to "walk the talk" on delivering value, proving it by using publications with their academic partners. Some are expanding their focus beyond just image analysis to provide value-added services around the care continuum.
   • Newer image analysis startups continue to emerge. We wonder how many will succeed?
   • Leverage of natural language processing is picking up with larger companies and at least one new startup utilizing it for different use cases in radiology, beyond the image analysis area.
   • The market for AI development support tools is seeing activity, though solutions developed by health systems would, of course, be limited for their own use. 
AI is integrated into GE Healthcare's new Venue Go point-of-care ultrasound system (POCUS) to automate image measurements and track them over time with repeat imaging of the same patient. It is an example of the large imaging vendors integrating AI into their products.
Support for Developing Your Own AI Algorithms in Radiology
This is an interesting area that is holding its own. There were a handful of startups earlier that helped with data extraction, anonymization, annotation, AI algorithm training and validation, etc. Then came Nvidia's Clara AI-Assisted Annotation solution, which was further enhanced this year with Clara FL, the federated learning solution that leverages Nvidia's expertise in edge computing. There is also a new startup, HOPPR, at RSNA this year that helps health systems develop AI solutions in-house. Philips's IntelliSpace is another example in this this area of artificial intelligence development.
Medical Imaging Analysis AI
There are too many AI startups to keep track of. Some articles quote industry players saying we will see the beginning of consolidation of these companies in the 12-18 months. Several new startups are probably taking the narrow view of image analysis. The mature ones are beginning to look broader across the patient journey to see where else they can make an impact.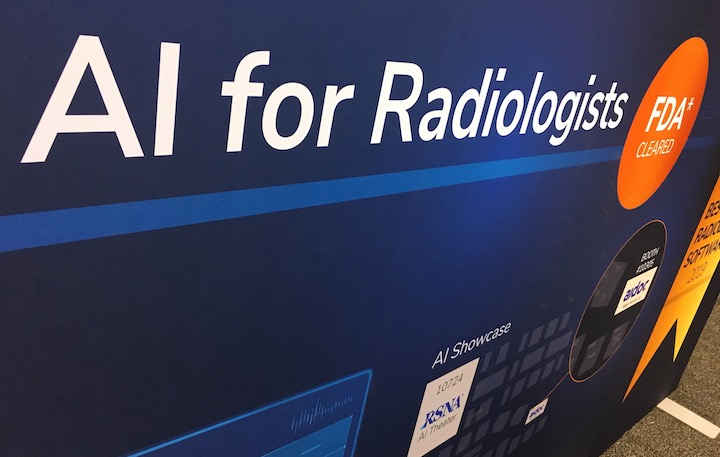 Others, like Aidoc, want to convince potential customers of the value of their solution in a way that doctors understand hard, clinical evidence published in peer-reviewed journals, in partnership with some of the bigger names in healthcare. Their evidence on reduction in length of stay (LOS), efficiency gains and improvements in turn-around-time (TAT) are equally important, apart from solution accuracy, which most of the industry tends to focus on. At the end of the day, it is the ROI for the hospital that matters the most, especially since a majority of AI solutions do not have reimbursements yet, and some might never have them. This is a refreshing perspective that most startups must consider to be truly successful. 
Apart from these efforts to rise above the hype of AI, another approach that caught our attention was the focus on impactful solutions for regions that lack resources in the developing world. Enabling public health screenings in areas where radiologists are probably hundreds of miles away, such as Africa and some Asian countries is an impactful use of AI image analysis—advanced algorithms designed to help catch diseases early. Qure.AI is a startup that has focused efforts on tuberculosis screening, but interestingly enough, it has built a way to make an AI algorithm work without internet connectivity or a PACS. Using a small plug-in device that contains the AI algorithm, it can be used in very remote regions.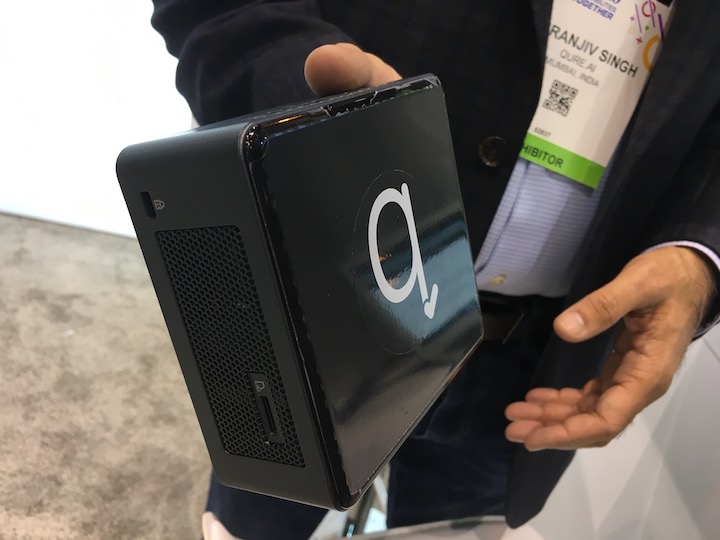 Qure.AI offers a small plug-in box that enables its lung AI detection app to be used in remote areas without the need for an internet connection or PACS. This technology is being used for tuberculosis (TB) screening programs using mobile DR units in Africa and the Philippines. Immediately identifing TB patients is critical to prevent further spread of infection and because it is nearly impossible to track down patients weeks or months later in slums or remote farming areas. 

 
Artificial Intelligence Marketplace and Enterprise Imaging Approaches
IBM Watson and Arterys are two new entrants in the marketplace modeled after Blackford Analysis, TeraRecon's Envoy AI and Nuance. The AI market places are like an app store where healthcare organizations can purchase AI from one vendor. The original three were launched at RSNA 2017. IBM, for example, can pull its AI technology across the board (not just radiology) and integrate it to build bigger value propositions.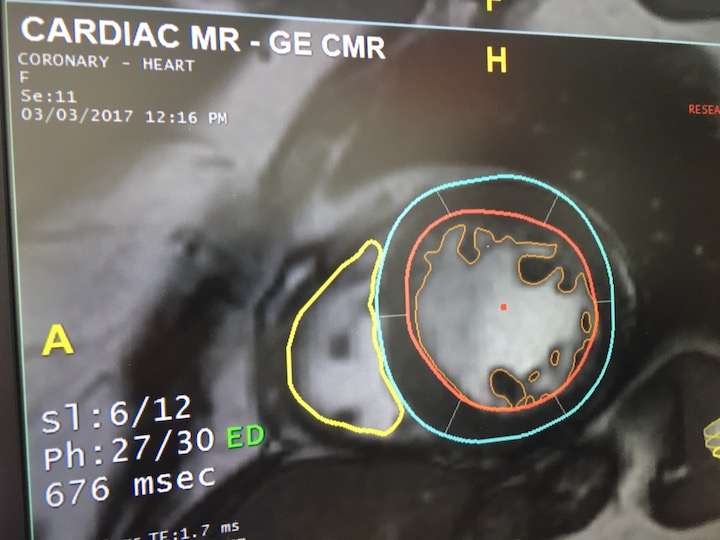 TeraRecon's Envoy AI marketplace offers apps from several third-party artificial intelligence startup companies in one location. This is an example of AI available through Envoy to automate cardiac MRI analysis. There was no human intervention in the contouring here of the myocardium of the left ventricle or the outline of the right ventricle.
While the core value proposition a marketplace brings for hospitals is obviating the need for multiple contracts and multiple installations with every AI vendor, a similar proposition is now available via enterprise imaging vendors. OEMs are active in providing similar solutions by building their own algorithms and partnering where existing solutions are better. One of the major beneficiaries of this emerging approach has perhaps been MaxQ.AI. The stroke solution vendor is not only available on all five marketplaces, but is also available on GE Healthcare's Edison platform and Fujifilm's REiLI. 
AI to Make Imaging Systems Into Intelligent Machines
There have been efforts to provide intelligent applications closer to the modality for better patient positioning, selection of the optimal protocol and faster image reconstruction. The newest diagnostic imaging player, United Imaging, is also leveraging its AI initiatives to drive this concept. Beyond last year's announcement in China about its uAI initiative, the vendor is introducing the first applications in the U.S. market, pending FDA 510(k) clearances. This includes United's DELTA, a deep learning enhancement to its uCT (computed tomography) 7 series; HYPER Deep Learning Reconstruction in the routine PET/CT workflow of its uMI 550 system; and AI-assisted compressed sensing (ACS) full-coverage image acceleration for its uMR 780 system. We believe this will also be another area to watch.
Radiologists Funding AI Startups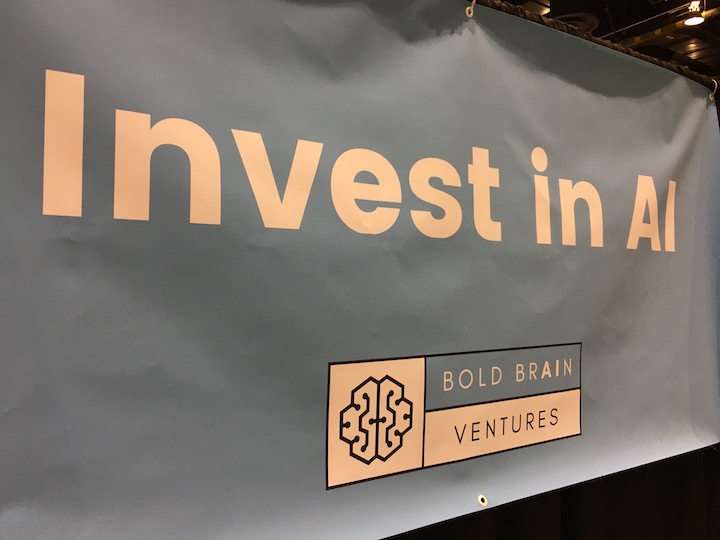 Last but not least is this intriguing approach. Bold Brain Ventures is a unique venture in itself, a radiology AI investment fund started by two radiologists that encourages other radiologists to also invest in AI startups. The goal is to guide the development of AI solutions with radiologist input while also helping adoption of AI by radiologists. The founders have already invested personally in some startups, most of which were in the AI showcase. Some of them are also working together collaboratively to further enhance AI solution development. 
Our main prediction for this space in 2020 is "survival of the fittest" for the number of AI startups that continue to grow each year.  Explore further insights here:
http://frost.ly/3xj.
About the authors: Siddharth (Sid) Shah and Srikanth Kompalli are transformational health program managers with the healthcare market research firm Frost & Sullivan. 
---
If you enjoy this content, please share it with a colleague