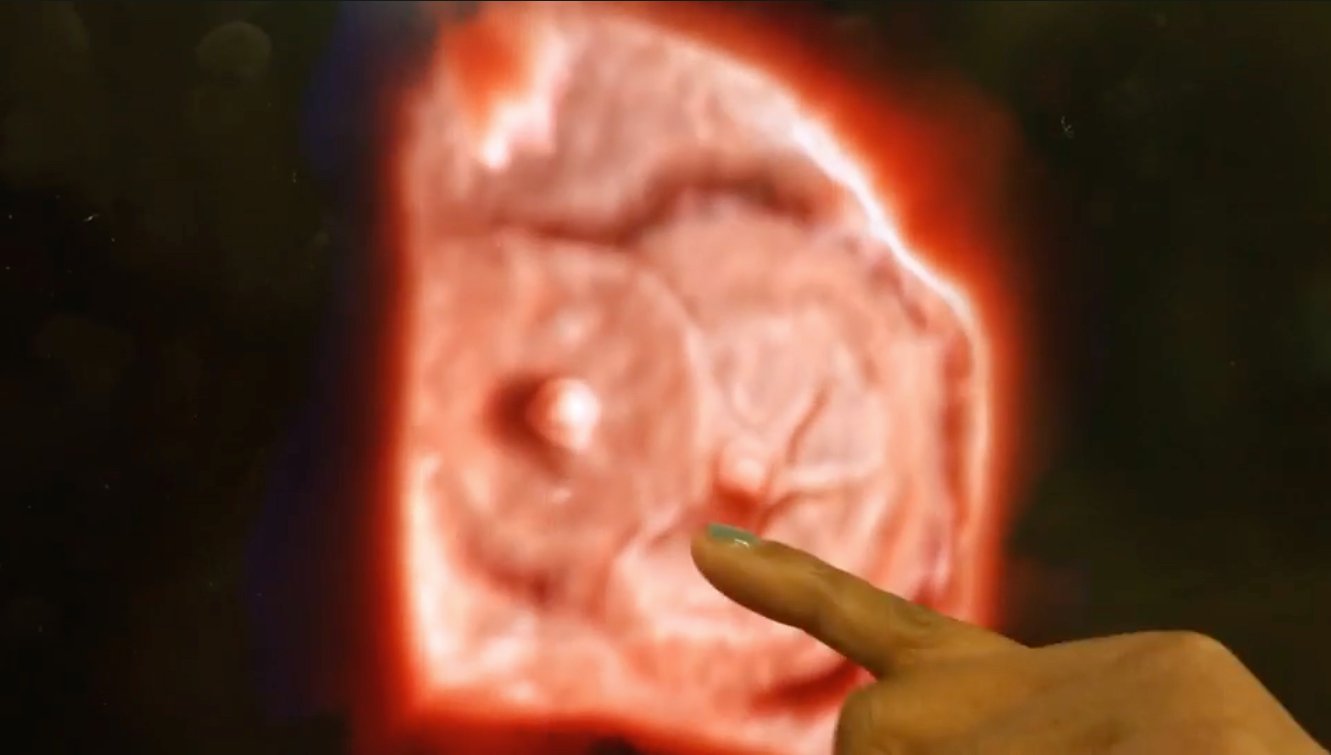 An example of Philips' TrueVue technology, which offers photo-realistic rendering and the ability to change the location of the lighting source on 3-D ultrasound images. In this example of two Amplazer transcatheter septal occluder devices in the heart, the operator demonstrating the product was able to push the lighting source behind the devices into the other chamber of the heart. This illuminated a hole that was still present that the occluders did not seal. 
Here is a list of six key trends in ultrasound technology that Imaging Technology News (ITN) has seen at radiology and echocardiography conferences over the past two years. For hospitals looking at purchasing new imaging systems, this list will be helpful when comparing vendors.
1. Improving Ultrasound Workflow
In an era of lower reimbursements and a healthcare reform environment where providers are being asked to become more productive, increasing patient throughput without sacrificing quality has become a major topic. On ultrasound imaging systems and their connected reporting systems, this means streamlining the workflow process. Newer generation ultrasound systems offer features like fewer dropdown menus, less keystrokes, faster processing times and the automation or semi-automation of measurements. Here are some examples from recently released imaging systems.
A new version of the Canon Aplio 900 CV system released in 2018 was designed with 40 percent fewer keys to simplify workflow. It also is 50 percent lighter than previous Toshiba echo systems. 
Hitachi launched its new Arietta 65 mid-range ultrasound system at the Radiological Society of North America (RSNA) 2018 meeting. It uses a smaller track ball to make the keyboard smaller and enable shorter hand movements, making the system more ergonomic. 
The Samsung RS85 ultrasound system received FDA clearance in 2018 and was designed so many multi-step actions are now combined into a single step to reduce keystrokes and repetitive user interactions.
Another example is Konica Minolta's new Sonimage HS1, which offers simplified one-button image optimization. Multiple imaging parameters, such as frequency, focus and compounding change automatically when adjusting the depth.
Automated Lesion Segmentation was introduced on the GE Healthcare Logiq E10 system at RSNA 2018 to increase productivity through automation. There are significant ergonomic challenges due to repetitive exam steps. This software helps eliminate the need for the user to measure lesions manually, by segmenting an identified breast, thyroid or liver lesion and automatically providing a trace of the lesion and corresponding area. This feature also helps ensure consistency among different users, or even the same user, for documentation and follow-ups.
2. Integration of Artificial Intelligence Into Ultrasound
Automation of time-consuming tasks, quantification and picking out the ideal image slice from a 3-D dataset is starting to be performed by artificial intelligence (AI). Many high-end ultrasound systems already integrate some level of AI and most new systems on all tiers moving forward will likely integrate increasing levels of AI. 
Integrating AI algorithms in the backend of ultrasound systems began a few years ago with the goal of speeding workflows. Elements of this are built into Siemens' eSie Flow valve analysis software for 3-D heart valve assessments. Philips' Epiq system uses anatomical intelligence, where the AI can automatically identify, segment and color code the anatomy in the scanning field. It also can select the optimal scanning slice view for various exams, extracting it from 3-D datasets, improving reproducibility regardless of the sonographers level of experience. The Philips Epiq and Affiniti ultrasound systems featured at RSNA 2018 offer anatomical intelligence for breast imaging to enhance reproducibility and streamline workflow. The automation and AI provides visual mapping and annotation of screened anatomy, with minimal user interaction.
"In a standard echo study, a sonographer will acquire hundreds of images. If a cardiologist wants to look at images from specific views, they need to review each individual clip – almost like flipping through a dense textbook without a table of contents," said Al Lojewski, the general manager of GE Healthcare, cardiovascular ultrasound division. "AI brings the potential for the cardiologist to indicate the specific structure so that the system may automatically pull all the images with that view, or identify specific anatomy and function of the heart bringing the exam review process in line with the clinician's diagnostic questions – rather than managing a vast collection of images and measurements. This could save them critical time that they can now spend with their patients."
The newest version of the Konica Minolta Sonimage HS1 uses AI-voice recognition controls for hands-free operation. Aimed at musculoskeletal (MSK) interventional procedures, it has the ability to control system functions through simple voice commands. The clinician can hold the transducer in one hand and a needle or syringe in the other, eliminating the need for an assistant and maintaining the sterile field during procedures.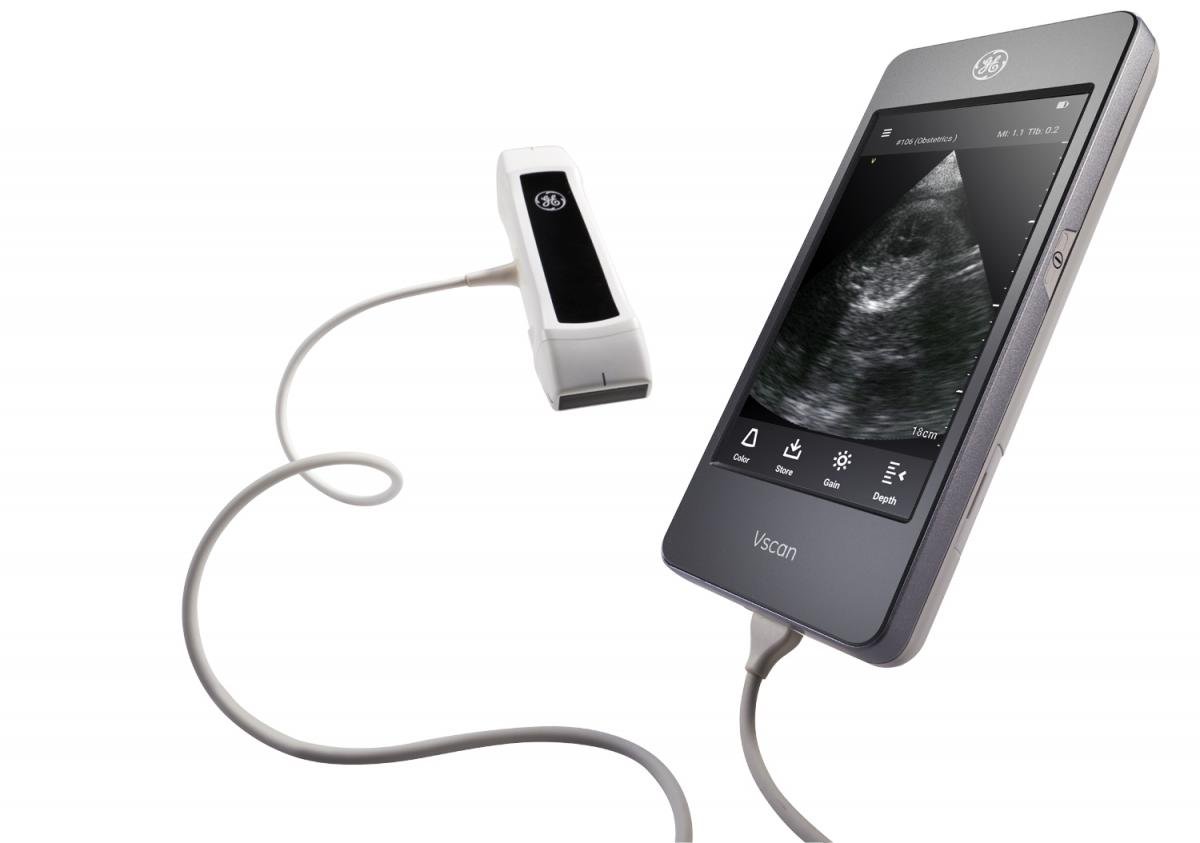 To enhance the functionality of its portable Vscan Extend handheld, pocket-sized ultrasound, GE Healthcare added the DiA Imaging Analysis AI-powered LVivo EF for automated ejection fraction (EF) measurements. Traditionally, most EF interpretation at the point of care (POC) is conducted through visual estimation, with clinician experience levels varying across POC settings. LVivo EF addresses this challenge by quickly and efficiently providing clinicians with left ventricle EF scoring and volume measurements using AI and advanced pattern recognition algorithms.
Northwestern Medicine recently began a study using Bay Labs' AI-based EchoGPS cardiac ultrasound guidance software to enable certified medical assistants (CMAs) with no prior scanning experience to capture high-quality echocardiograms. The study will also evaluate the use of its EchoMD measurement and interpretation software suite to detect certain types of heart disease among patients 65 years and older undergoing routine physical examinations in primary care settings. The SHAPE (Seeing the Heart with AI Powered Echo) study is the first to evaluate AI-guided ultrasound acquisition by CMAs. It will enroll 1,200 patients. 
"Deep learning will have a profound impact on cardiac imaging in the future, and the ability to simplify acquisition will be a tremendous advance to bring echocardiograms to the point-of-care in primary care offices," said Patrick M. McCarthy, M.D., chief of cardiac surgery at Northwestern Memorial Hospital, executive director, Northwestern Medicine Bluhm Cardiovascular Institute and principal investigator on the project.
3. Advancements in 3-D Ultrasound
The slower frame rates and larger expense of 3-D ultrasound has limited its wider adoption, but its application in some specialty areas has helped rapidly expand therapies such as transcatheter structural heart interventions. The use of 3-D has big applications when the imaging is used by specialists for procedural planning or guidance, where the 3-D can offer a "surgeon's view" of the anatomy. The technology is also used to help guide catheter procedures in complex anatomy. 
"The technology just keeps getting better and better in regards to 3-D ultrasound," said Sunil Mankad, M.D., FASE, director of transesophageal echocardiography (TEE) at Mayo Clinic, Rochester, Minn. "In cardiology, this allows you to see the relationships with underlying structures. I don't think we are ready to put 2-D echo to bed yet, because usually you need a combination of the two. The frame rate is currently far better with 2-D over 3-D, but 3-D is critical for things like structural heart evaluations." 
He said all the vendors are getting better with increasing frame rates, better resolution and improved color Doppler. Mankad said the trend is definitely headed toward 3-D taking over 2-D market share in the years to come. 
Most 3-D systems are still operating below 30 frames per second, but the technology and speed is improving each year, said Lissa Sugeng, M.D., associate professor of medicine, director of echocardiography and director of the Yale Echo Core Lab, Yale School of Medicine. She believes the time has come where all echo labs need at least one 3-D echo system. She said these systems are needed minimally for cardio-oncology patient assessments. The imaging they provide is also valuable for surgeons and structural heart interventionalists who need the 3-D imaging for a more comprehensive assessment and visualization of valves, septal defects and the left atrial appendage. 
She said some vendors have attempted to increase their volume rates by using multi-beat acquisitions, but Sugeng said she would prefer a one-beat solution to avoid image-stitching artifacts. 
As computing power continues to advance, Sugeng said it is inevitable that frame rates will catch up in 3-D systems. "I think all the companies are trying to strive for that," she explained.
In 2018, GE Healthcare released its Imaging Elevated release of its cSound image reconstruction technology. The technology aids imaging quality, workflow and quantification on the Vivid E95 cardiac imaging system. It leverages GPU processing to improve the volume frame rate, which GE refers to as volume max, or Vmax. This allows for nearly triple the frame rate speeds for TEE in a single beat over previous generation systems.
Watch a VIDEO interview with Sugeng.
Watch a VIDEO interview with Mankad.
4. New Ultrasound Visualization Methods
Vendors have moved beyond basic 2-D and 3-D imaging to offer new ways to reconstruct images to speed evaluations and make them easier to understand. 
New imaging unveiled at RSNA 2018 was developed to address fetal heart and brain imaging. Detailed fetal cardiac assessments are difficult to perform because of the small size and extremely fast heart rates. At 18 weeks, the fetal heart is the size of an olive and beating about 150 times per minute. Additionally, the structure itself is extremely complex and with the baby in constant motion, it is always a moving target. Imaging is important, because congenital heart defects affect one out of every 110 babies born globally.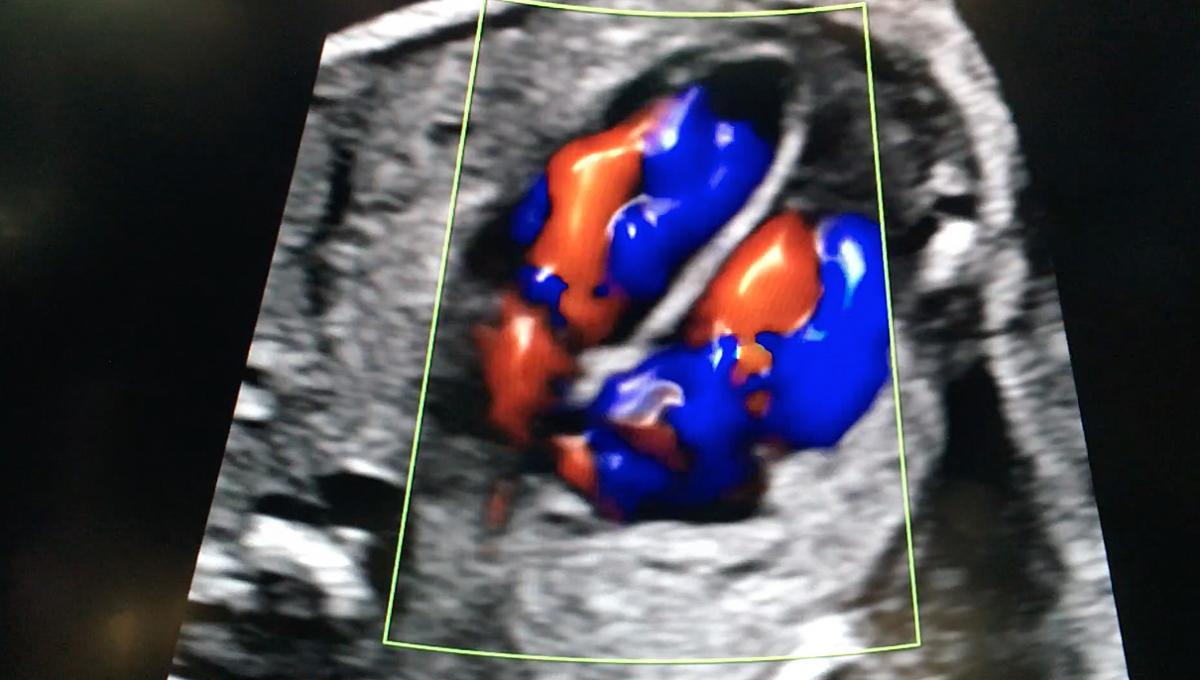 GE Healthcare's fetalHQ heart and vascular analysis software for fetal ultrasound, offered on the Voluson E10, helps evaluate the fetal heart shape, size and contractibility in less than three minutes. A feature called Radiant Flow shows the blood flow in a 3-D view. It can also help show slow-flow blood, such as neurovascular circulation.
Watch a VIDEO example of this technology showing fetal cardiac blood flow and cerebral blood flow. 
Another example released in 2018 is Philips' TrueVue, which offers photo-realistic rendering and the ability to change the location of the lighting source on 3-D ultrasound images. It allows users to changing the lighting conditions to improve contrast. The light source can be moved around to change the shadows and add more depth perception. The light source also can be pushed through the tissue to backlight the anatomical structures.
Watch the VIDEO: Photo-realistic Lighting to Enhance 3D Echocardiography.
Imaging blood flow in small, slow flow vessels was not possible with ultrasound prior to a couple years ago, but a few vendors now offer systems with this ability. The feature provides an additional way to check lesions for indications of cancer or inflammation. One of the first was the Canon Aplio 900 CV, which can show blood flow in capillary vessels. Hitachi's Arietta 65 mid-range system offers a feature to visualize small blood vessels to better view perfusion in organs like the kidney. The Samsung RS85 also offers MV-Flow to visualize slow-flow micro vascularized structures. 
The Canon Aplio 900 CV system also launched in 2018 a new way to visualize the heart with echo called quad-chamber tracking. It tracks the blood volumes for all four chambers in a single, 3-D view. It offers both end diastolic and end systolic views of the chambers. This allows a picture of the entire heart function at once, rather than looking at one chamber at a time. 
See a VIDEO demonstration of this technology included in this collection of new technologies.
Baptist Health South Florida became the first commercial install site last fall for the Siemens Healthineers' Acuson Sequoia. The system will help enhance imaging capabilities for gastroenterology, primary care and bariatric specialties. The Sequoia enables high-resolution imaging that automatically adapts to patients' size and personal physical characteristics, contributing to more confident diagnosis. It adapts to the patient's bioacoustic variations in tissue density, stiffness and ultrasound beam absorption. This allows the system to penetrate up to 40 cm without image quality degradation often caused by attenuating echo signals.
5. Point-of-care Ultrasound
In the past few years there has been an explosion in the use of POC ultrasound (POCUS). Vendors have released numerous small pocket-sized, or slightly larger cart or wall mounted, basic ultrasound systems to allow a quick look inside the patient for more accurate and faster assessments, or to determine if a higher level of imaging is needed. POCUS has moved into many subspecialties, most notably in emergency medicine, critical care, internal medicine and anesthesia.  
"Some institutions use full ultrasound systems to do all of their point-of-care ultrasound. There are many tools for different jobs, and the problem is that many people have different jobs they need to do. Some centers doing very sophisticated measurements will want a full system. Some people say they need the portability because they go all over the hospital to do bedside ultrasounds and use these systems like a stethoscope. A person like that might want a hand-held device," explained Michael Lanspa, M.D., director of critical care echocardiography services, Intermountain Medical Center, Salt Lake City, Utah. He is involved in new POCUS training initiatives by the American Society of Echocardiography (ASE) to fill the void where doctors from various subspecialties are looking for basic ultrasound training  Lanspa also serves on the educational committees for ASE, the American Thoracic Society (ATS) and the Society of Critical Care Medicine. 
He said in 2019, the National Board of Echo will offer a formal certification for critical care ultrasound, and ASE will be offering a review course for it. 
There have been several dedicated POCUS systems introduced in the past couple years. Fujifilm SonoSite Inc. presented a complete portfolio of POCUS systems at RSNA 2018. Its SonoSite X-Porte portable kiosk system combines touch screen controls and a customizable interface that offers more than 80 real-time educational visual guides and tutorials. The SonoSite Edge II clamshell system offers an intuitive interface for easier access to frequently used functions and a wide-angle display with an anti-reflection coating for minimal adjustments during viewing. The SonoSite SII uses a simple portrait display and smart user interface. The SonoSite iViz fits in the palm of the hand, providing quick answers in clinical questions. 
See a VIDEO example SonoSite iViz system.
In 2018, Healcerion gained FDA clearance for its Sonon 300L wireless handheld ultrasound device that works with a table device to display the images. It provides a flexible imaging device at less than 1/10 the cost of a traditional ultrasound machine, with a user interface anyone can learn in minutes, according to the company.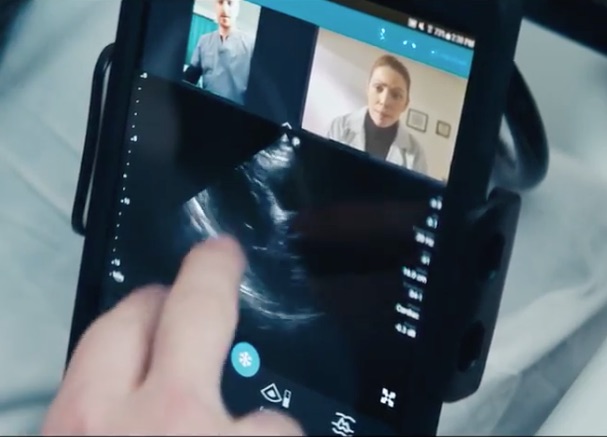 In March 2018, Philips announced the first integrated tele-ultrasound solution on Philips' Lumify portable ultrasound system. The system is composed of a transducer paired with a mobile device and an app to convert smart phones or tables into an ultrasound system. The new feature connects clinicians around the globe in real time by turning a compatible smart device into an integrated tele-ultrasound solution, combining two-way audio-visual calls with live ultrasound streaming. Users can have a live, face-to-face conversation on their Lumify ultrasound system. Users can switch to the front-facing camera on their smart device to show the position of the probe. They can then share the Lumify image stream, so both parties are simultaneously viewing the live ultrasound image and probe positioning.
Another example of POCUS moving into breast imaging is the 2018 release of Hologic's new Viera portable breast ultrasound system. The wireless ultrasound scanner provides physicians with the opportunity for earlier diagnoses and an optimized clinical workflow. It can guide interventional procedures such as biopsies, marker placements and wire localizations. It also can transmit breast images to smart devices or PACS. 
One of the most versatile POCUS systems recently introduced is the Butterfly IQ ultrasound transducer and app. The company displayed it at RSNA for the first time in 2018, and showed attendees how they can convert their iPhones into a reasonably good quality diagnostic ultrasound system. Its FDA-cleared technology is one of the first "ultrasound system on a chip" to be released commercially. It consists of a transducer that connects to an iPhone or iPad to record ultrasounds.
The system has 18 different applications for specialized images, including cardiac imaging, vascular, aorta, lung, abdominal and others. The apps allow for quantification and offer features usually found only on larger cart-based systems. The company said 90 percent of the work that can be done on a cart-based system can be performed with the Butterfly IQ. The apps allow basic measurements and annotations, and images can be transferred from the device into a cloud server for storage or transferring to a picture archiving and communication system (PACS) as a DICOM format. The images also can be saved as a PNG or videos in the MP4 format.
The ultrasound system on a chip technology allows a single transducer to be reconfigured with a simple setting to image as a curved, phased or linear probe, rather than needing to physically have and swap out various transducers. The system also allows for changes on the fly for beam sharpness, frequency and focal depth. The system also offers there scanning modes — M-mode, B-mode and color Doppler. The 2-D Butterfly transducer is composed of 9,000 elements and does not use traditional Piezo crystal technology.
Leveraging the fact that the platform operates on a smartphone, users can tag colleagues on to images they create to get quick consultations in or outside of the hospital. The tags create a de-identified image link so there is no violation of HIPAA privacy regulations.
Watch a VIDEO interview with Lanspa.
Related Ultrasound Content:
Latest Ultrasound Advances on Display at RSNA 2018
Recent Advances in Echocardiography Technology
Top Technology Trends in Echocardiography at ASE 2018
VIDEO: Editor's Choice of the Most Innovative Echo Technology at ASE 2018
VIDEO: Ultrasound Technology Trends and Technology to Watch
The Latest in Ultrasound Technology
A Glance at Recent Trends in Ultrasound
Emerging Trends in Ultrasound Imaging
Five Trends Shaping the Future of the Global Ultrasound Market
Advances in Ultrasound (2016 article)
Top Trends in Cardiovascular Ultrasound 
Ultrasound Enhances Quality as Technology Advances
Access the most current version of the Ultrasound Systems Comparison Chart (www.itnonline.com/content/ultrasound-systems). This will require a login, but it is free and only takes a minute to complete the form.
---
If you enjoy this content, please share it with a colleague