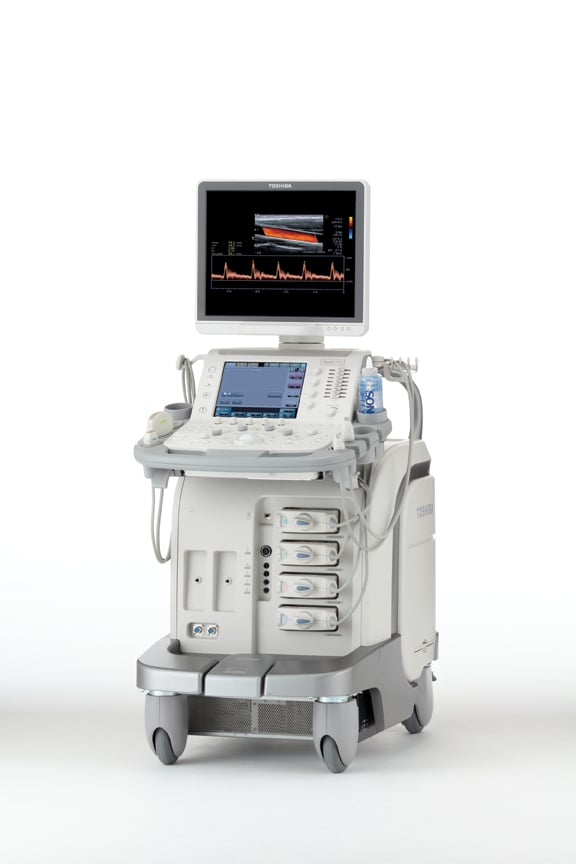 Toshiba's Aplio 500
(Updated information links for ultrasound advances are listed at the bottom of this article)
Advancements in diagnostic ultrasound imaging technology have helped improve diagnosis by providing immediate clinical information. Availability of instant diagnostic data has consequently helped reduce overall healthcare costs by replacing more expensive diagnostic exams. 
Over the years, the diagnostic imaging capabilities of ultrasound have spread across all clinical applications, from obstetrics and gynecology, orthopedics and cardiology, to emergency medicine, prostate cancer, breast cancer detection and so on. The speed, efficacy, cost-effectiveness and noninvasive nature of ultrasound imaging are some of the key attributes that have given this technology an edge over other imaging modalities. In addition, ultrasound equipment is economical; even the most advanced ultrasound systems cost only about one-fifth of the price for a low-end magnetic resonance imaging (MRI) system. 
In terms of technology advancements, medical imaging ultrasound has roughly followed Moore's Law, which relates to computing power, noting that the number of transistors on integrated circuits (ICs) doubles approximately every two years. Ultrasound imaging has undergone a similar technological evolution. Device miniaturization and Windows PC-based architecture have made it possible to pack increasing amounts of processing units into smaller and smaller medical devices. 
One significant development has been the commercialization of hand-held miniaturized devices by manufacturers, with advanced computational power. This trend has been adopted by more diagnostic ultrasound original equipment manufacturers (OEMs) with the introduction of portable, hand-carried ultrasound systems. 
Hand-carried ultrasounds are growing at an increasing pace and becoming more popular among clinicians across the globe, especially for point-of-care diagnosis. Such systems are primarily used for imaging internal organs, such as the abdomen, kidney, heart and peripheral vasculature. The integration of advanced features at point-of-care diagnosis makes these systems more acceptable by clinicians. 
Another significant development has been the increase of computational power in conventional systems. Such systems use more sophisticated and complicated computational algorithms for enhanced image reconstruction and display. Tissue harmonic imaging has been a significant development in ultrasound imaging, in which the image reconstructed from the second harmonic reflected from the tissue helps to remove much of the unwanted noise from the images. 
Real-Time 3-D: The Future of Ultrasound Imaging 
Ultrasound imaging has the advantage over other imaging technologies, such as computed tomography (CT), MRI and others, of providing real-time imaging of anatomical structures. However, unlike imaging technologies such as positron emission tomography (PET), which has the capability of measuring functional activities of the body, ultrasound could not be used for functional imaging for a long time. 
Scientists therefore started exploring the potential of ultrasound imaging for measuring events as a function of time, such as the gradual decay of contrast agents in the body or for assessing the response of organs or tissues to the perfusion of a contrast agent. There were three main drivers pushing ultrasound imaging technology toward functional and volume imaging, namely, increased computational power, the trend toward cost-effective volume imaging and the availability of contrast agents for ultrasound imaging. 
Real-time 3-D ultrasound (3DUS) imaging or 4-D ultrasound (4DUS) imaging have quite a few advantages for guiding interventional medical procedures. Most important is their ability to visualize real-time tissues and organs in 3-D. Real-time 3DUS is preferred over 2-D ultrasound imaging (2DUS) for surgical tasks and complex procedures due to its accuracy and efficacy. In comparison to volumetric imaging alternatives, such as MRI and CT, real-time ultrasound imaging has a faster imaging acquisition rate of 30 volumes per second, thus enabling good image visualization. 
Fluoroscopy also has a faster image acquisition rate. But with its limited 2-D views, it requires the clinician to mentally combine 2-D images to obtain a 3-D impression of the organs. 4DUS is a safer procedure, and with its small probe size, it can be integrated easily into different procedures. Price-wise, the most high-end ultrasound devices cost far less than comparable imaging modalities. 
Despite the inherent benefits of 4DUS imaging, it is not frequently adopted for clinical procedures, and 2-D imaging is still the preferred choice. One drawback of the high-end imaging technology is its resolution. The image voxel size for volumetric imaging is less than 1 mm; however, noise and associated artifacts make it difficult to distinguish features smaller than a few millimeters. The 3DUS images are displayed as volume-rendered images, which are quite effective for distinguishing between tissues and surrounding fluids, especially in cardiology, gynecology and obstetrics. 
At the same time, volume-rendered images enhance the noise and distortions present in the 3-D image, giving rise to irregular surfaces in the image. This technique also has the disadvantage of visualizing the internal features of solid organs like the liver, kidney, etc., where the organs produce textured reflections in the final images displayed. 
Future Ultrasound Market Opportunities
Manufacturers are currently focusing on expanding ultrasound use in radiology. While 4DUS imaging is used for visualizing heart wall motion in cardiology and 3-D/4-D volume imaging in obstetrics and gynecology, radiologists still continue to use 2-D ultrasound imaging for examinations. Advancements in imaging quality and workflow, as well as the rising awareness of radiation dose concerns with other imaging modalities, have driven the interest of manufacturers and scientists toward ultrasound. 
CT and X-ray are the preferred tools for imaging during interventional radiology (IR) procedures because of their image clarity and resolution. Such imaging modalities are quite expensive and, worldwide, there is a rising concern over their safety levels.  4DUS imaging is seen to address these issues quite effectively. Currently, manufacturers are incorporating ultrasound imaging devices with new, advanced GPS, which enables real-time feedback of needle positioning during interventional procedures. Such technology is seen to improve both the efficiency and clinical outcome of the procedure and also provides further cost-cutting for hospitals and patients. 
Fusion imaging is another new concept in which real-time ultrasound imaging can play a significant role. The concept, though not old, is most well-known for imaging technologies such as PET/CT, which has been in use for quite some time now. Ultrasound fusion imaging is less established in the radiology sector, due to radiologists' preferences for modalities like CT and MRI. However, recent technology advancements in ultrasound imaging and rising concerns over radiation exposure are driving radiologists to shift their focus towards ultrasound. 
In fusion imaging, radiologists can fuse two images from two different imaging modalities. In the case of ultrasound fusion imaging, radiologists can superimpose real-time ultrasound images with MRI or CT images taken earlier. This gives radiologists more diagnostic information, so they can manipulate and explore the anatomical body parts and organs using real-time ultrasound. 
Where Ultrasound Technology is Going 
Technology innovation in the area of diagnostic ultrasound imaging has been quite dynamic. Solutions considered high-end two years ago are currently considered mid-range, or even in some cases, considered low-end options. This trend has resulted in a high level of competitiveness in the area of technology among manufacturers of ultrasound equipment, forcing them to constantly add innovative features to their existing products. 
Additionally, development in the area of signal multiplexing technology has enabled the adoption of a new generation of ultrasound equipment: 3-D and 4-D systems. Compared to the old generation of 2DUS devices, 3-D technology has an added dimension of depth, whereas 4-D has the dimension of depth and time. 
In the first-generation ultrasound units, image conversion was carried out by hardware built in the ultrasound device, thereby making the systems quite bulky. The current generation of ultrasound equipment uses external computing systems that perform the scan conversion and image display. This has resulted in device portability and enhanced the computing power of ultrasound devices with major improvements in image quality. It is expected that with these factors in mind, manufacturers of 3DUS and 4DUS devices will continue their efforts toward improving calculation power.  
Darshana De is a senior research analyst for Frost & Sullivan's Technical Insights research practice.  She has more than five years of healthcare experience, with a special focus on medical imaging and devices, as well as the application of nanoscience and technology in medical imaging.
Related Ultrasound Advancements Content:
5 Key Trends in New Ultrasound Technology
VIDEO: Ultrasound Technology Trends and Technology to Watch
The Latest in Ultrasound Technology
A Glance at Recent Trends in Ultrasound
Emerging Trends in Ultrasound Imaging
Five Trends Shaping the Future of the Global Ultrasound Market
Advances in Ultrasound (2016 article)
Top Trends in Cardiovascular Ultrasound 
Ultrasound Enhances Quality as Technology Advances
Access the most current version of the Ultrasound Systems Comparison Chart (www.itnonline.com/content/ultrasound-systems). This will require a login, but it is free and only takes a minute to complete the form.
---
If you enjoy this content, please share it with a colleague