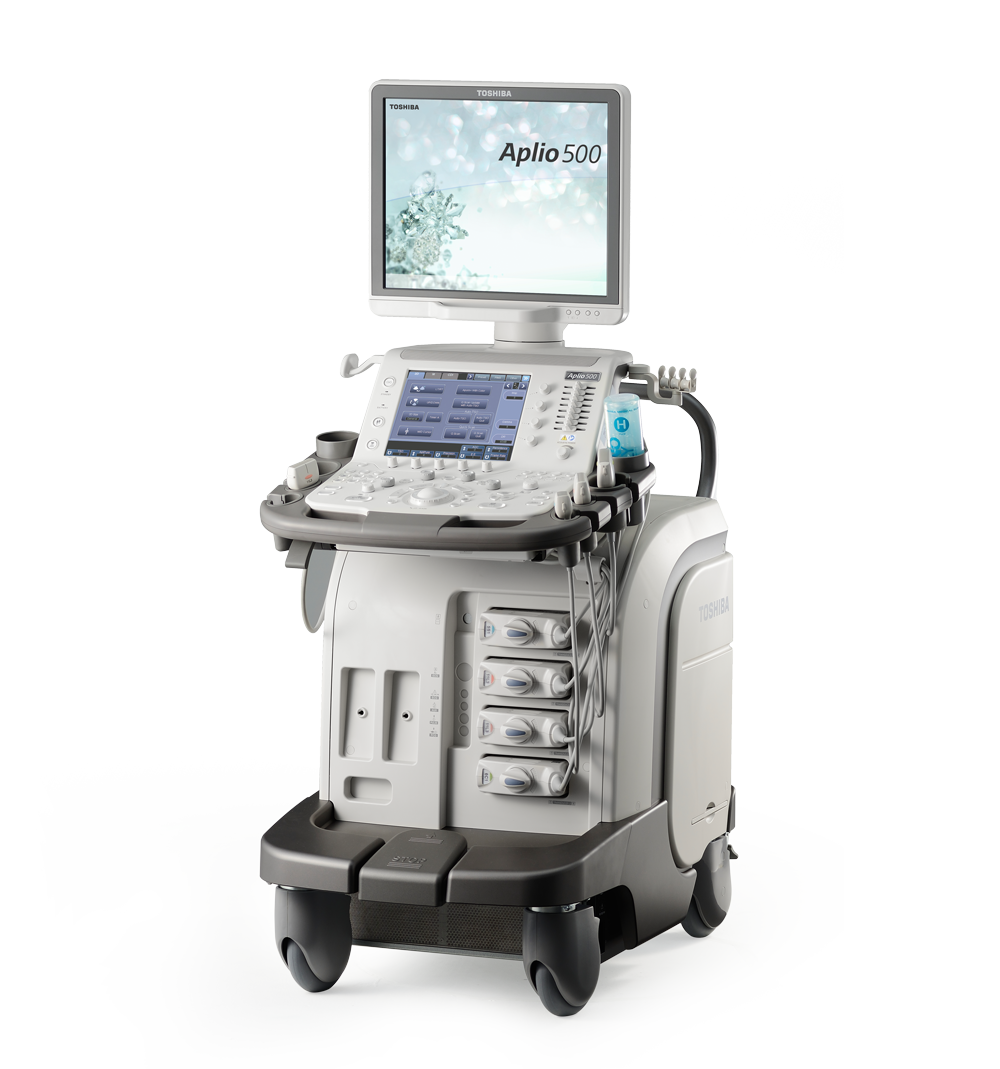 Image courtesy of Toshiba
The past decade has witnessed significant developments in ultrasound technologies, ranging from portable devices, wireless transducers to 3-D/4-D ultrasound imaging and artificial intelligence. Researchers and scientists are endeavoring on developing technologies that simplify diagnostic procedures, improve efficiency of clinicians and enhance image quality. These research and development activities focus on improving overall quality of patient care. In addition, manufacturers are placing an emphasis on implementing automation in premium-tier systems, portable devices and point-of-care (POC) solutions. The prime focus of vendors will be on offering cost-effective devices with growing innovation and competition in the global industry. 
Ultrasound has seen increasing use due to concerns regarding overexposure to radiation by conventional systems including computed tomography (CT). The trend of using smart fusion technologies, i.e., acquiring images using a combination of ultrasound and MRI, for interventional and therapeutic applications is also gaining momentum. In its recent report on the ultrasound devices market, Allied Market Research highlighted how advancements in ultrasound technology will influence the global industry. As per the report, the market is estimated to reach $10,476 million by 2022. Following are the technological advancements shaping the ultrasonic devices industry.
3-D/4-D Ultrasound Technologies
Availability of better visualization owing to advancements in 3-D and 4-D ultrasound technologies helped gynecologists to determine congenital birth defects. The images offered by 3-D/4-D ultrasound aid in detecting defects better as compared to images delivered by 2-D ultrasound systems. So, congenital birth defects such as spina bifida, cleft palate and others are easy to detect and conduct diagnostic procedures. "Patients, of course, love 3-D pictures, but as radiologists we have to be careful that we're not performing an ultrasound for the fun of it," said Deborah Levine, M.D., co-chief of ultrasound and director of obstetric and gynecologic ultrasound at the Department of Radiology at Beth Israel Deaconess Medical Center, Boston. "Radiologists will perform a whole diagnostic study before ever providing that 3-D picture for the patient."
Different tools are available in 3-D technologies, such as multiplanar display, which helps in rendering orthogonal views for fetal brain and cavities. In addition, it also helps gynecologists to view a baby's face, hands and other features through surface rendering and determine genetic syndromes. Maximum intensity projection is another tool that assists clinicians to view structures of bone, including skull or vertebra, more distinctively, whereas thick slice scanning helps them to visualize toes, fingers and anomalies like cleft palate better. 3-D inversion mode is helpful in examining fluid-filled structures, including brain ventricles or fetal stomach.
3-D ultrasound helps in improving precision in fetal weight estimation by measuring fractional thigh volume. This, in turn, helps in assessment of prenatal nutritional status by assessment of soft tissues of fetal limbs. Wesley Lee, M.D., co-director, Texas Children's Fetal Center, Texas Children's Hospital Pavilion for Women, Houston, Texas, is conducting research based on this method. Emphasizing the role of 3-D ultrasound in assessment of fetal limbs, he said, "We have to develop new ways and novel approaches for determining which babies are truly malnourished. That's why we are using fractional limb volume as part of the fetal weight estimation procedure to assess the fetus before delivery." 
Benefits of 3-D and 4-D ultrasound technologies such as practical, easy to use, safe and shorter exam time gives ultrasound a new life and increased relevance in medical imaging. 
Artificial Intelligence Aids Ultrasound Imaging
Clinicians face issues in reproduction of images in echocardiography, as results vary based on the sonographer's experience and techniques used. This issue was addressed by Philips Healthcare with the introduction of artificial intelligence software, Anatomically Intelligent Ultrasound (AIUS). The software collects image volume data with the help of 3-D echo and an optimal version of diagnostic views is created. Quantification measurements are computed from the 3-D dataset and clinicians can carry out assessment of diseases and explore treatment options with highly reproducible images. AIUS also helps in saving time by obtaining dimensions three to six times faster as compared to manual methods. Advances in artificial intelligence technology help clinicians in workflow enhancement.
Point-of-Care Ultrasound Solutions
Ultrasound has become ubiquitous in point-of-care (POC) solutions to determine and diagnose vascular and cardiac issues. Innovation in ultrasound devices has given rise to handheld, portable devices that are cost effective and save time for patients as well as clinicians. Philips, for example, introduced its app-based ultrasound system, Lumify. A smartphone turns into an ultrasound device by connecting a Philips transducer through a USB port and using the Lumify app. The smartphone screen works as a display and the transducer performs all the functions regarding acquisition and image reconstruction processing. Linear and phased array transducers are available in this system. 
Mindray launched its touchscreen device, TE7, which is similar in size to a tablet, in July 2015. Various exam presets, along with enhanced cardiac functions such as continuous wave Doppler, are included in this device. It enables users to pinch, drag, zoom in, zoom out and swipe the images. Another handheld system that allows users to conduct a number of different exams is iViz by Fujifilm. It supports high-resolution color flow images and has a 7-inch display touchscreen. Full bi-directional communication with the EMR is possible with the help of the vendor neutral archive (VNA) of Fujifilm. This implies that patient data can be sent and analysis can be received through few steps. Though these technologies are in their infancy, the future looks bright for portable devices offering POC solutions. The usage of these technologies and handheld devices among clinicians and gynecologists will grow over time. 
Following the emergence of technologies and inclination of manufacturers toward innovation, the ultrasound devices will improve quality of patient care, enhance productivity of clinicians and transform medical imaging.
Access the most current version of the ITN Ultrasound Systems Comparison Chart (www.itnonline.com/content/ultrasound-systems). This will require a login, but it is free and only takes a minute to complete the form.
Read the 2016 article "Top Trends in Cardiovascular Ultrasound."
Read the 2016 article "Ultrasound Enhances Quality as Technology Advances."
Watch the VIDEO: Trends in Ultrasound at RSNA 2016
Snehal Chougule is a healthcare technology market analyst with Portland-based Allied Market Research.
---
If you enjoy this content, please share it with a colleague