Greg Freiherr has reported on developments in radiology since 1983. He runs the consulting service, The Freiherr Group.
RSNA 2018 Key Takeaways from the Expo Floor
There were more than 150 companies showing some version of artificial intelligence at RSNA, but very few have FDA cleared products for sale. One of the trends seen on the floor was a movement toward AI app stores where these start-up companies can offer their wares through a larger vendor and provide a single point of contracts and IT integration for hospitals. 
Artificial intelligence (AI) and enterprise imaging were among the top trends at the Radiological Society of North America (RSNA) 2018 meeting this week. New, old and unconventional vendors promoted one, the other or both. AI was part of a broader, familiar theme at RSNA with its predisposition toward illustrating data in new or unusual ways. Practical considerations guided vendors, as some underscored the need for improved efficiency. Here are some show takeaways from the expo floor from this year's conference.
VIDEO: RSNA President Says Artificial Intelligence is Hottest Tech Advancement in Radiology. 
Take a virtual walk through the AI vendors in the RSNA Expo Machine Learning Showcase in this VIDEO.
Study of Imaging Efficiency Raises Doubts
Radiologists and radiographers may see their own efficiency as being better than it actually is. In a survey of 40 radiologists and radiographers, all but one said they were efficient or highly so, generating an average rating of 4 on a 5-point scale. Yet, they reported that 20 percent of their MR patients needed to be rescanned.
Caresteam Releases Results From Use of Workflow Orchestrator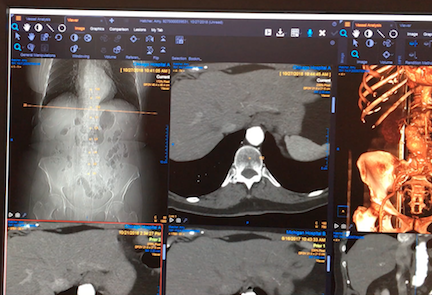 Patient images can be read more efficiently when using Carestream Health's Workflow Orchestrator, according to the company, a claim based on data from Renaissance Imaging Medical Associates (RIMA) of Northridge, Calif. (one of the 10 largest private radiology groups in the United States). Less than two months after Orchestrator entered service at RIMA, interpreted cases increased by 15 percent, while 82 percent were assigned to a subspecialist highly qualified to read each specific case type.
FujiFilm Extends PACS Platform with AI  
The latest version of FujiFilm's Synapse PACS serves as a bridge between AI imaging analytics and other AI applications, said Bill Lacy, vice president of medical informatics at FujiFilm Medical Systems U.S.A. The server-side Synapse, so called because it does the computational work on the server side and transmits results to workstations and other displays, is open to third-party software developers.  
Philips IntelliSpace Platform Boosts AI Research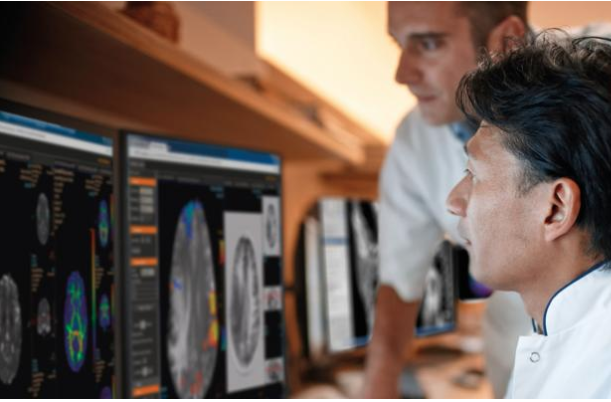 Philips unveiled two new twists — IntelliSpace Discovery 3.0, an advanced visualization and analysis platform designed specifically to support imaging research, and an extended version of its IntelliSpace Enterprise Edition that includes Philips' PerformanceBridge. Providers at dozens of institutions are already using the Discovery 3.0 version to prepare patient data to train and validate deep learning algorithms. Whereas this vendor-neutral platform is meant only for researchers, the opposite is true for Philips' latest IS Enterprise Edition, which is designed to provide access to performance data that profiles the day-to-day operation of a radiology department. The newly refined IS Edition offers up this information as part of an interactive dashboard through the newly integrated PerformanceBridge.
Picking IcoMetrix's Brain 
Belgium's IcoMetrix showed how its FDA-cleared IcoBrain can use deep learning (DL) algorithms to characterize traumatic brain injury in CT scans. The product uses DL to quantify such typically qualitative image components as hyperdense volumes, compression of the basal cisterns and midline brain shift.
Imalogix Uses Deep Learning to Improve Imaging 
If a CT scan is "off center," patients may be exposed to as much as 50 percent more radiation than necessary, explained Imalogix chairman and CEO John Heil. The company's algorithms reveal whether centering needs to be changed and how to change it, as well as how sites might get more from their installed equipment. One Imalogix product is being sold by contrast vendor Guerbet to track patient exposure to ionizing radiation. 
Guerbet Reinvents Itself With Digital Offerings
Guerbet featured an Imalogix-built product alongside its own Contrast and Care software, which is designed to improve the productivity and traceability of Guerbet contrast media. The company also showed an AI tool developed by IBM Watson Health, which summarizes patient information into single-view reports. Guerbet is working jointly with IBM Watson Health to develop AI software to support liver cancer diagnosis and care.
iCAD Leverages AI To Detect Breast Cancer 
iCAD showcased its ProFound AI, which leverages AI to detect cancer in breast tomosynthesis. The software, which is geared toward screening, but can also be used for diagnostic studies, examines every image in the tomosynthesis scan.  Its use could lead to improved detection, fewer patient recalls, and mammographers spending less time reading images, according to Rodney Hawkins, vice president of marketing at iCAD. 
Arterys Promotes Practical AI 

Fresh off FDA clearance is an AI system that detects tumors and heart problems. Arterys presented Cardio AIMR (referred to as "Cardio DL" in the FDA filing) as the means to analyze MR images for cardiovascular blood flow. The company also showed AI-based tools that measure and track liver lesions and lung nodules; accelerates the display and reading of medical images; and supports the display of mammograms using the Google Chrome web browser.
GE's New Brand Edison Embraces AI 
GE Healthcare unveiled Edison, which is designed to help accelerate the development and adoption of new technologies. GE's clinical partners would use the newly branded platform to develop algorithms, particularly ones in AI, according to the company, clearing a path for them to work with GE to bring advances in data processing to Edison applications and smart devices.
In that vein, GE demonstrated an algorithm designed for use in X-ray, as well as a similarly experimental AI-based workflow tool for MRI brain scanning. The X-ray based AI algorithm is to be embedded in a GE portable digital radiology (DR) system to check for signs of pneumothorax — a collapsed lung. The AI-based algorithm for brain MRI is intended to increase consistency and productivity by automatically streamlining the choice of brain slices in scans so as to help reduce manual effort and reduce or eliminate redundancies.
Siemens Grooms AI Algorithms To Be Radiological "Companions"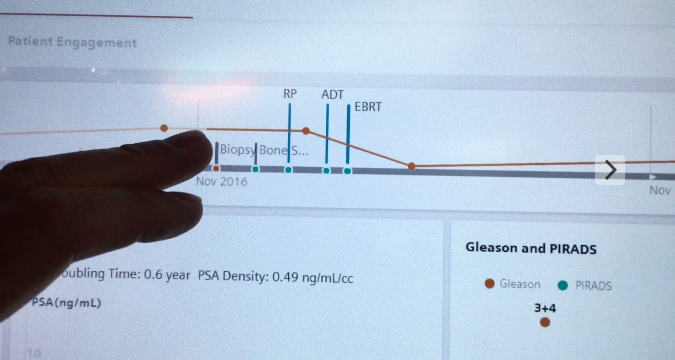 Two AI technologies, shown by Siemens as works in progress (WIP), promise to simplify physicians' professional lives. One, called AI-Rad Companion, is to serve as a platform for the development of intelligent software assistants capable of identifying organs and changes in tissue that may be early signs of disease. The other, called AI-Pathway Companion, is an AI-based clinical decision support system being developed to support physician decisions regarding diagnosis and therapy.
An application coming out of the AI-Rad Companion platform is designed to differentiate among structures that appear in chest CTs. Its goal, according to the company, is to increase productivity and quality. Meanwhile, applications related to AI-Pathway Companion are being groomed to provide physicians with patient clinical status as indicated by different types of data and multi-modality images pulled together using AI algorithms, and to suggest possible steps to take in managing patients.
Watch a video example of this technology for a prostate cancer patient in the VIDEO: Example of How Artificial Intelligence Can Improve Patient Care.
Canon Uses AI to Advance CT Image Processing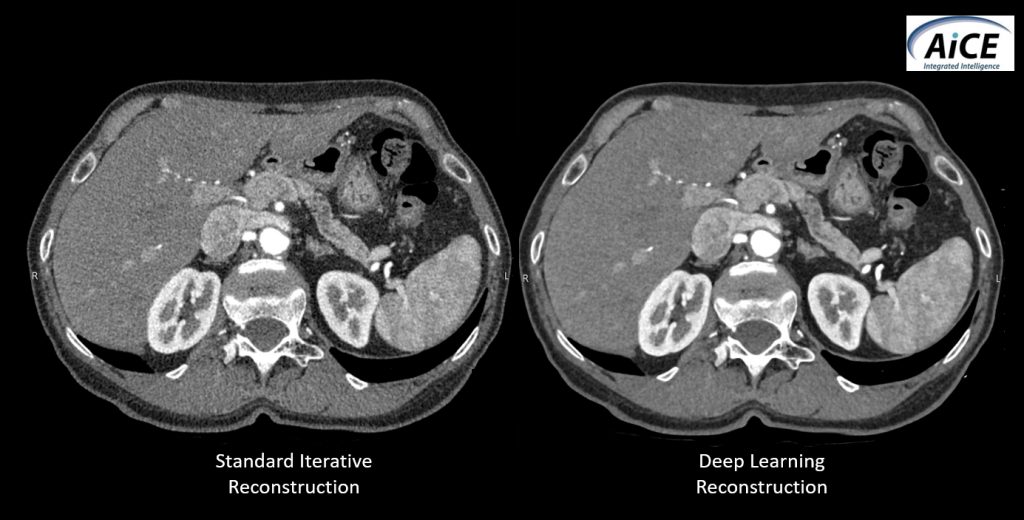 Canon Medical showcased an AI algorithm that "learns" to improve the resolution of CT images. The algorithm, which is pending FDA clearance, uses deep learning technology to tell the difference between noise and signal. Called Advanced intelligent Clear IQ Engine or AiCE (pronounced ACE), the experimental algorithm is designed to use what it has learned to suppress noise and enhance signal.
Change Healthcare Promotes Products/Expertise In Enterprise Imaging 
Change promoted road-mapping that takes users around barriers to enterprise imaging. Change's approach has three integral parts — its own products (particularly a universal viewer and workflow intelligence products); third-party software; and the in-house expertise to make them work together. 
Stratasys Ups Ante In Enterprise Imaging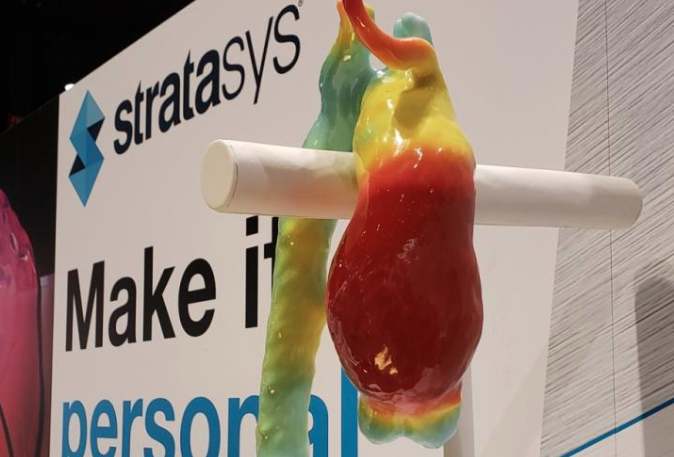 Stratasys showed how 3-D printed models can help plan surgeries and assist in making complex diagnoses, raising the possibility that these models might come in handy for patient care teams.
Konica Minolta Puts Dynamic Twist On Digital Radiography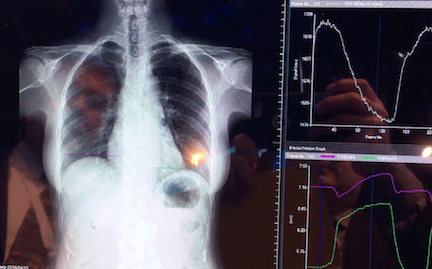 Konica Minolta showcased a work in progress that gives new meaning to the word "dynamic." The WIP, called Dynamic Digital Radiography, fires bursts of low-dose X-rays recorded by digital detectors and assembled into moving images of structures inside the patient. It differs from fluorosocopy (which by definition is dynamic) in its low-dose visualization of moving structures such as the lungs and joints.
Watch an sample of this technology in the VIDEO: Example of Moving X-ray Images Using a DR X-ray System.
ONRAD Goes Immersive 
ONRAD, best known as a provider of teleradiology, delved into virtual reality (VR) products. In partnership with ImmersiveTouch, ONRAD showed what company CEO David Engert described as healthcare's future in VR, describing the ImmersiveTouch technology as the means to strengthen ties between radiologists and surgeons. 
MammoPort Draws Radiology and Pathology Together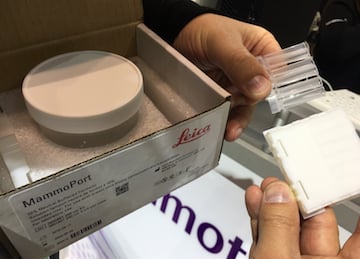 Increasingly pathology is being drawn into enterprise imaging. Threatening to derail that is shoddy handling of biopsied tissue, an often unseen problem in breast cancer diagnosis. Leica Biosystems, through its Mammotome corporate entity, proposed a solution — a specimen containment and transportation system. This system, called MammoPort, eliminates much of the handling of biopsied tissue by radiology technologists.
Agfa Does DR One Better  
The DR800, which appeared last year at the RSNA show as a work in progress, returned to the exhibit floor this year as an FDA-cleared product. The all-purpose digital system can do radiography, including static and tilting exams, as well as fluoroscopy exams, including procedures from arthrography to myelography and catheter placement. The DR800 is designed to fit the needs of any imaging provider, while minimizing  dose and delivering high-quality images thanks to Agfa's latest generation MUSICA image processing software. 
Related RSNA 2018 Coverage:
VIDEO: Augmented Reality for Surgical Planning Example
VIDEO: New Echo Technology to Evaluate the Fetal Heart
VIDEO: Example of Artificial Intelligences Prior Image Fetching Automation
VIDEO: How Artificial Intelligence Can Detect Brain Bleeds
RSNA 2018 Wednesday — AI Continues To Dominate
RSNA 2018 Tuesday — Real Meets Virtual and AI
RSNA 2018 Sunday – Improving, Not Replacing
RSNA 2018 Monday — AI and Enterprise Imaging Gain Traction
PODCAST Hear and Now: What You Need to Know About Enterprise Imaging
PODCAST Hear and Now: Intervention Rising
Subscribe Now