Greg Freiherr has reported on developments in radiology since 1983. He runs the consulting service, The Freiherr Group.
RSNA 2018 Monday — AI and Enterprise Imaging Gain Traction
The vendor icometrix is showed how its FDA-cleared icobrain can help identify brain injury in CT scans.  The company was one of the vendors in Machine Learning Showcase with an FDA cleared AI product.
Among two of the top trends brewing on the Radiological Society of North America (RSNA) 2018 meeting exhibit floor are artificial intelligence (AI) and enterprise imaging. New, old and unconventional vendors promote one, the other or both in new offerings on the exhibit floor.
Picking IcoMetrix's (Ico) Brain
Looking for the telltale signs of brain injury in computed tomography (CT) scans? Belgium's icometrix is showed how its FDA-cleared icobrain can help.  The company describes at its booth (North Hall 7367) in Machine Learning Showcase how deep learning algorithms built into its icobrain product can analyze CT images to characterize traumatic brain injury.  Icometrix is promoting a commercially available clinical CT product to help physicians manage patients suspected of traumatic brain injuries. The product uses deep learning to quantify such typically qualitative image components as hyperdense volumes in CT images, compression of the basal cisterns and midline brain shift, each of which may indicate not only the presence of head injury but its severity.
Change Promotes Products/Expertise In Enterprise Imaging

As siloed medical disciplines look for ways to connect, Change Healthcare is pushing a roadmap that takes users around and over barriers to enterprise imaging.  At its booth (North Hall 6713), Change is promoting an open approach with three integral parts — its own products; third-party software; and the in-house expertise to make them work together.  The key to successful enterprise imaging is to identify goals and map a route to achieving those goals, says Todd Johnson, executive director of enterprise portfolio transformation at Change Healthcare. The company is demonstrating its universal viewer as the glue that cements the myriad components of enterprise imaging, as well as its workflow intelligence product line as the engine to orchestrate workflow.
Imalogix Shows How AI Can Improve Imaging
Imalogix is demonstrating at its booth (South Hall 2305) how deep learning algorithms can improve imaging techniques.  One exemplary case involves centering. Imalogix chairman and CEO John Heil explains that if a scan is "off center," for example, patients may be exposed to as much as 50 percent more radiation than necessary.  The company is demonstrating how its algorithms reveal whether "centering" needs to be changed and how to change it.
Similarly, deep learning algorithms may help sites get more from their equipment by comparing utilization. Improved efficiency is the common denominator of both.  When it comes to centering, patients may benefit by being assured they get minimal but sufficient radiation dose, Heil says. The bottom line in both is how AI can improve the delivery of care, as DL algorithms establish benchmarks against which performance at the user site can be compared.
Guerbet Reinvents Itself With AI
Best known as a supplier of contrast media, Guerbet is shining a multivariate light on digital solutions. One source of illumination is coming from in-house work; others from Imalogix and IBM Watson Health. In its booth in South Hall (2558), Guerbet is demonstrating three technologies. One is the latest version of its Contrast and Care software, which is designed to improve productivity and traceability of Guerbet contrast media. A second is from Imalogix, the vendor neutral Radiation Dose Solution, which tracks patient exposure to ionizing radiation, using deep learning to mine data and compare dosing at a customer's facility to that of other facilities. The third is an AI tool developed by IBM Watson Health, a tool called Watson Imaging Patient Synopsis, which summarizes patient information into single-view reports. Guerbet is demonstrating the tool, which it plans to distribute under a reseller agreement, as it continues working jointly with IBM Watson Health to develop AI software to support liver cancer diagnosis and care.
Read more in the article "Guerbet Partners With Imalogix on Dose Optimization With Artificial Intelligence."
 
Arterys Promotes Practical AI

Fresh off FDA clearance is an AI system that detects tumors and heart problems. At its booth in (North Hall 7964) within the Machine Learning Showcase, Arterys presents Cardio AIMR (referred to as "Cardio DL" in the FDA filing).  The newly cleared product analyzes MR images to indicate cardiovascular blood flow.  Federal regulators classified the technology as a "support tool" for clinical decision-making by licensed healthcare practitioners, stating that it is "not intended to be a source of medical advice or to determine or recommend a course of action or treatment."  Also showing at the Arterys booth are AI-based tools that measure and track: liver lesions (Liver AI) and lung nodules (Lung AI); Viewer, which is designed to accelerate the display and reading of medical images; and Breast AI for mammography to support the display of mammograms using the Google Chrome web browser.
Read more in the article "Arterys Demonstrates AI Cloud-Based Medical Image Analysis Solutions at RSNA 2018."
FDA-cleared App Detects Brain Bleeds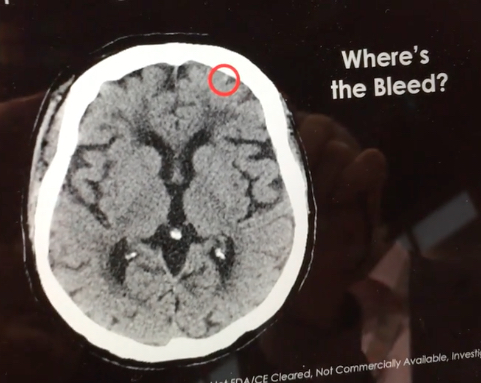 MaxQ AI's Accipio Ix intracranial hemorrhage (ICH) detection software received FDA 510(k) clearance to aid in prioritizing the clinical assessment of adult non-contrast head CT cases that exhibit indications of intracranial hemorrhage (ICH), commonly known as a brain bleed.  The software leverages artificial intelligence technology to automatically analyze non-contrast head CT images without workflow impact to the reader.  The software can be integrated into a PACS or directly into a CT scanner in the emergency department for a first pass read of stroke patients.
View three VIDEO examples of how this software detects brain bleeds.  
Read about the FDA-clearance of this product.
Related RSNA 2018 Coverage:
RSNA 2018 Sunday – Improving, Not Replacing
VIDEO: RSNA President Says Artificial Intelligence is Hottest Tech Advancement in Radiology. 
PODCAST Hear and Now: What You Need to Know About Enterprise Imaging
PODCAST Hear and Now: Intervention Rising
PODCAST: What You Need To Know About Enterprise Imaging
 
Subscribe Now