Greg Freiherr has reported on developments in radiology since 1983. He runs the consulting service, The Freiherr Group.
RSNA 2018 Sunday – Improving, Not Replacing
Artificial intelligence (AI) is the hottest topic this year at RSNA 2018. FujiFilm featured an AI lab in its booth. 
One force behind the development of products on the Radiological Society of North America (RSNA) floor was to build on what has been.  From X-ray to enterprise imaging, the objective to improve rather than replace was as simple to understand as it is difficult to achieve. In a doff of the engineering hat to Dieter Rams, the industrial designer who made products practical yet elegant, five mainstream radiology vendors improved existing platforms.
Agfa DR800 — Doing DR Better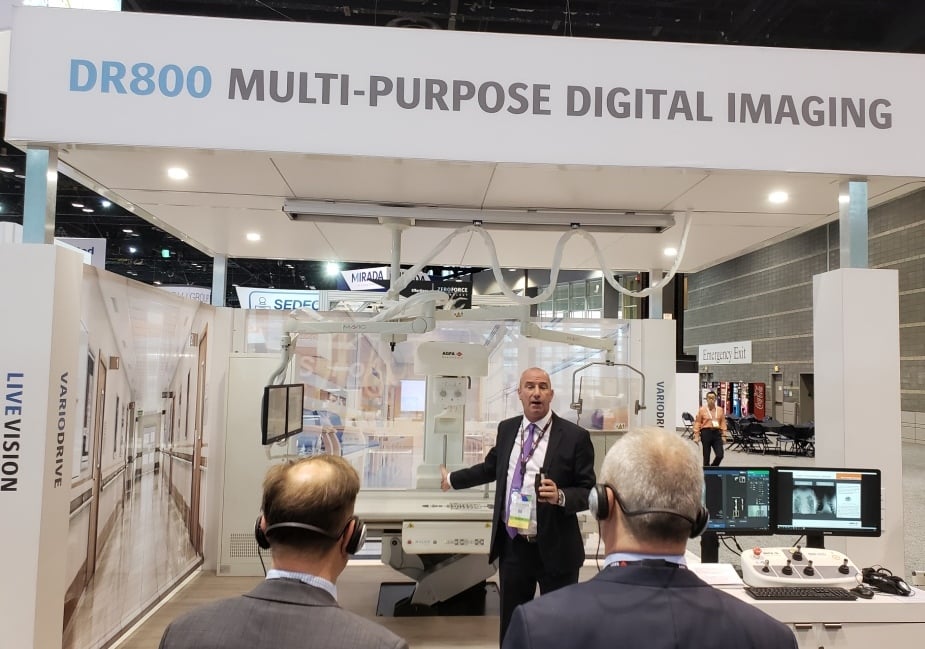 The digital radiography (DR) DR800 X-ray system appeared last year at the RSNA as a work-in-progress.  It returned to the exhibit floor this year as an FDA-cleared product.  The stationary digital X-ray unit, which  represents a collaborative effort between a provider, Florida Hospital of Orlando, and Agfa (booth South Hall 3300), is designed to fit the needs of any imaging provider, according to the company, from teaching medical center to community hospital to clinics of any size. It minimize dose, says Nadine Farman, an Agfa DR specialist, while delivering high-quality images thanks to Agfa's latest generation MUSICA image processing software.  Algorithms promise to accelerate workflow and, consequently, boost throughput. The all-purpose digital system can do radiography, including static and tilting exams, and fluoroscopy exams including procedures from arthrography to myelography and catheter placement.
Konica Minolta Puts Dynamic Twist On Digital Radiography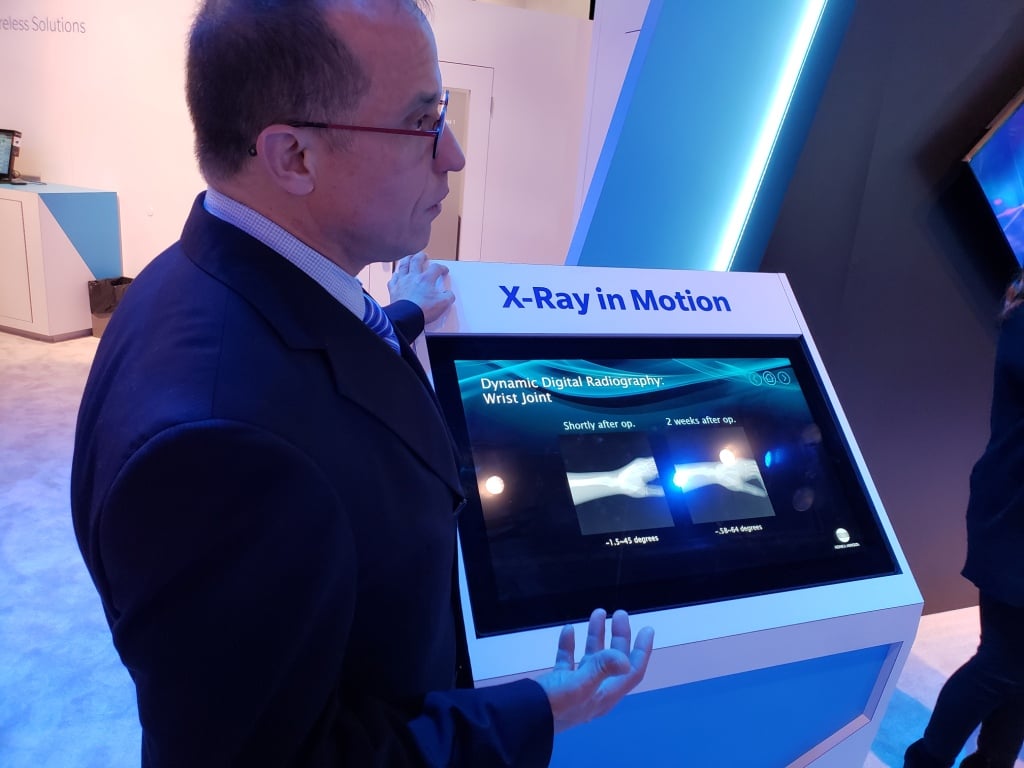 Konica Minolta showcased in its booth (South Hall 1919) a work-in-progress (WIP) that gives new meaning to the word "dynamic." The WIP, called Dynamic Digital Radiography (DDR), fires bursts of low-dose X-rays recorded by digital detectors and assembled into moving images of structures inside the patient.  It differs from fluorosocopy (which by definition is dynamic) in its low-dose visualization of moving structures such as the lungs and joints. "We don't use fluoroscopy for those kinds of things because of the dose penalty," said David Widmann, president and CEO of Konica Minolta Healthcare Americas. DDR could, Widmann said, "open up an entirely new clinical space."
Philips IntelliSpace Platform Boosts AI Research, Practice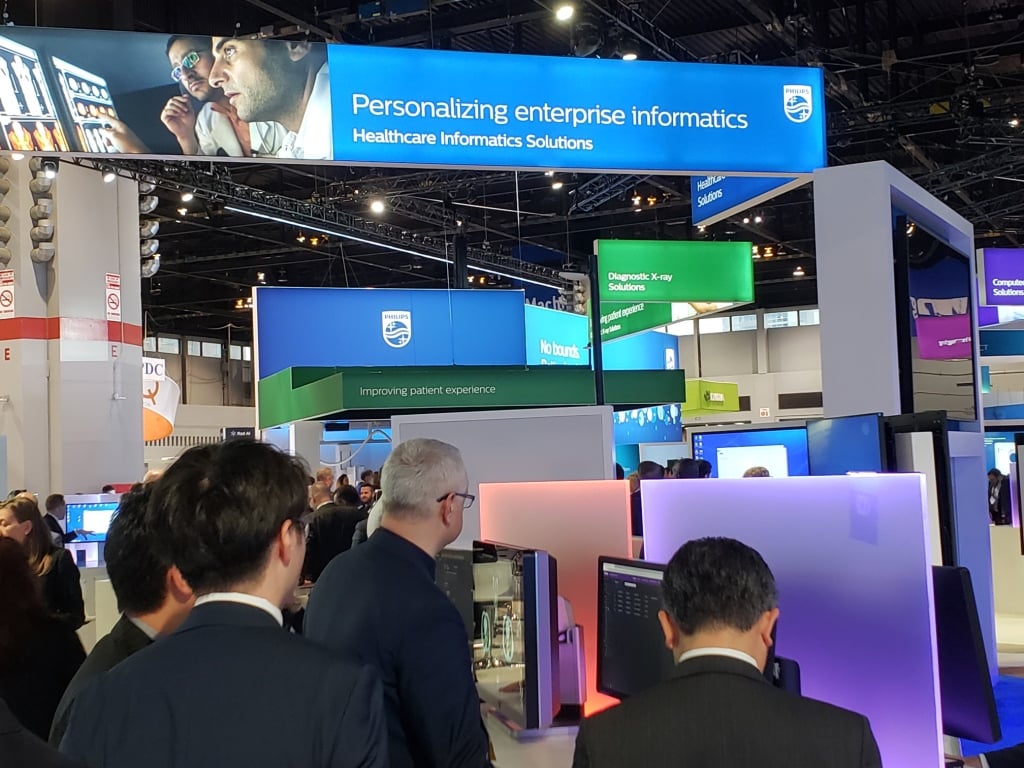 Philips unveiled two new twists in its booth (North Hall 6573) — IntelliSpace Discovery 3.0, an advanced visualization and analysis platform designed specifically to support imaging research, and   an extended rendition of its IntelliSpace Enterprise Edition that includes Philips PerformanceBridge. 
Dozens of hospitals and academic centers are already using the 3.0 version of this vendor neutral platform to prepare patient data to train and validate deep learning algorithms.  Discovery 3.0  does this by aggregating and anonymizing data, the latter being a necessary step to protect patient privacy.
Whereas IntelliSpace Discovery 3.0 is meant only for researchers, the opposite is true for the latest IS Enterprise Edition, which is designed to provide access to performance data that profiles the day-to-day operation of a radiology department.  The newly refined IS Edition offers up this information as part of an interactive dashboard through the newly integrated PerformanceBridge.
FujiFilm Extends PACS Platform with AI  
The latest version of FujiFilm's Synapse PACS "serves as a bridge" between artificial intelligence (AI) imaging analytics and other AI applications, says Bill Lacy, vice president of medical informatics at FujiFilm Medical Systems U.S.A. The server-side Synapse, so designated because it does the computational work on the server side and transmits results to workstations and other displays, is open to third-party software developers, according to Lacy, an openness exemplified at the Fuji booth (South Hall 2545) by algorithms from three AI providers – Lunit, RiveRain Technologies and Koios Medical.  "You can see how AI results actually work within our PACS," Lacy said.
Workstations in the company's inbooth AI Laboratory showcased AI use cases, particularly ones that developed from the company's AI initiative REiLI, which was launched last year and continues to grow, he said.  Among the developments are region recognition, which uses AI to recognize and extract organ regions in images, and computer aided detection, which points out signs of pathology so as to reduce the time radiologists spend interpreting images.
iCAD Leverages AI To Detect Breast Cancer

iCAD is highlighting its new software ProFound AI in its booth (South Hall 3911) that leverages AI to detect cancer in breast tomosynthesis. The software, which is geared toward screening, but can also be used for diagnostic studies, examines every image in the tomosynthesis scan.  Its use could lead to improved detection, fewer patient recalls, and mammographers spending less time reading images, according to Rodney Hawkins, vice president of marketing at iCAD.  The software is designed to be both sensitive and specific, Hawkins says. Some display screens, for example, show no markings at all, he said.  When markings do appear, they are accompanied by "certainty scores" that indicate the likelihood that the suspicious lesions are malignant.
AI Highlighted at the RSNA Opening Session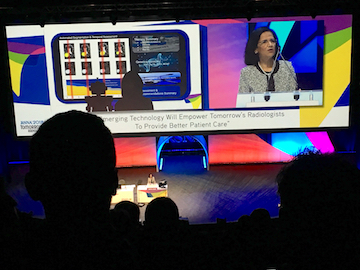 RSNA President Vijay Rao, M.D., offered a great presentation on the future of radiology and artificial Intelligence (AI) in the year 2043 at the RSNA opening session today. She said radiologists need to embrace AI, not fear it. It is being introduced to help augment radiologists today to speed workflow and make them more efficient.  She said radiologists can now pull patient data from numerous departments and prior studies to help them better diagnose patients and understand their images and clinical history. She said this positions radiologists to be the ideal liaisons between doctors and patients for all departments and subspecialties. She said technology can help enable this transition to a new central role in patient care, not just the people who look at pictures in dark rooms without any direct interface with patients or doctors.
Rao said AI is hands down the most important topic at RSNA this year, as it has been at the other 10 imaging conferences she attended in the past year.
Hear more on her thoughts on AI in the VIDEO: RSNA President Says Artificial Intelligence is Hottest Tech Advancement in Radiology. 
New CT Scanner Introduced for Large Patients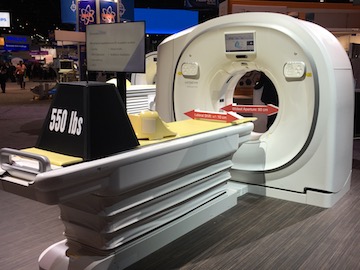 At the 2018 RSNA meeting, Hitachi showed a new computed tomography (CT) scanner designed for larger sized patients. The Scenaria View offers both 64 and 128 slice versions (it is also field upgradable from 64 to 128 later on). It has an 80 cm bore and the table has a weight capacity of 550 pounds. The X-ray tube also can achieve high energies up to 700 mA.  The system has clearance in Japan and Europe and will be submitted for FDA clearance soon.
Watch a video walk around of this scanner.
Related RSNA 2018 Coverage:
RSNA 2018 Monday — AI and Enterprise Imaging Gain Traction
VIDEO: RSNA President Says Artificial Intelligence is Hottest Tech Advancement in Radiology. 
PODCAST Hear and Now: What You Need to Know About Enterprise Imaging
PODCAST Hear and Now: Intervention Rising
Subscribe Now