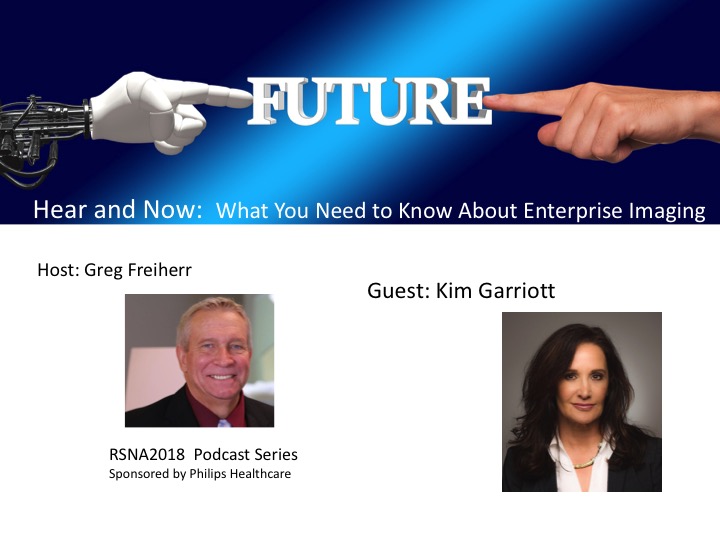 The first step toward setting up an enterprise imaging network should be understanding the needs of everyone who will use or capture a medical image. Only then, "can you make more informed decisions on the types of solutions you need and the type of technologies you need to look at to enable those solutions," said Kim Garriott, on the third and final podcast PODCAST Hear and Now: What You Need to Know About Enterprise Imaging published by ITN in the run up to the RSNA meeting.
Garriott, the principal consultant for Healthcare Solutions at Logicalis, a global provider of IT solutions and managed services, recommends starting with IT for perspective on the technical considerations, then taking "a deep dive with clinicians from a variety of service areas." After doing so, developers should "circle back to IT," she said, to make sure they fully understand what needs to be done.
Although enterprise imaging may be classified as an IT project, clinicians must be very deeply involved, because they are working with the data in their clinical practice every day. Among the key considerations, according to Garriott, are how clinicians currently use medical images and how they capture those images, as well as how clinicians would like images displayed and transmitted in the future. The needs of patients also must be considered.
"This is about improving (clinicians') ability to easily locate information in the electronic medical record. It is about being able to share information dynamically and securely with their colleagues, as well as with patients and have patients be able to share information back to their clinicians," said Garriott, who chairs the Analytics Digital Imaging Model Global Development Team of the Healthcare Information and Management Systems Society (HIMSS).
Among the critical elements needed to set up a successful enterprise imaging network, determining how long clinicians must maintain access to images, she said, is a high priority. This determination may vary from one institution to another. It definitely varies among types of images. For example, maternal-fetal medicine may require images of the fetus only during the pregnancy. "But once the baby is born, it becomes dramatically less critical to have access immediately to those images," she noted.
Understanding this varying need for access, Garriott said, "can determine when and how best to store images in that we are being cost-effective in our thinking about how we are going to manage that data."
Help setting up a strategy and roadmap for establishing an enterprise imaging network is available from several sources. Some members of HIMSS and the Society for Imaging Informatics in Medicine have been "living and breathing this stuff for six or seven years," said Garriott, who co-founded and currently co-chairs the HIMSS-SIIM Enterprise Imaging Community. Consultants specializing in enterprise imaging comprise another source, as do vendors, who Garriott refers to as allies.
"It is important to develop relationships with the vendors and to learn from them," she said. "Whether you decide to buy products from them or not, it is good to listen to several to really understand how they view the technology and see how things can be done differently."
One trick to successfully setting up an enterprise imaging network is not to be overwhelmed by the magnitude of the task. The myriad considerations that go into such a network may seem insurmountable. That's why it is important to look at the process as a multiyear journey.
"You don't need to do everything at once," she said.
Listen to the PODCAST Hear and Now: What You Need to Know About Enterprise Imaging
Listen to the first PODCAST PET Ready To Expand Into Sports Medicine And Beyond
Listen to the second PODCAST Hear and Now: Intervention Rising
For additional information, read the articles Interventional Radiology Profile Rises in Medicine and at RSNA Meeting and  PET Ready To Expand Into Sports Medicine And Beyond. 
---
If you enjoy this content, please share it with a colleague