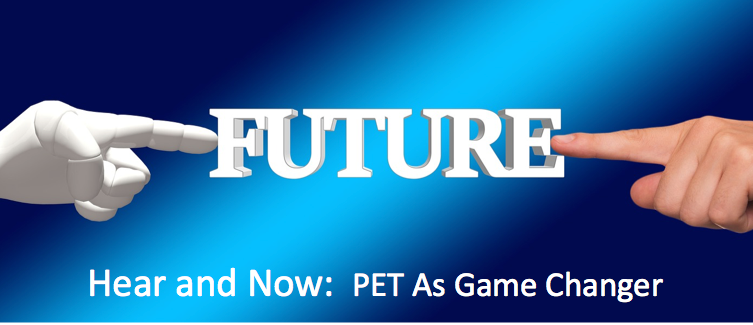 Positron emission tomography (PET) is getting ready to venture outside oncology, cardiology and mainstream neurology. High on the list of new clinical turf is sports medicine.
If ongoing clinical studies validate early results, patients whose ACLs have been surgically repaired could be among the first to benefit. Others may include patients with other orthopedic injuries, as well as head trauma victims suspected of having concussions.
Michael Knopp, M.D., discussed these possibilities in the PODCAST: PET Ready To Expand Into Sports Medicine And Beyond.
"We lack information about pathophysiological processes (in orthopedics and neurology)," Knopp said, "information that is not readily detected even with our wonderful capabilities in MRI. PET adds another component. And if we can do this with precision and also ultralow radiation dose, then we can add to the diagnostic portfolio that we can offer to better diagnose and manage those ailments."
PET imaging at one-tenth or less of typical radiotracer doses is essential if these new PET tests are to gain widespread use, he said in the podcast. The relatively high doses of positron-emitting radiotracers associated with currently prescribed PET studies — and the consequent radiation burdens they put on patients and staff — have precluded the use of this modality for any but the most essential applications, many of which have been in oncology.
"We have been shying away from other applications because of this radiation burden," Knopp said. "Now our team and others have explored the capabilities of radically reducing the radiation dose (from) what we are using in current standard of care PET imaging. With this radical reduction in radiation dose, new applications that fundamentally leverage our ability in molecular imaging in sports medicine and orthopedics is really a very exciting development for the future."
Author's note: In a presentation scheduled for Nov. 26 at 1:15 pm at the Philips booth (N 6573) at the Radiological Society of North America's Scientific Assembly (RSNA 2018), the long-time Philips luminary will describe the use of positron imaging in oncology, as well as cardiology and neurology. He will also address the value of integrating Philips Vereos PET/CT with the company's visualization platform, IntelliSpace Portal.
Cutting PET Radiation
Dosages of PET radiotracers might be substantially reduced through the use of digital technology, according to Knopp, who has been researching ultralow dose applications using Philips' Vereos. This PET/CT scanner features a solid-state detector as part of its digital architecture.
The digital technology, he said, provides "higher definition imaging capabilities with smaller voxel volumes" compared with what is typically achieved using commercial analog systems. Moreover, digital technology provides "the ability to substantially reduce the radiation dose from the tracer and also the ability to image substantially faster," he said.
Digital PET images made with ultralow doses of sodium fluoride radio tracer might help assess ACL grafts following surgery and rehabilitation, according to Knopp: "This is really opening up the capabilities of molecular imaging for sports medicine and orthopedics."
PET scans might add an objective measure to what today is a largely subjective assessment of when athletes with surgically repaired ACLs can begin playing sports again. One of the biggest challenges following ACL repair, Knopp said, is to determine whether the graft has been "appropriately ligamentized so it has the strength" needed by the athlete to play sports. PET also might help determine whether a complication of this surgery — infection — is present, he said. PET research into the graft process itself might help.
Knopp, professor of radiology and the Novatis chair of Imaging Research at Ohio State University, advocates gaining a more detailed understanding of the recovery process to better "guide physical therapy with more objective feedback." This understanding might "facilitate bringing the athletes to recovery quicker and with a more certain outlook," he said.
Ongoing studies by Knopp and his team at Ohio State University are now underway to validate PET as a tool in performing such evaluations. The technical advance enabling this clinical potential is digital technology, he said. 
Digital Enabler
Digital PET differs from the analog technology that underlies most commercial PET systems. Analog technology originated with the use of photomultiplier tubes (PMTs) to capture the scintillation events that indicate accumulations of radiotracer in patients. The precision of PMTs, however, is limited.
"With the introduction of solid-state digital detector technology and especially digital photon counting (technology, which is specific to Vereos), we have now the ability to acquire data with a much higher precision," Knopp said. "This allows us to push the limits in image detail, as well as the ability to significantly reduce the necessary dose on a PET tracer."
Compared with analog technology, solid-state detectors introduce less noise and deliver more precise signals, he said: "Therefore we have a better image quality at lower doses. And that is now translating — in the clinical studies we are performing — into better detection of lesions and better characterization."
Analog technology has not been up to clinical tasks beyond those widely prescribed in oncology and to a lesser degree in cardiology and neurology. This has prevented PET from reaching its clinical potential.
"A lot of the enthusiasm that evolved over the decades was kind of limited by the relative high radiation dose," Knopp noted. "That is where digital PET technology allows us to really leap forward."
Listen to the first PODCAST PET Ready To Expand Into Sports Medicine And Beyond
Listen to the second PODCAST Hear and Now: Intervention Rising
Listen to the third PODCAST Hear and Now: What You Need to Know About Enterprise Imaging
For additional information, read the articles Interventional Radiology Profile Rises in Medicine and at RSNA Meeting and  PET Ready To Expand Into Sports Medicine And Beyond. 
---
If you enjoy this content, please share it with a colleague