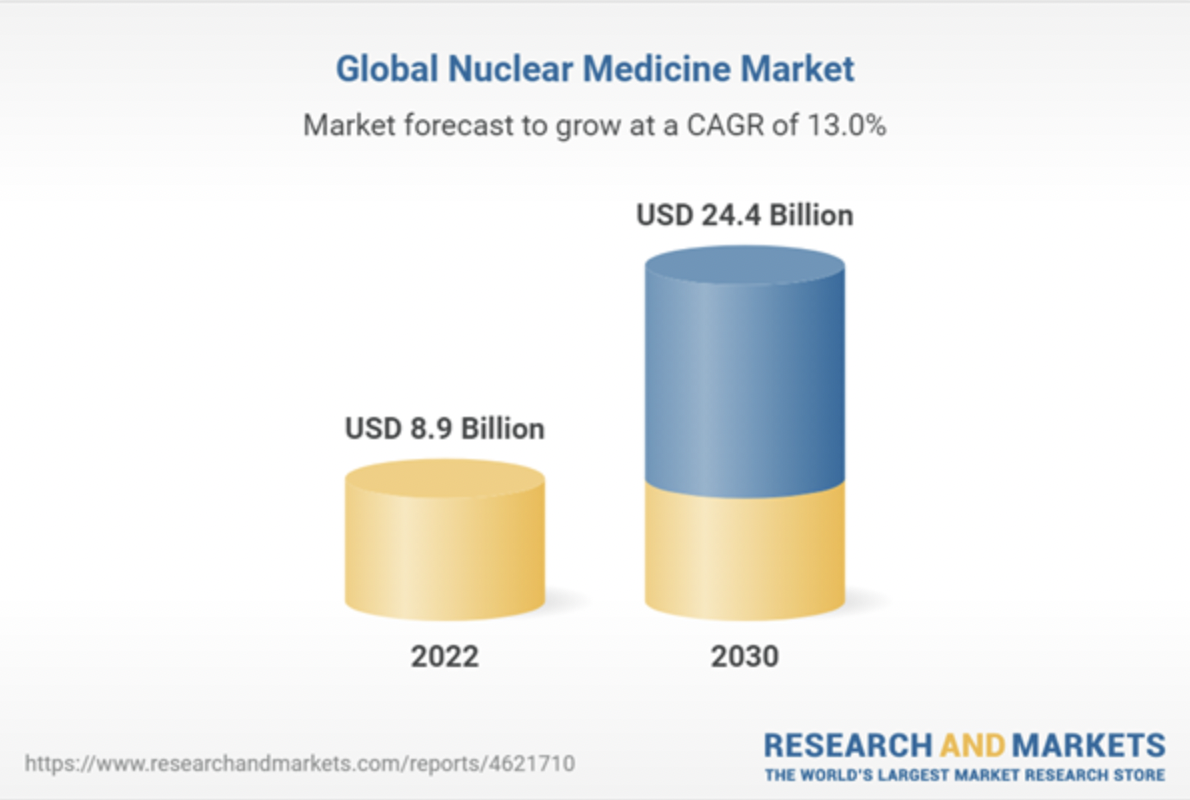 The "Nuclear Medicine Market Size, Share & Trends Analysis Report by Product (Diagnostics (SPECT, PET)), Therapeutics (Alpha Emitters, Beta Emitters, Brachytherapy), by Application, by Region, and Segment Forecasts, 2022-2030" report has been added to ResearchAndMarkets.com's offering.
The global nuclear medicine market size is expected to reach $24.4 billion by 2030, expanding at a CAGR of 13.0% from 2022 to 2030. The increasing prevalence of chronic diseases such as cancer and thyroid is anticipated to drive market growth. The impending approval of multiple radiopharmaceutical therapeutics during the forecast period will be a major driver for the market. For instance, in March 2022, Novartis AG received approval for Pluvicto (Lu 177) for the treatment of adult patients with prostate cancer.
According to the Pan American Health Organization (PAHO), in 2022, globally around 20 million new cases of cancer are estimated to be diagnosed, and around 10 million deaths occurred due to this disease. Factors like changing lifestyle, unhealthy diet, and less awareness about oral hygiene in low and middle-income countries is the most common cause of the prevalence of cancer.
Increasing adoption of nuclear medicine products in diagnosis and the approval of new generators to help increase the supply of radionuclides is expected to drive growth. For instance, in November 2021, EZAG received the Brazilian Health Authority Regulatory Agency's (ANVISA) approval for GalliaPharm in Brazil.
It is a gallium-68 generator used to extract the positron-emitting isotope of gallium from a source of decaying germanium-68 for making G68 dotatate injection. This is the first and only gallium generator approved for pharmaceutical use in Brazil. The approval of such products contributes to the market growth in developing markets.
In light of the COVID-19 pandemic, the market was moderately impacted. A survey was conducted for reactor-based medical isotopes by International Atomic Energy Agency (IAEA) during the second quarter of 2020 to assess the continuity of the supply chain during the COVID-19 crisis.
It was revealed that major producers continued with production in line with IAEA safety standards, as their operations were categorized as essential by their respective governments.
Nuclear Medicine Market Report Highlights
by product type, the SPECT segment held the largest share of the diagnostics market due to low cost, high accuracy, and wide usage in different applications.
The PET segment is expected to grow lucratively over the forecast period due to the approval & launch of new products such as PYLARIFY PET imaging agent for prostate cancer.
by application, the oncology segment dominated the market in 2021 with a share of 42.06%.
North America dominated the global market in 2021, owing to increased awareness about current treatment therapies, favorable reimbursement policies, and improved patient affordability.
The Asia Pacific region is expected to grow considerably in the future due to the rising prevalence of chronic diseases, rising geriatric population, and approval of new products during the forecast period.
Related Medical Radioisotopes Content:
University of Missouri Research Reactor Helps Supply Critical Medical Isotopes During Global Disruption
Update on Unplanned Outage of the HFR Reactor
SNMMI Issues Alert That HFR Outage Will Impact Isotope Supply
NorthStar Medical Radioisotopes Advances Focus on Therapeutic and Specialized SPECT Radiopharmaceuticals
How Nuclear Fusion is Revolutionizing Medical Isotope Production
FDA Approves Additional Molybdenum-99 (Mo-99) Filling Lines at NorthStar Medical Radioisotopes
Medical Isotope Industry Opposes Export of Highly Enriched Uranium for IRE
IBA and NorthStar Medical Radioisotopes Expand Collaboration to Enable Global Availability of Tc-99m
VIDEO: Advances in Radiopharmaceutical Therapy
---
If you enjoy this content, please share it with a colleague