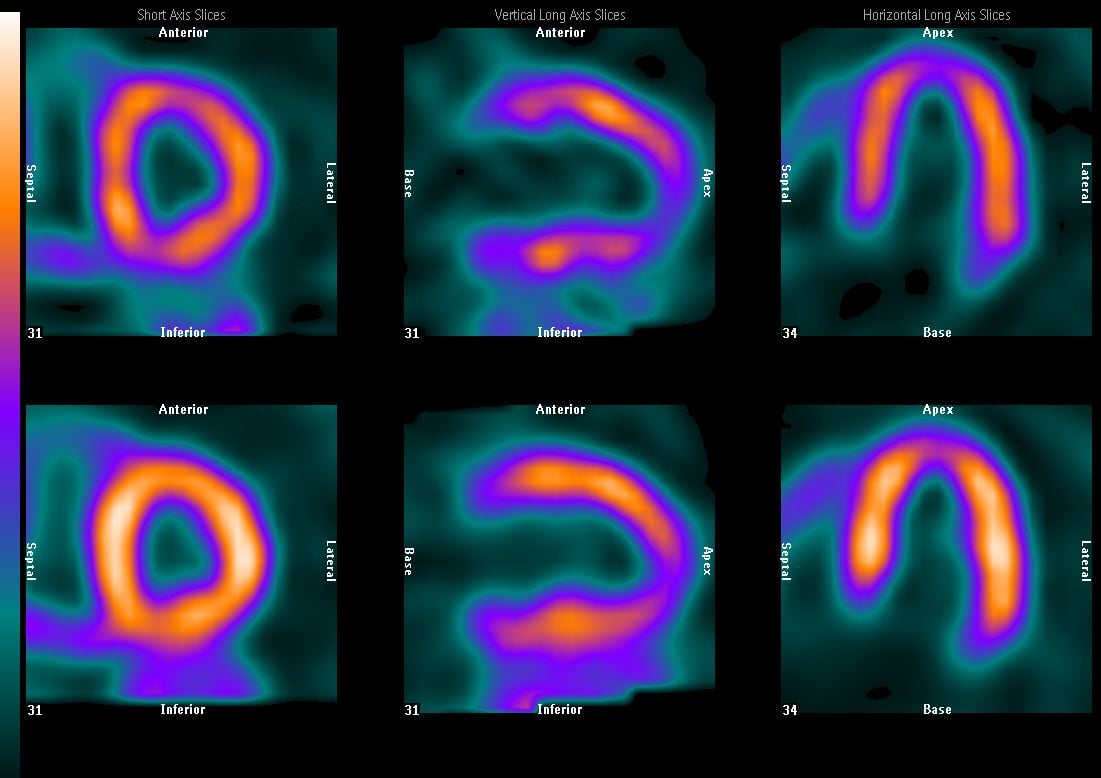 A SPECT nuclear scan of the heart to show perfusion defects in the myocardium due to coronary artery blockages or heart attack. The imaging uses the Mo-99 based medical imaging isotope Tc-99m. The U.S. government has created policy to move away from use of highly enriched uranium (HEU) to low-enriched uranium (LEU) for Mo-99 isotope production, but there is one holdout who has not yet converted before a 2020 deadline. Photo courtesy of Philips Healthcare.
In a surprising move, the National Institute for Radioelements (IRE) has applied for a new license to export highly enriched uranium (HEU) to create medical isotopes. IRE's current HEU export license with the U.S. Department of Energy (DOE) expires in October 2019. 
The American Medical Isotopes Production Act of 2012 prevents the U.S. Nuclear Regulatory Commission (NRC) from issuing new HEU export licenses for the purposes of medical isotope production as of 2020. This measure is part of a wider effort for nuclear non-proliferation and to find safer methods to produce medical isotopes without using HEU. As part of this effort, all medical isotope producers have converted to low-enriched uranium (LEU) production, except for IRE.
However, IRE filed with the NRC in August 2019 to obtain additional shipments of HEU through March 2020. The company said it needs the HEU to sustain its production of molybdenum-99 (Mo-99) and iodine-131 (1-131) from the forth quarter of 2020 through the projected completion of their LEU conversion program in the second quarter of 2022. 
IRE is a Belgian radiopharmaceuticals producer and supplies some U.S. companies with Mo-99, the parent isotope of technetium-99m (Tc-99m). Tc-99m is used in 80 percent of nuclear imaging procedures in the U.S. to noninvasively evaluate regional physiologic and metabolic processes. This includes evaluation of blood flow in the heart and to identify the location of cancer in tissues and organs. 
AMIPA Aims to Eliminate Use of HEU for Medical Isotope Production
IRE's application filing comes as a shock to nuclear medicine producers who have spent millions of dollars converting from HEU operations, or have eliminated the need for uranium altogether as mandated by the American Medical Isotope Production Act (AMIPA) of 2012. Specifically, AMIPA requires conversion from HEU operations to non-HEU methodologies and prohibits the issuance of HEU export licenses for the purpose of medical isotope production after Jan. 2, 2020, if the current marketplace can support the needs of U.S. patients. 
AMIPA's policy goals are two-fold, aiming to reduce nuclear security risks associated with the dangerous fissile material used in nuclear weapons, while establishing a stable domestic source of medical isotopes to end U.S. reliance on aging, foreign reactors.
To date, IRE is the last market participant to convert its Mo-99 operations to a non-HEU source and its full conversion expectancy is difficult to confirm. In February 2019, a U.S. IRE customer announced IRE will be fully converted to LEU in 2019 during its quarterly earnings call. A few months later during the July 2019 Organisation for Economic Co-operation and Development (OECD) meeting in Paris, IRE stated it will not be converted until 2020. The company said it needs additional HEU to continue its production of I-131 beyond 2020. 
Industry Protests Renewing IRE's Export License
IRE's failure to convert goes against the statutory directive provided by AMIPA, stated NorthStar Medical Radioisotopes in a request for a hearing on the IRE license request recently filed with the NRC. It is among a handful of radiopharmaceutical companies who are opposed to the new license being granted since other vendors have all complied with conversion to LEU production. 
"NorthStar, like other market participants that have converted production operations from HEU Mo-99 or use non-HEU methodologies, have direct financial interests that have been undermined by IRE's failure to convert and would be directly affected by the commission's decision," the petition stated. "At great expense, time and effort, market participants around the world have converted to LEU or have established non-uranium methodologies in order to meet both the U.S. nonproliferation-centered policy goal of eliminating the exportation of HEU and establishing a dependable domestic supply of medical isotopes."
Northstar contends there is an economic advantage for any vendors to use HEU because use of LEU results in a 20 percent loss of isotope production, so it takes longer to produce the same amount of isotopes from LEU. 
"Absent a hearing, NorthStar, which has been responsible and responsive to the U.S. government's policy goals and legal requirements, will continue to be forced to participate in an unfair and unbalanced market as a result of IRE's failure to convert," the company stated in its petition for a hearing. 
Northstar also said there is no need for the HEU license renewal since there is now a stable domestic U.S. supply of Mo-99 and I-131, which was the goal of AMIPA.
Radiopharmaceutical company Curium, which was formed with a merger of IBA Molecular and Mallinckrodt Nuclear Medicine, supplies medical isotopes for about 14 million patients worldwide each year. This company too opposes extending IRE's HEU export license.
Industry members have already filed a hearing request before the Nuclear Regulatory Commission in opposition to the application and others are expected to comment before the filing deadline of Sept. 5, 2019. 
Establishing a Domestic Medical Isotope Supply 
For nearly 30 years, until late 2018, there was no U.S. domestic production of medical isotopes. Severe shortages of medical isotopes occurred in the past decade during periodic shutdowns of the main North American source of isotopes, the Chalk River Laboratories reactor in Canada.
The 61-year-old Chalk River nuclear reactor had safety concerns requiring shutdowns to make repairs and updates. Each time the reactor shut down, there was a shortage of Tc-99m. The reactor is no longer making medical isotopes and is scheduled for decommissioning. This prompted the United States government to support plans to create a domestic supply of medical isotopes and create AMIPA.
In February 2018, the U.S. Food and Drug Administration (FDA) and the NRC took steps to ensure a stable and secure supply of Tc-99m. The FDA approved the NorthStar Medical Radioisotopes' RadioGenix System to produce Mo-99. Read the article "FDA Clears Path for First Domestic Supply of Tc-99m Isotope."
 
---
If you enjoy this content, please share it with a colleague