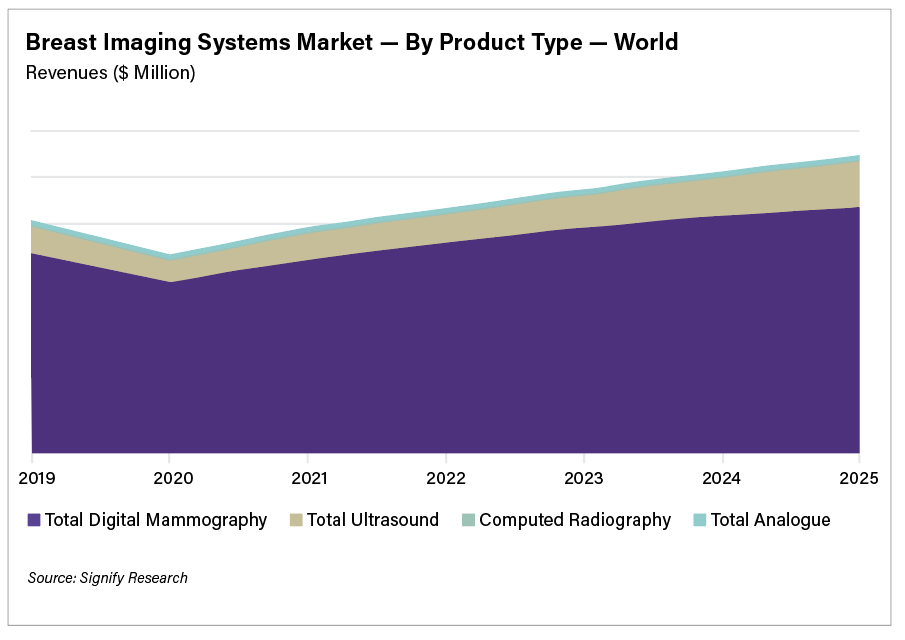 The rising global incidence rates of breast cancer, coupled with the severe backlog of women requiring breast cancer screening appointments due to COVID-19, has reinforced the importance of women's health and early detection of cancer. According to the World Health Organization (WHO), breast cancer has surpassed lung cancer as the most diagnosed cancer globally, with an estimated 2.3 million new cases and equating to 11.7% of all new cancers globally in 2020. Breast cancer also was responsible for just under 690,000 deaths globally in 2020. 
As a result of the countable rise of breast cancer incidence globally, there is heightened pressures for government screening programs. However, screening programs alone are not sufficient to help tackle breast cancer mortality rates. It is essential that the accuracy of breast cancer detection is improved, while false positives and missed lesions are also reduced. These factors are forecast to be at the forefront of advancement in breast imaging for both screening and diagnosis. 
Global drivers of the breast imaging market include strengthened awareness on the benefits of breast cancer screening programs and the need to improve the accuracy of breast cancer detection. This, alongside a patient-centric approach to screening and technological advancements to enhance patient comfort, are improvements being implemented to increase participation of screening programs which in turn has driven the uptake of mammography X-ray equipment.
The world market for breast imaging equipment is forecast to reach almost $1.3 billion by 2024, and the breast imaging artificial intelligence (AI) market is forecast to reach $205 million, according to a new report from Signify Research. However, the mammography and breast ultrasound market revenues declined by just under 15% and 18% respectively in 2020.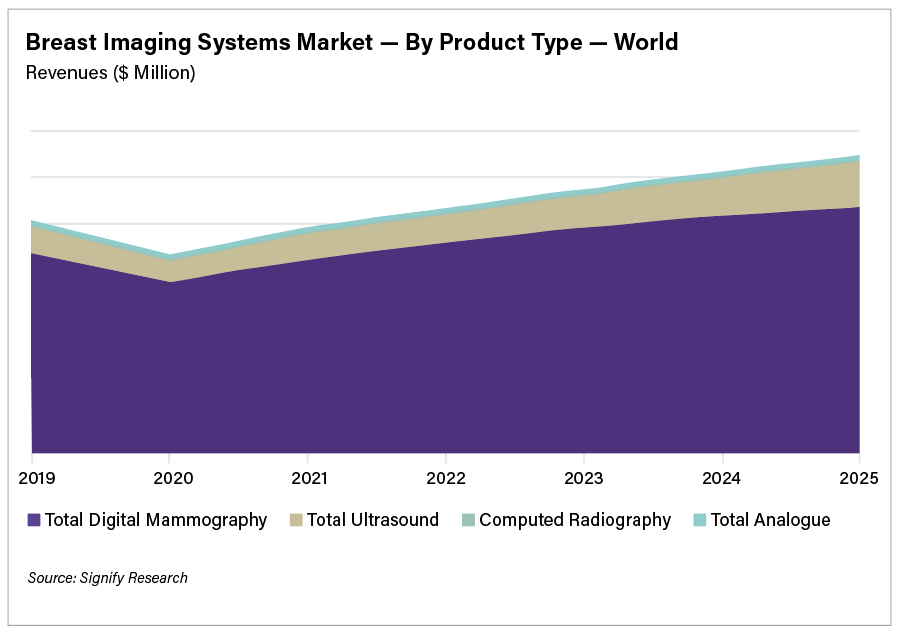 The Impact of COVID-19 
COVID-19 has severely impacted all medical procedures and healthcare facilities since the pandemic was declared globally in March 2020. Breast screening was significantly affected, with a high number of women missing scheduled mammograms. In the United States, the Centers for Disease Control and Prevention (CDC) reported in April 2020, as the country was largely shutting down, 80% fewer screening mammograms were conducted compared to the average number of mammograms in April in the previous five years. With such a significant population of women missing screening appointments, there is a big concern that many more women will develop later stages of breast cancer in coming years as a result. However, to help deal with the patient backlog, significant investment will be needed in both medical staff and breast imaging equipment. With increased pressure of screening centers and hospitals to address the number of women requiring breast cancer screening, there is heightened interest in how AI can be used to help prioritize scans, by highlighting suspected cases or lesions. Cases that are most urgent can then be addressed as a higher priority within the radiologists' workflow and accelerate patient care pathways or protocols for further diagnosis.
Key Trends in Breast Imaging
Use of 2D vs 3D mammography in screening programs. The United States is the only country that currently uses 3-D mammography for screening, with all other countries only using this technology for diagnostic purposes. Western European countries are expected to be the next to adopt 3-D mammography screening programs, but this is not anticipated to happen until the next two to three years.
Changes in demographics of women being screened. Healthcare providers are considering changing breast cancer screening policies to include younger demographics to help reduce breast cancer related deaths and increase early detection. However, the possibility of overdiagnosis and false positives is still prevalent. 
Personalized risk-based screening. The extensive number of factors which could contribute to the risk of breast cancer include genetics, family history, polygenic risk scores and high mammographic density. Personalized risk-based screening may also identify high-risk women for more intensive screening such as magnetic resonance imaging (MRI) follow-up after mammography. Alternatively, low-risk women may be more suited to longer intervals between screening, which also reduces the risk of false positives through over-screening.
Use of multi-modality imaging for breast cancer screening. Movement towards risk-based screening is likely to encourage the use of multi-modality imaging. As women are segregated into groups, identified factors such as increased breast density are expected to facilitate supplemental screening that are not commonly practiced today.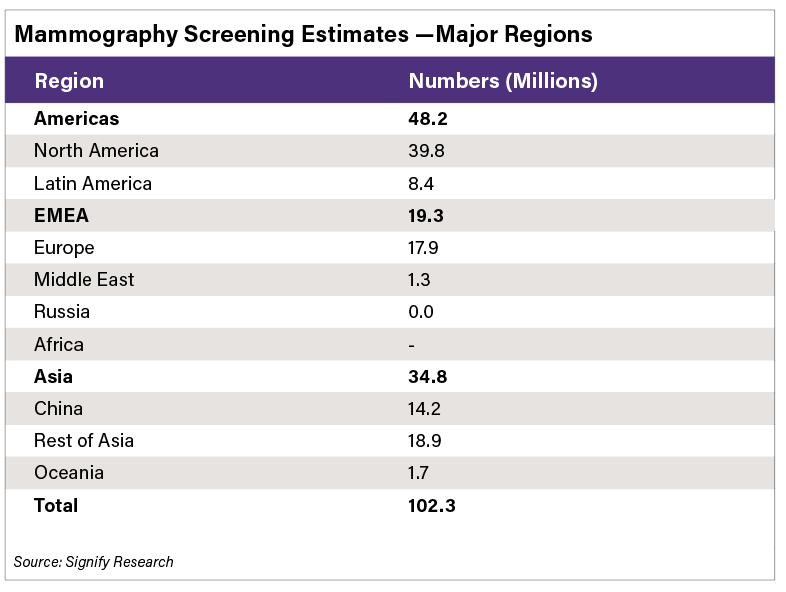 Breast Cancer Screening Programs
There continues to be a significant discrepancy across the world with regard to screening programs. Countries with large populations, like China and India for example, do not have a formal, structured approach to screening. There are also large differences in participation even in regions where formal programs exist, such as in Western Europe. In Spain, Denmark and Finland there is around 80% participation, whereas participation rates in other countries like France, the DACH region (Germany-D, Austria-A, and Switzerland-CH) and Portugal are all significantly below the 50% mark. The European Union is attempting to increase participation and move the adoption rates to 80% or above. 
Controlling False Positives
Mammograms will continue to play a fundamental role in the detection of breast cancers, but the occurrence of false positives often leads to benign lesions being operated on. With heightened pressures for breast cancer screening programs to account for the rising female population qualifying for mammography screening, it is crucial that the number of false positives subsequently does not rise as a result. Advanced techniques in mammography screening such as artificial intelligence, tomosynthesis guided biopsy, contrast enhanced spectral mammography, as well as a more personalized approach to breast cancer screening are initiatives which could help reduce the number of false negatives or positives and drive more accurate early detection of breast cancer.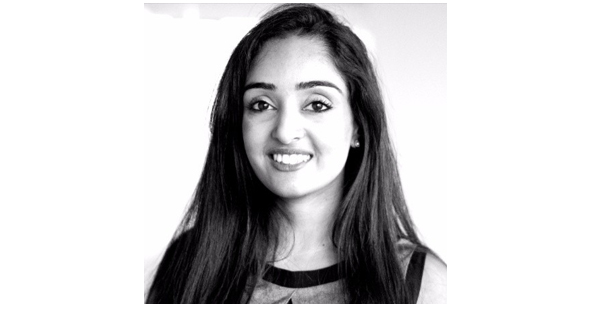 Bhvita Jani is a senior analyst for Signify Research's Medical Imaging team. She is responsible for Signify Research's X-ray market intelligence portfolio, including research on general radiography, fluoroscopy, breast iImaging, interventional and surgical X-ray, and the flat panel detector market. Jani has experience in market research for the X-ray, the medical and industrial flat panel detector markets, MRI and CT. 
Related Breast Imaging Content:
COVID-19 Vaccine Can Cause False Positive Cancer Diagnosis
Help Spread Awareness of Potential COVID-19 Vaccine Imaging Side-effects
VIDEO: COVID Vaccine May Cause Enlarged Lymph Nodes on Mammograms — Interview with Constance "Connie" Lehman, M.D.
COVID-19 Vaccination Axillary Adenopathy Detected During Breast Imaging
VIDEO: COVID Vaccine Adenopathy Can Last Up to 10 Weeks — Interview with Yael Eshet, M.D.
VIDEO: Artificial Intelligence Trends in Medical Imaging — Interview with Signify Research
Technology Report: Artificial Intelligence in Radiology 2021
Related COVID-19 Cancer-care Information:
Female Breast Cancer Surpasses Lung as the Most Commonly Diagnosed Cancer Worldwide
Johns Hopkins Medicine Expert Weighs Devastating Impact of COVID-19 on Healthcare Workers
Radiation Oncologists Urge Congress to Advance Bills That Protect Patient Access to Cancer Care During Pandemic
---
If you enjoy this content, please share it with a colleague