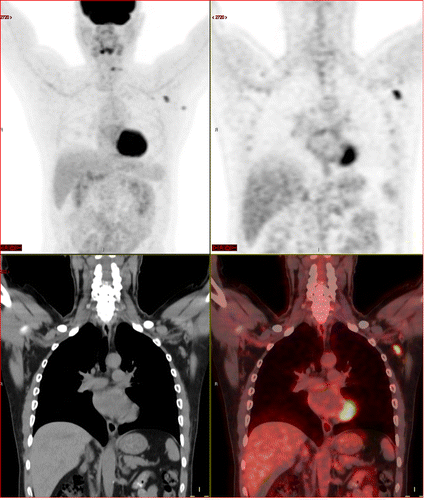 A 63-year-old multiple myeloma patient, with skeletal pain. New FDG avid axillary lymphadenopathy 62 days (9 weeks) after second mRNA vaccination dose. Image used with permission of the Radiological Society of North America (RSNA)
Ever so slowly, we are beginning to see some light at the end of the pandemic's tunnel. Vaccines are now more easily available to anyone over the age of 16. The Center for Disease Control and Prevention (CDC) reported on April 27 that more than 95 million people — about 29.1% of the population, or 96,747,454 Americans — have been fully vaccinated. The World Health Organization estimates "herd immunity," or the share of the population that needs to be immune in order to break the chain of transmission, to be around 60-70%. We still have a ways to go, yet experts are projecting we will hit this target by August.
Getting to the point where we are today has not been an easy road, and the struggles still remain as we begin to learn more about the vaccines available. In February, an open-access article in ARRS' American Journal of Roentgenology (AJR) described the clinical and imaging features of axillary adenopathy that was being detected during screening or diagnostic breast imaging after recent COVID-19 vaccinations. Adenopathy is inflammation that involves glandular tissue or lymph nodes. The study showed the presence of swollen lymph nodes on mammograms of women who had received the COVID-19 vaccines, and suggested that patients should be asked if they recently received the vaccine before the screening procedure is performed.
"This is the largest sample to our knowledge of COVID-19 vaccine associated axillary adenopathy on imaging," said Shabnam Mortazavi, M.D., of the University of California at Los Angeles who reviewed electronic medical records to identify women with post-COVID-19 vaccination adenopathy found from December 2020 to February 2021. "This study highlights axillary adenopathy ipsilateral to the vaccinated arm with Pfizer-BioNTech or Moderna COVID-19 vaccine as a potential reactive process with which radiologists must be familiar." He went on to say that ultimately, vaccination date and laterality are critical to optimize assessment and management of imaging-detected axillary adenopathy in women with otherwise normal breast imaging. You can read more on this topic in the article "COVID-19 Vaccine Can Cause False Positive Cancer Diagnosis." You can view the details of Mortazavi's study here.
An editorial published in the Radiological Society of North America (RSNA) journal Radiology: Imaging Cancer on April 9 also voiced these same concerns. The letter addresses the concerns and the diagnostic dilemma for patients, because lymphadenopathy can mimic cancer on imaging exams. The authors of "COVID-19 Vaccination-Related Lymphadenopathy: What To Be Aware Of" point out that widespread patient education regarding vaccine-induced lymphadenopathy is needed, and state that when vaccines are administered, side effects such as axillary swelling should be highlighted and normalized as an immune response initiated by the vaccine.
"We write this editorial as a public service message at a time where other countries are starting mass vaccination programs with the goal of preventing unnecessary nodal biopsies and alleviating patient concern," the authors wrote. "Imaging societies, clinicians and news media outlets should spread awareness to educate the public regarding this side effect to minimize patient anxiety."
On April 27, a new research letter was published in the journal Radiology stating that researchers using fluorodeoxyglucose (FDG)-positron emission tomography (PET) have found increased FDG uptake in the lymph nodes of patients 7-10 weeks past their second mRNA-based Pfizer-BioNTech COVID-19 vaccination. Similar to the earlier AJR finding, this new information indicates a persistent immune response that could be mistaken on imaging exams for serious conditions like lymphoma over a much longer period of time.
Recent recommendations for post-vaccine lymphadenopathy advise scheduling routine imaging, such as screening mammography, before, or at least 6 weeks after, the final vaccination dose to eliminate false positive results. However, this new research showed that avid axillary lymph node uptake was present beyond 6 weeks after the second vaccination in more than 29% of the patients in the study cohort.
The authors stated, "This study shows that avid axillary lymph node uptake on FDG PET/CT can be detected in more than a quarter of our patient population even beyond 6 weeks after the second dose of the mRNA-based COVID-19 vaccination. Compared to a previous study showing normalization of FDG uptake within 40 days of receiving an inactivated H1N1 influenza vaccine, we found uptake persistence even at 70 days. Physicians should be aware of this potential pitfall."
During this critical period of time, it is essential to take heed of the previously published studies, and help educate the public on this potential vaccine side effect.
Related COVID-19 Vaccine Radiology Content:
COVID-19 Vaccine Can Cause False Positive Cancer Diagnosis
VIDEO: COVID Vaccine May Cause Enlarged Lymph Nodes on Mammograms — Interview with Constance "Connie" Lehman, M.D.
COVID-19 Vaccination Axillary Adenopathy Detected During Breast Imaging
PHOTO GALLERY: How COVID-19 Appears on Medical Imaging
CDC and FDA Call for Pause on Janssen COVID-19 Vaccine Due to Rare Blood Clots
---
If you enjoy this content, please share it with a colleague