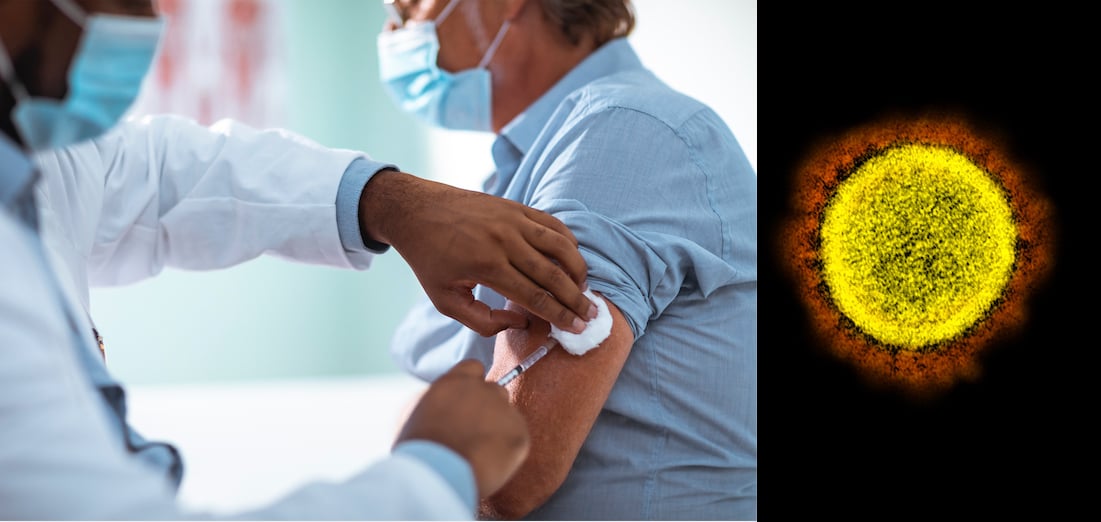 April 15, 2021 — The U.S. Food and Drug Administration (FDA) and the Centers for Disease Control and Prevention (CDC) are calling for a pause in using the Johnson & Johnson/Janssen COVID-19 (SARS-CoV-2) vaccine today after several reports of a rare, severe, stroke-like type of blood clot in patients after receiving the J&J vaccine. One patient has died from the complication and one remains in critical condition.
In a joint statement from the CDC and FDA, they said there were six cases cerebral venous sinus thrombosis (CVST) blood clots seen in combination with low levels of blood platelets (thrombocytopenia). All six cases occurred among women between the ages of 18 and 48, and symptoms occurred 6 to 13 days after vaccination. Treatment of this specific type of blood clot is different from the treatment that might typically be administered. Usually, the anticoagulant heparin is used to treat blood clots, but in this setting, administration of heparin can be dangerous and alternative treatments need to be given.
CDC will convene a meeting of the Advisory Committee on Immunization Practices (ACIP) on Wednesday, April 14, to further review these cases and assess their potential significance. FDA will review that analysis as it also investigates these cases. 
"Until that process is complete, we are recommending a pause in the use of this vaccine out of an abundance of caution," said Peter Marks M.D., Ph.D., director of the FDA Center for Biologics Evaluation and Research (CBER). "This is important, in part, to ensure that the healthcare provider community is aware of the potential for these adverse events and can plan for proper recognition and management due to the unique treatment required with this type of blood clot."
He said right now, these adverse events appear to be extremely rare. However, Marks explained COVID-19 vaccine safety is a top priority for the federal government.
"We take all reports of adverse events following vaccination very seriously," Marks said. "Healthcare providers who see people presenting to them with either a low platelet count or blood clots should establish whether or not the individual has been recently vaccinated in order to inform the proper diagnostic evaluation and management."
Healthcare providers are asked to report adverse events to the Vaccine Adverse Event Reporting System at https://vaers.hhs.gov/reportevent.html.
The CDC and FDA held a press briefing today and a recording will be available on the FDA's YouTube channel.
Janssen Vaccine Appears to be Safe in Vast Majority of Patients
Overall, the experts say the Janssen vaccine is very safe, with only 6 known cases of this severe adverse event out nearly 7 million doses of the Janssen vaccine administered so far. 
"Right now these events appear to be extremely rare," Marks said in the press conference. "Healthcare providers who see people who are presenting with blood clots and have low blood platelets should assess if the patient has received a COVID vaccine."
As of April 12, the FDA said more than 6.8 million doses of the Janssen vaccine have been administered in the U.S.  The FDA issued an emergency use authorization (EUA) for the Janssen Biotech COVID-19 Vaccine, the third vaccine for the prevention of coronavirus, Feb. 27. It is available for use in the U.S for use in individuals 18 years of age and older. 
Healthcare Workers Need to Recognize CVST and Low Platelets as Possible Side Effect of Janssen Vaccine
However, there are concerns that there could be more cases of CVST blood clots seen in combination with thrombocytopenia that might not have been connected yet to the vaccine, or patients may still present to hospitals or their primary physician with symptoms up to three week after getting the Janssen vaccine. Marks said the pause is in part to make sure all healthcare providers are aware this can be an issue and to be alert if a patient presents with clots and low platelets and not to treat them with heparin and recognize this might be related to a vaccine.
"We know the information we are providing today will be very concerning to many people who already received the Johnson and Johnson vaccine," explained Janet Woodcock, M.D., acting FDA commissioner. "We are recommending this pause in order to prepare the healthcare system to recognize and treat these patients appropriately and to report severe events they may be seeing in people who received the J&J vaccine."
What are the symptoms and When Should Patients Go to the Hospital if They Had The Janssen Vaccine?
If patients have very severe headaches, or pain in their legs or abdomen, it could be a sign on clot formation and they should seek medical evaluation, Marks said.
"People who have received the J&J vaccine who develop severe headache, abdominal pain, leg pain, or shortness of breath within three weeks after vaccination should contact their healthcare provider," he said.
However, he added that mild headaches and flu-like symptoms are common with the vaccines and should not cause for alarm. Marks said these symptoms usually go ways after a day or two. 
Clotting Complications Due to AstraZeneca Vaccine Similar to Janssen 
The AstraZeneca COVID vaccine (also known as Vaxzevria and the AstraZeneca-Oxford vaccine) was approved for use in Europe has recently come under fire because of a number of adverse event reports involving clotting. As of April 4, the New York Times reported European regulators had received reports of 222 cases of the rare blood-clotting problem across Europe, including 18 deaths. They said that about 34 million people had received the AstraZeneca vaccine in those countries, and that the clotting problems were appearing at a rate of about one in 100,000 recipients. That is much higher than the rate currently found for the Janssen vaccine.
It is believed the AstraZeneca vaccine recipients who developed the clotting disorder produced antibodies that activated their platelets and led to the clots. Marks said this appears to be the same process in the U.S. cases with the Janssen vaccine. 
"What we are seeing with the Janssen vaccine is very similar to the AstraZeneca vaccine, and that makes sense because they use a similar vector," Marks explained. "AstraZeneca uses a chimpanzee adenovirus vector, and the Janssen vaccine uses a human adenovirus vector."
Adenoviruses cause the common cold and can be rendered harmless for use in vaccine production to deliver a piece of genetic code from a pathogen to cells in the body that mimic an infection, in this case by replicating the COVID spike protein. The harmless virus acts as a delivery system, or vector, for the genetic sequence and the body's immune system reacts to it and creates antibodies to fight it without actually being exposed to the real virus.
Read more about viral vector vaccaines on the CDC website
Woodcock said more than 180 million doses of COVID vaccine have been delivered so far in the U.S., Marks said. Of these doses, the vast majority have been the Pfizer and Moderna vaccines, which use an mRNA vector and have zero reported complications of this type.
Related COVID Vaccine Content:
FDA Clears Third COVID-19 Vaccine From Janssen
VIDEO: COVID Vaccine May Cause Enlarged Lymph Nodes on Mammograms
COVID-19 Vaccine Can Cause False Positive Cancer Diagnosis
FDA Clears First COVID-19 Vaccine Under an Emergency Use Authorization
FDA Approved Second COVID-19 Vaccine From Moderna
COVID-19 Patients With Cardiovascular Disease Have In-hospital Mortality Rates of 25 to 38 Percent
Who Qualifies for the COVID Vaccine Under CDC Guidelines
Overview of Randomized Trials of Antithrombotic Therapy for COVID-19 Patients.
VIDEO: Antithrombotic Prophylaxis in COVID-19 Patients —Interview with Behnood Bikdeli M.D.