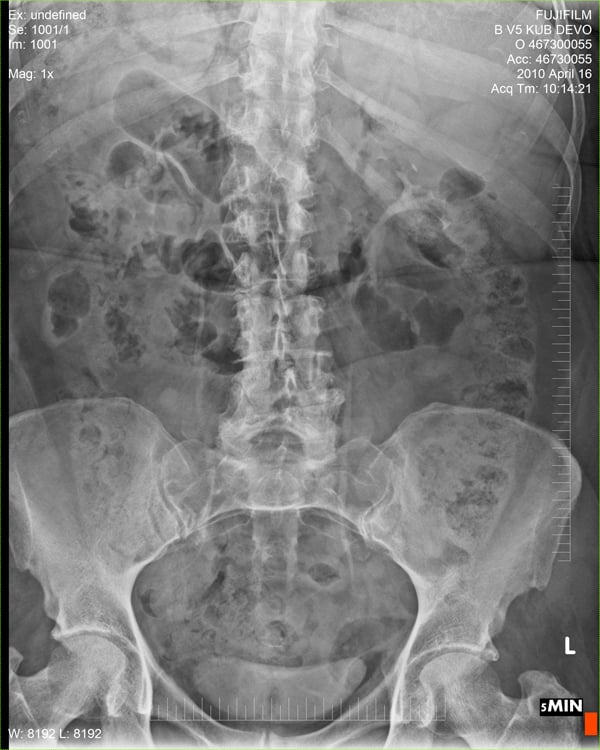 Fujifilm's FDR-flex with FDR D-EVO II
The COVID-19 pandemic turned the spotlight on diagnostic imaging by demanding a need for high-speed workflow and efficient patient management. This helped to highlight the importance of the role of digital radiography (DR), which offers fast turnaround with less than one minute needed between exposure and image acquisition. As we start to enter the post-pandemic period, the continuing need for DR technology is still as strong as ever.
The global DR market was valued at $3.9 billion in 2020, and is projected to reach $8.3 billion by 2030, growing at a CAGR of 6.6% from 2021 to 2030, according to new data from Allied Market Research. DR is a radiographic technique that uses X-ray sensitive plates to capture data directly during patient examination. Digital X-ray replaces the use of film or computed radiography (CR) plates with a direct digital transfer of X-ray images into the PACS. DR is the direct conversion of transmitted X-ray photons into a digital image using an array of solid-state detectors such as amorphous selenium or silicon, with computer processing and display of the image. DR X-ray systems are used for both fixed base room installations and mobile DR systems that are wheeled between rooms for imaging exams. DR is recommended as a significant choice for clinical imaging due to its high-quality picture processing and reduced radiation exposure.
Market Growth
Growth of digital radiology industry is being driven by a surge in the frequency of chronic diseases, sports-related injuries and cancer. Also, the aforementioned COVID-19 pandemic accelerated the need for high-speed workflow and an efficient way to manage patients. On Jan. 30, 2020, The World Health Organization (WHO) declared COVID-19 to be a pandemic. Constraints and restrictions were implemented by state governments for ongoing medical procedures and elective surgeries, which greatly impacted the healthcare system.
"The digital radiography market was impacted during the pandemic. Initially, the pandemic negatively impacted the market, due to imposed lockdowns and social distancing regulations," said the study's authors. "As the lockdown emerged, diagnostic imaging procedures were postponed but eventually, the pandemic put diagnostic imaging in the limelight, with necessity of high-speed workflow and effective patient management. Demand for digital radiology systems increased, as it requires less than one minute between exposure and image collection. Many companies developed or changed their products for diagnostic imaging to address these rising needs. Hence, the COVID-19 pandemic positively impacted the digital radiography market."
Advantages of DR
Some major advantages of digital imaging are cost-effectiveness and easy accessibility. "The hospitals can manage the cost-cutting by lowering the film price, reducing the requirement of storage space, and decreasing the number of people required to run the services and archive sections," stated Modor Intelligence in its recent DR market report. "The images are also instantly available for distribution to the clinical services without the time and physical effort needed to retrieve film packets and reviewing previous imaging on a patient is much easier. This factor greatly impacts the growth of the digital X-ray devices market."
Key Market Trends
Based on the portability, mobile DR devices are predicted to witness significant growth over the forecast, according to Modor Intelligence. Key factors driving this growth include advanced technology, a rising number of patients with chronic diseases and an increasing geriatric population, in addition to a rising awareness regarding the availability of portable systems. 
Also, advancements in technology and increasing product approvals, along with partnerships and collaborations by key players, is helping to drive market growth. At the Radiological Society of North America's (RSNA) 2021 annual meeting, several of these advancements were on display in the expo hall.
At RSNA 2021, Agfa launched its new Valory DR room. Valory delivers a simple design with functionality that goes beyond the basics to bring reliability, productivity and first-time-right imaging into reach for any hospital. It comes equipped with a wide choice of a generator power, ceiling-suspended X-ray tube, and Dura-line Cesium Iodide detectors that deliver reliability, cost-effectiveness, the potential for significant patient dose reduction, 15-hour battery autonomy and the ability to share detectors between DR systems.
GE Healthcare introduced the Definium Tempo, a new fixed overhead tube suspension (OTS) digital X-ray system designed to be a personal assistant to radiologists and technologists, leveraging automation to reduce workflow burdens. It is designed to work with the technologist to operate efficiently and provide consistent, high-quality images, while allowing for more quality time with the patient. Acting as an in-room command center, its tube-mounted console provides all the functionality needed for patient selection, protocol selection, technique modification and positioning setup, enabling the technologist to finish all exam setup and positioning work without leaving the patient's side. 
At RSNA 2021, Konica Minolta introduced the mKDR Xpress Mobile X-ray system, which offers exceptional imaging performance in a small footprint. Its slim design and collapsible column facilitate easy mobility, including tight spaces in the ICU, CCU and OR. Ease of use is assured with a customizable mobile-specific user interface, remote control, and front and back collimator controls with laser alignment. 
Carestream shared its solutions for expanding DR at RSNA 2021. With Carestream's DR Retrofit systems, imaging facilities that have not yet fully upgraded to DR can move forward to full wireless DR imaging at a fraction of the cost of purchasing a new system. The retrofit solutions use a single wireless detector to convert existing equipment to full digital operation, delivering all benefits of a DR system.
---
If you enjoy this content, please share it with a colleague