Greg Freiherr has reported on developments in radiology since 1983. He runs the consulting service, The Freiherr Group.
RSNA 2018 Tuesday — Real Meets Virtual and AI
One of several 3-D printed models at Stratasys booth during RSNA 2018.
For medical practice to advance, efforts to make this practice more efficient must not come at the expense of accuracy. Patterns otherwise not apparent may stand out when data are examined using artificial intelligence (AI), just as they assume a more real appearance in physical modeling. Developers of AI and modeling software demonstrate new ways to illustrate data at the 2018 Radiological Society of North America annual meeting (RSNA 2018), just as a simplified means for handling biopsied breast tissue promises to ensure quality and reduce errors.
Stratasys Ups Ante In Enterprise Imaging
Wondering if 3-D printing might add new "dimension" to enterprise imaging? (GE Healthcare is exploring the value of 3-D printing in patient care, as evidenced by its Monday announcement at RSNA 2018 of a partnership with the Veterans Administration.)
Meanwhile, Stratasys is demonstrating at its South Hall booth (1968L) in the 3-D Printing and Advanced Visualization Showcase how 3-D printed models can help plan surgeries and assist in making complex diagnoses. This raises the possibility that these models might come in handy for patient care teams.
The printing process for Stratasys begins when users create and save virtual 3-D models. These reconstructions can be transmitted to Stratasys for printing. (Users of Philips' IntelliSpace can design, order and produce 3-D printed anatomical structures on-demand from Stratasys Direct Manufacturing, according to Philips, under a collaborative agreement signed by the two companies.) Stratasys prints 3-D models using polyJet-based full-color materials that form physical data reconstructions that are realistic in both soft and hard tissues.
ONRAD Goes Immersive
Best known as a supplier of contrast media, Guerbet is shining a multivariate light on digital solutions. One source of illumination is coming from in-house work; others from Imalogix and IBM Watson Health.  In its booth in South Hall (2558), Guerbet is demonstrating three technologies. One is the latest version of its Contrast & Care software, which is designed to improve productivity and traceability of Guerbet contrast media. A second is from Imalogix, the vendor-neutral Radiation Dose Solution, which tracks patient exposure to ionizing radiation, using deep learning to mine data and compare dosing at a customer's facility to that of other facilities. The third is an AI tool developed by IBM Watson Health, a tool called Watson Imaging Patient Synopsis, which summarizes patient information into single-view reports. Guerbet is demonstrating the tool, which it plans to distribute under a reseller agreement, as it continues working jointly with IBM Watson Health to develop AI software to support liver cancer diagnosis and care.
GE's New Brand Edison Embraces AI
Newly branded Edison helps accelerate the development and adoption of new technologies and, according to GE Healthcare, "empower providers to deliver faster, more precise care." GE's clinical partners are supposed to use Edison to develop algorithms, particularly ones in artificial intelligence, according to the company, clearing a path for them to work with GE to bring advances in data processing to Edison applications and smart devices.
At its RSNA booth in the North Hall (7334), GE is showing what may soon become the first Edison-branded AI algorithm, one designed for use in X-ray, from this process, as well as an experimental, not-yet-FDA cleared AI-based workflow tool for MRI brain scanning.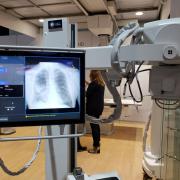 The X-ray based algorithm, designed to be embedded in a GE portable X-ray machine, is part of GE's Critical Care Suite. This suite may one day include a bevy of AI algorithms that check for signs of pathology. The algorithm now nearing the market detects the signs of pneumothorax – a collapsed lung – on chest radiographs made using the company's Optima XR240amx portable X-ray machine. Embedded in the X-ray machine, the AI algorithm – which is pending U.S. Food and Drug Administration (FDA) clearance – is designed to flag chest radiographs that indicate pneumothorax; the images are then to be sent for priority interpretation by radiologists.
The objective of the AI-based algorithm for brain MRI is to increase consistency and productivity. Called AIRx, this algorithm leverages deep learning in its training on a database of more than 36,000 clinical images to identify anatomical structures in the brain. It is being groomed to automatically streamline the choice of brain slices in scans so as to help reduce manual effort and reduce or eliminate redundancies. The idea is to make brain MR scans less dependent on the skills of technologists, thereby leading to fewer recalls due to incorrect slice placement.
GE is also developing "CT Smart" algorithms to examine CT images for signs of pathology, such as intracranial hemorrhage and stroke, optimized cardiac function assessments, and to confirm patient radiation dose levels. In ultrasound, the company is grooming AI algorithms to reduce the repetitive exams typically done to segment and measure lesions.
MammoPort Draws Radiology and Pathology Together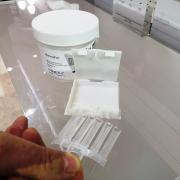 Shoddy handling of biopsied tissue is an often unseen problem of breast cancer diagnosis, one that passes as a standard operating procedure yet can endanger the diagnosis and ultimately the life of a woman being examined for a suspicious breast lesion, according to Darwin Asa, Ph.D., senior product manager for tissue acquisition solutions at Leica Biosystems. Many radiology sites do not properly preserve biopsied tissue before it is sent to pathology, often placing biopsied tissue, Asa says, into jars of the preservative formalin with little consideration given to the integrity of the tissue. But Leica has come up with a solution – a specimen containment and transportation system called MammoPort.
The new product, released commercially in September and shown at the Mammotome booth in South Hall (3129) – (Mammotome is owned by Leica) – eliminates much of the handling of biopsied tissue by radiology technologists. In so doing MammoPort could bring pathology one step closer to enterprise-wide imaging, as it tightens the connection between radiology and pathology, and helps standardize the process of transferring breast biopsy tissue from the radiology suite to the pathology lab.
Rather than being placed haphazardly into a jar of formalin, the tissue is placed after needle extraction into tiny trays that can be X-rayed, placed in a plastic box that is then closed, immersed in formalin, and sent to pathology. This standardized tissue transfer from radiology to pathology promises to ensure quality and reduce errors.
Related RSNA 2018 Coverage:
RSNA 2018 Sunday – Improving, Not Replacing
RSNA 2018 Monday — AI and Enterprise Imaging Gain Traction
VIDEO: RSNA President Says Artificial Intelligence is Hottest Tech Advancement in Radiology. 
PODCAST Hear and Now: What You Need to Know About Enterprise Imaging
PODCAST Hear and Now: Intervention Rising
Subscribe Now