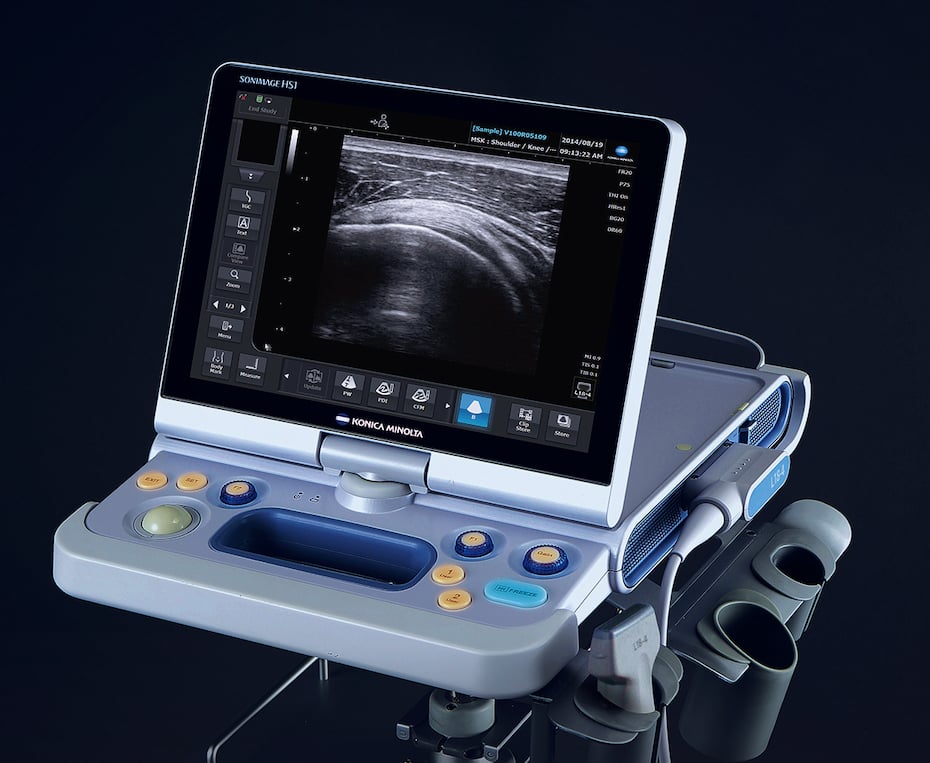 The Konica Minolta Sonimage HS1 hand-carried system is designed for point of care ultrasound (POCUS) use for an immediate, quick look inside the patient. POCUS systems from several vendors are seeing rapid growth.
With the miniaturization of technology, improved ease of use, lower system cost, increased portability, and greater access to training, the appeal of
ultrasound
continues to expand in point-of-care (POC) markets.  Estimated growth in the
POC ultrasound (POCUS)
market is expected to exceed $3 billion globally by 2025,[1,2] up from $1.3 billion in 2018. Handheld devices accounted for 32 percent of revenue in 2018,[1] while market demand for therapeutic interventions using ultrasound is expected to grow faster than diagnostic ultrasound, primarily due to its use for pain management and musculoskeletal and sports medicine-based injections.[2]   
POCUS refers to either a diagnostic exam or interventional procedure performed under ultrasound guidance during a patient exam. By providing real-time information to guide the evaluation and management of the patient, POCUS enables physicians to make better decisions sooner. A recent review article of ultrasound in general practice found that adding POCUS to select patients results in an earlier and improved diagnosis in the hospital setting.[3] The same review article also reported that three studies found lower healthcare costs when ultrasound was used in general practice by eliminating the need for additional testing.[3]
There are four main clinical applications for POCUS: 
   • Musculoskeletal;
   • Cardiac/critical care;
   • Emergency medicine (hospital-based and urgent care); and 
   • Anesthesia and pain management. 
In most diagnostic applications, an ultrasound exam is performed in less than 20 minutes. Although sensitivity and specificity varies by anatomic area, across all type of exams ultrasound has a sensitivity between 91 and 98 percent and a specificity between 83 and 95 percent.[3]
POCUS Use in MSK Imaging
POCUS has seen significant growth in musculoskeletal (MSK) applications due to its ability to visualize soft tissue tears in muscles, tendons, ligaments and joint spaces at a high spatial resolution that cannot be seen on X-ray.  It is also used for the detection of foreign bodies or abnormal growths, such as tumors and calcifications, as well as early bone changes, including subclinical synovitis and early bony erosions. 
POCUS Use in Cardiology
Cardiac POCUS applications, particularly in emergency medicine, will also see continued growth. With POCUS now regularly being utilized by emergency physicians in the evaluation of patients in cardiac arrest, the
American Heart Association (AHA) updated its guidelines in 2015
to recommend its use during the management of cardiac arrest.[4] Other cardiac-specific uses of POCUS include triaging chest pain, dyspnea, undifferentiated shock and abdominal/thoracic trauma.[5]
POCUS for Needle Guidance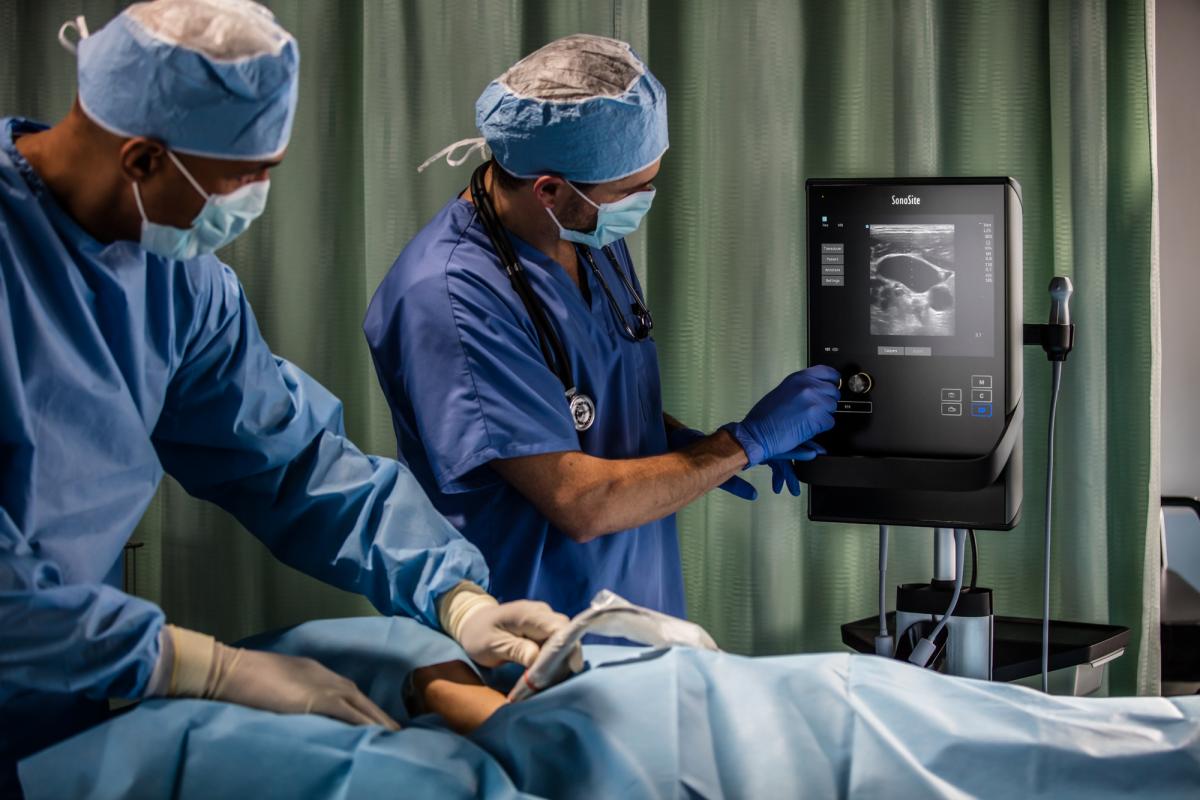 Besides being a diagnostic tool, ultrasound also provides needle guidance for interventional procedures. When compared to landmark guided injections, ultrasound-guided interventions improved precision and possibly greater treatment efficacy.[6] Needle visualization software aids in guiding injections exactly where they need to be for optimal healing and relief from inflammation and pain. Ultrasound guidance for lumbar puncture (LP) has become an increasingly useful aid to an otherwise difficult procedure in patients with abnormal landmarks due to obesity, spinal curvature, or other anatomical abnormalities.
Anesthesiologists are increasingly using ultrasound for anatomical evaluation prior to needle insertion. Ultrasound provides excellent guidance in cases of difficult venous access, to delineate nerve plexus for chronic nerve blocks and for epidural space identification and regional anesthesia.[7]  
POCUS To Reduce Costs of CT or MRI
Ultrasound in POC facilities and practices reduces costs, promotes efficiency, and saves time for both the provider and the patient.  As an important compliment or alternative imaging modality to MRI, ultrasound is lower cost and can be performed at the initial visit, fostering a continuity of patient care and immediacy in diagnosis. A diagnostic ultrasound exam costs 60-70 percent less than an MRI and is not contraindicated for use on patients with pacemakers and other metal implants.[8]  With a dynamic ultrasound exam, patients become involved in their care and are able to view pre- and post-treatment scans live, side-by-side on the system monitor.
Reimbursement for POCUS Exams
Both diagnostic and injection guidance exams are CPT billable procedures. These reimbursements can be an additional source of revenue as long as the studies are deemed medically necessary by the payer and documented in the patient's medical record. In certain states, practitioners who have not been trained in ultrasound during residency programs are required to attain ultrasound certification. For example, Ohio, North Dakota, South Dakota, New Hampshire and Massachusetts require ultrasound accreditation through the AIUM for musculoskeletal exams to be reimbursed.
How to Select a POCUS System
Finding the right POCUS system is key, since not all systems are well suited for all applications. For interventional or therapeutic applications, the clinician will need to visualize the needle in-plane and out-of-plane. With panoramic viewing, physicians can assess larger lesions or examine the relationship of two structures in a single image. In MSK imaging, strain elastography can deliver qualitative and quantitative information on the relative stiffness of tissue to help assess changes in tendon and ligament elasticity. In urgent care applications, quick system boot up time and a full suite of transducers for rapid assessment of the patient are important.
In addition to focusing on clinical applications, choosing a POCUS system should also be based on the technical support, educational support and warranty offered with purchase. A five-year manufacturer's warranty on the unit and transducers is standard in the industry. However, some ultrasound manufacturer's go above and beyond offering extended protection against hazards, misuse and drops.  Consider the installation time the vendor will provide in your facility to set-up the system and customize the unit to your workflow. Educational platforms through hands-on workshops, preceptorships and remote webinars hone scanning skills and bring practitioners up to speed faster.
Some physicians may find the convenience and ultra-portability of a handheld ultrasound unit appealing, however, it is important to compare expectations of the system versus the applications and clinical utility it provides. The increased demand for initial screenings in POCUS is often met with the challenges mentioned above on reimbursement, accreditation and image quality. No doubt, decreasing system costs, increasing functionality, and addressing education will position handheld ultrasound for massive future growth…not only in POC market spaces, but also in specialty offices, primary care and even possibly in home care use.
Patient satisfaction is proportionate to the positive growth of ultrasound's clinical relevance.  Overall, patient satisfaction is elevated with the use of portable ultrasound at the point-of-care, while maintaining an even higher standard of care. One study found statistically higher patient satisfaction scores with the overall emergency department care when bedside ultrasound was utilized.[9] Another study reported that 83 percent of patients would pay more to have an ultrasound exam conducted by their general practitioner.[3] Point-of-care ultrasound improves healthcare by delivering faster access to diagnosis and potential treatment, increasing patient involvement and fostering patient continuity.  POCUS is a win for patients, providers and payors.
Editor's note: Author Joan Toth is senior product marketing manager at Konica Minolta Healthcare Americas. 
Related POCUS Content:
References:
---
If you enjoy this content, please share it with a colleague