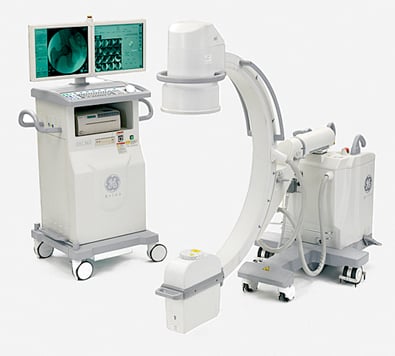 Mobile C-arms have become a popular option in many operating rooms (ORs) across the nation as healthcare organizations look to save space and money. According to Klaus Hörndler, managing director of Ziehm Imaging, "ORs in hospitals are becoming ever smaller, while more devices are being used inside them." Because mobile C-arms are smaller, lighter and more easily maneuvered than fixed angiography systems, they provided an effective solution. At a fraction of the cost of fixed angiography, these systems are also a good option for budget-conscious facilities that have limited financial resources or are experiencing budget cuts. 
While the size, flexibility and price of mobile C-arms allow for ease of adoption within the OR, there are a few disadvantages to utilizing these systems. Early mobile C-arms used an image intensifier that did not produce high-quality images. And because the systems are easily moved, inadvertent movements during an exam could also result in poor image quality and necessitate repeat exams. Another disadvantage of the systems came in the form of overheating, which allowed them to only be used for a short period of time. With these concerns in mind, manufacturers have made adjustments to improve their functionality within the OR. 
Continuation of Older Trends 
Manufacturers are addressing early concerns such as overheating by continuing to find innovative ways to cool the systems, prevent them from overheating and allow them to be used for longer procedures. Both Ziehm's RFD Hybrid Edition and Siemens' Cios Alpha have built-in liquid cooling systems, which allow for unlimited use. This is definitely a trend that healthcare professionals can expect to see more of in the future to expand use within the OR. Another trend that will continue is the replacement of image intensifiers with flat panel detectors to allow for better image quality. 
Motorized Mobile C-arm
With the ever-changing landscape of healthcare in the United States, the Radiological Society of North America (RSNA) annual meeting showroom floor is a good place to see what direction medical technology and innovation are headed. RSNA 2013 saw the addition of a few new systems to the mobile C-arm market that push the boundaries of C-arm capabilities and address many user concerns. 
Ziehm Imaging introduced the first motorized, mobile C-arm for orthopedic and cardiac applications, among other applications, at RSNA 2013. The new generation of the Ziehm Vision RFD Hybrid Edition is fully motorized in four axes and has joystick operation, distance control and maximum image quality with minimal dose levels. 
"With the new generation of the Ziehm Vision RFD Hybrid Edition, we are offering, for the first time, full motorization of a mobile C-arm in four axes: horizontal, vertical, orbital rotation and in angulation. Each position can be stored at the touch of a button and called up again at any time," said Hörndler. "This allows the operator to access the desired viewing angles and anatomic visualizations without having to constantly reposition the system on the OR table."
The company noted that requiring the operator to deliberately touch any two contact points on the joystick with the fingers to activate movement of the C-arm prevents accidental operation. The joystick module also has a function for defining an isocenter around which the system moves concentrically. The system received U.S. Food and Drug Administration (FDA) clearance for use in pediatric and other interventional OR procedures in early 2014. 
Multi-plane in Mobile
Another new introduction showcased at RSNA 2013 was the first multi-plane mobile G-arm. While bi-plane imaging has been available with fixed angiography for quite some time, Whale's Orca MultiScan G-arm system with X-Beam technology is the first real-time, multi-plane, surgical imaging system. The system is designed for use in orthopedic, fracture and spinal surgery. It has a digital platform that allows pulse imaging for reduced dose and better image quality. The company's patented X-Beam technology allows for live, simultaneous AP and lateral scans, while maintaining image quality. 
According to Whale, the elimination of the frequent moving and adjustment that is required with most mobile C-arms allows surgeons to achieve greater precision and more workflow efficiency. The company also stated that the multi-plane imaging and the elimination of frequent movement creates more certain outcomes and reduces infection risk and procedure time when compared to more traditional C-arms. The Orca received FDA 510(k)
and CE mark late last year.
Remaining a Popular Choice
Mobile C-arms have gained popularity within healthcare systems, despite these few setbacks. In April 2013 Ziehm reported that it had sold its 1,000th C-arm in just three years. As manufacturers address image quality and efficiency issues, mobile C-arms will continue to become more standard in the OR, especially as healthcare organizations seek more versatile, economical options.
Mobile C-arm Comparison Chart
ITN has created a mobile C-arm comparison chart of the specifications for these systems. It can be accessed at www.itnonline.com/content/mobile-c-arms. This will require a login, but it is free and only takes a minute to register. The chart includes all manufacturers of mobile C-arms that sell systems in the United States.
Related Articles on Mobile C-arm Technology Trends
Mobile C-arms Enhancing Flexibility
Mobile C-arms Keep Moving Forward
New C-Arm Meets Medical Center's Needs for Imaging Quality, Lower Dose
---
If you enjoy this content, please share it with a colleague