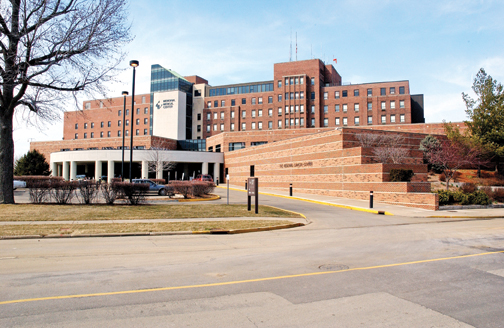 Memorial Medical Center has been serving patients in Springfield, Ill., for more than 110 years.
The OEC 9900 Elite has a powerful generator and advanced cooling, which allows better penetration of dense tissue and enables usable images with a mobile system.
Memorial Medical Center in Springfield, Ill., is an acute-care hospital within Memorial Health System and has been serving patients in the region for more than 110 years. For 2012, it is the host site for the Level One Trauma Center for its region. It frequently uses mobile imaging for emergency, bariatric and orthopedic care.
To meet these imaging needs, it has been using GE OEC C-arm systems for close to 18 years. The oldest model that it still uses is more than 10 years old and working well, so it has been able to use each C-arm for a long time. Its newest model is an OEC 9900 Elite, which it purchased in February of last year.
High-Resolution Images for Most Every Body
One of the specialties that uses mobile imaging most frequently at Memorial is the Bariatric Surgery specialty, which has received two major national awards. The facility is a Bariatric Surgery Center for Excellence as certified by the American Society of Metabolic and Bariatric Surgery. In addition, the Blue Cross and Blue Shield Association recognized Memorial as a Blue Distinction Center for Bariatric Surgery.
As a result, "Everything we buy has to be friendly to bariatric [procedures]," said Josh Risse, R.T. (R), diagnostic radiology clinical specialist in Medical Imaging Services. "Because of the nature of the specialty, our patients have high BMIs and dense tissue, something that can pose a barrier to capturing images of patient anatomy."
Very few mobile systems can provide a good image when a patient has very dense tissue. The OEC, however, has a powerful generator and advanced cooling, which allows better penetration of dense tissue and, as a result, Memorial can get usable images with its mobile system in procedures of this type. With the OEC systems, Risse said, "About 99 percent of the time, they can get the image the surgeon needs."
New vs. Familiar — Comparing Systems
When evaluating their options last year, one of Memorial's orthopedic surgeons asked to consider purchasing a C-arm from another vendor that had a flat-panel detector instead of an image intensifier. He used this system at another hospital and he liked its overscan feature (where the C-arm extends over the top of the patient), so Memorial arranged for a demonstration.
In this case, there were a number of concerns with the flat-panel unit:
• The system cost more than the OEC system;
• the C-arm system was heavier than the OEC C-arm;
• its staff members were not familiar with the system, and
• it was not compatible with the software on the other OEC C-arms.
"After the demo, we also had some questions as to the system's potential reliability," Risse said.  While the flat-panel system had a few advantages, such as slightly larger field of view on the monitor and about 10 more degrees of underscan on the arm, "[they] ended up not being the deciding factors of the purchase."
They also met the orthopedic surgeon's request for an overscan feature when the GE representative showed the surgeon how the OEC C-arm could provide adequate overscan for his needs. That made the decision to purchase the OEC much easier.
Lower Dose Rates Mean Lower Daily Exposure for Staff
While image quality is a critical factor for the patient, Memorial also needs to consider staff radiation exposure. Its medical physicist, Ray Capestrain, measured the patient entrance exposure rate for the two systems using copper sheets in various thicknesses to simulate patient tissue.
"The fact that we test over a range of copper thicknesses (1.5, 2.5, 3.5 and 4.5 mm Cu) addresses the small to large to extra-large patient," Capestrain noted. During an examination of radiation dose rates on the two C-arm systems, he found that the OEC had lower entrance exposure rates.
Not only does Memorial have a dose monitoring program and always follows the ALARA (as low as reasonably achievable) principle to keep dose as low as reasonably practicable, it also needs to consider and monitor radiation exposure to the staff who uses this equipment daily. According to Capestrain, "The environment in which the mobile systems are used tends to produce higher staff doses because there is little if any shielding for staff to get behind. It would be extremely difficult to move everything."
Memorial estimates staff exposure can be roughly one one-thousandth of the patient entrance exposure rate at 1 meter from the patient. While that is a small amount for each exposure, the amounts add up with several exposures a day, every day. As a result, when Memorial found that the OEC C-arm gave comparable image quality with less radiation output, it was confident that the OEC system would meet its needs.
A Decision Based on Confidence
In the end, Memorial chose the OEC 9900 Elite for many reasons, but the biggest reason was confidence. It knew its technicians and surgeons were comfortable with the OEC systems; they liked the way the OEC machines interface with each other so that they can route the video from one monitor to another, and they appreciated the way the equipment could perform the functions they needed at an investment that fit their budget. The OEC 9900 has proven its value at the facility time and again.
The comes in the OEC Elite 9900 Ortho/Surgery and the OEC Elite 9900 Ortho/Surgery configurations.

Memorial Medical Center is a customer of GE Healthcare.

Case study supplied by GE Healthcare.