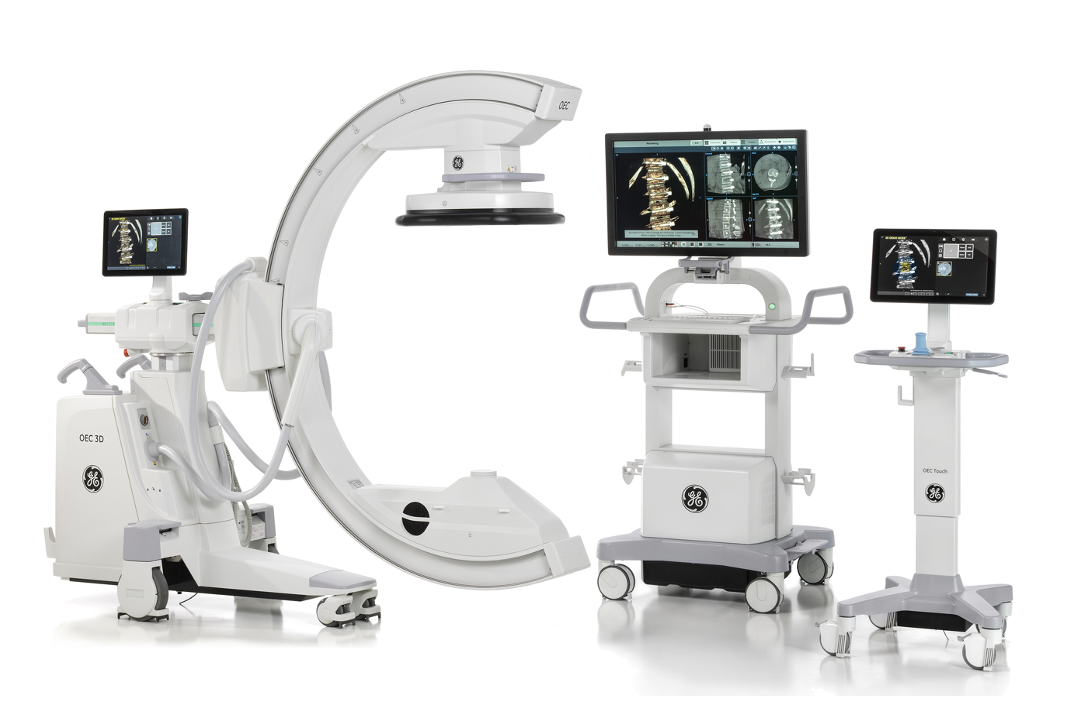 OEC 3D Mobile CBCT Imaging.  Photo courtesy of GE HealthCare.
A valuable medical imaging device in high demand, mobile C-arm systems deliver myriad benefits for practitioners and patients. Interventional cardiologists, interventional radiologists and surgeons across multiple specialties (orthopedic, gastrointestinal, urology, among others), rely on them in operating rooms, surgical suites and for outpatient procedures.
The strongest advantage of this fluoroscopy technology is its ability to move around the patient (horizontally, vertically, around the swivel axes) to achieve optimal image acquisition and, ultimately, improve patient outcomes.
Growth Factors
Four primary factors have impacted rising growth of mobile C-arm reliance, combining to expand vendor product portfolios. Those are: innovations, including the advance of 3-D imaging and flat panel detectors; increased demand from an aging population with cardiovascular disease (angiography procedures) and orthopedic challenges; a focus on reducing both radiation exposure and procedure time; and resulting efficiencies. Expectations by users from the handful of vendors in the market ­— offering middle, small, mini, 2-D and 3-D C-arms — focus on excellent image quality, ease of use and efficiency for workflow improvements, and optimal patient experiences.
According to Mordor Intelligence in its latest market analysis, the mobile C-arms market is expected to grow at a compound annual growth rate of 5.35% in the 2022-2027 forecast period.
North America holds the major share, while Asia Pacific is experiencing fastest growth. The Mordor report also noted market players' strategic initiatives and distribution agreements are increasing their geographical presence. It found rising demand for the mini C-arms, seen as ideal solutions for fluoroscopy of extremities at minimized dose levels. Being lightweight, the systems are easily handled in small spaces and operating rooms, and provide ease of transfer between exam rooms.
Focusing on Key Features
A snapshot of the industry-leading mobile C-arm systems follows.
High-definition 3-D and 2-D images covering a large field of view (FOV) to surgical suites and integrating into existing surgical workflows are key benefits of GE HealthCare's OEC 3D C-arm. The company reports the system is valuable in a range of procedures, from spinal fusion or orthopedic fractures to angiogram and stent placement, and offers 19 cm3 CT-like images presented intraoperatively in minutes. Image clarity, detail at low dose, and enhancements for an ease and efficiency are featured in GE HealthCare's OEC Elite CFD. Its OEC One CFD compact mobile C-arm with CMOS flat panel detector (CFD) offers imaging for complex trauma to interventional to general procedures, and detailed images presented on 4K display that easily align to the surgeon's view.
Philips recently announced a new system to help alleviate operating room staff shortages and rising healthcare costs. Its Philips Image Guided Therapy Mobile C-arm System 1000 — Zenition 10, an addition to the Zenition mobile C-arm series, offers exceptional maneuverability, application-specific protocols, and is intuitive to operate, while supporting a fast learning curve and reducing operating staff training time. In its announcement, the company also reported that Zenition 10 provides a cost-effective imaging solution for routine surgery, delivers the speed and efficiency supporting high patient throughput, while being flexible enough to meet the needs of orthopedics, trauma and other areas of surgery to maximize utilization.
Fujifilm Healthcare Americas Corporation launched its FDR Cross in July 2022 as a battery-powered hybrid C-arm and portable X-ray solution for hospitals and ambulatory surgery centers (ASC). The dual-function C-arm is the first of its kind to offer portable fluoroscopic and radiographic imaging on a single platform, reducing the need to bring in additional imaging equipment for essential image-guided procedures, according to a company overview. Features include: a pivoting tube head and removable detector design; maneuverable, ergonomic design that is fully wireless for up to 8 hours; and more than 150 pounds lighter than conventional compact C-arms.  
Specifications of other systems in this growing market, including Hologic, Orthoscan, Turner, Ziehm and others, appear in ITN's Mobile C-arms Comparison Chart.
View the Mobile C-Arms comparison chart here
Related Mobile C-Arm Content:
New Developments in Mobile C-arm Systems
FDA Clears Siemens Healthineers Cios Flow Mobile C-arm System
Impact of Mobile C-arms with CMOS Flat Detector on Clinical Versatility, Image Quality at Low Dose, and Workflow Efficiency
---
If you enjoy this content, please share it with a colleague