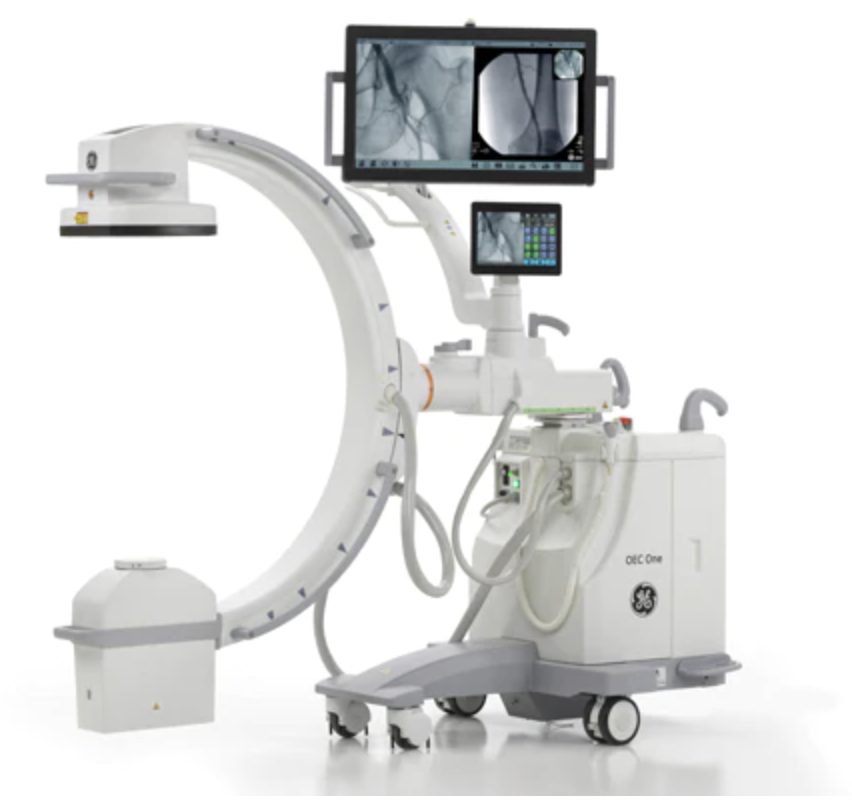 Image courtesy of GE Healthcare
Moblie C-arms have seen several advances over the past decade, moving toward digital flat panel detectors, improved image quality, advanced imaging features and workflow improvements. Here are some recent advances.
According to Grand View Research's "Fixed and Mobile C-arms Market Size, Share and Trends Analysis Report," the global fixed and mobile C-arms market is expected to reach $2.3B by 2025. This growth is due to the tailored imaging solutions offered by the systems for a diverse range of clinical applications, in addition to greater flexibility in selection of a navigation system, the report states. The maneuverability and precision of mobile C-arms provides clinicians with immediate copies of images, which is helping to expedite its market growth.
Market growth is also attributed to the rising geriatric population, which has a high susceptibility to chronic conditions such as cardiovascular, orthopedic and respiratory diseases. This, coupled with increasing patient awareness, is expected to drive the market growth over the forecast period. In today's market, C-arms offer the optimum angle to achieve high-quality images, and also allow for easy movement and positioning within the patient room, while at the same time keeping the patient comfortable. 
Mobile C-arm Market Updates
At the Radiological Society of North America's (RSNA) 2019 annual meeting last November, several new mobile C-arm technologies and features were highlighted on the exhibit hall floor. 
GE Healthcare. GE Healthcare highlighted its OEC One CFD compact mobile C-arm with CMOS flat panel detector (CFD), which delivers a clear view of the anatomy across procedural settings in a synchronized, all-in-one workflow. 
Image quality is essential across procedures and procedural settings, especially in tight spaces. With OEC One CFD, clinicians receive the image quality expected from OEC mobile C-arms and the clinical versatility needed in a compact mobile C-arm. Its all-in-one workflow helps optimize surgical space with a connected display on the one-piece C-arm. It synchronizes workflow with a touch control panel, and streamlines the clinical team's communication for faster image adjustments. All OEC C-arms are designed to provide fluoroscopic and digital spot images of adults and children during diagnostic, interventional and surgical procedures.
Philips Healthcare. Following its launch in 2019, Philips announced two major innovations on its Zenition mobile C-arm platform. With a new table side user interface, clinicians can operate the C-arm inside the sterile field, reducing communication issues with the operator and making it more intuitive to control the system. In addition, the Zenition platform has been extended to integrate intravascular ultrasound (IVUS) for peripheral vascular procedures, streamlining the operating room (OR) and improving workflow. 
The scope and complexity of surgical interventions — especially in the rapidly growing area of image-guided minimally invasive surgery — continues to increase, as does the number of patients requiring treatment. Mobile C-arms are X-ray systems that are brought into the OR to provide live image guidance during a wide range of surgeries including orthopedic, trauma and vascular procedures. The Zenition mobile C-arm platform brings together innovations in image capture, image processing, ease-of-use and versatility pioneered on Philips' Azurion platform. By integrating the table side user interface with the Zenition system directly at the table, the clinician can control the system through its tablet-like user interface. With a large 12.1-in. display, the table side user interface can be positioned at a range of angles and can also serve as a viewing monitor on the patient table.
Siemens Healthineers. In recent months, Siemens Healthineers touted its Cios mobile C-arm series as an option for lung imaging. The mobile C-arms can be positioned flexibly according to the imaging needs in standing, sitting or lying patient positions. The systems offer antimicrobial coating, smooth and closed surfaces, and approved cleaning and draping protocols. In order to safeguard optimal surgical outcomes and be able to perform intraoperative corrections to avoid postoperative complications, surgeons greatly benefit from intraoperative tools that let them confirm their planned results. Cios Spin enables precise intraoperative quality control based on dedicated 3-D technologies, allowing surgeons to confirm their results.
Orthoscan. The company launched its Tau 20/20 mini C-arm for surgery in 2019, offering the the lowest dose available for a mini C-arm. It has FDA indications for pediatrics and uses a 20 x 20-inch flat panel detector.
---
If you enjoy this content, please share it with a colleague