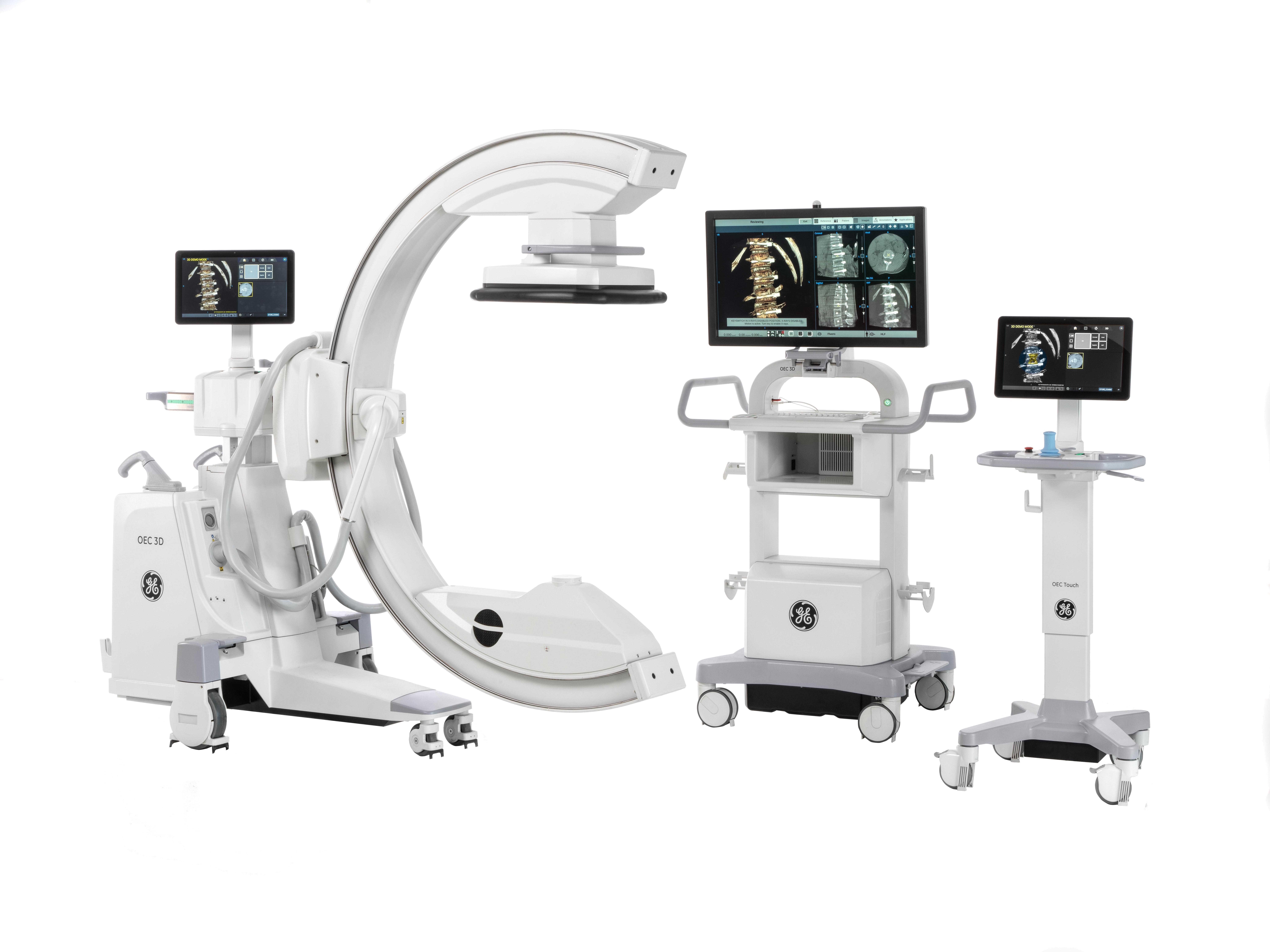 GE Healthcare's OEC 3D
According to Grand View Research, the global fixed and mobile C-arms market size was valued at just over $2 billion in 2021 and is expected to expand at a compound annual growth rate (CAGR) of 5.6% from 2022 to 2030. The market growth can be attributed to the growing number of surgical procedures, and technological advancements in the development of novel C-arms.
There is a continuous effort to develop advanced systems, which includes the integration of artificial intelligence (AI)-enabled technology and 3-D mapping capabilities in a C-arm system, which helps to improve process planning, increase real-time intraoperative guidance and reduce surgical operation times. In January 2022, Philips announced the integration of cloud-based AI and 3-D mapping into its mobile C-arm System Series Zenition to enhance workflow efficiency and improve endovascular treatment outcomes. According to the Grand View Research report, Philips stated that the combination of these technologies would result in a 50% reduction in radiation exposure and a more than 20% reduction in procedure times.
Grand View Research also explained that the rising geriatric population is susceptible to various chronic conditions such as cardiovascular, orthopedic and respiratory diseases, and coupled with increasing patient awareness, is expected to drive the market growth over the forecast period. According to the World Health Organization, the population of people 60 years and older will be about 2.1 billion by 2050, up from 1.5 billion in 2020. The report also states that in addition, the increasing level of accuracy with 3-D visualization and the introduction of flat panel detectors replacing image intensifiers has led to increasing demand, allowing healthcare experts to understand the intensity of a disease better.
Market Advancements
Mobile C-arms have seen several advances over the past decade, moving toward improved image quality, advanced imaging features and workflow improvements. Here are some recent advances.
Advanced diagnostic imaging. With a continued focus on advanced diagnostic imaging, Carestream, in partnership with Ziehm Imaging, recently added the Ziehm Vision RFD C-arm System to its product portfolio. The Ziehm Vision RFD C-arm, a mobile, fluoroscopic surgical imaging system with a flat-panel detector, allows for broad procedural work including vascular, cardiac, spine ortho-trauma and pain management, in addition to many general surgical applications. The system's advanced active cooling enables extended case times beyond traditional air-cooled systems. It also provides an intuitive graphical interface that benefits technologists with reduced training time as well as improved productivity.
Portable mini C-arm. In June 2021, Turner Imaging Systems received its CE Mark for its Smart-C Mini C-Arm portable fluoroscopy X-ray imaging device. This will allow the Smart-C, a highly portable mini C-arm, to be distributed throughout the EU countries as well as the UK. In the United States, the Smart-C is deployed in hospitals, ambulatory surgical centers, orthopedic clinics, as well as professional and collegiate sports teams and other places. The battery-powered, 16 lb. Smart-C offers point-of-care imaging, allowing it to be taken to the bedside of a patient with ease. The design also provides surgeons greater flexibility and superior imaging in a cord-free package.
3-D Surgical Imaging System. In March 2021, GE Healthcare announced 510(k) clearance from the FDA for OEC 3D, a surgical imaging system capable of 3-D and 2-D imaging. It offers precise volumetric images for spine and orthopedic procedures, and combines the benefits and familiarity of 2-D imaging with greater efficiency to increase access and usability to 3-D.
Endovascular 3D image guidance. In January 2022, Philips Healthcare announced physicians will now have access to advanced new 3-D image guidance capabilities through its Image-Guided Therapy Mobile C-arm System Zenition. The vendor said the technology will deliver enhanced clinical accuracy and efficiency, and aims to improve the outcomes for patients undergoing endovascular treatment. The company has signed a strategic partnership agreement with Cydar, a U.K.-based provider of cloud-based procedure maps software to plan and guide surgery in real time.
Zenition brings together innovations in image capture and processing, ease-of-use, and versatility, many of which were pioneered on Philips' highly successful image guided therapy angiography platform Azurion. Like Azurion, the Zenition mobile C-arm system allows hospitals to maximize operating room performance, enhance their clinical capabilities, and provide staff with a seamless user experience.
Multidisciplinary functionality. Siemens Healthineers announced FDA approval of the Cios Flow, a mobile C-arm designed for use by multiple disciplines in the operating room (OR), in January 2021. Its multidisciplinary functionality helps to ensure high-capacity system utilization, making the Cios Flow cost-effective. In addition, its features enable easier, more efficient operation to improve patient care in the OR.
---
If you enjoy this content, please share it with a colleague