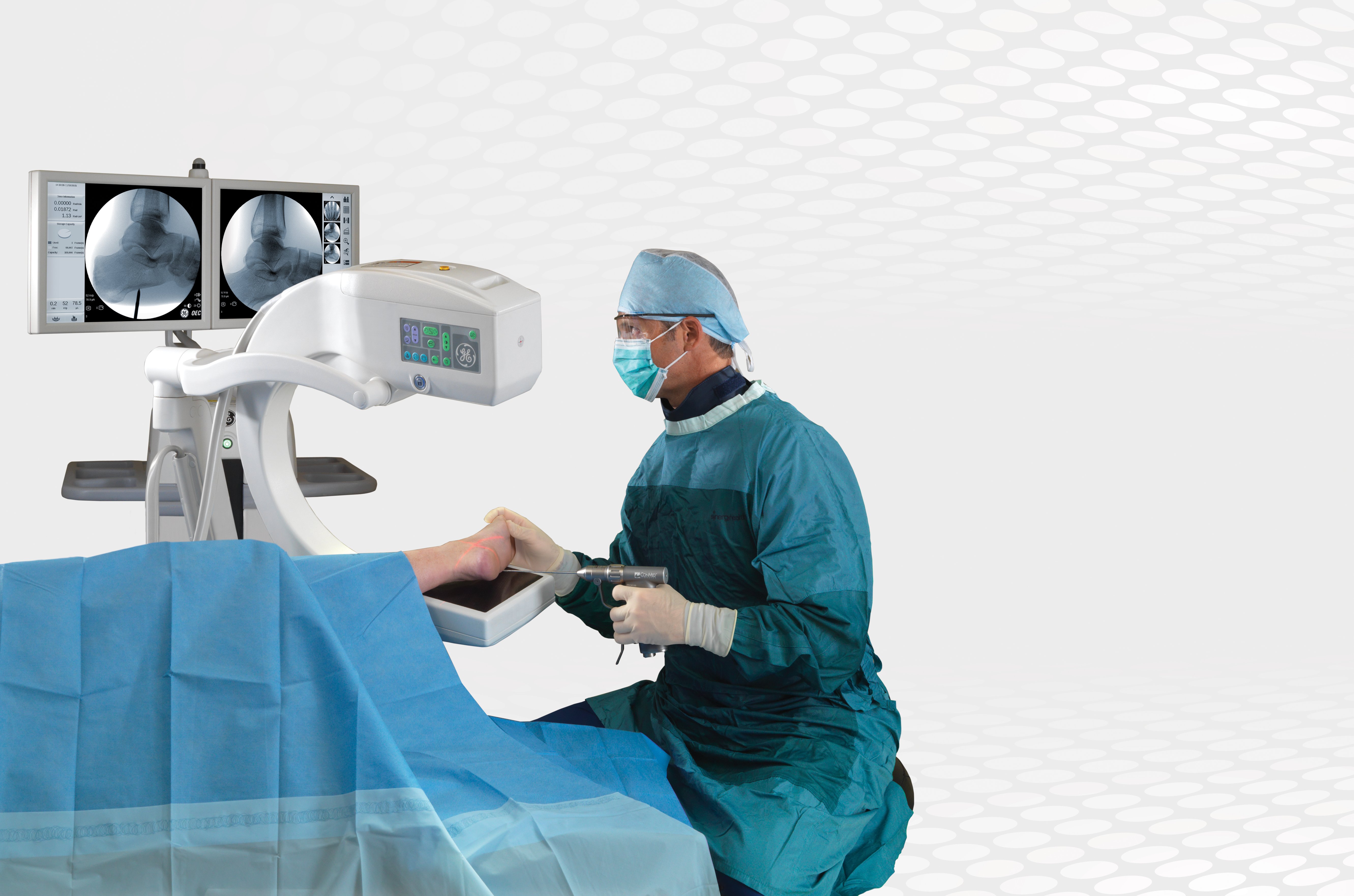 Image courtesy of GE Healthcare
With the demand for medical imaging growing exponentially and the prevalence of interventional procedures on the rise, mobile C-arms and the versatility they offer is becoming an important tool for hospitals. On any given day, they could be needed in the OR or radiology department to image any part of the body for a wide variety of procedures.
Arguably the biggest advancement in recent C-arm development has been the transition to digital detectors for improved image quality. Vendors are also taking into consideration the demanding environments in which the systems are used, and making them easier for operators to maneuver. Finally, more bi-planar ("G-arm") systems are entering the market to help providers see a more comprehensive picture of their patients. 
Digital Detectors
In the interest of higher image quality at potentially lower radiation doses, many C-arm vendors have by now switched their detectors from analog image intensifiers to flat panel digital detectors. 
At the 2016 Radiological Society of North America (RSNA) annual meeting in November, Ziehm Imaging highlighted its first full-size C-arms with CMOS (complementary metal-oxide-semiconductor) flat panel detectors — the Solo FD and the Vision RFD. CMOS offers an alternative to more traditional amorphous silicon (aSi) digital detectors, and the company said it provides higher image quality at a lower dose. 
Siemens entered the digital detector market in 2014 with the release of the Cios Alpha. The system features a 25 kW output and a field of view the company claims is 25 percent larger than conventional C-arms. The surgeon can fully control the system from one of three touchscreens — one on the C-arm itself, one on the mobile workstation and one on the tableside control. The Cios Alpha also sports vessel overlay software that provides the surgeon a better overview during vascular procedures. 
Philips also made the switch to digital detectors in 2014 with the launch of the Veradius Unity system, designed primarily for interventional procedures. Several navigational aids were incorporated into the system, including the ClearGuide function which correlates directions in the image (up/down/left/right) with physical markers on the detector (3/6/9/12). Operators can use a marker pen with the outline tool to create free format drawings on live fluoroscopy images, including vessel outlines and other anatomical references.
Easy Movement
Perhaps the greatest advantage of C-arms is their ability to move more freely around the patient, making it easier to obtain optimal images. Many enhancements in recent years have focused on improving operator control of movement to allow more precise positioning.
GE Healthcare's newest C-arm, the OEC Elite MiniView, requires less physical force to maneuver the scanner around patient anatomy thanks to its orbital rotational access point design that leverages gravity for more fluid movement. The carbon fiber arm is 30 percent lighter than on previous models, and the gantry has a natural balance that resists drift to stay in position. Once the system is in position, SmartLock technology lets the user secure the spot with one push of a button (rather than turning multiple dials and levers). The system, designed for limb extremity surgeries, was launched in August 2016. 
Other vendors have turned to motorization to enhance movement capabilities. Ziehm's Vision RFD 3-D and Vision RFD Hybrid are both fully motorized on all four axes, allowing the surgeon to have total control over movement through a dual-joystick system. The Vision RFD 3-D offers other ergonomic improvements, including a three-position memory feature and color-coding on the axes to help the surgeon guide the technologist through manual movements.
Beyond the C-arm itself, some patient tables offer greater flexibility of movement. The Surgical C-Arm Table 840, introduced at RSNA 2016 by Biodex, employs free-floating movement (known as Smooth Glide) on three axes: It can move 35 inches head-to-toe; 10 inches side-to-side; and ranges from 33.5 to 43.5 inches up-and-down. In addition, the table offers isocentric lateral roll of 0 to ±15 degrees and Trendelenburg motions of 0 to 20 degrees. The table sports mushroom-top, hand and foot controls for optimal operator comfort. A low-profile base guarantees clearance for both portable and suspended C-arm systems. The Surgical C-Arm Table 840 features an extra-large radiolucent area of 71 inches and can accommodate patients up to 500 pounds. 
Dual-detector G-arms
Several vendors have taken the next step and now offer mobile C-arms that can do bi-plane imaging; these are often known as G-arms. Their detectors are positioned so they can capture images from two different directions, allowing simultaneous views across the two perpendicular planes. 
Whale Imaging, which introduced its first G-arm system at RSNA 2015, just released the second-generation G-Arm Duo in January. The system fires its two X-ray beams asynchronously for bi-lateral images and video, providing a more comprehensive picture than conventional C-arms, according to the company. The G-Arm Duo, which is reportedly compatible with all surgical tables, adds axial tilt for more precise positioning and provides better table access. 
Whale's other bi-planar imaging system, the Multiscan G, was also introduced at RSNA 2015. The MultiScan provides simultaneous live AP/LT fluoroscopy images in the operating room (OR) without having to rotate the machine; it can rotate up to 270 degrees if needed. Motorized mechanics control orbital rotation, height and source to image-receptor distance (SID) for smooth motion and reduced disruption of the sterile field. A console touchscreen and touchpad allow easy image manipulation, patient retrieval and function selection, with numerous anatomic pre-sets included to simplify workflow and improve productivity. Bright HD 19-inch monitors allow easy viewing even in OR lighting.
Mobile C-arm Comparison Chart
ITN has created a mobile C-arm comparison chart of the specifications for these systems. It can be accessed at www.itnonline.com/content/mobile-c-arms. This will require a login, but it is free and only takes a minute to register. The chart includes all manufacturers of mobile C-arms that sell systems in the United States.
Related Articles on Mobile C-arm Technology Trends
Mobile C-arms Enhancing Flexibility
Mobile C-arms Keep Moving Forward
New C-Arm Meets Medical Center's Needs for Imaging Quality, Lower Dose
---
If you enjoy this content, please share it with a colleague