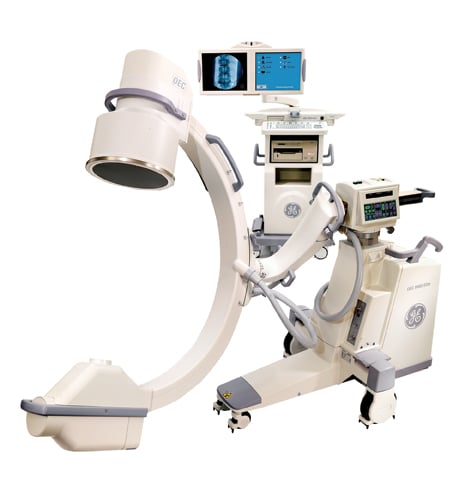 GE OEC 9900
As surgical procedures become increasingly complex and more reliable, high-resolution intraoperative imaging is required. This is especially true in cardiovascular surgery, endovascular repairs and peripheral vascular interventions. While the best imaging quality is offered by fixed angiography imaging systems, mobile C-arm image quality is rapidly catching up.
Small stents and other devices can be difficult to visualize, so for adequate visualization, a mobile C-arm must be able to produce high-contrast images of dynamic anatomy. This requirement has led to development of systems that offer flat panel detectors rather than image intensifiers. They offer high-contrast digital subtraction angiography (DSA) runs and roadmap guidance.
X-ray dose remains a concern for the surgical environment, in particular for long, minimally invasive procedures. Newer systems offer dose management features that enable lower dose imaging, such as beam filters and technology enabling sharper pulses to support excellent dose efficiency.
GE Healthcare announced an initiative in December 2011 to develop and promote the use of radiation dose lowering technologies. Among its initiatives is the Brilliant program, designed to help mobile C-arm users manage radiation dose while producing optimum images to enable great patient care. The educational program includes C-arm dose management classes, an iPad application and reference tools. Since its introduction about one year ago, more than 2,000 people have downloaded the OEC Radiation Safety iGuide app.
Mobility and Space in the Hybrid OR
The space needed and costs involved to create a hybrid operating room (OR) for a specific specialty may not be feasible, especially at mid-sized hospitals. This was the case at Middlesex Hospital in Middletown, Conn., where the facility wanted to increase procedural volume, but needed to upgrade its operating rooms.
Joe Coatti, M.D., FACS, senior vascular surgeon, said the hospital had to contend with small rooms and low ceilings while balancing the needs of several specialties that planned to use a hybrid room for vascular, endovascular, laparoscopic and endoscopic procedures. The hospital added a GE OEC 9900 mobile C-arm, which can be moved out of the way during laparoscopic and endoscopic procedures.
The Newest Systems on the Market
• Ziehm introduced a new version of the Ziehm Vision RFD mobile C-arm in June 2011. The hybrid edition system has a liquid cooling system that allows imaging over long periods of time. It is offered as an alternative to fixed angiography system installations in hybrid ORs. It features flat-panel technology and delivers distortion-free images with more than 16,000 shades of gray and a resolution of 1.5 K x 1.5 K pixels.
The detector is not affected by magnetic fields, so it also produces distortion-free, detail-rich images when close to magnetic resonance (MR) scanners. The square display format creates a visible area with up to 60 percent more information per X-ray than conventional image intensifiers.
It uses a compact, 20 kW monoblock generator with a rotating anode, which guarantees a variable pulse width between 4 and 50 milliseconds for very clear images. It can image up to 25 images per second, enabling high-quality X-rays of moving objects, such as a beating heart. It also has a contrast injector interface, which synchronizes injection of contrast media with the imaging process.
The Ziehm Vision RFD also comes with SmartVascular, Ziehm Imaging's software that simplifies imaging in vascular surgery. SmartVascular introduces a new workflow for fast results. It enables surgeons to create a DSA at any time without having to use the touchscreen. It automates all process steps from DSA to roadmapping, allowing vascular procedures to be planned with minimum amounts of contrast media and shorter fluoroscopy times. The new software is compatible with all Ziehm Vision C-arms.
• During RSNA 2011, Philips Healthcare introduced the Veradius Neo mobile C-arm with a flat panel detector. It was designed in collaboration with surgeons from around the world and features a completely new C-arc geometry, specially designed to accommodate even obese patients with increased maneuverability. It also offers flexible dose management settings.
To simplify communication between surgical team members and make it easy to quickly move to a requested position, the Veradius Neo now has a color-coded geometry. Once in the desired position, the system's advanced flat panel detector technology provides high-quality images. Surgeons can use these undistorted images to help place screws and other devices with precision.
The flat panel detector on the Veradius Neo provides high-contrast DSA runs and roadmap guidance. The device's advanced X-ray generation technology allows distortion-free visualization of dynamic anatomy in challenging procedures like transaortic aneurysm repair.
Changes in the Mini C-arm Market
Hologic showed its work-in-progress Fluoroscan InSight-FD Mini C-arm at RSNA 2011. The system design includes a number of new features, including a high-resolution flat detector that rivals standard X-ray images in a mini fluoroscopy system. The new system is also designed to have a greater range of motion in a more ergonomic friendly design for ease of positioning and greater surgical access, as well as new image processing for high image quality. The system also offers new image processing algorithms.
In September 2011, Ziehm Imaging acquired mini C-arm maker OrthoScan Inc. The company produces mini C-arms for the orthopedic extremity imaging market. Ziehm said OrthoScan's addition complements its full-sized C-arm offerings, allowing service to different surgical segments and allowing for close cooperation to jointly serve customers and open new business opportunities for both companies.
Related Articles on Mobile C-arm Technology Trends
Mobile C-arms Enhancing Flexibility
Mobile C-arms Keep Moving Forward
New C-Arm Meets Medical Center's Needs for Imaging Quality, Lower Dose
---
If you enjoy this content, please share it with a colleague