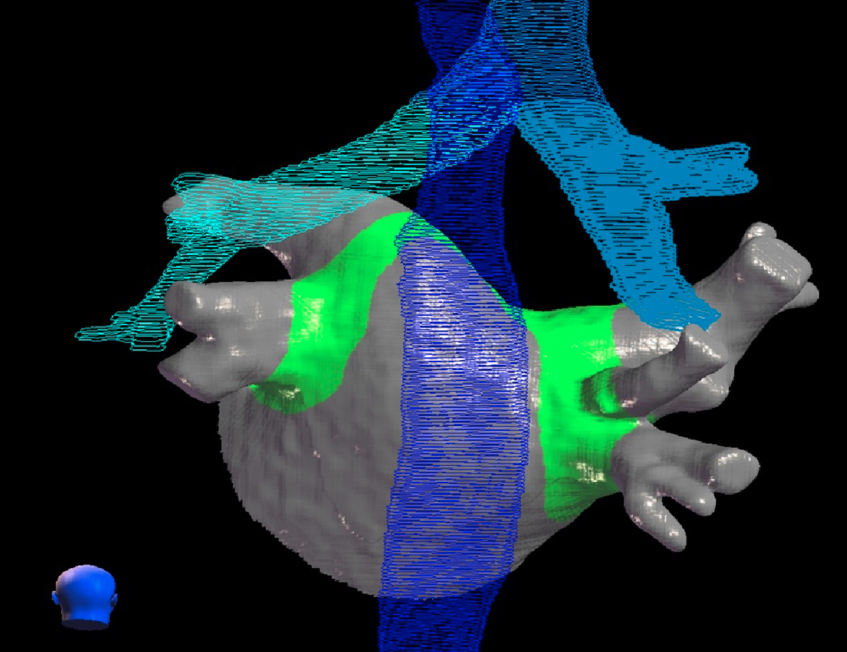 An example of a treatment plan for radio-ablation of the heart to noninvasively treat cardiac arrhythmias. This concept is one of the key presentations at the 2019 ASTRO meeting. Image courtesy of Cyberheart.
August 29, 2019 — The American Society for Radiation Oncology (ASTRO) announced the top-rated studies being highlighted at the 2019 ASTRO Annual Meeting, Sept. 15 - 18 in Chicago. These presentations are being highlighted with press conferences.
Presentations Sunday, Sept. 15:
   • Two Years of Anti-Androgen Treatment Increases Other-Cause Mortality in Men Receiving Early Salvage Radiotherapy: A Secondary Analysis of the NRG Oncology/RTOG 9601 Randomized Phase III Trial, presented by Daniel Spratt, University of Michigan Rogel Cancer Center (Abstract LBA-1)
   • Primary Outcomes of a Phase II Randomized Trial of Observation versus Stereotactic Ablative Radiation for Oligometastatic Prostate Cancer (ORIOLE), presented by  Ryan Phillips, Johns Hopkins Kimmel Cancer Center (Abstract LBA-3)
   • Cosmetic Outcome from Post Lumpectomy Whole Breast Irradiation (WBI) Versus Partial Breast Irradiation (PBI) on the NRG Oncology/NSABP B39-RTOG 0413 Phase III Clinical Trial, presented by Julia White, The Ohio State University Comprehensive Cancer Center (Abstract 5)
   • Longer Term Results from a Phase I/II Study of EP-guided Noninvasive Cardiac Radioablation for Treatment of Ventricular Tachycardia (ENCORE-VT)," presented by  Clifford Robinson, Washington University School of Medicine in St. Louis (Abstract LBA-4)
Presentations Monday, Sept. 16:
   • Final Results of a Phase II Prospective Trial Evaluating the Combination of Stereotactic Body Radiotherapy (SBRT) with Concurrent Pembrolizumab in Patients with Metastatic Non-Small Cell Lung Cancer (NSCLC), presented by Allison Campbell, Yale Cancer Center (Abstract 74)
   • Patterns of Disease Progression with Durvalumab in Stage III NSCLC (PACIFIC), presented by Andreas Rimner, Memorial Sloan Kettering Cancer Center (Abstract LBA-6)
   • Applying a Machine Learning Approach to Predict Acute Radiation Toxicities for Head and Neck Cancer Patients, presented by Jay P. Reddy, The University of Texas MD Anderson Cancer Center (Abstract 141)
   • The Impact of the Closure of Women's Health Clinics on Cervical Cancer in the United States, presented by Amar Srivastava, Washington University School of Medicine in St. Louis (Abstract 202)
The 2019 ASTRO Annual Meeting is expected to attract more than 10,000 oncologists, clinicians, researchers and other healthcare professionals from across the globe. Throughout the four-day meeting, researchers will present peer-reviewed abstracts on advances in clinical care for cancer patients, while panels and interactive case discussions featuring leading experts will underscore the meeting's theme, "Innovate, Collaborate: Transform."
ASTRO 2019 Video Interviews:
VIDEO: Artificial Intelligence Driven Adaptive Radiotherapy System Begins Treating Patients — Interview with David Sjostrom, Ph.D.
VIDEO: Clinical and Physics Aspects of Re-irradiation of Previously Treated Radiotherapy Tumor Sites — Interview with Kristin Higgins, M.D.
VIDEO: Cardiac Radiotherapy Ablation to Treat Ventricular Tachycardia — Interview with Clifford Robinson, M.D.
VIDEO: Understanding the Radiation Oncology Alternative Payment Model — Interview with Anne Hubbard, MBA, ASTRO
VIDEO: Preserving Neurocognitive Function During Whole-Brain Radiotherapy — Interview with Vinai Gondi, M.D.
VIDEO: Palliative Radiation Oncology For Patients Who Need Symptom Relief — Interview with Candice Johnstone, M.D.
VIDEO: Use of Hydrogel to Reduce Rectal Toxicity for Prostate Radiotherapy — Interview with Bill Hartsell, M.D.
VIDEO: Integration of Advanced Practice Providers in Radiation Oncology — Interview with Lorraine Drapek, DNP
Late-breaking Radiation Therapy Clinical Trials at ASTRO 2018
Find more news and video from ASTRO
---
If you enjoy this content, please share it with a colleague