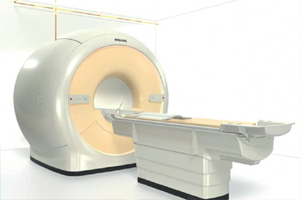 Image courtesy of Philips Healthcare
The most recent big advances in magnetic resonance imaging (MRI) technology have been on the software side, enabling faster contrast scans, greatly simplified cardiac imaging workflows and allowing MR of the lung.  
Multi-contrasts From a Single Acquisition
In September, the U.S. Food and Drug Administration (FDA) granted market clearance for GE Healthcare's MAGiC (MAGnetic resonance image Compilation) software, the industry's first multi-contrast MRI technique that delivers eight contrasts in a single acquisition in a fraction of the time of conventional imaging. MAGiC is the result of a collaboration with SyntheticMR AB and gives clinicians more data than conventional scanning. This technique allows users the flexibility to manipulate MR images retrospectively, leading to significant timesavings, fewer rescans and therefore cost savings, which combined, can assist the clinician in making a more decisive diagnosis. It uses an acquisition technique that allows the ability to modify image contrast after scanning has been completed, which is not possible with conventional MR. GE said MAGiC delivers more potential for the clinician to utilize changes in the image contrast to enhance diagnosis and reduce orders for rescans.  
Simplifying MRI-conditional
Advancements in medical implant technologies have greatly increased the number of patients with these devices in recent years, which complicated MRI scanning. MR-conditional implants include knee and hip replacements, spine implants, pacemakers and implantable cardioverter defibrillators (ICDs). More of these devices are becoming MR-conditional, which permits MRI scanning within certain parameters. The implants require adjustments in the scanner setup in order to create optimal images in the presence of these metal implants and to ensure patient safety. However, such adjustments can be time-consuming and complex, causing patients with MR-conditional implants to often be denied MRI exams. At RSNA 2015, Philips unveiled the first MRI automated user interface technology designed to greatly simplify exams with patients that have MR-conditional medical implants. The new ScanWise Implant software offers a guided user interface and automatic scan parameter selection designed to support "first-time-right" imaging. The software guides operators to meet the specific criteria for each implant.
Lung MRI Now Possible
Lung MRI has been problematic since the lungs are filled with air and there is a low density of hydrogen atoms required to create MR images. For this reason, computed tomography (CT) has traditionally been used for lung imaging. At RSNA 2015, Toshiba introduced its Ultrashort Echo Time (UTE) sequence for dedicated pulmonary MRI. Available on the Vantage Titan 3.0T MR system, UTE allows clinicians to view tissue with very short relaxation times and high susceptibility regions where signals generally disappear too quickly for accurate MR imaging.  
Software Greatly Reduces MRI Scan Times
In April, the FDA approved two new Siemens MRI applications. The Simultaneous Multi-Slice application acquires MR images simultaneously as opposed to sequentially, reducing 2-D acquisition times by as much as a factor of 8. GOBrain is designed to dramatically reduce the time required for MRI examinations of the brain. Shorter scans are increasingly important at a time when brain scans account for approximately one out of every four MRI examinations, and the number of brain MRI exams is expected to swell to 45 million worldwide this year, Siemens said. Using SMS, physicians can reduce the length of MRI brain examinations, which can vary significantly, to times compatible with the clinical routine (e.g., up to 68 percent for diffusion tensor imaging, or DTI) and bring clinical relevance to advanced neurological applications. SMS can be used in the treatment of patients who possess limited tolerance for longer scan times, including pediatric or geriatric patients. In brain surgery cases, SMS may facilitate surgical mapping and improve efficiency in the OR. Enabling clinically validated brain examinations in just five minutes, the new GOBrain application allows acquisition of clinically essential image orientations and contrasts with a single button push. The technology is backed by Siemens' high-channel density coils and the company's MRI scanning software DotGO. GOBrain helps improve patient throughput and potentially reduce costs per scan. Shorter scan times, which are better tolerated by patients, can help curb lengthy and potentially expensive rescans as well as potentially reduce sedation.
Simplifying Cardiac MRI
Cardiac MRI has been very limited, only making up about 1 percent of all MRIs in the United States due to its complexity, long exam times and high cost. However, GE Healthcare introduced a new MRI technology at RSNA 2015 to greatly simplify cardiac MR in hopes of expanding its adoption in place of CT scans. Developed for its new Signa MRI scanners, the new ViosWorks cardiac MRI software helps automate the image sequences to perform a full 3-D chest volume scan that includes the full motion of the myocardium during the cardiac cycle, blood flow, time and fully automated quantification to create what GE calls a 7-D cardiac MRI exam. ViosWorks also speeds the imaging time from 70 minutes down to about 10 minutes using a single, free breathing exam. 
Gathering a full volume dataset of a chest in motion creates a large amount of data that would normally clog the average PACS and post-processing 3-D image workstation. An average cardiac MRI exam today is about 200 MB, while a ViosWorks exam is about 20 GB. So, GE has launched a new cloud computing service to help process that large amount of data quickly with remote super-computing power. 
Hitachi Expands Apps for MRI
Last fall, Hitachi Medical Systems America released its new MRI software platform Evolution 5 for current Hitachi customers and new system orders. Evolution 5 offers nearly 40 new features and improvements that continue to raise the level of imaging performance and to expand the breadth of diagnostic applications. With the integration of a new image processing algorithm (VIVID), new reconstruction task (NCC) that reduces redundant noise pickup and new optimized fast-spin echo sequence (opFSE), customers that migrate to Evolution 5 will see dramatically improved sharpness and clarity. The software also includes applications for motion compensation, neuro suite, selective saturation for controlled MR angiography (MRA) evaluation in the abdomen, diffusion with enhanced functional analysis including kurtosis imaging (DKI), liver imaging with iron quantification and breast imaging with breast spectroscopy for therapy monitoring.
Silent MRI Scanning
GE Healthcare has expanded its SilentScan MRI noise reduction technology to its Signa Pioneer 3T system, which features an enhanced SilentScan package to greatly reduce noise during MRI scans. SilentScan has been added for musculoskeletal (MSK) imaging and spine imaging, in addition to a complete neuro exam that also includes diffusion weighted imaging (DWI). SilentScan includes two distinct approaches to reduce acoustic noise by addressing the source, the gradient-magnet interaction and the mechanical vibration.  
Related MRI Content
RSNA Technology Report 2015: Magnetic Resonance Imaging
Recent Advances in MRI Technology
Advances in Cardiac Imaging at RSNA 2016
Recent Trends and Developments in Contrast Media
Comparison Chart: MRI Wide Bore Systems 
(chart access will require a login, but is free and only takes a minute to register)
Comparison Chart: MRI Contrast Agents
(chart access will require a login, but is free and only takes a minute to register)
Comparison Chart: Cardiovascular MRI Analysis Software
(chart access will require a login, but is free and only takes a minute to register)
---
If you enjoy this content, please share it with a colleague