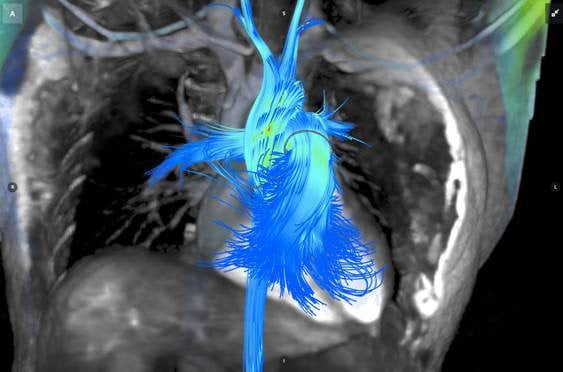 An example of the Arterys blood flow imaging assessment software that can help automate cardiac MRI. 
Each year imaging system manufacturers use the Radiological Society of North America (RSNA) meeting at the end of the year to unveil their latest technologies. RSNA 2016 included several new cardiovascular imaging advancements.
Watch the video "Editor's Choice of the Most Innovative New Technology at RSNA 2016" to see examples of some of the technologies discussed below. 
Speeding Cardiac MRI Workflow
While cardiac magnetic resonance imaging (MRI) is considered an excellent imaging modality for the heart, offering highly detailed soft tissue anatomical imaging as well as functional assessments, it only makes up about 5 percent of all MRI scans in the United States. This is in part due to the expense, time involved and the complexity in completing these scans and reading them. There were two software innovations that may help increase the use of cardiac MRI by reducing its complexity. 
At RSNA 2015, Arterys introduced a package of advanced cardiac MRI visualization and quantification software that automates a lot of the processes involved. It also uses a cloud-based platform that allows access to a large amount of computing power needed to process cardiac cine functional data in real time. The software includes 4-D Flow and 2-D phase contrast workflows, and cardiac function measurements. The software is the first clinically available cardiovascular solution that delivers cloud-based, real-time processing of images with resolutions previously unattainable. The company gained U.S. Food and Drug Administration (FDA) 510(k) clearance in November 2016 and showed several new advancements at RSNA 2016. Arterys is partnering with GE Healthcare to introduce the software on the Signa MRI systems under the GE name of ViosWorks. However, Arterys said it has aspirations to be a software OEM for several MRI vendors. 
Arterys introduced an artificial intelligence, deep learning component to help speed cardiac MRI exam review. When an exam is opened, the system automatically identifies the anatomy and then creates all the standard views needed for diagnosis. The software also automates quantification measures. The Cardio DL application gained FDA clearance in January 2017. The company said it is the first technology to be cleared by the FDA that leverages cloud computing and deep learning in a clinical setting.
An additional introduction was Arterys' regurgitation evaluation software that offers several ways to view regurgitation, which has traditionally been difficult to assess on MRI. One view visualizes blood flow velocities with arrows to show direction of flow and a color code to show the speed of the flow. It presents very similar to cardiac ultrasound color flow Doppler. The software can help identify regurgitation jets, vortices and sheer wall stresses, and offers automated quantification. 
In cardiovascular research, sheer stress evaluation has become a big area of interest because it is believed these stresses may play a role in the formation of atherosclerosis, the degradation of heart valve function, and possibly play a role in the progression of heart failure. So, Arterys also introduced a research sheer stress analysis software package.
For stroke evaluation, Arterys introduced a new neuro MRI quantification package. It can measure flow velocities in the brain. 
Siemens Healthineers introduced its Compressed Sensing software for MRI. It allows less data to be captured during an MRI scan, but it can still reconstruct the entire data set, which will reduce the time for MRI scans. The company said the biggest benefit will be for cardiac MRI, specifically in cardiac cine, to greatly simplify and shorten the exam times. Traditional MRI cardiac cine requires about six minutes of protocols and multiple patient breath holds for 25-second intervals. Siemens said Compressed Sensing will reduce this down to a 25-second scan with free-flow breathing. In the past, cardiac MRI scans also were not an option for patients with arrhythmias, due to the images' low diagnostic quality. But the adaptive triggering of Compressed Sensing allows the entire cardiac cycle — including diagnostic information regarding the late diastolic phase — to be recorded in real time with a single breath-hold. The vendor hopes to have this software commercially available in early 2017. Compressed Sensing is currently 510(k) pending.
A big complaint about MRI is the complexity of inputting several different imaging protocols during an exam and the time involved with each protocol scan. A big advancement in MRI has been the development of simplified, automated protocols and the ability of systems to do one scan, which new software can then create several different contrasts from, eliminating the need for several separate scans. GE and Siemens previously introduced software to achieve this on their systems, and Hitachi introduced its work-in-progress Quantitative Parameter Mapping (QPM) software at RSNA 2016. It enables one five-minute scan to reconstruct eight different image contrasts.
Angiography Advances
Siemens introduced the Artis pheno angiography system at RSNA 2016. It eliminates much of the cabling on previous Siemens systems and does not use a ceiling mount. It uses a large robotic arm that can articulate around patients on almost any axis. It also can be folded up and parked in the corner of the room to convert hybrid ORs for open surgical procedures. It also uses more sealed surfaces and is painted in antimicrobial paint to aid infection control. 
The C-arm has a wider area between the X-ray source and the detector, allowing more room for rotational angiography 3-D image acquisitions for larger patients, and to avoid tubes or wires attached to the patient. 
With the increasing use of ultrasound in procedures, the system comes with an integrated Freestyle ultrasound system, which uses a wireless transducer. It is meant to aid in vascular access, central line placement, anesthesia or biopsy guidance. The small wall-mount console is installed on the backside of the main display screen. 
The table weight limit increased to 617 pounds, from the previous limit of 440 pounds on earlier Siemens systems. The table also has a CPR button, which allows it to immediately drop closer to the floor and automatically swing the C-arm out of the way.
The pheno uses newer Siemens detector and X-ray tube technologies that can help reduce the amount of X-ray dose required during procedures. It also offers 2K recording technology, which Siemens said means it is capable of delivering 2-D imaging resolution that is four times higher in all recording processes than prior Siemens systems. The system's StructureScout feature can adapt and optimize imaging parameters to suit the X-rayed area, potentially resulting in less radiation dose than prior Siemens Healthineers systems.
In addition, Siemens featured two new navigation aids on the PURE platform for Siemens' Artis zee, Artis Q and Artis Q.zen angiography systems. The syngo endovascular aneurysm repair (EVAR) guidance software offers automated detection of vessel walls on computed tomography (CT) datasets, as well as automatic placement of landmarks for 3-D image guidance. Additionally, it suggests the optimal angulation of C-arms for precise deployment. The syngo chronic total occlusions (CTO) guidance software automatically segments coronary CT angiography images to help improve procedural guidance.
GE Healthcare featured similar fusion-imaging technology to enable more precise navigation in the cath lab. GE's Assist collection of interventional imaging software packages is aimed at specific subspecialists with simple-to-use fusion imaging for CT 3-D image reconstructions that can be overlaid or fused with live angiography. The Assist packages allow easy anatomical segmentation and extraction of the 3-D anatomy in two clicks, measuring the vasculature with accuracy, like length and diameter, and adding landmarks. Packages are offered for CTOs,  EVAR, transcatheter aortic valve replacement (TAVR) and complex percutaneous coronary interventions (PCI). 
Toshiba introduced a new angiography system, the Infinix i-Sky. The company is promoting the system as enabling 3-D imaging anywhere in the anatomy with its unique sliding double C-arm design to deliver a large amount of flexibility. Its C-arm flip and 3-D imaging can image patients from head-end and left or right side. This flexibility is aimed primarily at advanced interventional radiology and oncology procedures. The i-Sky uses a ceiling-mounted gantry with more capabilities than previous Toshiba ceiling-mounted systems. This includes much faster rotational angiography 3-D image acquisitions. It also allows the system to be pulled out of the way and parked in a corner of the room for conversion to open surgical procedures or to aid patient transfers. It comes with a standard 12 x 16 inch detector. 
High-speed Cardiac CT
GE Healthcare introduced the Revolution CT with Whisper Drive technology, which is designed to take high-speed scans that allow full imaging of the heart in just one heartbeat. This is accomplished using a high-speed X-ray tube, weighing about 100 pounds, that routinely reaches 70 Gs as it circles around the patient up to five times per second. This high speed, combined with intelligent motion correction, allows doctors to image the heart in just one heartbeat, GE said. But it also makes the spinning part — which includes the X-ray tube, a detector and a high-voltage transformer supplying them with power — accelerate so fast that it weighs the equivalent of 3.5 tons.
GE said the gantry is constructed from aerospace-grade aluminum and includes a system of springs that absorb the acceleration, ensuring parts like the electronic board inside the detector do not move. GE also included fail-safe design features. The 100-pound box that rotates around the gantry is attached with screws and also a dovetail lock as a double system of safety. In case the screws break, the rail will hold it back.
The system utilizes contactless transmission (induction) to send power to the machine and collect the imaging signal from it. Older CT scanners used brushes to transmit power, but increasing the speed led to wear and reliability issues, according to the company. A basic CT uses 24 kilowatts and generates eight image slices per second. The Revolution CT uses 100 kilowatts or more and generates 512 slices, allowing easier imaging of fast moving anatomy like the heart.
The design also allows GE to change the energy of the imaging spectrum during a scan. When the images are processed with a special algorithm, this allows users to see the composition of the body.
Compact Cardiac Ultrasound for Interventional Guidance
As 3-D ultrasound sees increased use in the cath lab and hybrid surgical suite, GE has rolled out a new system to address the need for a smaller, mobile system with 3-D and transesophageal echo (TEE) capabilities. GE launched the high-end portable Vivid iq system in the fall of 2016 leading up to RSNA. It weighs 4.5 kg and matches high image quality with the high-end functionality of larger GE dedicated cardiovascular echo systems. It has a one-hour battery life and an easily transportable cart. It was designed for easy use and offers intuitive touchscreen functions to reduce the number of keystrokes needed. It also has advanced 4-D TEE capabilities.
Watch the video "GE Healthcare Cardiovascular Ultrasound for Interventions."
3-D Printing Simplified
There has been rapid growth in the use of 3-D printing for medical education and to aid in planning and navigation of complex surgery or interventions. Examples of 3-D models and vendors can be found all over the show floor at RSNA. However, many hospitals cannot justify the costs of creating their own dedicated 3-D printing program, so advanced visualization vendors are working with 3-D printing companies to make the technology more accessible. 
At RSNA 2015, Vital Images highlighted a partnership it created with Stratasys Ltd. that enables hospitals to send their datasets to Stratasys for printing.  
This year at RSNA, TeraRecon highlighted a new partnership it launched with Whiteclouds, a vendor that offers both cloud computing and 3-D printing services. Hospitals that do not want to invest in their own 3-D printing labs can send their image data sets to Whiteclouds to have their model made and sent to them within a couple days. The system uses an automated dataset upload system where the customer can review the 3-D image on screen and select the size, color preferences and materials used in the models. 
One issue with 3-D printing is the need to convert DICOM datasets into STL files that 3-D printers can read. A big advantage of the WhiteClouds platform is that it does not require the clinical users to convert files, instead allowing them to load DICOM files.  
Watch the video, "Key Trends, New Imaging Technology at RSNA 2016."
---
If you enjoy this content, please share it with a colleague