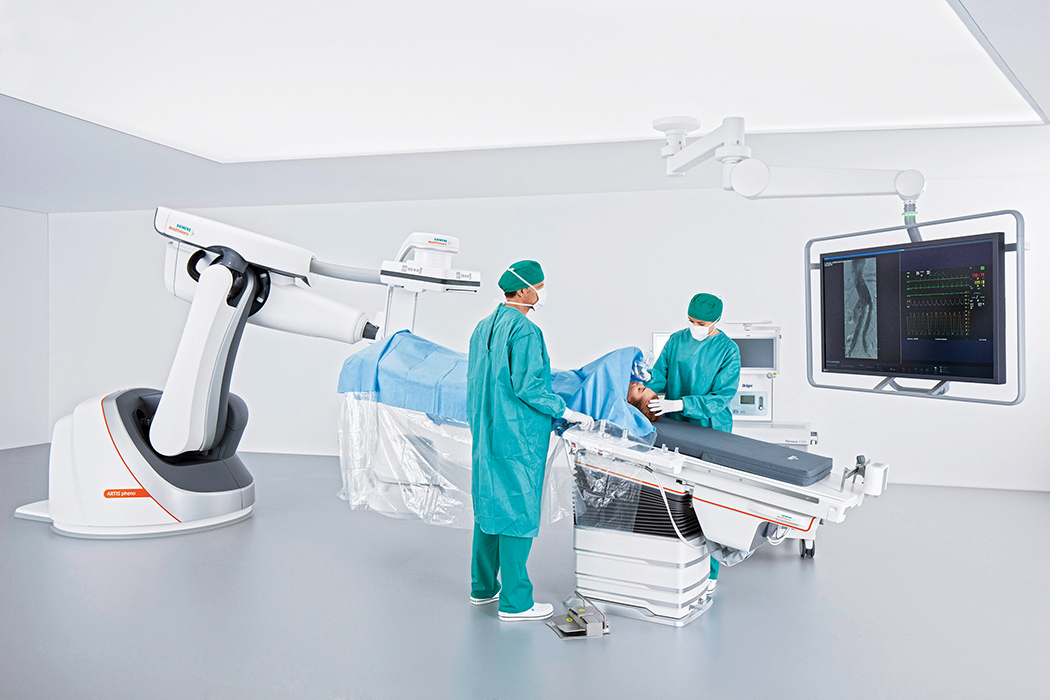 There are plenty of uncertainties surrounding medical practice in this country. But, if the Radiological Society of North America's (RSNA) 2016 annual meeting is an indication, value-based imaging will soon be here and it will not soon be leaving.
On Chicago's McCormick Place exhibit floor, vendors embraced the tenets of value-based imaging from magnetic resonance (MR) to computed tomography (CT), enterprise imaging to X-ray. The signs of the future were, to put it simply, everywhere.
Siemens' new SomatomGo platform exemplified the new order, saving space, while embodying efficiency and productivity thanks to a radically different design from conventional CTs. (More on that later.) MR software and other technologies from Philips and Siemens streamlined clinical protocols and reduced scan time, just as a GE work-in-progress promised to dramatically reduce the need for helium cryogen. 
X-ray equipment covered the spectrum — at the high-end a robotic interventional system; at the low-end single-purpose digital radiography (DR) systems made for a changing reimbursement landscape; in the middle, a multipurpose system with high-performance features and a price made for small- and mid-size hospitals. 
Developers of enterprise imaging systems unveiled technologies that might extend imaging through turnkey platforms, components built on innovative zero-footprint technologies, best-of-breed ecosystems and hybrids. Algorithms, fueled by artificial intelligence, promised to reshape the diagnostic progress, retrieving relevant images and patient data alike, as they plumbed the depths of imaging equipment for components that might soon need repair. 
Value Medicine
Cost savings. Efficiency. Productivity. And patient-centrism. These, the hallmarks of RSNA 2016, are the pillars of value-based (aka evidence-based) imaging. All relate to the making of clinical decisions based on medical evidence and physician experience in the context of patient preference. The concepts and their application had been built into the thought process of medicine for some time. At RSNA 2016, they were reflected by more effective, less expensive and patient-oriented equipment.
These were given credibility by federal legislation, namely the Medicare Access and CHIP Reauthorization Act (MACRA), which was signed into law in April 2015, repealing the SGR (sustainable growth rate formula) in favor of payment methods that incentivize value and quality of care rather than volume. Although this legislation dictates no specific payment system, MACRA allows participation in, for example, Merit-based Incentive Payment System (MIPS) and Alternative Payment Models (APMs).
MACRA — and MIPS — took high profiles at RSNA 2016. Conference visitors were told in ACR-sponsored presentations about the radiology tools for success under MACRA and how radiologists might prosper in the era of payment reform. Adding an air of danger, radiologists were also warned that MACRA and MIPS might kill their practices. 
While some messages may have been contradicting, the message on the exhibit floor was not. Value-based medicine is on the way and imaging will be playing a big part in it. 
Maximizing Efficiency
On the leading edge was Philips' PerformanceBridge, an information technology work-in-progress that provides benchmarking for productivity; an integrated dashboard; tracking and analysis of patient dose; cloud-based peer-to-peer practice sharing; and pattern analysis to identify the need for proactive equipment maintenance. PerformanceBridge leverages deep learning algorithms — the stuff of artificial intelligence — to improve the efficiency of radiology departments. Predictive service analytics, powered by these algorithms, examine the mechanism underlying image quality, for example, to identify components at risk of soon failing, thereby raising the potential of just-in-time preventive maintenance.
Radiology may get a boost in operational performance by hooking up to a central IT.  But performance, cost savings and a more patient-oriented operation may come from individual modalities, as well.
In CT, Siemens unveiled its new SomatomGo platform. The first scanners built on this platform will be the 32-slice SomatomGo.Now and 64-slice SomatomGo.Up with its wider detector. The new platform embraces a single-room concept, eliminating the need for a separate control room. It conserves space by integrating computer hardware into the scanner gantry and makes a shielded niche part of the installation. 
Potentially increasing productivity while promoting patient comfort, technologists can use a computer tablet to control the scanner while remaining at the patient's side. Automated and standardized workflows increase reproducibility, while promoting consistent patient outcomes, according to the company. The package is topped off with a multiyear service built into the capital purchase price.
Taking aim at problems that can weigh down exam performance, Philips unveiled a half-dozen new applications in MR designed to make interpretations faster and more certain. These addressed practical issues — for example, black blood imaging; a noncontrast enhanced angiography technique with 160 ms temporal resolution; magnification of small fields of view in the brain; and a method for comparing brain images recorded during subsequent exams of the patient as it might happen when repeatedly following up patients with multiple sclerosis.
Particularly intriguing was a technology that Philips dubbed MultiBand SENSE. This technology promises to reduce the time needed to scan the brain. Along a similar but more sophisticated track, Siemens unveiled a high-end acceleration technology called Compressed Sensing. Aimed initially at cardiac MR, and designed for use only on the company's premium scanners (its 3.0T Skyra and 1.5T Aera), the work-in-progress promises to allow cine imaging of the heart without patient breath holds. Later versions may allow more rapid data acquisition for applications addressing other parts of the body, according to the company.
In line with increased efficiency at a very sophisticated level was a GE work-in-progress called Freelium, which is designed to reduce the need for helium as a cryogen. The magnet technology, which sprung from concerns about an increasingly tight supply of helium, would reduce the quantity of this noble gas in a scanner by a factor of 100 — from 2,000 to 20 liters. This reduction might allow a one-and-done factory filling with the cryogen.
MR scanners are dependent on helium to cool superconducting magnets to the requisite minus 452 degrees F. Not only would the Freelium technology reduce the amount of helium needed, it could substantially lower the cost of magnet installation by simplifying the venting infrastructure.
GE was quick to say, however, that Freelium is by far more promise than proven. It represents ongoing research and development and bears the caveat that it "is not a product and it may never become part of a product."
Making the Most of Sure Things
RSNA 2016 had no shortage of conventionally designed systems, many of which made their first appearance at the Chicago-based show. Among them were members of the GE SIGNA portfolio, including Architect 3.0T, Voyager 1.5T and Artist 1.5T. These take their place amid a sprawling GE portfolio of four 3.0T and eight 1.5T scanners. 
Towing the line of conventional R&D was Toshiba with its unveiling of Aquilion One/Genesis. The compact CT platform ultimately will accommodate a family of upgradable scanners, according to the company, in the space occupied today by 64 slice scanners.
Genesis is the next step beyond volumetric CT, according to Toshiba. It provides improved spatial resolution and faster slice reconstruction, as well as reduced radiation dose to the patient. To achieve these, the company redesigned not only its area detector and supporting components, but built into this infrastructure what the company describes as the world's first model-based iterative reconstruction for volumetric CT. A 30-degree bidirectional gantry tilt capability enables angled scanning to avoid dosing radiosensitive organs. On the MR side, Toshiba's latest version of its Vantage Titan, the cS, focused on patient comfort and workflow, sporting a tried-and-true 71 cm bore. It supports feet-first exams and reduces noise with its Pianissimo technology.
Toshiba was not the only MR vendor to mine the rich vein of patient comfort, particularly as it pertains to wide-bore scanners. Attesting to the maturity of wide-bore systems was the market entry of Swissray. The company, widely reputed for its value X-ray equipment, leapt into the MR arena with the SR Pulse 710, a high-field wide-bore system carrying a sticker under a million dollars. The 1.5T scanner, which is supplied by another company and rebranded by Swissray, features a 71 cm bore; can support patients weighing up to 550 pounds; and includes gradients rated at 33 mT/m.
For the very cost-conscious customer who wants high performance, Siemens unveiled a new entry-level MR scanner, its Magnetom Sempra. The 1.5T system is a throwback to a narrower bore (60 cm). But the modestly priced scanner is a workhorse. It is optimized with workflow engines designed specifically to handle the bulk of routine MR applications pertaining to the brain, spine and large joint.
Similarly cost pressures, and reimbursement changes that encourage the adoption of digital radiography (DR), led the vendors of X-ray equipment to emphasize low-cost DR solutions. Agfa expanded its line of retrofits with the DX-D 60 17-by-17-inch detector. Carestream featured a highly maneuverable work-in-progress DR system, featuring lightweight carbon nanotube construction designed to make transport and positioning easy despite the lack of a motor, according to the company. Carestream also highlighted its Motion Mobile X-Ray system, a member of the DRX-Revolution family. The system is designed primarily to help small- and mid-size hospitals transition from computed radiography (CR) to DR. It can be configured to use film and CR cassettes initially, allowing later easy upgrades to DR.
Siemens' introduction of the Multix Fusion Max demonstrated that X-ray, which is characterized by low-priced equipment, is becoming increasingly attractive to big vendors. Siemens emphasized the versatility of the system for use in general X-ray, trauma, emergency, chest and on-table exams. The company described system capabilities as similar to those of its high-end DR product, Ysio. Yet the Multix Fusion Max is priced low enough to be within the budgets of small- and medium-sized hospitals.
At the high-end of the X-ray spectrum was Siemens' new robotic C-arm, designed for siting in the hybrid international/surgical suite. The work-in-progress Artis pheno, heir apparent to the 8-year-old Artis zeego, is more agile and minimally intrusive. (Siemens has eliminated the cables that currently tether the zeego to the ceiling.) Other innovations include a wider C-arm, intuitive user interface and tilting table.
Connecting the Enterprise
When it comes to making medicine more efficient and effective, enterprise imaging shines. Competition in this area heated up at RSNA 2016 with emphasis on EMR integration and exploiting zero-footprint technologies, amid arguments for and against the adoption of platform technologies, best-of-breed systems and hybrids of the two approaches.
Philips offered an integrated platform — with a twist. The company's Illumeo demonstrated how artificial intelligence might be used to fetch relevant data quickly and easily. The work-in-progress is being groomed to use adaptive intelligence to find and present images and EMR data that may be useful in making a diagnosis. 
Illumeo algorithms understand anatomical context, according to the company. Images from current as well as previous exams might be clustered, according to the company, along with data pulled from the electronic medical record systems. Images are not only retrieved but registered so the radiologist sees MR slices, for example, at the same location and orientation. 
Illumeo is being developed to work with Phillips' fledgling Universal Data Manager, which also was unveiled at RSNA 2016. This data manager is designed to handle images from traditional imaging modalities, such as MR, CT and ultrasound, as well as "nonordered" images, such as digital pictures taken, for example, of skin grafts or burns. The radiological and nonordered images are archived so they can be easily retrieved.
Together these technologies, which function as parts of the Philips' IntelliSpace PACS, promise to change the way images are shared, as well as interpreted. Referring physicians can navigate through the various images interactively, according to the company.
Carestream showcased its unified core concept, which extends the zero-footprint technology built into its clinical collaboration platform to technologies addressing patient administration, order entry, scheduling and radiology worklists. Lexmark demonstrated the latest version of its enterprise viewer designed for use outside of radiology, namely oncology and ophthalmology. The company, whose corporate identity is intertwined with building-block enterprise imaging technologies, enumerated a hybrid approach somewhere between an "ecosystem" of components operating in concert with an optimized vendor neutral archive and  turnkey enterprise imaging platform.
To the latter point, Agfa unveiled the latest version of its platform, the HealthCare Enterprise Imaging Platform. Key features include improved workflow rules that accommodate specialists in an outside of radiology. The platform's vendor neutral archive (VNA) is optimized to work with other components, according to the company, as it supports live streaming and virtual conferencing to bolster
real-time collaboration.
From these many unveilings, it was clear that value-based imaging is imminent. Working more effectively, productively and less costly are essential, as is taking a patient-oriented stance. 
The technology for doing so is either already in hand or on the way.  
Editor's note: Watch the video "Key Trends, New Technology at RSNA 2016" for additional information at http://bit.ly/2hT4qca.
Greg Freiherr has reported on developments in radiology since 1983. He runs the consulting service, The Freiherr Group. Read more of his views on his blog at www.itnonline.com. 
---
If you enjoy this content, please share it with a colleague