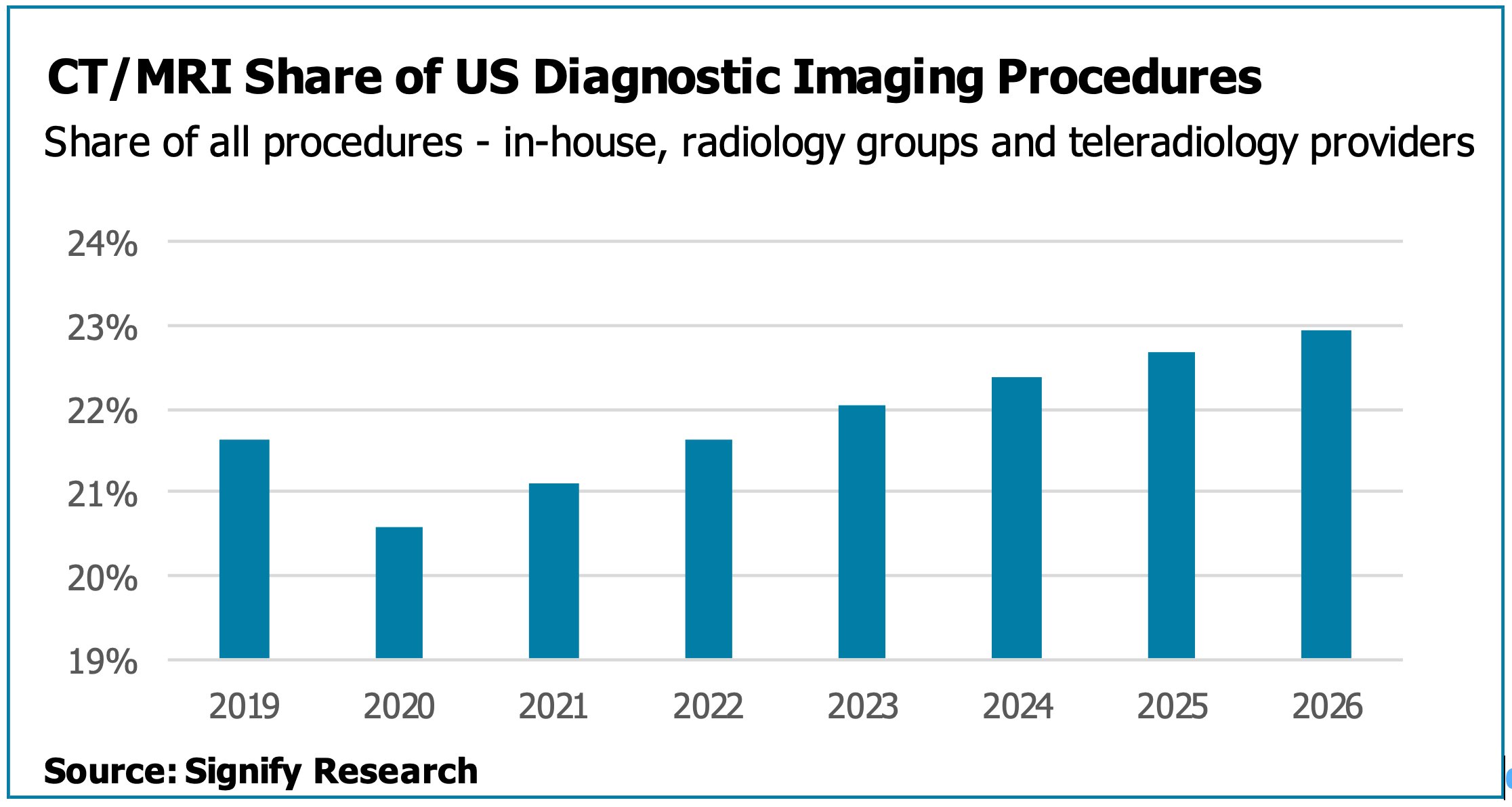 The healthcare market is witnessing a dynamic shift in how and where patients want to receive care, with the flexibility and convenience of outpatient settings driving a greater utilization of outpatient imaging and teleradiology services, a trend most prevalent in the U.S. market. This is driven predominantly by changes to reimbursement, and payers pushing non-emergency imaging to the outpatient setting, as well as the legacy of the pandemic.
Impacting both image acquisition, image reading and services, this has led to market growth and vendor opportunities within traditional outpatient imaging providers, such as imaging centers and radiology reading groups, as well as teleradiology groups.
Productivity and Efficiency
Despite changes to reimbursement driving patient care toward the outpatient setting, the value of reimbursement (in terms of imaging reads) continues to diminish; thus, entrenching the importance of products and tools that enrich a provider or radiologists' efficiency and productivity, whether that is increasing patient throughput, or faster reading and reporting. As such, the outpatient market is, typically, the first to adopt innovative technology, such as artificial intelligence (AI), analytics and public cloud architecture.
Such innovation paves the way for imaging IT vendors' future success. To capitalize on this growing market, investment will be required to re-architecture PACS and RIS platforms to utilize the scalability and elasticity of a cloud-native deployment. This demand will continue to intensify as the provider market undergoes further consolidation, and outpatient and teleradiology networks become geographically dispersed. Imaging IT vendors have already begun responding to this market trend. However, not all provider needs must be solved natively, for example, in the instance of specialist tools for viewing and reporting, or AI image analysis tools. The route of partnership and direct integration will be preferred by many imaging IT vendors.
For teleradiology, AI usage in image analysis remains relatively limited. Most instances of AI adoption to date have been in relation to improving workflow efficiency. They have predominantly involved teleradiology reading service providers partnering with third-party AI specialists.
Diversification Sub-specialization
Reported revenues from outpatient providers in 2022 have shown that many are still feeling the lasting effect of the pandemic and COVID-19 variants. Coupled with the indicators of general economic downturn, rising inflation and the prospect of an impending recession, providers are becoming increasingly risk averse. As a result, providers are increasingly diversifying their product and service portfolio, offering sub-specialization in areas such as neurology, mammography and oncology, or advanced imaging services, including positron emission tomography (PET), magnetic resonance imaging (MRI) and computed tomography (CT).
The utilization of CT and MRI is forecast to grow from 21% share of overall U.S. diagnostic imaging procedures in 2021, to 23% in 2026. In absolute terms, this translates to volume growth of 6% (CAGR), significantly outpacing the growth of other modalities, especially X-ray (+2% CAGR). As demand for specialized modalities increases, so does the requirement for specialist radiologists capable of interpreting more complex examinations. Where access to sub-speciality expertise can be limited in-house (e.g. in smaller hospitals), teleradiologist expertise provides an ideal solution.
As well as outsourcing to teleradiology providers, advanced imaging services evolve a provider's IT requirements, driving provider investment toward sophisticated imaging IT platforms that can support the customers' breadth of specialist services, as well as the workflow to management external referrals, such as teleradiology. This will place pressure on smaller imaging IT vendors, exacerbated by larger imaging IT vendors looking to enter and grow in this market. In the medium-term, the expansion of specialism could expose the smaller specialized vendors to acquisition.
Market Considerations
Coming out of the pandemic, smaller imaging centers found themselves in vulnerable financial positions, leading to M&A activity, already present in the U.S. market pre-pandemic, intensifying. Private equity, hospitals and larger imaging center networks all continue to invest and acquire across the U.S., with many of the larger imaging chains such as RadNet and SimonMed demonstrating aggressive acquisition strategies. As a result, imaging IT contracts are becoming larger, both in value and length, delaying opportunities for vendors to disrupt the competitive landscape.
As outpatient providers consolidate, so will IT contracts. Although not immediately, as IT consolidation typically aligns with contract expirations, it remains a threat to vendors' installed bases. Specialist integrations, AI tools, cloud-native deployment and, in general, a platform's key feature differentiators, will be increasingly important in winning and maintaining share as the competitive landscape intensifies.
Teleradiology groups are yet to observe the same consolidation trend as traditional outpatient providers, however the accelerated demand for teleradiology services over the past 12 months has posed different challenges, such as ensuring adequate resourcing capacity — a task made tougher by an unprecedented radiologist shortage in the U.S., driven by burnout and wage inflation. To attract and retain radiologists, teleradiology market leader vRad set the tone 12 months ago by announcing a substantial compensation rise of up to 25%, beginning in January 2022. Increases ranging from between 10-30% have also been common across many U.S.-based teleradiology providers this year.
While teleradiologist wage inflation and subsequent higher reading fees could deter some healthcare providers from outsourcing their diagnostic imaging workload, the reality is that most healthcare providers are in desperate need for external support and view teleradiology as a necessity to ensure efficient reading turnaround times and provide high-quality patient care.
Who's Ready to Capitalize?
The U.S. market has an increased reliance on outsourcing, for both image acquisition and image reading, as the demand for imaging procedures continues to grow faster than the supply of radiologists. Thus, outpatient providers, including teleradiology groups, offer acute providers accessibility to sub-specialists, alongside the utilization of technology that drives greater productivity within an organization. For teleradiology groups, ensuring they have the radiologist capacity and technology in place will be essential to capitalize on the opportunity for robust market growth.
For imaging IT vendors, platform investment must drive workflow optimization within an increasingly complex and growing network, as well as integration of specialist tools, such as AI, and deployment via the cloud. With no vendor achieving this at scale, it's an environment that leaves the market open for disruption.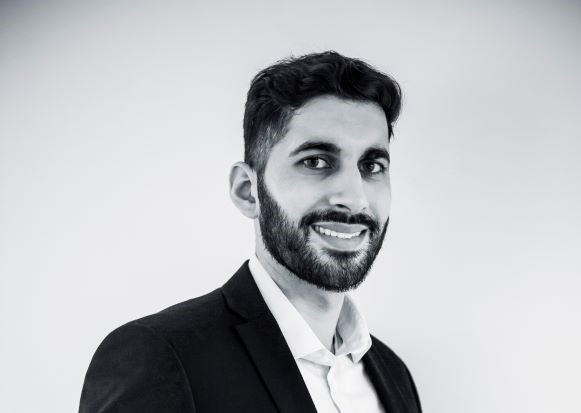 Arun Gill joined Signify Research in 2019 as part of the digital health team focusing on telehealth, PHM and EHR/EMR. He brings with him 10 years of experience as a senior market analyst.
Related Telemedicine Coverage:
The Future of Remote Medicine: The AMA Presents a Framework for Measuring Telehealth Quality
When Telemedicine Isn't the Solution
VIDEO: The New Normal of Home Workstations, Teleradiology and Remote Reading
Telemedicine During COVID-19: Video vs. Phone Visits and the Digital Divide
California Physicians Weigh In On Telemedicine
Just Consider the Possibilities
4 Emerging Trends and Technologies in Teleradiology
---
If you enjoy this content, please share it with a colleague