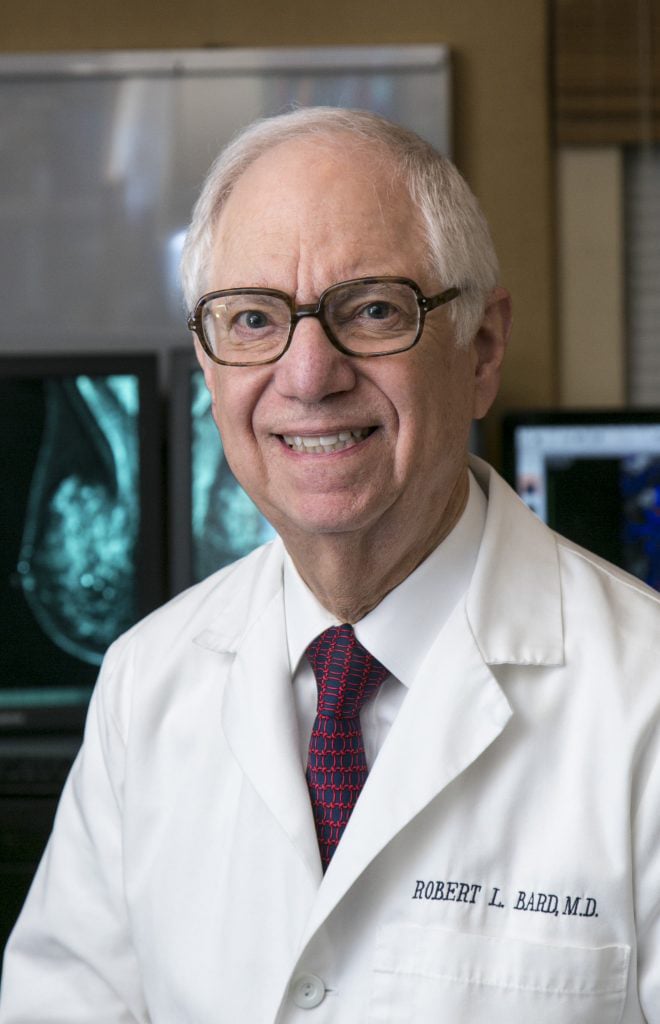 Imaging advancements, including 3D Doppler imaging to detect cancers in numerous organs, are used to accurately guide biopsies, target therapy and provide focused follow-up after treatment. ITN spoke with current editorial advisory board member Robert L. Bard, MD, PC, DABR, FASLMS, to find out more about recent advancements in diagnostic radiology.
ITN: How are you using 3D Doppler imaging in diagnostic radiology as an alternative to biopsy?
BARD: 3D Doppler was originally used in looking at the shoulder with 3D imaging, and then we figured we could do something else with it. If we can see the soft tissues of the shoulder, then we can put it on the breast, and see breast cancer with it. We wondered what else we could do. So we put it on the eye, we use endo probes and put it in the prostate. Now, we can do 3D imaging of every organ in the body. Remember, this all started off with babies — being able to use the 3D to see the fingers and other important parts for sex determination. Currently, we're using the 3D Doppler to look at cancer primarily, because it works in prostate cancer, breast cancer and skin cancer. Because melanoma — which kills most women between the 25- and 45-year age group — is the most malignant tumor in that age range, we use it to not only find end stage cancer, but also to see how aggressive it is. Particularly, the Doppler is used for blood flow in inflammation, and blood flow in cancer. Both are the same. This is visual. It's measurable. It's quantitative with the 3D Doppler histogram because as you get a data set of say 150 to 250 pictures, which you get in 10 to 15 seconds with the 3D imaging technologies.
You have a volume of data, which you can compare with future and any previous studies. It's all recorded, so you do not need to recall the patient back for more imaging because you've got hundreds of pictures right there at your disposal, which you can look at in three different planes at once.
ITN: What are the advantages to using power Doppler sonography for the prostate?
BARD: Ultrasound is repeatable because it's noninvasive. It is real-time, so it shows what's going on instantaneously. A lot of the tests for the prostate had not been very accurate in the past. Thirty years ago, I was at a conference at Memorial Sloan Kettering. The head of the department was giving a lecture on her new technology using MRI for the prostate and she said we need to use MRI because the prostate biopsies, the six-core biopsies,  were 16% accurate. All the radiologists in the room almost dropped out of the seats. Well, the neurologic community got that, and now they're doing 12-cores or 24-cores, or some doctors are doing 98-cores in the prostate, so you get everything. Twenty years ago, literature came out in the journals that the PSA was from 5-25% accurate in diagnosing cancer. The biopsies were invasive and not particularly helpful. With the 3D probes, instead of using a six MHz probe for regular prostate ultrasound, the 3D is using 18 MHz. The resolution is five times higher with this 3D probe than the MRI because we see the prostate capsule better.
ITN: Can you tell us about other advancements in diagnostic radiology?
BARD: A takeoff on the blood flow and Doppler is contrast enhanced ultrasound (CEUS). This was initially used for liver cancer detection and bone fracture healing because you can see the blood flow. It shows the larger blood vessels in Doppler, extra capsular extension, breaking through the border more accurately. The contrast enhanced ultrasound uses micro bubbles as a contrast. MRI technologies for prostate have changed a lot. We used to use endo-rectal probes, which are painful, cause motion and destroyed the image. Now people are moving away from probes and using just the T2 aspect. A simple protocol has got a 95% rate of finding prostate cancer without all the added sequences. Its use in the prostate will hopefully be FDA approved soon. Another breakthrough is elastography, currently used to avoid biopsies in the thyroid, breast, prostate and liver, as well as scarring. If it doesn't show blue (fat or soft tissue, so not cancer and benign), it's suspicious, then you can go ahead. In Europe and Japan, even China, they're using elastography as a primary technology. So elastography is the next breakthrough that's used worldwide.
You can view the full video interview with Dr. Bard here.
Related content:
The Full Body Imaging Movement: A Strategic Upgrade of the MRI
Microcirculation and Electromagnetic Response to Inflammation
---
If you enjoy this content, please share it with a colleague