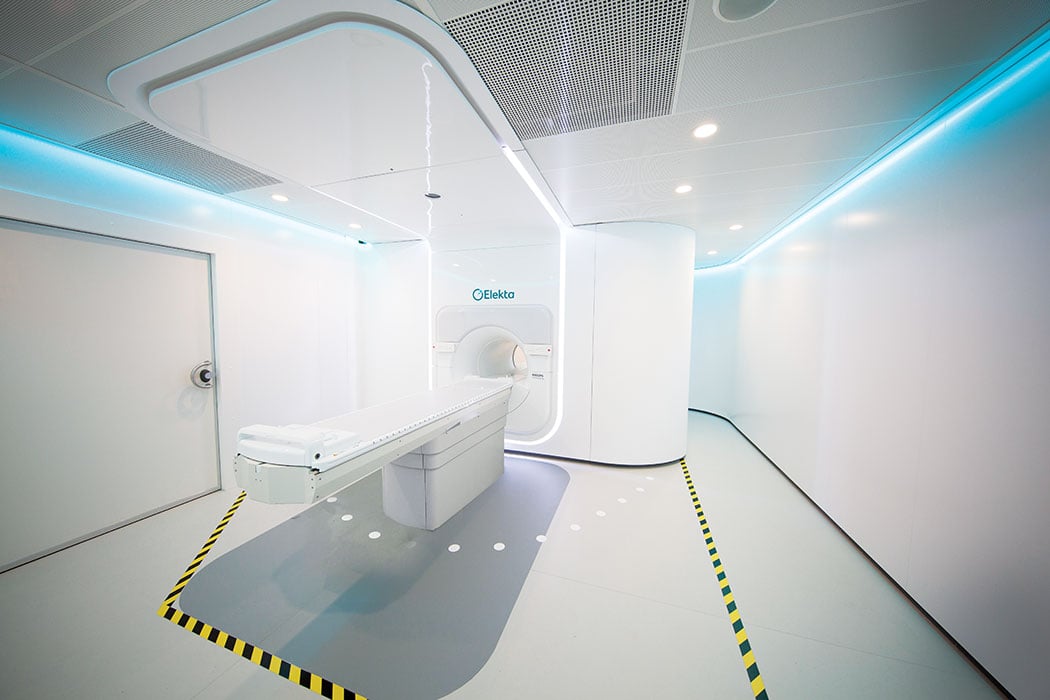 Elekta's MR-linac integrates an advanced linear accelerator and a 1.5T magnetic resonance imaging (MRI) system. Combined, these systems will allow for simultaneous radiation therapy delivery and high-field MR tumor monitoring.
Image-guided radiation therapy offers great potential to improve the efficiency of treating cancer patients by more accurately tracking tumor response so that treatment can be adjusted accordingly. While there are numerous imaging modalities available, only some have proven effective for the purpose of guiding radiation therapy. In particular, magnetic resonance imaging (MRI) is generating great interest as an option that could provide real-time visualization for truly adaptive radiation therapy.
Benefits of MRI in Radiotherapy Planning and Verification
Computed tomography (CT) has been the modality of choice for radiotherapy planning, including cone beam CT, which provides greater image detail than traditional CT. While effective, cone beam CT has several disadvantages:
•        CBCT images do not offer high-quality soft tissue contrast, making it extremely difficult to visualize tumors in areas like the brain, liver and other organs. Even if the tumor can be seen, it is difficult to distinguish cancerous tissue from surrounding healthy tissue;
•        Visualization is also impaired in regions with continuous motion such as breathing or swallowing; and
•        Because cone beam CT subjects the patient to additional radiation exposure, treatment progress cannot be verified as frequently.
It is for these reasons that extensive research is being conducted on how MRI scans can be integrated into the treatment planning and verification process. It offers greatly improved soft tissue contrast, and can resolve the motion issue through respiratory gating, continuously monitoring the breathing cycle and taking the image at the optimal point in the cycle.
Functional imaging
While improved anatomical definition is a distinct advantage of MRI, it also offers great promise as an instrument for functional tumor/organ delineation. Research efforts here are still in the early stages, but the initial findings are tantalizing, according to Mary U. Feng, M.D., vice chair for clinical research and associate professor in the Department of Radiation Oncology at University of California – San Francisco (UCSF). Feng was a presenter at the 2016 Radiological Society of North America (RSNA) annual meeting. Functional MRI (fMRI) offers the ability to delineate sections within tumor volumes and healthy tissue, providing a two-fold benefit for dosimetry calculations:
•        Within the tumor volume, the goal is to identify which parts are the most radiosensitive and can be treated with a lower dose, and which parts are more refractory and will need a higher dose; and
•        For normal tissues and organs, fMRI can identify the well-functioning parts — i.e., the parts of the lung that are contributing to oxygenation, or the parts of the liver that are actually cleaning the blood — so the dose can be sculpted accordingly to avoid those portions.
According to Feng, a longer-term goal for researchers is to broaden the use of fMRI to image spatial distribution and organ function. One example she shared was using dynamic contrast enhanced MRI (DCE-MRI) in the liver to predict what parts of the tumor will be responsive to radiation and which parts will be refractory. Ultimately the liver function information can be used to sculpt the dose distribution. "If we know where the poorly functioning parts of the liver are, if you put the radiation dose through that, we can try to save functional liver subunits instead of putting radiation dose through the highly functioning voxels of the liver," Feng told her RSNA audience.
Challenges of Building an MRI-RT System
While the enormous potential of MRI-guided radiotherapy has been well established, bringing this technology to patients in practice has been a slow process.
For all of the benefits and promise offered by MRI, the modality also brings some limitations. One of the biggest challenges is the potential for systematic error in registering the MR images with CT. "One thing that doesn't happen often in clinics is to assess the uncertainty of that registration," said Feng. She noted that if any of these systematic errors — in translation, rotation and defamation, among other facets — result in poorly contoured images, "you could end up treating the wrong area." She said the ideal solution would be to move to all MRI-based treatment planning and completely skip the registration step, but this is a long-term goal.
Aside from treatment planning, one of the greatest obstacles in developing an MRI-guided radiotherapy system has been managing the interaction between the MR scanner and the radiation generator. Radiotherapy treatment is typically done with a linear accelerator (linac), which generates high-energy X-rays. The photons in these beams, however, generate their own electrons, which can be affected by the magnetic field, diverting or negating the treatment beam.
At present, ViewRay offers the only commercially available MRI-guided radiation therapy system, dubbed MRIdian, which debuted in 2012 following U.S. Food and Drug Administration (FDA) approval. MRIdian employs a series of cobalt teletherapy heads for radiation treatment because the gamma rays they generate offer the same benefits of X-rays without the magnetic field interaction problems. To compensate on the MRI side, MRIdian utilizes a lower-powered 0.35T magnet.
MR-linacs: The Next Frontier
While MRIdian provides a commercial option for clinical MRI-guided radiotherapy, ViewRay and other vendors have continued to work on creating a linear accelerator-based system. ViewRay announced the start of the project in March 2016, and the company received FDA 510(k) approval for the MRIdian Linac in February of this year. The first commercial system in the United States was installed at Henry Ford Hospital in Detroit in June, and Barnes-Jewish Hospital at Washington University in St. Louis is expected to follow suit.
"Radiation oncologists have long awaited the availability of a clinical system that integrates MR imaging with linac radiation delivery, as this is a major breakthrough in improving the efficacy of radiation therapy for patients," said Benjamin Movsas, M.D., chairman of radiation oncology at the Henry Ford Cancer Institute in a statement.
The MRIdian Linac looks to be just the first entry into a new market segment, as Elekta and Philips are nearing the first patient treatments on their own MR-linac system later this year. The five-year project, known as the Elekta MR-Linac Consortium, has gathered seven leading institutions from around the world to help develop and test an MRI-guided, linear accelerator-based radiotherapy system. Consortium member institutions include:
•        The Institute of Cancer Research, London;
•        Froedtert & the Medical College of Wisconsin Cancer Center, Milwaukee;
•        MD Anderson Cancer Center, Houston;
•        Sunnybrook Health Sciences Centre, Toronto;
•        The Netherlands Cancer Institute-Antoni van Leeuwenhoek Hospital, Amsterdam;
•        University Medical Center Utrecht, The Netherlands;
•        Christie National Health System (NHS) Foundation Trust, Manchester, U.K.; and
•        The Royal Marsden NHS Foundation Trust, London.
Six of the seven consortium sites have received a system, according to Greg Trausch, Ph.D., head of global marketing, MR-linac RT for Elekta. The system employs a 1.5T magnet to ensure high-quality imaging; magnet strength is reduced at the point where the linac sits. Philips contributed new magnetic coils for the MRI scanner that are resistant to the photon beam and allow more space for it to pass through. The treatment planning system is based on Elekta's Monaco program — including the Monte Carlo algorithm for more precise dose calculations — but is enhanced for this specific application.
The consortium as a whole is investigating potential applications for the technology at nine different tumor sites. Each site has a dedicated working group composed of team members from each institution. Four additional working groups are conducting R&D on the technical elements of the system, including workflow, quality assurance, MRI issues and adaptive radiotherapy.
Trausch said that much of the clinical work across all sites is focused on tumor contouring, as well as dosimetry. "The consortium is picking out clinical applications where MR-guided treatment will be a benefit," said Geoffrey Ibbott, Ph.D., deputy head of the Division of Radiation Oncology at MD Anderson and part of the research team there. Ibbott explained that his facility's clinical research purview has included cancers of the head and neck, gastrointestinal (GI) tumors and genitourinary (GU) cancers, including in the prostate.
On the current timetable, clinical rollout of the system would begin in 2018.
Future Growth
With all of the benefits offered by MRI-guided radiation therapy, many in the field expect the technology to continue to take hold as it becomes more widely available for clinical use.
"I think one of the greatest drivers for growth will be successfully demonstrating that daily treatment adaptation leads to better treatment," said Ibbott. "And we already have some evidence that adaptive treatment does improve treatment quality."
As with any new technology, cost is a potential limiting factor. "Anytime you combine two expensive pieces of equipment, that's going to make the installation expensive and complicated," Ibbott continued.
"It is more of an investment than traditional linacs, but that's something our users are already thinking about," Trausch concluded.
Related Articles on MRI-guided Radiation Therapy:
First Patients Treated with ViewRay's MRIdian Linac at Henry Ford Health System
Early Clinical Experience with ViewRay's MRIdian Linac Presented at AAPM 2017
Elekta Begins MR-Linac Installation at Sunnybrook Health Sciences Centre
MRI-Guided Radiation Therapy (2016)
MRI Brings New Vision to Radiation Therapy
Dutch Medical Center Begins Installation of World's First High-field MRI-guided Radiation Therapy System