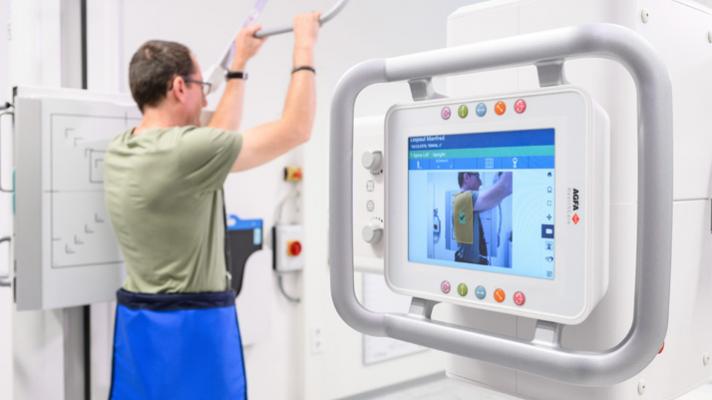 SmartXR uses a unique combination of hardware and AI-powered software to lighten radiographers' workloads and provide image acquisition support.
The COVID-19 pandemic brought about an uptick in the demand for imaging services. A fast, accessible method was critical for sharing and transferring image files from one office or facility to another. The nature of digital radiography systems (DR) lent itself well to this need. In addition, DR has the advantage of lower radiation dose exposure to patients and technicians. 
View the DR Systems Comparison Chart here.
According to a new report from ResearchAndMarkets.com, the United States digital X-ray device market is expected to grow at a rate of more than 7 percent over the forecasted period through 2026, and it saw a revenue of $2.87 million in 2019, a number that is predicted to continue to increase due to the ongoing need of digital imaging services related to the pandemic and its continuing ripple effects. 
"Major factors driving the growth of the DR market include the increasing research and development activities by the key players for the innovation of novel products with sophisticated features and high standards of healthcare facilities in the country," stated the report. "The Consolidated Appropriations Act of 2016, which favors digital imaging over other methods, reduces Medicare payments by 20 percent for providers still using analog X-ray systems. This will positively influence the DR market's growth in the U.S."
Fast Adaptation to Change
The pandemic has turned the spotlight on diagnostic imaging, demanding a need for high-speed workflow and efficient patient management. DR systems provide this fast turnaround with less than one minute needed between exposure and image acquisition. Many companies released or revised their products in order to meet those growing needs. For example, during the virtual 106th Scientific Assembly and Annual Meeting of the Radiological Society of North America (RSNA), Agfa launched its new SmartXR Assistant. SmartXR uses a unique combination of hardware and artificial intelligence (AI)-powered software to lighten radiographers' workloads and provide image acquisition support. This newest member of Agfa's DR portfolio offers key assistance during the radiology routine, which has proven to be very important during the COVID-19 crisis, as well as beyond. The SmartXR portfolio brings intelligence to digital radiography equipment at the point of care. Integrated sensors and cameras combined with powerful AI software, 3-D machine vision, deep learning and machine intelligence support the radiographer with first-time-right image acquisition. By reducing retakes, radiology workflow speeds up, and optimizes utilization and equipment costs.
Also at RSNA 2020, Siemens Healthineers launched the Multix Impact C, a new ceiling-mounted DR system, in addition to the Multix Impact VA20, a new version of the established floor-mounted parent DR system. Both systems are affordably priced to expand access to high-quality imaging and enhance the patient experience.
The Multix Impact C and the Multix Impact VA20 both have an intuitive operating system, versatile wireless detectors, motorized tube heads and a free-floating, flat tabletop, which enables easy patient access. The touch user interface on the X-ray tube permits the technologist to remain by the patient's side for longer periods of time. And when in the control room, the technologist can use the patient positioning camera to continuously monitor the patient. The hallmark feature of the Multix Impact C and the Multix Impact VA20 is MyExam Companion, a user interface that provides proactive guidance to help technologists navigate a radiography procedure regardless of skill level. MyExam Companion combines available patient data such as gender and age with other user or machine-observable, patient-specific information to identify optimal acquisition and reconstruction parameters for each patient and radiography procedure.
Both systems received FDA approval in January 2021. "With this FDA clearance, Siemens Healthineers pushes the boundaries of what is possible in radiography," said Niral Patel, vice president of X-ray products at Siemens Healthineers North America, in a written statement. "We can now deliver both floor-mounted and ceiling-mounted options with automation, artificial intelligence and safety features that expand our customers' capabilities in digital radiography."
Mobile DR Also Sees Growth
Mobile DR systems have also seen an exponential growth this past year. According to Mordor Intelligence's DR Market Forecast, portable X-ray devices are predicted to see significant growth and expected to make a revenue of approximately $5.6 million by 2025. Major factors driving this growth include advanced technology, a rising number of patients with chronic diseases along with an increasing geriatric population, and rising awareness regarding the availability of portable systems. In addition, during the pandemic it was shown that mobile DR systems have the potential to overcome location barriers and benefit patients who are in need of on-the-spot diagnosis.
New launches were also seen in the mobile DR market. In August at the virtual Association for Medical Imaging Management (AHRA) 2020 conference, Canon Medical launched its Soltus 500 Mobile Digital X-ray, giving facilities access to a system equipped with enhancements to streamline bedside exams to help improve workflow and productivity. The FDA 510(k)-cleared Soltus 500 has a compact design with advanced features that promote efficiency and patient safety, without compromising image quality. Features include enhanced ease-of-use with intuitive tubehead controls, including an 8.4-inch touchscreen display and dual collimator controls for increased access and accuracy, increased detector wireless range and productivity with the Canon Medical patented technologies package.