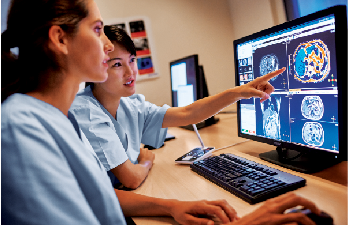 Using Compressed SENSE for faster MRI scans, healthcare providers can transform their radiology workflow.
Since the introduction of magnetic resonance imaging (MRI), scan time has been the most important determinant of success both in terms of workflow and diagnosis. Long pulse sequences have not only created bottlenecks in the radiology workflow, but also have proven to be a source of patient anxiety and discomfort. Fortunately, we've recently witnessed a significant shift in MRI productivity, with modern technology advances increasingly shortening exam times. No longer consumed by technical difficulties and wasteful rescans, MRI exam time has been reduced by such a degree that it begs the question — where should hospitals reinvest this time?
With less time being spent conducting exams, radiology departments can optimize productivity and streamline processes across the imaging value chain. For example, Philips Compressed SENSE, a breakthrough acceleration technique, can shorten MRI sequences and full MRI exams by up to 50 percent without compromising imaging quality.1 This has significant implications for radiology workflow, and gives departments the flexibility to use this time to advance patient care in a multitude of ways. Whether it's managing a higher patient volume, spending more time with patients prior to their exam, reducing staff overtime or even scanning at higher spatial resolution, the time saved with advanced acceleration techniques can make a big difference in today's complex healthcare environment.
Improving Workflow to Manage Increasing Patient Volume
Many hospitals with a high volume of patients have chosen to use the time saved through shortened MRI scans to add extra patient slots to their daily scanning schedule. This has the potential to help hospitals improve workflow, reduce waiting lists, and offer a faster MRI service to referring physicians and their patients.
For example, RWJBarnabas Health,* the largest and most comprehensive healthcare system in New Jersey, needed to be able to rely on efficient, high-quality imaging for patients from head to toe. By leveraging Compressed SENSE, RWJBarnabas greatly reduced the length of its scan time slots from one hour to thirty minutes for the vast majority of scans, while maintaining the image quality needed for diagnostic excellence. This allowed them to not only double the number of MRI scans in a day, but also meet the needs of referring physicians.
Not only can hospitals work more patient scans into their schedule with shorter MRI time slots, but it can also allow a department with a busy case load to accommodate emergency patients that are referred on the same day, without disrupting the schedule. Barrow Neurological Institute* in Phoenix, Ariz., gained time savings of 20-40 percent per scan with Compressed SENSE, easing the rush of their daily schedule, and providing the team with flexibility to accommodate more patients from the emergency department (ED). This helped to make MR a more practical option in the ED, for whom speed of care is paramount.
Improving the patient experience
Patients are at the heart of efforts to reduce scan times. MRI scans can induce patient anxiety and nervousness — from the sounds of the magnet, to the time spent in an enclosed space, to the anticipation of the scan results. These feelings often cause patients to move during the exam, interfering with the image quality. In a recent 3rd party study, one in five MR studies need a repeat scan because of motion.2 By reducing the time spent in the magnet, there is less of a chance of patient movement, which can minimize the need and cost for rescans over time while maintaining reliable, excellent image quality, as well as enhance the patient experience.
By expediting MRI scans, technicians have more time to prepare patients, explain the scan process step by step, and help to calm patients. The more comfortable a patient is going into the exam, the less likely a scan will need to be repeated. For example, after implementing Compressed SENSE, the Kurashiki Central Hospital* increased the time spent with the patient during set-up by 67 percent which consequently resulted in an average decrease of 70 percent in incidents/errors.3 This one-on-one time between MRI technologists and patients is critical to the patient experience, helping to provide a sense of control and assuredness during the exam.
Improving Staff Productivity
Shorter exam time slots afford more flexible scheduling, and higher staff satisfaction. MRI scanners are often fully booked, with scanning continuing well past regular opening hours, resulting in overworked and burned out staff. Shortening scan times can help relieve the stress of a tight work schedule for MR staff, helping staff get home on time.
For example, technologists at Miami Cardiac and Vascular Institute (MCVI)* have experienced significant improvements to their workflow due to the productivity achieved with Compressed SENSE. By improving efficiency in imaging while maintaining quality, technologists reported being able to spend more time preparing patients for the exam, rather than constantly adjusting patient positioning or other technical complications. When staff has the time to engage in meaningful interaction with patients and rely on predicable image quality, they are more likely to be satisfied in their work.
Where Will Your Time Be Best Spent?
The reality is that even just a few minutes saved on each sequence in the radiology workflow can add up and help radiology departments help optimize processes, improve the patient experience, advance staff satisfaction and reduce costs. The time gained with technology such as Compressed SENSE can be the difference between a radiology department's struggle, or its ability to thrive in today's healthcare environment. The overall benefits of increased diagnostic confidence and improved outcomes without an increase in cost, aligns with the goals of the Quadruple Aim of improving the patient and staff experience, improving health outcomes and lowering the cost of care. As radiology departments increasingly rely on their imaging equipment to meet mounting demands, it is critical that technology supports the way radiologists and technologists work, and the way patients would like to be treated.
References:
1     Compared to Philips scans without Compressed SENSE.
2    Andre, Jalal B., et al. "Towards Quantifying the Prevalence, Severity, and Cost Associated with Patient Motion During Clinical MR Examinations." JACR (2015).
3     Compared to Philips scans without Compressed SENSE.
* Results from case studies are not predictive. Results in other cases may vary.
---
If you enjoy this content, please share it with a colleague