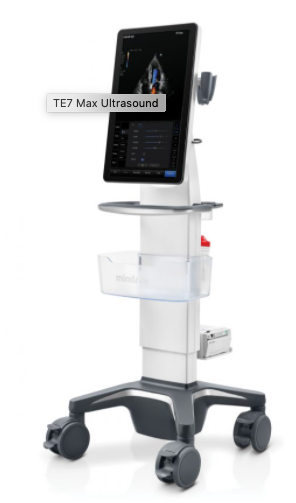 The global ultrasound market is projected to reach $9 billion by 2026, up from $6.7 billion in 2021, at a CAGR of 6.3% during the forecast period, according to a new report from Markets and Markets. Ongoing technological advancements in the field of diagnostic and therapeutic ultrasound imaging, availability of medical reimbursements for diagnostic ultrasound procedures in mature markets, and the growing applications of emerging ultrasound techniques (including Doppler ultrasound in vascular imaging and 3-D/4-D ultrasound in oncology) are driving this growth of the ultrasound market.
Market Breakdown
The ultrasound market is divided into many segments, including diagnostic and therapeutic ultrasound. According to Globe Newswire, the diagnostic ultrasound segment can be broken down even farther into 2-D ultrasound, 3-D and 4-D ultrasound, and Doppler ultrasound. "The therapeutic ultrasound segment is further bifurcated into high-intensity focused ultrasound (HIFU) and extracorporeal shockwave lithotripsy (ESWL). The diagnostic ultrasound segment held the largest market share in the ultrasound market. Factors such as technological advancements and increasing applications of ultrasound in diagnosis of various conditions such as tumors, cardiovascular diseases, pain management, among others are driving the growth of this segment," according to the report's authors.
Market Trends
Many trends are driving the growth of the ultrasound market, as well as other key factors including the rising prevalence of chronic diseases and the increasing worldwide geriatric population.
Artificial intelligence. Ultrasound trends include the introduction of artificial intelligence (AI). According to a recent Fortune Business Insights report, some of the leading market players are emphasizing the development of advanced devices and systems integrated with AI. "This step is being propounded to overcome certain limitations associated with the conventional devices such as the long duration of time required to conduct the examination, poor image qualities in certain cases, and high dependency on technicians to acquire and interpret images," stated the report. The introduction of systems with AI by industry key players is expected to boost market growth.
Increase in Doppler systems. The Doppler segment captured around 34% of the market share in 2020 led by its increased demand in diagnosing chronic cardiovascular conditions, according to a new report from Global Market Insights. The Doppler echocardiogram helps efficiently screen abnormalities in heart valves. 
Growing demand for portable ultrasound devices. The compact/handheld segment was valued at $1.7 billion in 2020 due to its increased use because of its compactness and convenience for bedridden and severely ill patients, according to the Global Market Insights report. Its portability increases device usability in various healthcare settings such as hospitals, remote healthcare settings and ambulatory care centers.
"Handheld devices help physicians in quick patient examination and initial screening. Increased use by office-based physicians in various medical specialties, such as urology and gastroenterology, has created high demand for handheld ultrasound devices, thus fostering the business growth," stated the authors of the report.
Prevalence of cardiac diseases. The cardiology segment held around 19.2% of revenue share in 2020 and was driven, according to data from Global Market Insights, by the increased usage of diagnostic ultrasound in cardiovascular disease diagnosis. The incidence of cardiac diseases is increasing, and diagnostic ultrasound devices play a critical role in a fast diagnosis of arterial blockages and other cardiovascular problems. Another advantage is the non-invasiveness of the procedure, which has no known side effects.
What Radiology is Seeing
Following the lull of new releases throughout 2020 stemming from the COVID-19 pandemic, the industry saw a flurry of new activity in 2021. Many of these new technologies were showcased at the Radiological Society of North America's (RSNA) 2021 annual meeting in December.
In March 2021, GE Healthcare unveiled Vscan Air, a cutting-edge, wireless pocket-sized ultrasound that provides crystal clear image quality, whole-body scanning capabilities, and intuitive software that fits in the palm of clinicians' hands. GE pioneered the first color pocket-sized ultrasound, Vscan, in 2010. To date, there are over 30,000 Vscan Family systems in the pockets of clinicians, impacting the care of more than 50 million patients worldwide, according to the company. 
In September, Samsung Medison, an affiliate of Samsung Electronics, introduced the V8 high-end ultrasound system. It provides enhanced image quality, usability and convenience for medical professionals. For radiology, it is equipped with S-Shearwave Imaging which provides information about tissue stiffness as a result of disease using ultrasonic transverse elasticity. 
In October, Mindray launched its TE7 Max ultrasound scanner that maximizes the potential in the point of care (POC) market. It is designed to exceed the requirements of demanding POC environments, and provides clinicians with comprehensive and customizable workflow protocols, and an extensive suite of AI-powered smart tools in a compact footprint.
View the Ultrasound Systems Comparison Chart
Related Ultrasound Imaging Content:
2021 Review: Transcranial Doppler Ultrasound Imaging
Stroke Scans Could Reveal COVID-19 Infection
Lung Scans for Stroke Patients Could Provide Earlier COVID-19 Detection
PHOTO GALLERY: How COVID-19 Appears on Medical Imaging
Digital Health Devices Used at Point of Care May Improve Diagnostic Certainty
Insights on the Worldwide Handheld Ultrasound Imaging Devices Industry
---
If you enjoy this content, please share it with a colleague