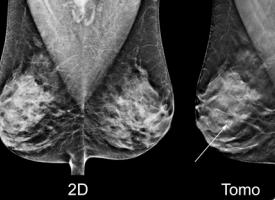 Image courtesy of Hologic.
Digital breast tomosynthesis (DBT), also known as 3-D mammography, has come a long way since the first system received U.S. Food and Drug Administration (FDA) clearance in 2011. The modality has seen increased adoption due to the benefit of being able to see through dense fibroglandular breast tissue better than a traditional 2-D mammogram. The last 12 months have seen major developments for DBT systems, including new system launches, the inception of numerous artificial intelligence (AI) products to further enhance tomosynthesis reading and reporting, and the introduction of new quality control testing procedures.
New Releases Emphasize Workflow, Patient Comfort
Numerous clinical studies have demonstrated the benefits of 3-D mammography, so vendors are starting to target the next level of the experience for the patient and the technologist. New systems released in 2018 focused on streamlining workflow and improving the patient experience.
Siemens Healthineers received FDA clearance for its latest mammography machine, the Mammomat Revelation, last March. Many of the new features are designed to simplify the biopsy process, including HD Breast Biopsy and the InSpect integrated specimen imaging tool. The former allows easy one-click targeting of suspicious areas with +/- 1 mm accuracy, while the latter permits imaging and real-time review of biopsy samples at the workstation so the technologist does not have to leave the patient alone with their worries. The HD Breast Biopsy is made possible by the system's HD Breast Tomosynthesis technology, which offers a wide acquisition angle available at 50 degrees. This allows better separation of overlapping breast tissue for high-quality 3-D images. For the patient, Personalized Soft Compression adjusts the level of breast compression automatically to suit each patient's anatomy.
Hologic enhanced one of its flagship mammography systems, 3Dimensions, with Clarity HD 3-D and Intelligent 2-D imaging technologies that also earned FDA approval in March 2018. Clarity HD combines a new advanced detector with a 3-D imaging algorithm to provide what Hologic calls the industry's fastest, highest resolution 3-D images to clearly reveal subtle lesions and fine calcifications. Intelligent 2-D imaging operates in tandem with Clarity HD to improve overall image quality at a lower dose. Hologic also added the SmartCurve breast stabilization system to 3Dimensions, featuring a curved compression surface to reduce pinching during the exam.
Fujifilm's newest entry to the DBT market was not a mammography system but rather a diagnostic workstation, the Aspire Bellus II. It provides a multimodality view of the patient for radiologists in a high-resolution display; users can even compare 2-D and tomosynthesis exams directly. Key features of the Aspire Bellus II include current and prior image comparison, quadrant view and invert. Reading protocols and other features can be customized for each individual user.
AI Products Enhance Tomosynthesis
Artificial intelligence (AI) has drawn more excitement than almost anything else in radiology in recent years. Machine learning and deep learning are being employed as a second set of eyes to help radiologists identify and diagnose medical problems on imaging scans, as well as in prioritizing cases to speed workflow. Several AI products introduced in 2018 were designed specifically for computer-aided detection (CAD) with tomosynthesis.
iCAD, which offers numerous CAD products for cancer detection and therapy, launched its newest offering, ProFound AI, at the end of last year. In clinical research, the solution improved cancer detection rates by an average of 8 percent while decreasing unnecessary patient recalls by an average of 7 percent. The research was performed with 24 radiologists who read 260 tomosynthesis cases both with and without iCAD's solution. ProFound AI is trained to detect malignant soft-tissue densities and calcifications, and provide a numerical score representing the likelihood
of malignancy.
ScreenPoint Medical's Transpara detection and decision support solution also received FDA clearance late in 2018. Like iCAD's solution, it automatically generates a single cancer suspiciousness score by combining the findings identified in all available views. Information is provided concurrently during reading and only when needed, so as not to slow the reading process. The clearance was supported by the results of a multi-reader, multi-case reader study, the findings of which showed stand-alone sensitivity and specificity of Transpara was nearly at the same level as that of radiologists.
ScreenPoint Medical announced at the 2018 Radiological Society of North America (RSNA) annual meeting that Transpara will soon be integrated into the syngo.Breast Care mammography reading and reporting solution from Siemens. Transpara will work alongside syngo.Breast Care's new SmartSort technology that is designed for radiologists to rank exams according to their preferences based on Transpara Scores. This will allow critical cases to be moved immediately to the top of the reading list to receive priority.
Quality Control Improvements
As with any other imaging modality or medical technology, quality control (QC) is essential for maintaining operation as well as patient safety. The FDA requires all mammography facilities with DBT systems to perform QC according to the respective manufacturer's manuals. In late July, however, the agency approved the American College of Radiology's (ACR) amendment to the 2016 Alternative Standard #24 to the "Quality control tests — other modalities" requirement. The approval means the college can incorporate DBT into the 2016 ACR Digital Mammography Quality Control Manual, and healthcare providers will be able to use the updated manual in lieu of manufacturers' manuals.
"The new DBT QC procedures in the updated ACR manual will promote uniformity of quality control since it will allow facilities to follow one manual, instead of the dozens of different manuals that are mandated for the varying manufacturers and models of digital mammography equipment with DBT," said Eric Berns, Ph.D., lead author and chair of the ACR Subcommittee on Mammography Quality Assurance. "The new manual focuses on tests that are clinically relevant for high-quality imaging and provides the structure for a thorough and complete quality control program." 
---
If you enjoy this content, please share it with a colleague