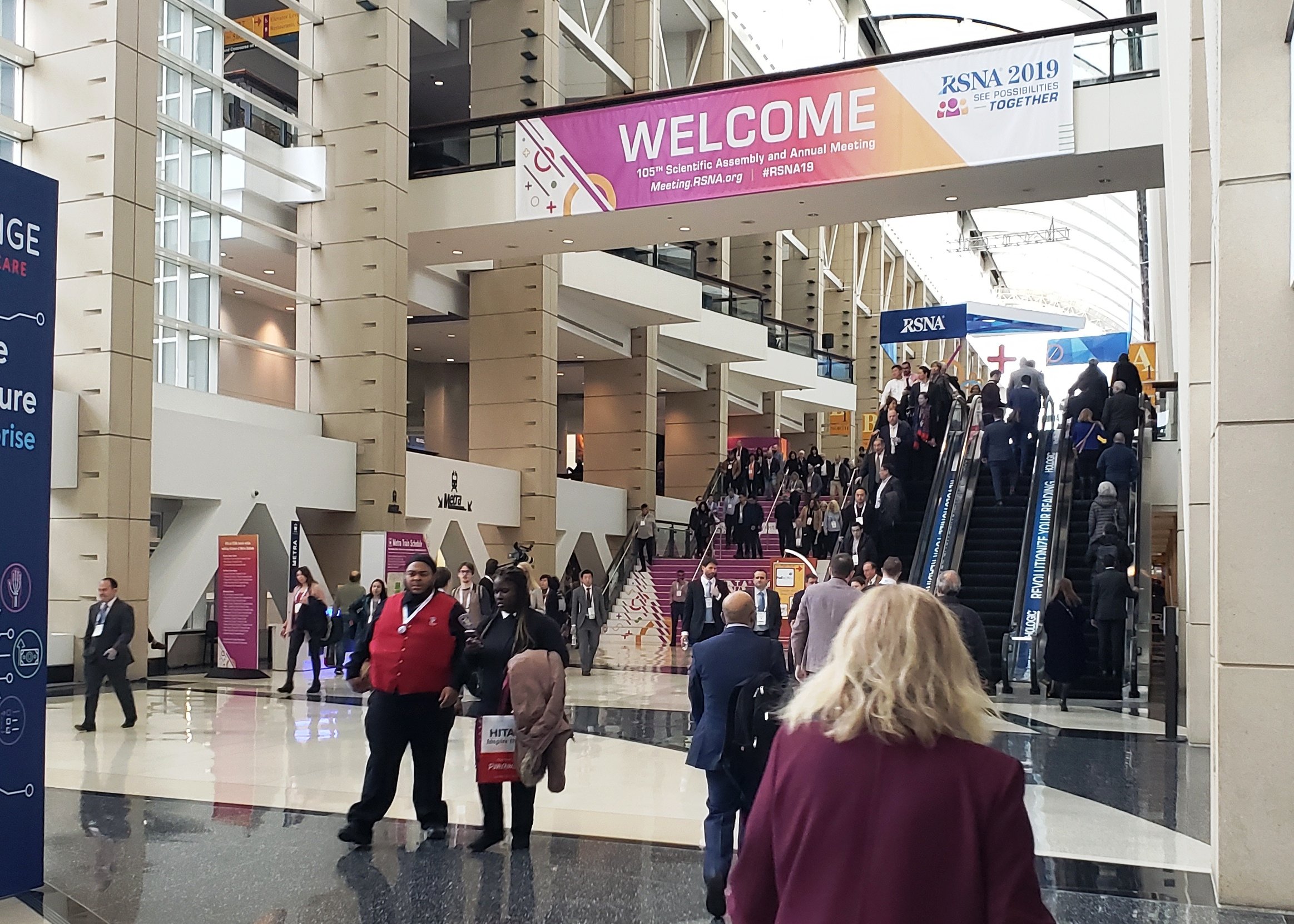 RSNA 2019
The founder of Gonzo journalism thought back nostalgically to what many believed in the 1960s was inevitable. The triumph of right over wrong. Of good over evil. A political revolution in the United States.
At about the same time another revolution, much narrower in scope, was brewing. Unlike the one Hunter S. Thompson expected, however, this revolution actually happened. Underlying it was digitalization, its effects rippling through radiology on the heels of artificial intelligence (AI), cloud computing and other enabling technologies.
From booths on the exhibit floor of the Radiological Society of North America's (RSNA) 2019 annual meeting, it was apparent how these technologies were reshaping the practice of radiology.
Artificial Intelligence
Grounded as it is in pixilated analysis, AI appeared at RSNA 2019 to have found a home, its benefits apparent in a field of healthcare built on images. Remarkable was GE Healthcare's Edison AI Open Orchestrator, an AI-enabled technology that works in the background with smart algorithms. The Orchestrator rose from Edison, a developmental platform introduced by GE a year earlier as a means for creating AI applications.
Orchestrator uses AI results to prepare worklists on the company's Centricity PACS, sorting and ordering cases listed on them. Radiologists can select whether to display flags on these cases to indicate visually which ones may need quick attention. 
Orchestrator can also leverage smart algorithms to prioritize the worklist — an option that maintains the primacy of the radiologist, while addressing the opportunity for AI to boost efficiency and, potentially, clinical effectiveness. 
Once chosen from the worklist, individual cases can be called up by the radiologist. An example would be one designated as suspicious by a pneumothorax algorithm designed by GEHC and academic engineers. Alternatively, the worklist might be prioritized to reflect brain emergencies, flagged using a third-party algorithm such as Accipio ICH, which was developed by a third-party company (MaxQ) to spot intracranial hemorrhage.
By the end of 2020, GE Healthcare plans to embed dozens of smart algorithms in the AI Open Orchestrator. Some will come from GE; others from its partners.
At RSNA 2019 Siemens Healthineers showcased AI-Rad Companion, a family of AI applications intended to accelerate routine radiological activities. Two new members were introduced. One applied AI in the analysis of brain magnetic resonance imaging (MRI); the other in prostate MRI. Both were pending U.S. Food and Drug Administration (FDA) clearance. 
AI-Rad Companion Brain MR for Morphometry Analysis is designed to automatically segment the brain; measure selected volumes; then mark volumetric differences. Similarly, AI-Rad Companion Prostate MR for Biopsy Support automatically segments images of this organ and marks lesions.
Although designed to work on MRI scanners from different manufacturers, the two algorithmic packages will only run on Siemens' cloud-based healthcare platform, teamplay.
The AI Showcase
Many companies showed AI development on booths in the North and South Halls. Some took up residence below in the AI Showcase. A few had booths on both levels. iCAD was one of them. 
The company presented its ProFound AI as the only AI-enabled software commercially cleared by the FDA for use with digital breast tomosynthesis. Company CEO and board chairman, Michael Klein, framed ProFound AI as a productivity tool, noting improved sensitivity, specificity and economic value, as documented in a reader study published in Radiology: Artificial Intelligence. 
Taking up sole residence in the AI Showcase was Zebra Medical, which celebrated its fourth FDA clearance for radiological AI; three new patents (eight total with 13 pending) and a corporate partnership with Intelerad that brought Zebra's AI1 ("all-in one" bundle) to Intelerad's Odyssey AI-augmented workflow solution.
In the center of the AI Showcase, vendor executives mounted the RSNA AI Theater stage to explain how smart algorithms might help improve radiologists' performance. Some, such as GE Healthcare Vice President and General Manager of AI Karley Yoder, reached out to AI engineers, citing the importance of "partnering with the right developers," while noting that "no one company on its own" could build the ecosystem of software needed for AI to reach its potential in healthcare. Yoder went on to discuss GE's Edison platform as a means for collaboration and how the company's AI Open Orchestrator exemplifies how those collaborations might be done.
A different company rep, radiologist Eyal Morag, who serves as medical director of Aidoc, reveled in how far radiology AI had come in the last few years, noting an "explosion in AI companies" at RSNA — from two to more than 300 over the last five years. Morag then addressed how Aidoc, which focuses on a comprehensive approach to medical AI through neuro, bone, abdomen, chest and vascular packages, had grown.
One level up, in South Hall, vendor executives and users took the stage at the Innovation Theater. Among them was an IBM staffer and a user of the company's Watson AI technology who framed Watson's evolving technologies as providing a "safety net" for radiologists performing diagnoses.
At RSNA 2019, IBM was showcasing two of these: Clinical Review 3.0 (launched weeks earlier in the U.K.), which analyzes medical imaging studies and radiology reports to identify potential missed findings, and IBM Imaging AI Marketplace, which helps simplify the process of locating, purchasing, deploying and managing AI imaging applications. Accessible through the company's iConnect Enterprise Archive, it includes only FDA-cleared AI products alongside Watson Health developed AI solutions, according to the company.
Enterprise Imaging
That AI has a role to play in enterprise imaging was driven home at the GE Healthcare booth by the latest version of the company's image viewer. This seventh version, presented at RSNA 2019 as a work-in-progress (to be released in calendar year 2020, pending FDA clearance) — was to be AI-ready.
Version 7 would be woven into the workflow of the company's Centricity PACS "so you don't have to spend a lot of time clicking and accessing other applications," said Veena Haravu, senior product manager for Centricity PACS at GE Healthcare.
The idea? To use AI to save time and — potentially — money, an idea that also took root elsewhere on the RSNA exhibit floor.
Fujifilm Medical Systems USA released an AI-enabled version of its Synapse PACS, Version 7x. William Lacy, vice president of Fujifilm Medical Informatics, described it as a "bridge" between PACS and AI algorithms developed by the company and its partners. "We really give them that bridge to take advantage of these different technologies," Lacy said.
The objective was to expand beyond radiology, eventually to reach throughout the enterprise. He noted that Synapse Version 7x makes use of a single viewer, which can be used regardless of the specialty. "You're looking at the ability for radiologists and cardiologists to see the same data; to have access to the same tools; and across the healthcare system for everyone to be able to visualize the same data," he said, noting financial advantages. "There is a cost implication to that as well with reducing third-party systems and consolidating and converging on one platform."
Philips Healthcare continued its advocacy of a turnkey system in enterprise imaging, namely its IntelliSpace platform. Underscoring its advocacy was IntelliSpace AI Workflow Suite.  
Philips is grooming the suite to be part of its next generation of enterprise imaging informatics. Designed to integrate AI applications into imaging workflow, a prime objective of this work-in-progress is to integrate AI applications from Philips' partners, including Aidoc, Max Q, Riverain Technologies, Quiim and Zebra Medical.  
Leading up to RSNA, the company had acquired Carestream Health's IT business, which included the Vue product line. Eventually the best features of Vue and its multiple modules used in enterprise imaging, would be integrated into the Intellispace line, according to the company.
Efficiency
At RSNA 2019, exhibitors framed a range of technologies to increase efficiency. For example, Philips embedded workflow improvements in two CT products released at RSNA 2019 — the CT 6000 iCT and the CT 5000 Ingenuity. 
Other time- and money-saving technologies were based on AI. One was the AI-Rad Companion family from Siemens Healthineers.
In September, the FDA cleared three modules of the chest CT application — ones for the lungs, heart and aorta. This made it possible for Siemens to promote the application commercially at RSNA 2019.
Agfa Healthcare built AI into the latest version of its mobile X-ray system. Called the DR 100 S, this mobile X-ray unit was commercially released as a global product during the show.
Carestream Health previewed a digital tomosynthesis technology, pending FDA clearance. The optional upgrade for the company's stationary radiography system, DRX-Evolution Plus, is designed to simplify workflow by using a single sweep of X-ray exposures. This results in multiple projections, which reduces exam time, according to the company, by getting rid of the trial-and-error otherwise used to locate the region of interest.
Companies and pundits also pointed to the cloud for its potential to improve efficiency. Through its ubiquity, the cloud makes for easy networking and distributed computing — ideal for PACS and enterprise imaging. 
Building on an existing product, Nuance Communications leveraged both the cloud and AI to improve its voice recognition product, PowerScribe One. The new release uses AI-assisted reporting and decision support and real-time synchronization of data with third-party systems — advances designed to increase efficiency, reduce radiologist fatigue and improve patient care.
At RSNA 2019, GE and Microsoft described how the cloud could be used to track equipment installed at medical centers and to analyze data from networked machines using its cloud-based asset management software called iCenter. The software delivers operational and utilization information at any time day or night, according to Jean Philippe Bousquel, GE general manager of service/sales for Europe, providing a constantly updated view of contract information, maintenance and service histories, and utilization. 
At RSNA 2019 Bayer highlighted an electronic portal aimed at a similar purpose. With this, customers can track the location and service records of equipment. 
Patient Centricity
Radiologists have long argued that the patient is a top priority, an argument supported by their long-standing emphasis on image quality. Canon Medical Systems USA illustrated how AI can be harnessed to boost image quality with its Advanced intelligent Clear IQ Engine, which the FDA cleared prior to RSNA 2019. The deep learning algorithm, also known as AiCE, is trained to reduce noise and boost CT signal from Aquilion CTs, including the spectral CT Aquilion One/Prism Edition.
At RSNA 2019, patient comfort and convenience stood out in other ways. Pending FDA clearance, the Somatom On.site from Siemens Healthineers is designed to keep intensive care patients where they are. The idea is to bring the dedicated mobile CT scanner to the patient to avoid costly and potentially risky patient transports. The On.site is similar in appearance and purpose to the Samsung CereTom, a portable CT available for years from NeuroLogica, which the Korean company acquired in 2013.
Personalizing patient care assumed a high profile in evidence at RSNA 2019. At the Konica Minolta Healthcare Americas booth, company President and CEO David Widmann said Konica Minolta aspires to combine different types of data in ways that provide insights that improve care, patient experience, or lower costs. The ability to combine data from imaging, genetics and research puts the company "in a very unique proposition," Widmann said. This was made possible through the company's acquisition in 2017 of Ambry Genetics.
Regardless of when or even whether the current reimbursement scheme changes to one based on value, improving value and lowering costs will likely remain a part of radiology. Driving the adoption of value is the strong desire of radiologists for respect in the medical community, respect that can be gained if radiologists are seen as a source for improved efficiency and effectiveness.  itn
Greg Freiherr is a consulting editor to Imaging Technology News. Over the past three decades, he has served as business and technology editor for publications in medical imaging, as well as consulted for vendors, professional organizations, academia and financial institutions.
---
If you enjoy this content, please share it with a colleague