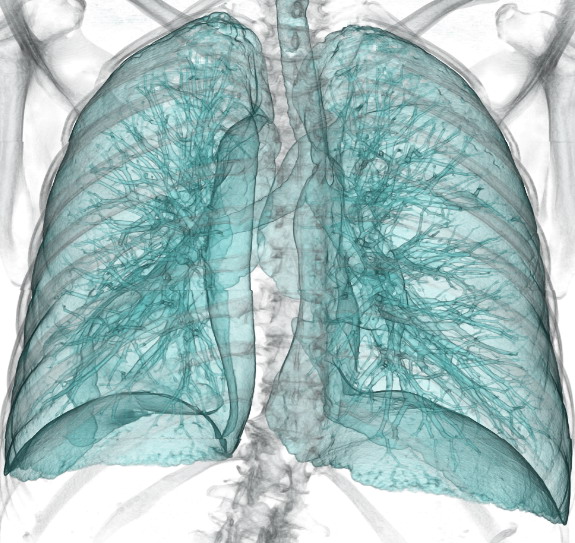 June 2, 2014 —Data regarding screening of individuals at high risk for lung cancer with low-dose computed tomography (CT) presented at the 2014 Annual Meeting of the American Society of Clinical Oncology (ASCO) overestimates the costs and number of false positive exams due to its reliance on an outdated 4 mm size threshold for defining a positive screen. This differs from the 6-mm threshold used in the American College of Radiology's Lung-RADS quality assurance tool, which is designed to standardize lung cancer screening CT reporting and management recommendations, reduce confusion in exam interpretation and facilitate outcome monitoring. The National Comprehensive Cancer Network also uses a 6-mm threshold to define a positive screen.
"Published scientific evidence shows that a 6-mm threshold significantly reduces false positive exams and subsequent diagnostic testing. The NLST began enrollment in 2002 and used the 4 mm size threshold to define a positive screen based on scientific knowledge at the time. Since then, our knowledge has increased through multiple published papers from the NLST and iELCAP, and the positive threshold has evolved," said Ella A. Kazerooni, M.D., chair of the American College of Radiology Lung Cancer Screening Committee. "Use of the 6 mm size threshold reduces positives screens from over 1-in-4 exams to 1-in-10, reducing diagnostic testing and without delay in lung cancer diagnostics. This results in lifesaving screening that is incredibly cost-effective compared to other widespread screening measures."
Using low-dose computed tomography (CT) scans to screen those at high risk for developing lung cancer has been proven to significantly reduce lung cancer deaths by the largest government sponsored lung cancer screening    in history. The test has also been proven at least as cost-effective, if not more cost effective, than breast and colon cancer screening programs1, and even automobile seatbelts and airbags.2
In December 2013, the United States Preventive Services Task Force (USPSTF) recommended screening of adults aged 55 to 80 years who have a 30 pack-year smoking history and currently smoke or have quit within the past 15 years. The Affordable Care Act (ACA) requires private insurers to cover all medical exams or procedures that receive a grade of "B" or higher from the USPSTF without a co-pay. As such, CT lung cancer screening has been deemed an Essential Health Benefit and is covered by many private health insurance plans across this country, while Medicare beneficiaries experience lesser access and increased risk of lung cancer death due to lack of coverage.
The college has launched the ACR Lung Cancer Screening Center program, which provides quality assurance infrastructure to help certify that these lifesaving exams are provided in a safe, effective manner and help facilities consistently ensure the greatest possible lifesaving benefit from these exams. Lung cancer is the nation's leading cause of cancer death, taking nearly 160,000 lives each year (more than breast, prostate and colon cancer combined). The significant reduction in lung cancer deaths that these exams produce amounts to up to 30,000 people each year that do not have to die from this terrible disease.
Based on available evidence, new guidelines and standards and developing screening infrastructure, the college continues to recommend that the Centers for Medicare & Medicaid Services quickly provide full national coverage for high-risk patients as defined in the USPSTF and provide coverage with evidence for other high-risk patients not included in USPSTF recommendations using data collected through existing registries.
For more information: ww.acr.org
References:
1. The July 2013 Black/Pinsky presentation to the National Institutes of Health (NIH) on CT lung cancer screening cost-effectiveness related that CTLCS is cost effective – particularly compared to breast and colon cancer screening, and has a smaller number needed to screen to save a life. However, the official NLST cost-effectiveness paper has not yet been published.
2. S. Feig. Cost-Effectiveness of Mammography, MRI, and Ultrasonography for Breast Cancer Screening.  Radiol Clin N Am 48 (2010) 879–891 (Table 1 on page 881). Also, data presented at the 2009 Radiological Society of North America meeting showed that mammography is more cost-efficient than seatbelts/airbags. As CT lung cancer screening cost-effectiveness is comparable or better to breast and colorectal cancer screening programs, it is more cost-effective than car seatbelts/airbags.