BLOG: Leveraging AI to Advance Medical Imaging and Improve Patient Outcomes
Philips CT 5100-Incisive with CT Smart Workflow
Consistency and accuracy of patient imaging saves millions of lives each year. None of which would be possible without the adoption of advanced technologies that continue to revolutionize the medical imaging industry by improving workflows and process-related strains on radiology staff.
To improve patient care and drive operational efficiencies, there is an obvious shift from the use of standalone solutions and products to smart integrated systems that rely on data and intelligence. This had led to the adoption of artificial intelligence (AI) embedded into everyday tools that radiology departments use to improve efficiencies, reduce operational costs, meet ambitious financial objectives, and ultimately improve patient experience and outcome.
One such intelligent technology is the CT 5100-Incisive platform with CT Smart Workflow, which was unveiled by Philips at the Radiological Society of North America (RSNA) annual meeting in 2021 and is the company's latest addition to its CT portfolio. 
Advanced Capabilities
The new CT 5100-Incisive features a comprehensive suite of AI-enabled capabilities and applications designed to accelerate CT workflows, enhance diagnostic confidence, and maximize equipment uptime by ensuring precision in dose, speed, and image quality, allowing radiologists to focus their expertise on the patient instead of the process. 
According to Wendy Winkle-Lawless, CT Business Market Leader - North America, Philips, the implementation of AI is having a significant impact on workflow standardization and precision. Specifically, it brings innovation to imaging by simplifying the increasingly complex and stressful demands of radiology departments and alleviating some of the increasing pressures under which they operate.
"With the CT 5100-Incisive, we have implemented AI into every aspect of the scanner. From the time the technologist plans the exam, through the patient being positioned, through the processing of the exam and reconstruction of the image—you have AI ensuring standardization, helping improve the dose, and improving the workflow of the patients being scanned," Winkle-Lawless said.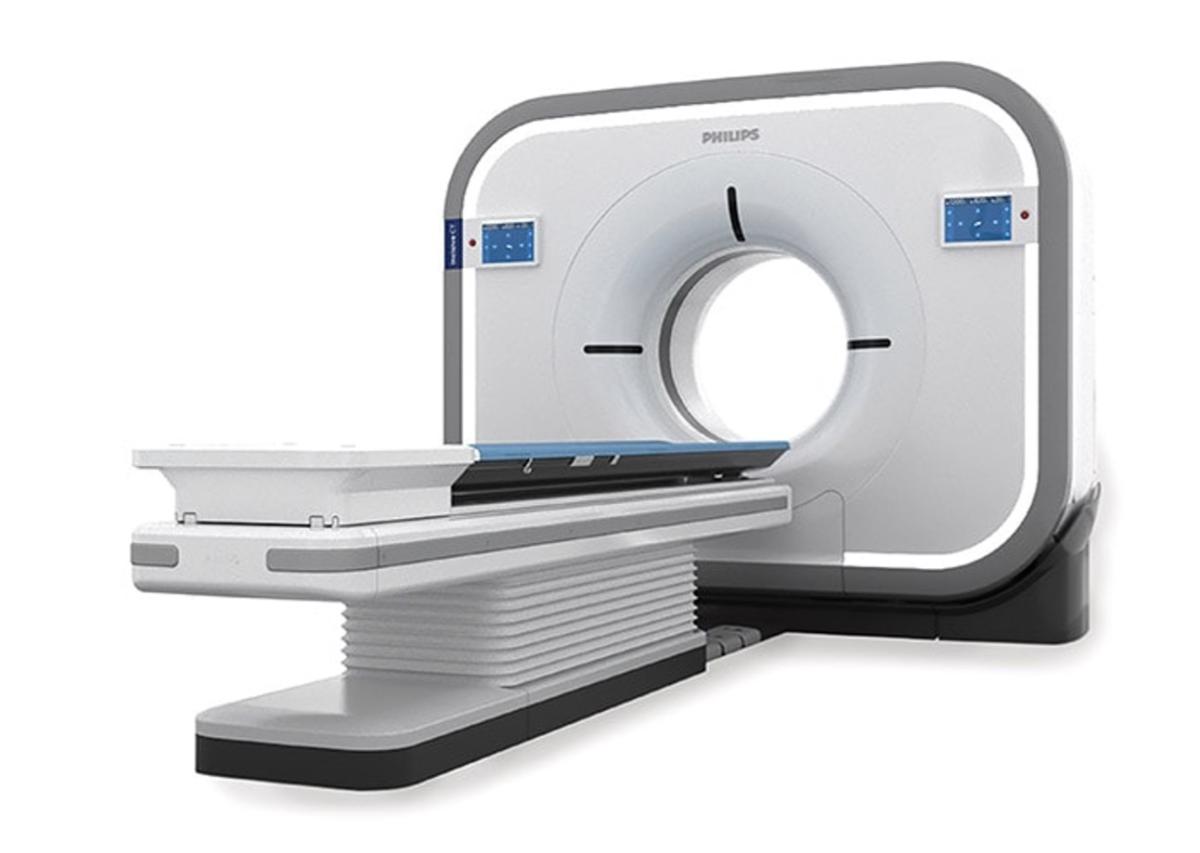 Philips CT 5100-Incisive
The CT 5100 Incisive also features multiple benefits.
"One of the advancements of the CT 5100 Incisive is the Precise Position. This is an AI-enabled automatic patient positioning feature that allows you to make sure that the patient is positioned at ISO center. This significantly increases user-to-user consistency whether the patient is coming for the first time or for a follow-up exam. It also reduces the need for increased patient dose or other unwanted consequences, such as image noise, commonly associated with manual positioning," Winkle Lawless added.
Other benefits of the CT 5100 Incisive include:
Precise Image reduces the dose by up to 80%, lowers noise by 85% and improves low contrast detectability by 60% to ensure diagnostic confidence and patient care.1
Tube for life guarantee, which over the lifetime of the scanner, can reduce operating expenses by an estimated $420,000.2

A low total cost of ownership with upgradable, up-to-date technology features. 

24/7 proactive monitoring that continuously supports the system remotely without interrupting daily routines.
Performance Enhancements
CT Smart Workflow is the latest in a continuous program of performance enhancements for Philips' CT 5100 Incisive platform, which includes a newly-designed patient table to accommodate bariatric patients; OnPlan patient-side gantry controls to minimize time spent away from the patient, allowing radiologists to do more directly from the scanner, including setup and pre-scan adjustments, enabling inter-operator consistency and reducing time to results with adaptive intelligence; and the company's process improvement services Enterprise Performance Analytics – PerformanceBridge.
"With the combination of CT 5100 Incisive and CT Smart Workflow, we have embedded AI into the tools that radiology departments use every day so they can apply their expertise to the patient, rather than unnecessary distractions associated with the CT imaging itself," said Frans Venker, General Manager of Computed Tomography at Philips. "By automating many of the process-related obstacles to CT imaging performance, we aim to clear the way for precision in dose, speed, and image quality that will help imaging departments to meet their financial, clinical, and operational goals."
According to Venker, the CT 5100 Incisive with CT Smart Workflow demonstrates how integrated, AI-driven solutions connect clinical intelligence and operational data across the radiology enterprise to advance precision diagnosis and treatment.
Smart imaging solutions, such as the CT 5100 Incisive, are designed to improve efficiencies, operator consistency, and diagnostic confidence at the point of image acquisition by automating many of the time-consuming procedural tasks that radiologists, technicians and staff traditionally had to perform manually. By empowering the radiology departments to streamline care and make the best decisions for each patient, healthcare providers can ensure operational excellence and the best patient outcome.
References:
1. In clinical practice, the use of Precise Image may reduce CT patient dose depending on the clinical task, patient size, and anatomical location. A consultation with a radiologist and a physicist should be made to determine the appropriate dose to obtain diagnostic image quality for the particular clinical task. Dose reduction assessments were performed using reference body protocols with 1.0 mm slices at the "Smoother" setting, and tested on the MITA CT IQ Phantom (CCT189, The Phantom Laboratory) assessing the 10mm pin and compared to filtered-back projection. A range is seen across the 4 pins, using a channelized hoteling observer tool, that includes lower image noise by 85% and improved low-contrast detectability from 0% to 60% at 50% to 80% dose reduction. NPS curve shift is used to evaluate image appearance, as measured on a 20 cm water phantom in the center 50mm x 50 mm region of interest, with an average shift of 6%or less. Data on file.
2. Life of the product is defined by Philips as 10 years. Tube for Life guarantee availability varies by country. Please contact your local Philips sales representative for details. Actual operating costs for customers vary significantly because many variables exist (such as CT make and model, hospital/imaging center size, case mix, system usage). The potential savings identified estimates the avoidance of purchasing replacement tubes over a 10-year useful life of a CT system, based on an average selling price of $140,000 per replacement tube and estimated tube life of 3 years. There can be no guarantee that all customers will achieve this result.
Subscribe Now