Philips Angio CT
A patient's chance of recovery can be directly impacted when a diagnosis is missed or delayed. To get the right diagnosis, physicians often rely on CT scans to provide valuable insights. Conventional CT images, however, can have limitations, which can result in repeat or supplemental scans adding dose to the patient and cost of care.
Recent advances in imaging technology, such as the multi-energy Spectral CT 7500, recently introduced by Philips, are transforming patient care, providing physicians greater confidence in diagnoses and lowering unnecessary, suboptimal, and repeat imaging costs.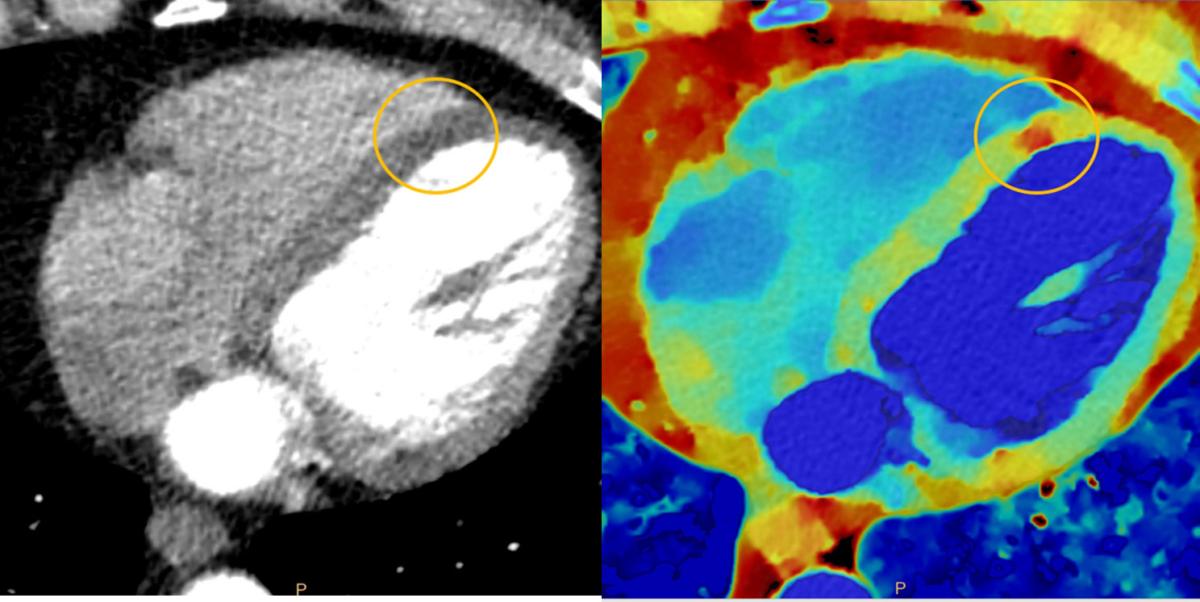 A myocardial perfusion seen via conventional CT imaging (left) and spectral-detector CT imaging (right)
Spectral CT 7500—A Close Look
The Spectral CT 7500 is an intelligent system, delivering high-quality spectral images for every patient on every scan, one hundred percent of the time. By having multi-energy scans for every patient, the Spectral CT 7500 can improve disease characterization and reduce rescans and follow-ups, all at the same dose levels as conventional scans.1 The time-saving spectral workflow is fully integrated, enabling the technologist to get the patient on and off the table quickly while still delivering high-quality imaging that allows the physician to rapidly deliver a confident diagnosis and effective treatment plan for each patient.
"The great thing about the system is that we are really making every photon count for every patient, every scan, and the whole foundation of that is our spectral detector," said Wendy Winkle Lawless, CT Business Market Leader, North America, for Philips. "It is a single detector system that allows you to capture multiple energies as you are imaging the patient, and it is always on, so with every single patient exam, you are able to benefit from that multi-energy capability."
Three peer-reviewed studies2,3,4 recently demonstrated the ability to reduce contrast volume needed for an exam using Spectral CT. These three studies demonstrate that scans on Spectral CT can be performed with a reduction in contrast dose, while using low monoenergetic images to boost contrast conspicuity. In some cases, Philips Spectral CT allows users to create diagnostic studies from cases that may be non-diagnostic. This finding is especially timely given current supply chain challenges and demonstrates how proactively using less contrast can help to preserve Iodinated contrast inventory.
Key features of Spectral CT 7500 include:
•Detector-based spectral CT - Spectral CT 7500 is detector-based spectral CT. It ensures performance such as image quality, dose, and workflow. The systems' unique combination of advanced technology, tools, and support with no special protocols delivers fast, low-dose scans without compromising speed, power, or field of view.
•Always on - The spectral-detector CT is always on, providing certainty in routine spectral imaging, without an increase in radiation dose. The system delivers layers of rich spectral results in a single scan, on-demand, even retrospectively. Physicians can also expect seamless integration into the Philips iPatient workflow.
•Simple to use - Spectral-detector CT is simple to use with fast scanning and reconstruction and no special protocol requirements. Technologists simply operate this scanner like they would any other conventional CT. That supports fast time to diagnosis and treatment. While speed is valuable in any setting, it is crucial for an emergency department, where CT is first-line imaging in a pressure-filled situation.
•Reliable spectral results across all patient types - With Spectral CT 7500, spectral scanning can be expanded to challenging patient types, including cardiac, pediatric, and bariatric.
"The Spectral CT 7500 sets a new standard of care where image quality, dose, and workflow come together to deliver valuable clinical insights. This latest intelligent system helps to bring clarity to defining moments in healthcare by delivering on certainty, simplicity, and reliability in every clinical area from cardiac care to emergency radiology, diagnostic oncology, intervention, and radiation oncology," said Kees Wesdorp, Chief Business Leader of Precision Diagnosis at Philips. "Our detector-based spectral technology ensures spectral data is always available and is seamlessly integrated into current workflows, meaning scans are fast, and clinicians are able to send patients the right treatment pathway with a more confident diagnosis."
Hennepin Healthcare
Hennepin County Medical Center has a long history of innovation and partnership with Philips and needed a Spectral CT that could accelerate its cardiac imaging capabilities. According to Gopal Punjabi, M.D., Chair of Radiology, for Hennepin Healthcare in Minneapolis, the Spectral CT 7500 is the technology of the future. After installing the first Spectral CT 7500 in North America they were able to optimize patient safety and comfort, improve technologist efficiency, and decrease the time to diagnosis. 
"One big thing is the ability to resolve and get done with incidental findings," Punjabi said. "The Spectral CT 7500 lets us focus on what is really important to the patient, focus on what is making them sick and what is most likely going to get them better instead of focusing on the incidental stuff; it lets us give diagnosis with a much higher degree of confidence. This is the whole reason why I am a radiologist—to be able to provide a clinical diagnosis first time, high confidence."
A New Standard of Care
The system expands on Philips' spectral-detector benefits to include additional patient populations that were not previously served. The spectral insights are available for all patients, from pediatric to bariatric, and for any clinical indication, including challenging cardiac scans with high and irregular heart rates, without compromising image quality, dose, or workflow. The spectral workflow enables radiologists to optimize reading with rich spectral results and AI-based smart tools available in any reading environment with Spectral Magic Glass on PACS.
Some of the key benefits of the Spectral CT 7500 are:
•Certainty for better health outcome - An estimated 26 percent reduction in follow-up scans due to incomplete diagnosis and a 23 percent increase in diagnostic confidence in increased lesion conspicuity.5
•Simplicity for the patient and staff experience - Only two seconds are needed to complete a full chest-abdomen-pelvis scan, 34 percent decrease in overall time to diagnosis, always on, and always available spectral with no special protocols.6
•Reliability to reduce overall cost of care - An estimated $135K annual savings from unreimbursed confirmation scans, expanded clinical capabilities with spectral cardiac, and all patients accommodated, from pediatric to bariatric, to get the most from your investment.7
Continued Innovations with Interventional Suite
At the 2021 Radiological Society of North America Annual Meeting, Philips announced its vision for interventional medicine by bringing its spectral CT imaging technology into a hybrid Angio CT suite,* which combines the company's Spectral CT 7500 system and its image-guided therapy system – Azurion with FlexArm in a single interventional suite solution. The goal of the suite is to give interventionalists immediate access to these two key imaging modalities so they can perform procedures requiring both CT and angio guidance in one room. When not in use, each modality would glide smoothly away from the patient table into a parking position, giving the interventional team unrestricted access to the patient. Each system can work stand-alone if required. For interventionalists, this would enable seamless efficient workflows without the need to move the patient from one imaging suite to another. For patients, this means their physicians can leverage the strengths of both systems during a single procedure. 
"We are really excited about the merger and integration of these technologies in that it might allow us to look at the treatment of a number of diseases in very new and innovative ways, potentially offering new treatment opportunities and improving patient care, said Barry Katzen, M.D., founder and chief medical executive of Baptist's Health's Miami Cardiac & Vascular Institute. "I am looking forward to investigating the possibilities of this promising innovation."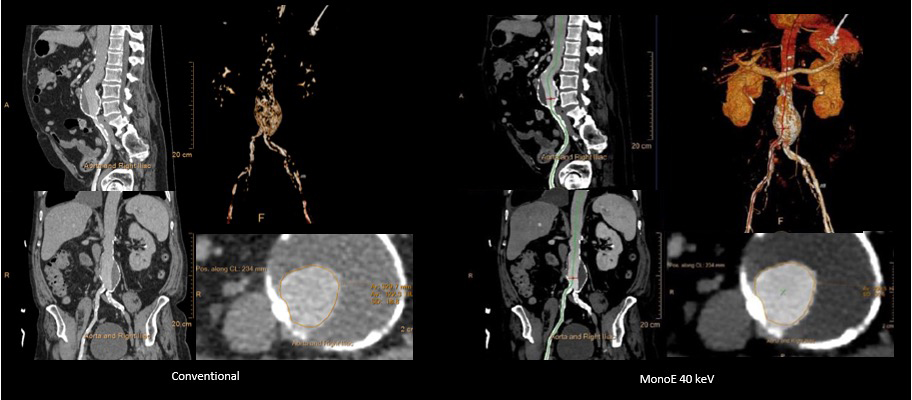 A TAVI CTA exam performed with only 50 mL of contrast. Conventional CT has suboptimal enhancement of the aorta and surrounding structures. MonoE 40 keV improves the contrast enhancement and the scan diagnostic.
The need for imaging that is first-time-right has never been greater given the increased demands, pressure on staff, and cost challenges that organizations face today. With the Spectral CT 7500 healthcare providers can meet these challenges and provide patients with a new standard of care without trade-offs.
* Not available for sale in some geographies. Please reach out to your Philips representative for products and services in your area.
For more information: www.usa.philips.com/healthcare/resources/landing/spectral-ct-7500
See Talking Trends with Philips: Advancements in CT Technology
References:
1. Reduced Rescans: 26% reduction in follow-up scans due to incomplete diagnosis. Based on Analysis by LSU, New Orleans, LA, USA.
2. van Hamersvelt, R.W., Eijsvoogel, N.G., Mihl, C. et al. Contrast agent concentration optimization in CTA using low tube voltage and dual-energy CT in multiple vendors: a phantom study. Int J Cardiovasc Imaging 34, 1265–1275 (2018). https://doi.org/10.1007/s10554-018-1329-x
3. Nagayama Y, Nakaura T, Oda S, Utsunomiya D, Funama Y, Iyama Y, Taguchi N, Namimoto T, Yuki H, Kidoh M, Hirata K, Nakagawa M, Yamashita Y. Dual-layer DECT for multiphasic hepatic CT with 50 percent iodine load: a matched-pair comparison with a 120 kVp protocol. Eur Radiol. 2018 Apr;28(4):1719-1730. doi: 10.1007/s00330-017-5114-3. Epub 2017 Oct 23. PMID: 29063254.
4. Tsang DS, Merchant TE, Merchant SE, Smith H, Yagil Y, Hua CH. Quantifying potential reduction in contrast dose with monoenergetic images synthesized from dual-layer detector spectral CT. Br J Radiol. 2017 Oct;90(1078):20170290. doi: 10.1259/bjr.20170290. Epub 2017 Jul 27. PMID: 28749176; PMCID: PMC5853359.
5. Analysis by LSU, New Orleans, LA, USA.
Analysis by SNUH, Seoul, South Korea.
6. Analysis by CARTI Cancer Center, Little Rock, AR, USA
7. Analysis by LSU, New Orleans, LA, USA
---
If you enjoy this content, please share it with a colleague