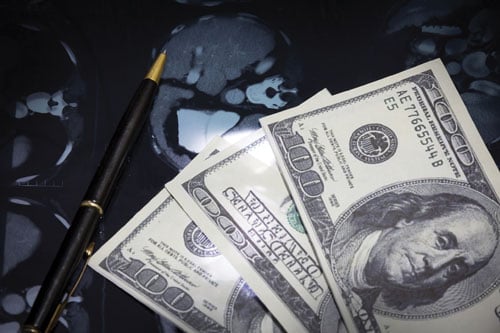 Healthcare spending is on the rise. According to a 2014 forecast by FMI, a market research group, total global healthcare spending will reach $52 billion by 2018 — less than two years away. Further research shows that nearly half of the money (40 percent) will be spent on equipment, an encompassing term that includes everything from beds to gurneys to imaging equipment. Radiology actually makes up the lion's share of equipment costs, accounting for approximately 1/5 (depending on the type of facility) of total equipment expenditures, per a 2015 report from market research firm Medical Architecture Planning Systems. At the same time, it is also a major revenue driver for hospitals, with radiology expected to account for $49 billion of total global medical imaging revenue by 2020, according to BCC Research, a market research company.
With so much money on the table, radiology departments are set up for a potential major windfall. Taking advantage of the investments, however, and capturing the largest possible portion of revenue will require strategic thinking and planning on the part of radiology administrators. An education session at the 2016 annual meeting of the Association for Medical Imaging Management (AHRA) in Nashville provided that group with a possible solution presented by an unlikely source — a pair of architects. 
Robert Junk, AIA, and Tobias Gilk, M.Arch, co-founded RAD-Planning, an architecture and design firm in Kansas City that specializes in radiology, nuclear medicine and radiation therapy facilities. They have been attending and presenting at AHRA for 11 years and have co-authored several chapters of the AHRA Asset Management in Radiology book. 
Watch a VIDEO interview with Junk and Gilk "Maximizing Your Return on Investment in Radiology."
Generalization versus Specialization
For any business, increasing revenue requires increasing utilization of the products or services that are offered. In the case of radiology (and healthcare in general), this means maximizing the number of patients that can be seen in the course of a day. When evaluating their business model through this lens, radiology administrators must consider the pros and cons of generalized services versus specialized services. 
"What we're talking about is a business model design. That has implications not simply for the shape and size of the building but it has implications to your organizational structure and your operational model," said Gilk. "Just like healthcare is an integrated system, we think planning for healthcare is most effective when it's done in an integrated fashion."
The general trend in healthcare, according to Junk and Gilk, has been moving further and further toward specialization. This approach is attractive because it offers benefits for both physicians and patients. For patients, who most often seek out specialized healthcare professionals when dealing with a specific medical issue, they can feel that they are being treated by an expert on that specific ailment.
For physicians, specialization offers them the chance to maintain their credibility, even if they have to refer their patient to another doctor. While they may not have the skill set to treat the patient directly, they demonstrate that they still know where the patient can get the best treatment — knowledge that upholds their standing in the eyes of the patient. 
On the other end of the spectrum, radiology has traditionally taken on a more generalist role by nature, as all of its patients are referred from other physicians and departments. The skill set and expertise of general radiology covers a wide range of areas and modalities. The drawback, however, is that the skill set and expertise in any one area or modality may not be extensive. 
Specializing in a particular area of care can have significant impacts on the procedure and workflow of a department, the pair noted: 
• Staffing and procedures focus on the one area that you cover; 
• Specializing gives the healthcare team better empathy with client needs. "By segmenting, we have a better perception of what the unspoken patient needs are," Gilk said; 
• Operational protocols are better aligned with services; 
• Facility layout is more streamlined, as practices are able to simplify what they provide; and
• Better separation of clientele. This is not to say that specialization is the answer for all practices and departments. In the context of healthcare, specialization has two primary disadvantages:
• Low utilization — If a practice only specializes in one particular area or modality, they are inherently limiting the number of patients that can take advantage of their services. "You essentially are building a silo and picking one small sliver of patients," Gilk said; and
• Confusion — If services are not gathered under one umbrella or in one location, patients may not know which doctor or location they should visit to address their medical issue. 
There are some instances of radiology being adapted to a specialized context, such as a cardiology department/practice with its own computed tomography (CT) scanner or a cancer treatment center with its own imaging equipment. "They're starting to recognize that if we segment this market and we offer specialty services with respect to imaging, we have a differentiator," said Gilk.  
Shared Imaging Offers New Option
With the pros and cons of generalization and specialization in mind, Junk and Gilk proposed an alternative business model that offers the best of both worlds, a concept they referred to as shared imaging services — an imaging "Swiss army knife" of sorts. 
In the model they proposed, a variety of specialty imaging clinics act as a series of "front doors" to the general radiology department, which sits as a central hub for all imaging data. Examples of front doors could include an orthopedic/sports medicine specialty imaging clinic, a women's and pediatric health specialty imaging clinic, or a neurology specialty imaging clinic. This type of setup can help patients better self-identify with what their needs are. 
"From the perception of the patient, everything is targeted toward them. From the perspective of the referring physician, everything is targeted to the specific needs of my patient," said Gilk. From radiology's point of view, "it's managing a couple of different front doors because in the middle is your imaging department just as it always has been," he added. 
This "Swiss army knife" model offers a few advantages in the eyes of Junk and Gilk, first and foremost being increased utilization due to multiple points of entry into the radiology department. The key, according to Junk, is identifying the areas where you specialize based on your demographics. This makes the model scalable to any size organization, and the facility appears more attuned to client expectations. 
Change is Coming
Whether they implement this specific model or not, Junk and Gilk warned that radiology administrators will need to do something soon — pointing to factors such as the aging of the U.S. population driving demand for more imaging and changing reimbursement models. Not every hospital will be able to implement wholesale change immediately, but taking incremental steps is just as effective, they said. "Whatever your situation is today, you are going to grow in the next few years and you will be asked to come to the table with ways to provide more," Gilk told the audience. "The resources you have today are not going to cut it." 
Related Radiology Business Content:
VIDEO: The Consolidation Trend in Radiology Business
Radiology is Not Business as Usual
VIDEO: Maximizing Your Return on Investment in Radiology
Radiologists Seek Greater Involvement in Patient Care
Opportunities for Growth in a Competitive Radiology Climate